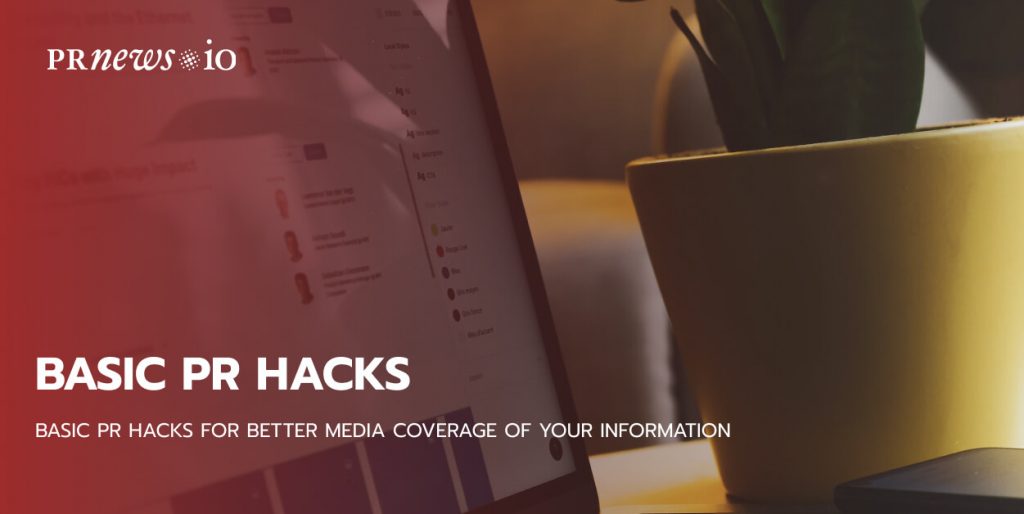 PR Hack. PR is a mindset; it's about knowing your story, how to tell it, to whom, and why. PR isn't just a matter of writing a bland press release. You'll need to make serious investments in building competency.
You'll also need to incorporate a PR ethos into all facets of your company. To get attention from the press, you have to do things that are newsworthy. They have to be both authentic and interesting.
There are multiple ways brands are able to receive press coverage when there is a lack company news. Many factors play into staying relevant in the news cycle, and it all depends on the type of company or brand.
PR Hacks To Boost Your Media Coverage
The main PR hacks to get media coverage, will be described below in the article.
PR Hack 1: Competitor Experience Learning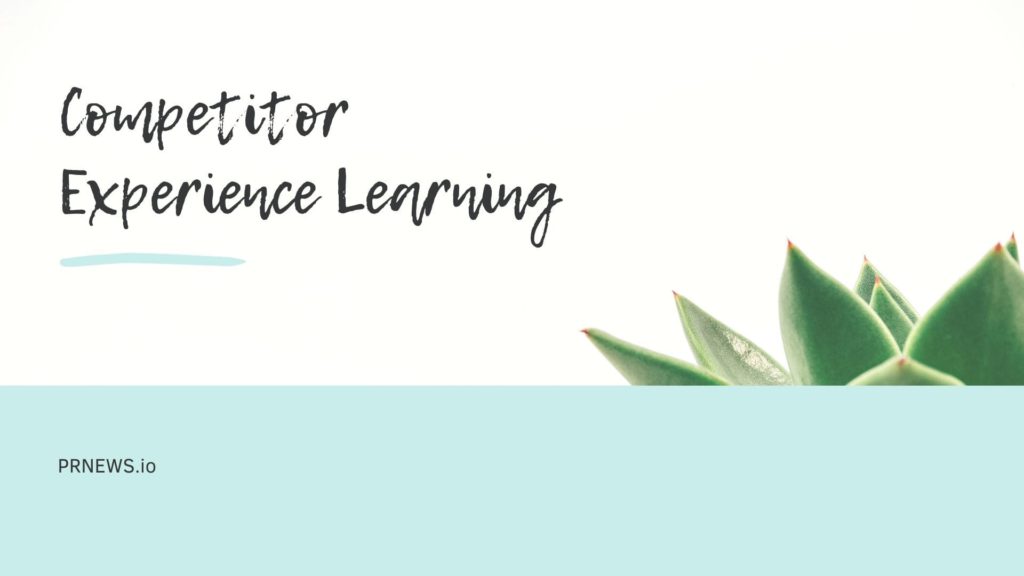 Allow competitors to do all of the work instead of spending time researching the main strategies and methods for attracting media attention.To do this:
Examine their pages carefully, as well as the information in their press releases.
Pay attention to which media they target and focus on the same newspapers, magazines, and industry blogs that publish information about your competitors.
If it works for them, it will work for you. You will learn to masterfully create content that is interesting for journalists who write about topics close to you.
By the way, PRNEWS.IO can offer its PRO users a cool service to analyze competitors and make a budget for promotional activities – Bulk Site Checker
The scheme of the service is very simple:
Export the backlinks of your competitors (using Ahrefs or another similar service).
Add them to the Bulk Site Checker.
Receive information on the cost of placement on each site, the size of the audience, and the SEO characteristics of the resource.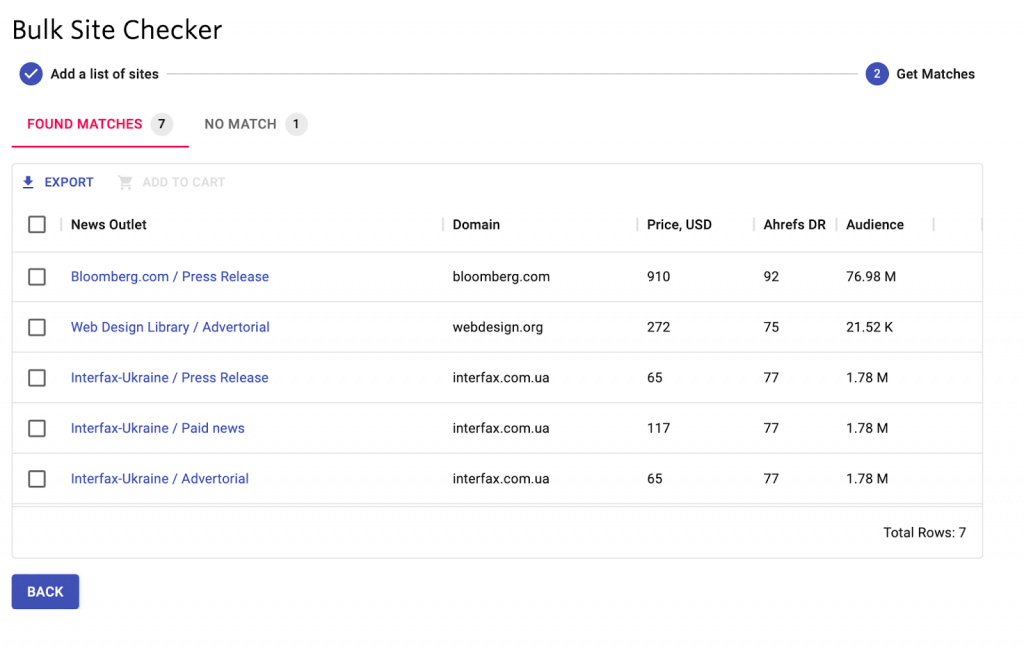 PR Hack 2: Create Public Relations Stunts
You can boost your PR campaign by creating PR stunts. It is an efficient trick to achieve better results, but the task must be done in a strategic way. It means that a public relations manager should involve a product/service release, that is limited-edition one. Alternatively, you can offer reduced or competitive prices, which is one of the best ways to grab the wanted headlines. It is essential to make your angle as newsworthy as possible. Make sure it does not look like a bothering people and pushing advertising, which most people take negatively and with a sort of irritation. Your challenge is to create PR stunts that potential clients do not mind picking up. Master your skills to develop the proper council approvals if you do not want to invest more money into PR stunts than you can.
Read more: Top 10 of Christmas PR Stunts
PR Hack 3: Journalists Mentioning on Quora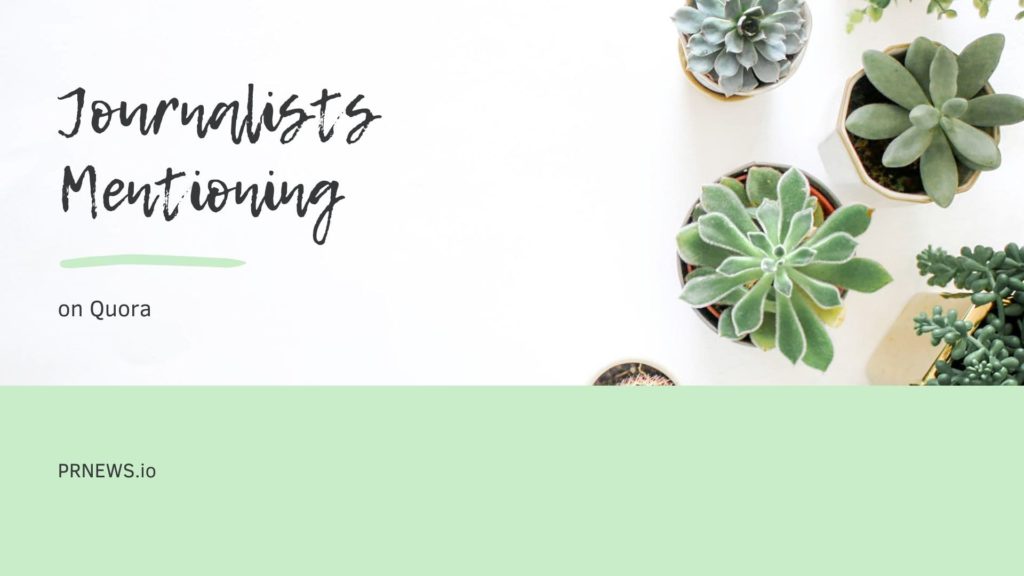 Answering questions posed by users here, with the mention of media journalists, is a powerful technique for building mutually beneficial relations. Mentioning a specialist, you raise his rating, and since the platform does not belong to you, this raises the idea of​ a selfless act and will probably position the person for further mutually beneficial relations. Strengthening a positive relationship with a journalist will help in covering the necessary information in the future.
It is easy to use Quora; you just need to follow these steps:
Find the right journalist for you with JustReachOut.
Carefully examine his work and identify the niches in which he writes.
Go to Quora and find questions on the right topic that have few answers.
Come up with an answer in which you can quote the selected journalist's work, referring to him as an expert in this field.
Send him an email mentioning his work in a comment on Quora. He is unlikely to look for such comments on his own, so the personal notification will be very useful.
Read more: Quora Marketing: What You Need to Know to Get Your Ideas Heard
PR Hack 4: HARO Service Usage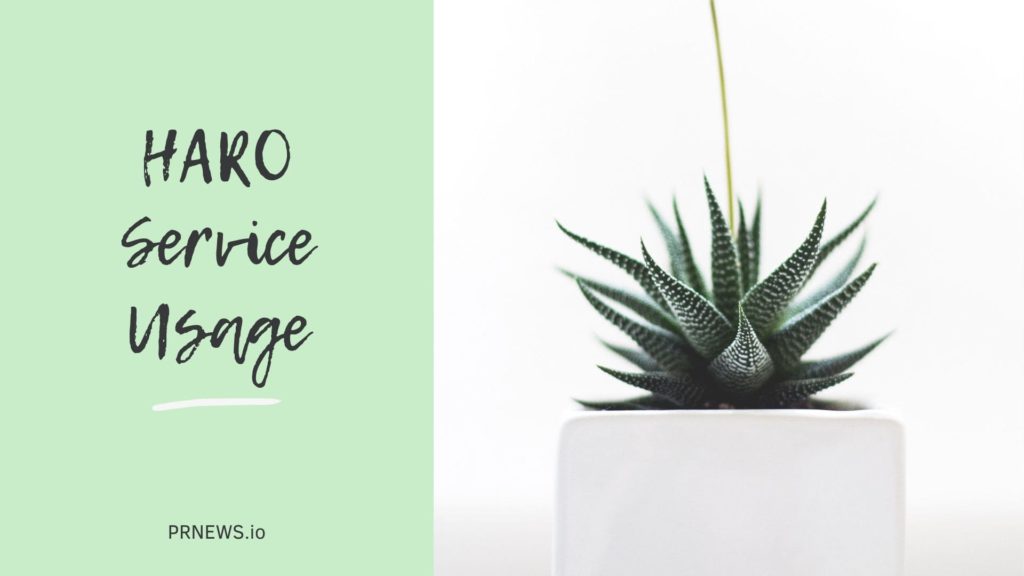 This option is suitable for those who are tired of looking for journalists on their own and want to find them themselves. All you need is to register on the HARO online service, which connects journalists with the original source of information.
Every day, it sends emails listing journalists who are looking for primary sources of information and quotes for articles. If you meet the journalist's requests, you can send him an email with quotes, and then he will mark your problems in his work. The JustReachOut used to filter HARO emails on key quotes and queries will help simplify the interconnection process.
Read more: Help a Reporter Out With Alternatives
PR Hack 5: Use PRNEWS.IO
Our service simplifies the lives of marketers, PR specialists, and business owners. You no longer need to write letters to publications and conduct long negotiations with them in order to place an article about yourself. This task is undertaken by PRNEWS.IO – the world's largest marketplace of PR materials.
All you have to do is choose the desired media from the catalog. Another icing on the cake: you will see the prices of publications right away. You no longer have to bargain with editions, and you can clearly form the budget of your PR campaign by consulting our catalog.
Our catalog filters will help check thousands of websites, noting only the highest quality, with the most active audience of visitors. We work with different types of content – native ads, advertorials, mentions, press releases, etc.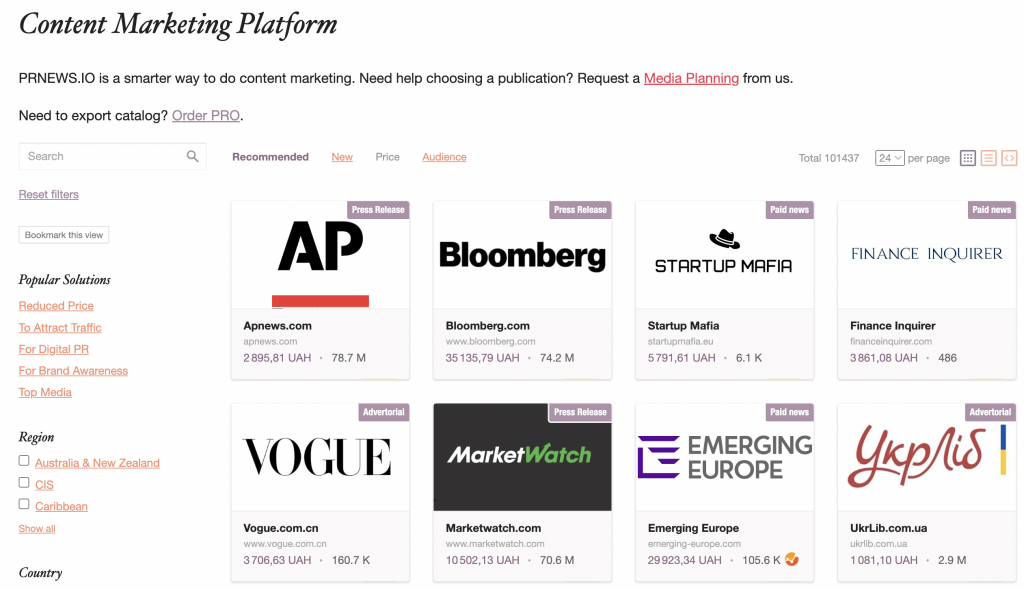 Regular mention of specific information in the press may seem impossible to someone, but this is not so. Knowing the main techniques for working with the media will give you a competitive advantage. With PRNEWS.io you can easily get rid of unnecessary information on the first page of the search engine and highlight positive or neutral sponsored articles from verified sources.
Build Positive Online Reputation & Remove Negative from SER
PR Hack 6: Linking Stories to the Latest News (Newsjacking)
As practice shows, journalists appreciate the latest news in one area or another. If the story provided to them has an appropriate connection, the chances of it being mentioned in the press are much higher. Of course, you will not be able to personally tell reporters the latest news every time, but there is always an opportunity to add your own story to the mention of a particular event.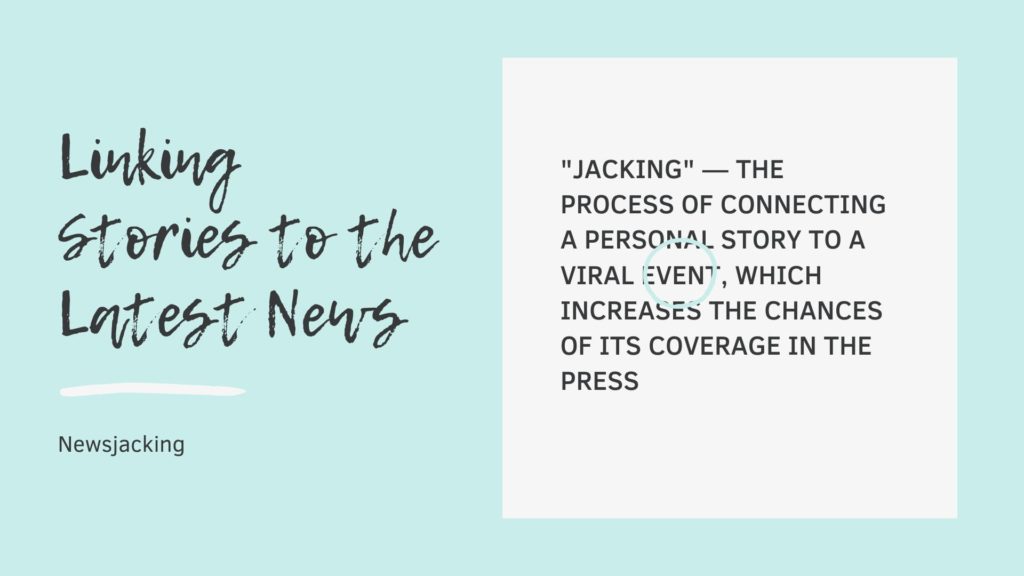 In other words, you use "jacking" — the process of connecting a personal story to a viral event, which increases the chances of its coverage in the press. It is important to answer several basic questions:
Can your company handle the current problem?
Are you an expert in the subject under discussion?
Do you have any specific data related to the current events?
The main goal is to find a connection to align your story with what is popular at the moment. When using newsjacking, it is important to remember a few things:
Always remain alert, analyzing the most important and relevant information at the moment.
Work quickly. What is relevant today may be irrelevant tomorrow; thus, it is up to you to create the story as soon as possible and tie it to a significant public event.
Carefully choose the theme. Stories about the death of a celebrity or the conflicts in the show business environment — are not the best decisions for the public relations of a company or brand.
Read more: What is Newsjacking and How Can It Help with Business Promotion?
PR Hack 7: Using Eye-Catching Infographics
When you work on a public relations campaign, you want to deliver important information in a clear and interesting way. Using eye-catching infographics is one of the most creative and efficient methods of delivering a vast amount of business-related data, numbers, or statistics. Thanks to this PR hack, your data will never have a dry tone, which is difficult to memorize and understand. Make sure you know how to create eye-catching infographics (maybe using some kind of infographic maker) if you want your company to generate the maximum interest and engagement. As soon as you start delivering aesthetically pleasing content, many potential clients will be willing to share information with others. 
PR Hack 8: Distributing Freebies Among Potential Clients
Would you like to generate a lot of buzz and boost your brand's recognition and visibility in a highly competitive market? One of the most popular methods to do that is by distributing freebies. When you work on the freebies, make sure they contain the name of your brand and have an eye-catching symbol that people can recognize. It is common practice to distribute mini samples of new company products. People like to receive free things, and it is an efficient way to generate sincere interest in your brand.
PR Hack 9: Employing Referral Programs
Referral programs are a well-known PR hack that is used by many public relations experts and companies. It is an efficient way to promote their new services/products to the target audience. In order to add perks, your existing clients will be willing to refer the services or products they love to others because they are simply the best on the market.
PR Hack 10: Developing Relationships with Local Business Owners
It is a clever way for a company/brand to get engaged with the owners of local businesses for the purpose of generating extra interest in their offerings. You can even try to find people who want to organize local festivals, workshops, conferences, and other interesting activities to better integrate your company into the local audience.
PR Hack 11: Use Guest Messaging Capabilities
Guest accommodation remains an excellent PR tactic. As an additional bonus, you can get several backlinks. When you post guest messages, you use your domain authority and site audience to promote work. This allows you not to spend years creating your vast audience — you just rent it.
The reasons for using guest publications as a life hack for better coverage of information in the media are several:
Mention in the top publication is a great way to earn a reputation and authority.
In the article and the author's call to action, it is very simple to indicate a reference to the target resource.
It is possible to use the DA site to increase the rating of an article in Google when searching by key target words.
PR Hack 12: Use Interviews in Podcasts
Despite the podcast field's oversaturation in the modern world, this is still an effective way to reach a wide target audience. Just think about how to just tune in to a podcast, stream it on your phone, watch it on Youtube and play it in the car. That is, the possibilities are almost limitless. Visiting famous podcasts as a guest speaker can be an excellent way to declare yourself an expert in a particular field.
In other words, this is a great way to earn a name in an industry. The more often you use the podcast, the faster your name becomes synonymous with your work area. The next time someone has questions about the topics of your work or needs to get a link to the leader's opinion — he can always contact you as a specialist.
Read more: Podcast Marketing Strategy: 20 Ideas on How to Promote Your New Podcast
Content Marketing Platform
100,000+ media publications;
get backlinks to your product;
scale work with content distribution.
PR Hack 13: Broken Link Building
This method of raising PR mentions involves organizing a three-stage process:
View sites to find non-working links in articles.
Notify their guide of found links.
Suggest articles or sites instead of non-working links.
This is a really powerful technology because it opens up the possibility of direct contact with owners of suitable sites. You do not need to refer to a previous conversation with them. It is enough simply to contact journalists to report on the non-working link found directly. They will probably be very grateful because non-working links spoil the DA site.
At the same time, do not forget that your article will be suitable as a replacement only if the topic is relevant. One should not hope that the journalist will replace the non-working link about nanotechnology with a blog post about marketing.
Manual search for non-working links is a tedious occupation, so it is worth using a special tool for searching for non-working links. This can be done as follows:
To begin, type the keyword you want to find the link by.
The service will scan the top 100 results on Google's checkout list for this key request.
It will review each rating page to determine which links are down.
Records broken links, source and target URLs, error type, and other important information.
Create a convenient report with all the necessary information to benefit from non-working links.
On a Final Note: Public Relations Campaign Growth Hacks
These best PR techniques will help earn a mention in the press. Good PR is not an exact science. It requires a little guile and personalization. As soon as you learn how to prioritize journalists themselves and their needs, luck will smile at you.
Read More: