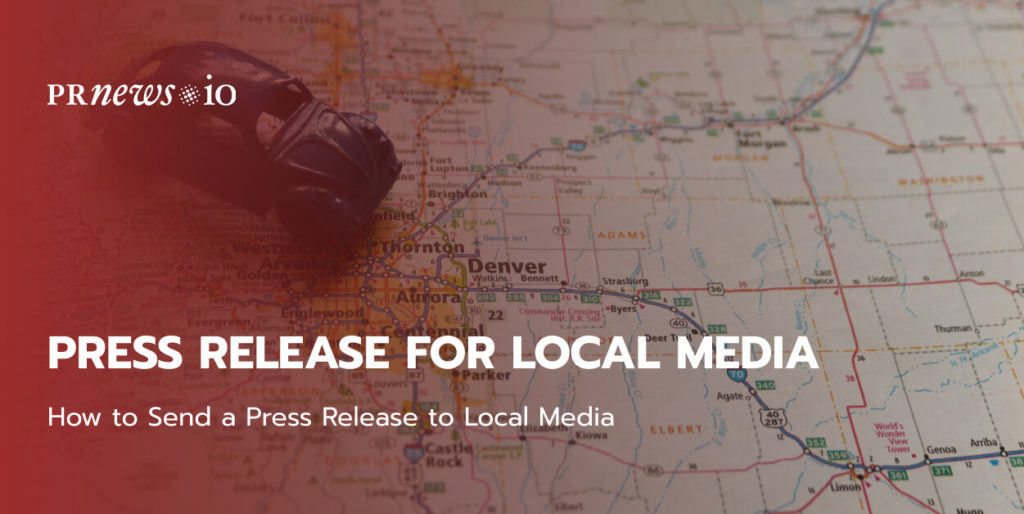 "How to send a press release to local media?" is a question that many companies ask when they embark on the path of sustainable development and want to reach a broader audience. The publication of press releases in the media and on news sites increases the company's positive image, attracts new customers, and can positively affect the site's ranking if there are links.
Sending press releases to local media outlets is an effective way to gain exposure for your business or organization within your community. Local media outlets, such as newspapers, radio stations, and TV channels, are always looking for newsworthy stories to share with their audience. By sending a well-crafted press release, you have the opportunity to get your message in front of a large number of potential customers or supporters.
Media Distribution Benefits
The distribution and posting of a press release can bring several benefits, including:
1. Building a Positive Brand Image
When a company is regularly mentioned in the media, it forms a positive brand image. The publication of press releases in the media enhances the brand's credibility and reliability in the eyes of partners and customers. If news sites don't cover your brand, it can be challenging to gain exposure and recognition.
2. Increasing Sales
The distribution of press releases can lead to an increase in traffic to the company's website, resulting in more orders for your goods or services.
3. Promoting Your Website (SEO)
Press releases are quickly indexed by search engines, and the links contained in them are perceived as natural. As a result, having more natural links to your website can lead to a better position of the company's website in Google's search results.
That is, the subscriber receives directly and almost in real-time each press release containing a predetermined word or expression, for example, proposify alternative.
4. Neutralizing Negative Content
Occasionally, unscrupulous competitors engage in a dishonest struggle and spread negative information about other companies. The distribution of press releases can help displace negative content from the top positions in search results.
It's important to note that a press release won't magically get a brand on the cover of Forbes or Fast Company. However, if done correctly, a press release can become a powerful tool for promotion. It allows you to share significant information about your company and its achievements.

Identifying Local Media Outlets for Press Release Distribution
The first step in sending a press release to local media is to identify which outlets you want to target. Start by researching local media outlets that cover news and events in your community. You can find these outlets by searching online or in local directories, such as Yellow Pages.
The types of local media outlets you may want to consider include:
Newspapers: Check local newspapers, both print and online versions, to find ones that cover your industry or niche.
Radio Stations: Research local radio stations that cover news and events related to your business or organization.
TV Channels: Look for local TV channels that cover news and events in your area.
News Websites: Find local news websites that cover stories related to your business or organization.
Social Media Pages of Local Media: Check the social media pages of local media outlets to see what types of stories they cover and to connect with journalists.
Determining the Appropriate Outlet for Your Press Release
Once you have identified local media outlets, the next step is to determine which outlet is the most appropriate for your press release. Consider the target audience of the media outlet, the relevance of your topic to the outlet's editorial focus, and the overall tone of the media outlet.
For example, if you are a local restaurant launching a new menu, you may want to target food bloggers, local newspapers that cover dining, and radio stations that focus on food and lifestyle.
In addition to conducting your own research, there are also online tools available that can help you identify local media outlets that are appropriate for your press release. One such tool is the Media Discovery service offered by PRNEWS.IO. This service allows you to search for media outlets by location, language, and topic, and provides a list of outlets that match your criteria. This can be a helpful way to find the right media outlets for your press release and save time in the process.
Collecting Contact Information
After identifying the appropriate outlets for your press release, you need to collect contact information for the media outlets. This can be done through online research, phone inquiries, or email inquiries. Building a database of contacts for local media outlets can be helpful for future press releases.
PRNEWS.IO as a database of media outlets
PRNEWS.IO is a global platform that provides a database of media outlets from 146 countries. It allows you to filter media outlets based on different criteria, such as location, language, and audience. You can also access media outlets' contact information and pricing details to determine which outlet is the best fit for your press release.

Using PRNEWS.IO can save you time and effort in identifying and targeting local media outlets for your press release distribution. Make sure to maximize its features and functionality to achieve the best results.
How to Send a Press Release to Local Media?
After you have identified the appropriate local media outlets and tailored your press release to their specific needs, it is time to send it. There are several ways to send a press release to local media, including emailing, following up, and sending a physical copy. Additionally, you can streamline the process by using PRNEWS.IO.
Emailing the Press Release
Email is one of the most common ways to send a press release to local media outlets. When emailing your press release, make sure to use a clear and attention-grabbing subject line. Address the email to the appropriate contact person and include a brief introduction of yourself and your company.
Make sure to attach the press release as a PDF or Word document. Avoid including the entire press release in the body of the email, as this can be overwhelming and may lead to your email being ignored or deleted.
Following Up
Following up after sending your press release is important to increase the chances of it being picked up by local media. Wait a few days after sending the press release and then follow up with a polite and professional email or phone call. In your follow-up, remind the contact person about your press release and ask if they have any questions or need additional information.
Sending a Physical Copy
Sending a physical copy of your press release can be an effective way to get the attention of local media. However, it can be expensive and time-consuming. If you do decide to send a physical copy, make sure to address it to the appropriate contact person and include a brief cover letter introducing yourself and your company.
Streamlining the Process with PRNEWS.IO
PRNEWS.IO can streamline the process of sending press releases to local media outlets. The platform allows you to create and distribute your press release directly through its database of media outlets from 146 countries. Using PRNEWS.IO can save you time and effort while increasing the likelihood of your press release being picked up by the right outlets. So, consider using the platform to streamline your press release distribution process.
Using specialized services is a valuable tool for business owners, as it allows them to send their releases to appropriate journalists without having to do the manual work themselves. While the cost of distributing press releases may seem high, it's essential to remember that time is money. By allowing experts to distribute your news, you can focus on the aspects of your business that directly affect your profits, saving you time and resources.
Distribution in RSS Feeds of News Portals
Many distribution services also offer RSS feeds (the Really Simple Syndication news export standard) of published messages, available for other sites, blogs, and individual users. This means that each release presented in RSS format can be viewed by thousands of subscribers of the RSS feed.
News services like Google News, which filters news based on keywords and phrases, also offer this feature. Subscribers receive press releases containing specific words or expressions directly and almost in real-time.
How to Send a Press Release to Local Media using PRNEWS.IO?
If you want to save time and avoid the hassle of reaching out to site editors and others, you can easily order publications in local media of interest with just a few clicks.
To do this, you need:
Go to PRNEWS.IO Media Catalog
Sign up or Log in using your data.

Select the desired country and region to publish your press release.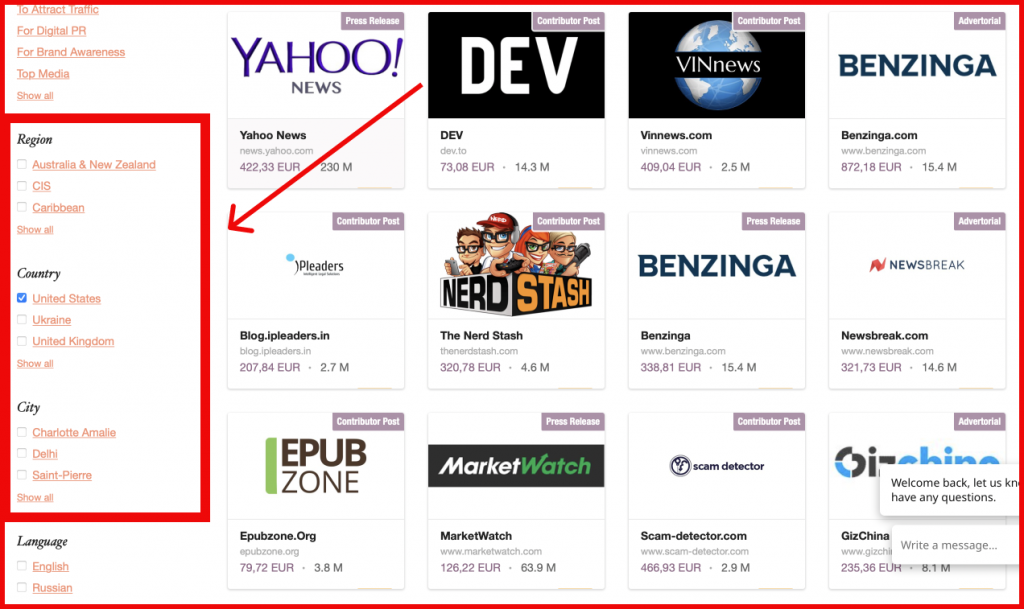 Add to your cart a list of available local media you want to publish.
Make an order and pay for it.
We are more than just a press release distribution service. Our experienced team knows how to craft a compelling press release that captures the attention of journalists and leads to maximum media coverage. With our help, you can save time and resources for your company. Unlike other press release distribution services, our main advantage is our careful and personalized approach to each client.
Giving the Press Release a Specific Local Character
Nationwide corporations realize that when the releases they send are tied to a specific area, they are much more widely used by the media. The local "feed angle" should, if possible, be reflected in the chapeau. Using the names of local celebrities and regional names or statistics attracts editors: they know that these interests readers.
For example, a certain corporation with offices and factories in 20 cities sends a press release stating that at present there are 30 thousand workers in its system who last year received salaries and payments for health needs in such and such a volume. This release may easily pass in the newspapers of some cities where the company operates, but will not receive any or almost any coverage in the broadcast media because it is too general.
Even the company's employees will hardly connect this release with themselves. However, if press releases report how many employees the company has in this area, they are likely to be used widely.
In a comprehensive study of press releases and their appeal, Professor Linda P. Morton of the University of Oklahoma revealed that less than 10% of press releases viewed by her were adapted to local conditions. When they considered the local situation, their practical use jumped sharply up.
Morton reported: "For example, out of 174 press releases that bear in mind the local situation, 78 were published. Compared to these figures, of the 1,174 general releases, only 87 were used."
Tips for Successfully Sending Press Releases to Local Media
A well-crafted press release is just the first step in getting your message in front of your target audience. To increase your chances of success, it's important to understand the needs of the journalists and media outlets you're reaching out to, and to tailor your press release accordingly. Here are some tips to help you succeed in your press release distribution:
Understanding the Journalists' Needs
Journalists are busy and receive a lot of pitches every day. To grab their attention, it's important to understand their needs and what they're looking for in a story. Make sure your press release is newsworthy and relevant to their audience. Consider the angle of your story and how it fits in with current events or trends. You should also research the journalist and their beat to get a better understanding of their interests and writing style.
Tailoring the Press Release to the Outlet
Not all media outlets are the same, and your press release should be tailored to the specific outlet you're reaching out to. Consider the tone and style of the outlet, as well as their audience and interests. Make sure your press release is formatted and written in a way that fits with their editorial guidelines.
Following Up in a Professional Manner
After sending your press release, it's important to follow up with the journalists or media outlets in a professional and polite manner. Give them some time to review your press release before following up, and when you do, make sure to personalize your message and show appreciation for their time.
Maintaining Relationships with Local Media
Building relationships with local media outlets is important for long-term success. Keep in touch with journalists and media outlets, and continue to provide them with newsworthy and relevant stories. By maintaining a positive relationship with local media, you increase your chances of getting future coverage for your business or organization.
Crafting a Compelling Local Press Release
A well-written press release can make all the difference in grabbing the attention of journalists and getting your message out to the public. Here are some key elements to consider when crafting a compelling press release:
Writing the Headline: The headline is the first thing journalists will see, so it needs to be attention-grabbing and concise. It should convey the main message of the release and entice the reader to learn more.
Crafting the Body: The body of the press release should provide more detailed information about the topic at hand. It should answer the questions who, what, when, where, why, and how in a clear and concise manner. The first paragraph should include the most important information and the following paragraphs can provide more detail.
Including Quotes and Multimedia: Including quotes from key people related to the topic can add credibility and interest to the release. Additionally, including multimedia such as images or videos can make the release more engaging and shareable on social media.
Formatting the Press Release: Proper formatting can make the release easier to read and understand. It should include a clear headline, dateline, body text, and a boilerplate or about us section at the end. Additionally, it should be free of spelling and grammatical errors.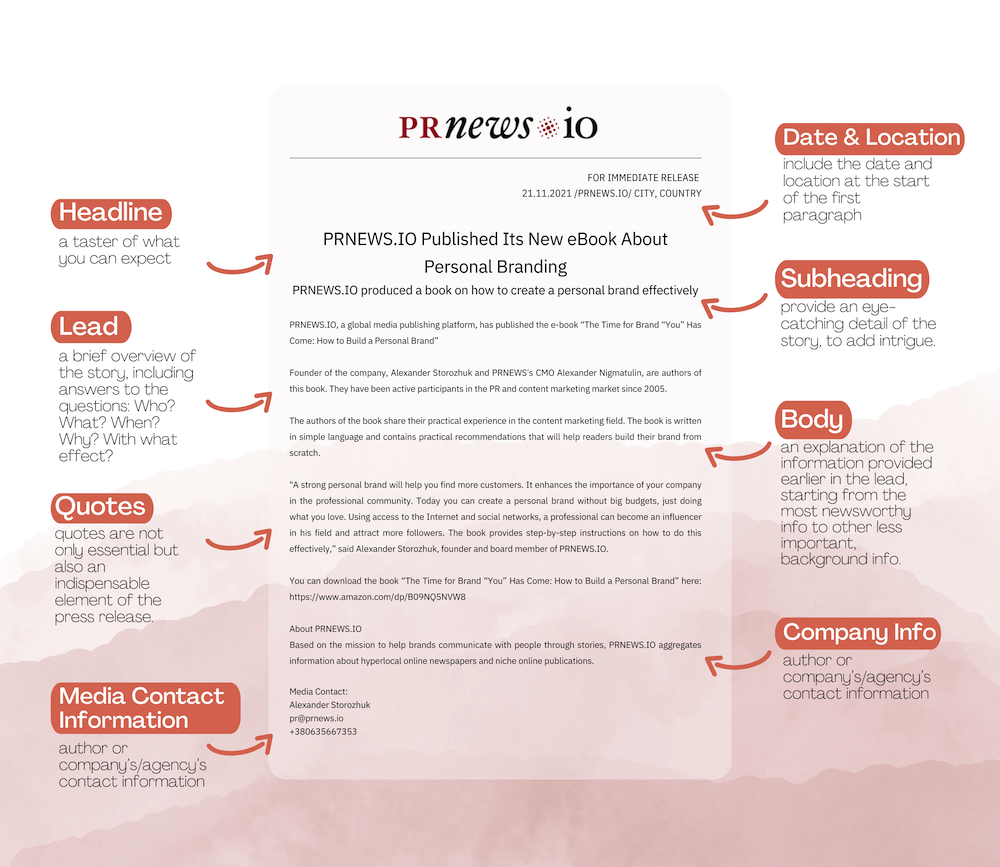 How to Choose the Right Time for Sending?
Think you can send a press release immediately after it is ready? You need to carefully plan the day and time of dispatch.
Most people check their emails in the morning to catch up on what they missed the previous day. It is a good idea to send your press release out early, but don't forget that journalists are likely to have around 300 emails waiting for them in the morning. It may be better to wait an hour or two.
According to our data:
The best day to send a press release is Thursday.
The best time to send a press release is between 10 am and 2 pm.
If possible, avoid Wednesdays, Fridays, and weekends, as it can be difficult or almost impossible to get the editors' attention. Also, avoid sending your press release in the afternoons (2 pm-6 pm) and early mornings.
Read more: The Best Time & Day to Send a Press Release
How to Send Out a Press Release?
Every publisher knows that creating high-quality content is not enough; it still needs to be conveyed to readers. Therefore, it is best to publish press releases on news resources and news collectors simultaneously with posting on the corporate website.
There are many resources available to host corporate press releases. Some are universal, while others specialize in specific topics such as oil, hi-tech, or medicine. These resources are virtual counterparts of traditional news agencies, and one of their advantages is the possibility of subsequent reprinting of published messages in online and print media, and even news aggregators.
A regular search allows you to track the fact of reprinting. Usually, the moment of truth comes on the second or third day after the publication of the press release. On sites interested in the news, the first publications appear, bringing new visitors to the site. If reprints do not appear after this time, then the press release may have failed, and it is worth analyzing why. By discovering and taking into account the mistakes made, you may well gain access to dozens, or even hundreds of Internet resources through a single release next time.
How To Do Public Relations For Small Business
How to use PRNEWS.io
In this video, I share a great tool called PRNEWS.IO – a marketplace where PR specialists, internet marketers, and advertisers can buy sponsored content. PR is great for visibility, business growth, and SEO backlinks (it can help you rank in Google)
FAQ: How to send a press release to local media
Where to send a press release?
To decide where to send a press release, it can be helpful to use resources such as the catalog on PRNEWS.IO website and choose relevant options. However, it's important to keep in mind that not all publications may be suitable for your specific needs. It's advisable to sort through the publications based on your target audience, geographical location, and other factors that are relevant to your business goals. So, before choosing publications for publication, it's important to carefully review and sort by your region, as well as other relevant criteria.
Who to send a press release to?
It is necessary to send out press releases first to journalists who will be interested in publishing it. This includes local newspapers and other printed publications in your region. Contact the editors of local news channels, and use targeted newspapers, news sites on the internet, and other media in regions where you are interested in expanding your business. Additionally, send the press release to key players in your industry, including industry leaders and famous bloggers.