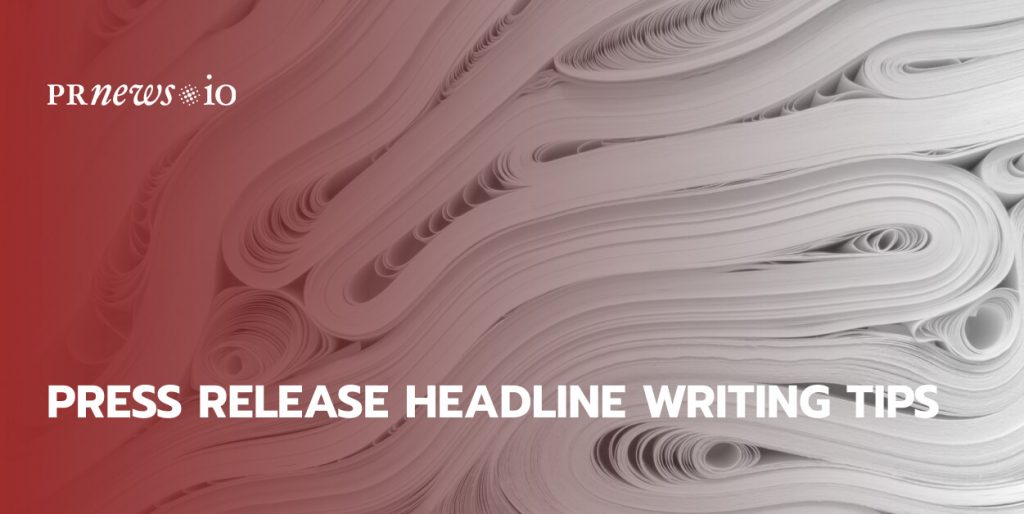 Make the headline of your press release as informative as possible, but don't make it lengthy.
A headline is what attracts readers to the story, but it also gives them a window to what the article it introduces is about. A press release headline should be short, succinct and to the point. The headline of your press release will get a journalist's attention and convince them that you have a story worth telling. In essence, it should be your entire story distilled into a few words. You should invest as much time in curating the headline as you do in writing the body of the press release.
Headlines are the first and main point of catching a user's attention and encouraging them to read an article. If you use words wisely in a headline, more people likely will read your story. If you use the wrong ones, a headline could scare readers away.
Brands use more peculiar and expanded headlines to explain upcoming events or make announcements. To make their headlines catchier, not just informative, companies use longer headlines, sacrificing snippet requirements.
We polled PR and brand experts to get 10 amazing tips you can use to improve your press release headlines.
Press Release: Headline Writing Tips
Your press release starts with the headline. Think of it as you would your first impression with a client or your first date. To stand out, it needs to be catchy as well as informative. Be clear about why your press release is important and relevant to your audience.
On average, 8 out of 10 people will read your headline, but only 2 out of 10 will read the entire article. Keep your headline short and accurate. Google has increased its character limit to 70-71 characters. So, aim for 70 characters, including spaces. Make sure the essential information is in the headline, and be sure to include your primary keyword. You can always add a subhead to include additional, relevant information and keywords.
Headline writing tips:
Include Numbers
People respond to numbers in headlines. Several studies show headlines with numbers generate 73% more social shares and engagement.
Action Words
Using action verbs in your headline gives a sense of urgency and grabs the attention of readers.
Use Interesting Adjectives
Adjectives provide descriptors that give your headline a boost to make them attractive to your audience.
Use language that plays on people's emotions. You want to elicit a response: laughter, anger or sympathy, for example. You need to provoke some reaction and curiosity.
Keep It Accurate
Including numbers and attention-grabbing language only works if the headline accurately describes your press release. Writing a misleading headline will ensure readers lose trust in your brand and avoid your content in the future.
Don't Hype It | Hindering Headlines of Press Release
Do not try to create hype while writing a headline: be factual and informative. I have noticed that newspapers, after picking up the press release, try to make their headlines attractive and sometimes create hype to attract the attention of the readers.
Once you've landed on the story, a killer, the pun-laden headline is the place to start, right? Wrong. The media, not PR practitioners, write the headlines, so focus more on the facts and leave the clever stuff to the men and women who get paid to do it. Make it interesting and to the point.

Use Less than 10 Words to Make It Twitter Friendly
Make your headline short and sweet. Readers and search engines alike get bored with long headlines. Give readers an immediate idea about the news. No more, no less. Try to limit headlines to 100 characters or less.
First, if you are releasing generic company communication in multiple publications, you should mention the name of the organization in the headline plus the 10-word heading.
Also, make sure you use the shortest words possible. A four-word headline is great, but not if one of those words is "advantageous."
Example: "Brand Vedas announces gainful employment for college drop-outs in digital marketing."
The second option is to highlight the cause, product, incident or subject and not the brand.
Example: "College drop-outs will find gainful employment in digital marketing now."
Another reason to keep a headline short and sweet is that it makes it social media-friendly. Think Twitter. Craft your headline so that it can be easily promoted on social media platforms.
Don't Try Too Hard
Excellent headlines are also effortless. While some editors disagree on the value (or lack thereof) of wordplay and puns, a pun or play on words should feel natural and not forced. I've seen a lot of headlines where it's obvious that the editor was trying to be cute and clever, and the amount of effort that clearly went into it kills the mood. And if you do use a pun or wordplay, make sure it isn't something that has already been used a gazillion times before (how many "Shocked" headlines were there this week?).
As far as resources and tools, the only one you really have, apart from a thesaurus, is your own brain. There's no trick to it. You get good at it because you're good with wordplay.
Additionally: You have to have a filthy mind to be a good headline writer, to be able to see how a headline might be misread. And do not be deliberately crass for its own sake.
These are actual headlines that someone actually published:
"Tired Gay overcome by Dix"
This headline was about a track event, about athletes Tyson Gay and Walter Dix.
"Bonnie blows Clinton"
Bonnie was a hurricane; Clinton is a town.
Add Keywords
Headlines play a very important role in SEO. Generally, using good keywords in headlines on blogs brings a lot of benefits. It helps you rank on the first page of search engines, and you know what that means: free organic traffic to your site and more visitors and sales.
Bear in mind that you are writing for real people and for search engines too. Keywords need to be featured skillfully throughout the news release. Subheadings are great places to position keywords, but they must be in your headline too. Ideally in the first three words.
Use Active Voice
Why should you use active voice in your writing?
Compare these two versions:
"John looked at the date on the check. He suddenly realized it had expired. He slammed the check on the desk. Furthermore, he needed that money for his car payment."
Now let's put that in the passive voice:
"The date on the check was looked at by John. That it had expired was suddenly realized by him. The check was slammed on the desk by him. The money for his car payment was needed by him."
The second version doesn't communicate the energy or emotion of the first version. Use an active rather than a passive voice. This gives your headline the power it needs.
Make Your Headline Work for You
Make sure your news release headline grabs your attention. Don't get too caught up with getting all the information you want to put in it. The test is whether it will catch the eye. And if it doesn't catch your eye, it won't catch anybody else's!
End with Your Headline
The headline should be the last thing you write. Only when you have completed the whole news release will you be able to hone in on the killer headline that encapsulates the piece.
Use Online Headline Analyzing Tools
The icing on the cake is to test your headline out. There are various headline analyzing tools online that can help you. They are no sure-fire guarantee to success, but they can be useful. CoSchedule is a good one to try.
Another one is this headline analyzer from Advanced Marketing Institute. It provides the "Emotional Marketing Value" score of your headline.
Is your business in need of a PR makeover?
Benefit from media coverage assistance.
Witness a refined branding approach.
Watch as your recognition soars.
Top 10 Words That Kill Your Press Release Headlines
Here you'll find words and phrases that can spoil your titles. We strongly advise you to avoid such constructions.
Superlatives
Press releases are written in the public style, which means the text should be informative and only contain important information. You should avoid using superlative words like "absolutely," "outstanding," "unique," "amazing," and so forth.
Vague Information
Avoid words that denote uncertainty or don't bear any important information. If the press release talks about milestones the company has reached or announces a discount on certain products, include the figures in your headline.
Parenthesis
Provide greater sense to your text using fewer words. Eliminate the words you can do without.
Evaluative Statements
Fill your press release with facts, not your attitude toward them. Readers wish to learn useful information, not your personal opinions.
First-Person Pronouns
Using the first-person narrative is one of the biggest mistakes you can make when writing a press release. Present your story the way someone else would write about your company or your event.
Cliché Phrases
Replace hackneyed phrases or clichés with more definite sentences. Please note that these can be easily replaced with one word in most cases.
Time Markers
News is called such because it tells us of something new. Thus, stressing urgency is considered poor tone in most cases. Excessive time markers make the text sound too formal. If you need to label the timeframe, add the exact date instead.
Nouns with Prepositions
Use adjectives instead of noun + preposition constructions. Using adjectives in most cases sounds more natural and is easier to read.
Professional Jargon and Terms
It's better to avoid terms and professionalisms. Substitute them with explanatory words.
By avoiding using these words and phrases in your headlines, you increase the chances of the press release being published in the media.
Conclusion
Online media receive hundreds of press releases. Here at PRNEWS.io, we help to distribute over 2,000 press releases every month. Journalists quickly decide what press releases to publish and which ones are not noteworthy. Yet with so many press releases that are sent to journalists, it's no wonder that many press releases fall into oblivion.
The best press release headlines are elegant. They convey the meaning of the story but don't give it all away. They also are not a snooze fest to read. Likewise, they can be serious or playful, but they shouldn't be unwieldy. They should not oversell the story. Some headlines are long and some are short; the best copy editors can create an elegant headline with very little space.
Content Marketing Platform
100,000+ media publications;
get backlinks to your product;
scale work with content distribution.
Read more: