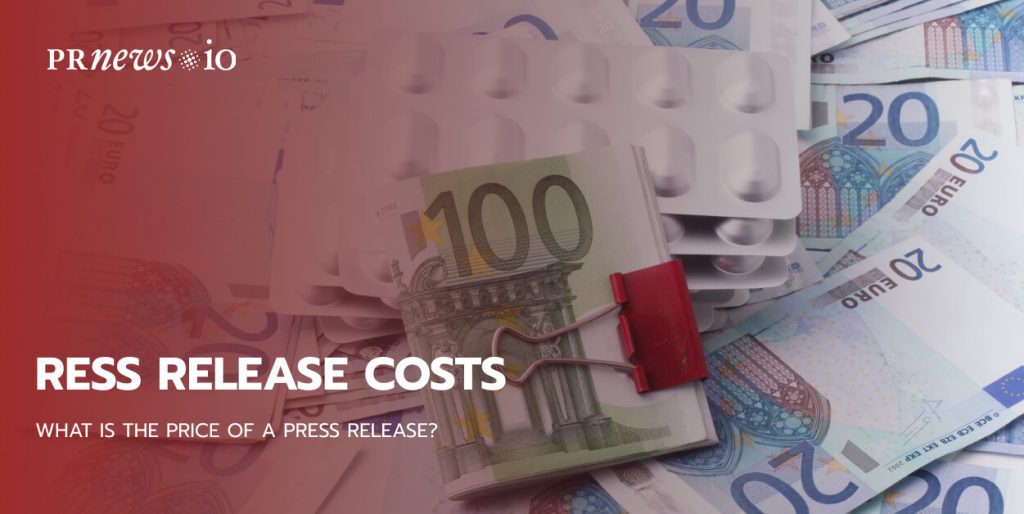 How much does a press release cost? Not everybody has qualified staff to write a release for a company. Some business owners do not even think about hiring someone for a position and do not understand why they need to post on social media. However, press releases are one of the most significant and useful parts of a successful venture. Large companies are interested in many publications already because of their size. Therefore, their press releases receive increased attention. Here, journalists have to "fish out" information in order to have a reason to write about big business.
What is the price of a press release?
To answer the question, we have to check the options we have. The cost of the press release includes its writing and distribution.
You can write it, but to get the publicity, you still need quite a big budget. Not every respected paper wishes to post news about the startup.
The following factors can also influence the cost:
The site where you are posting the press release. The better, higher quality, and more popular it is, the higher its SEO indicators, the more visits it has, and the higher the price.
You can either write a press release yourself or hire a copywriter.
How much does it cost to create a press release with the PRNEWS.IO service?
PRNEWS.io has a highly skilled team that specializes in creating professional press releases for various media resources. Ordering a press release from PRnews.io is the quickest way to go public. So fill out a brief online form, and an assigned professional writer will do all the work for you. If you choose PRNEWS.IO to write your perfect press release, it will cost approximately $200, depending on the assignment's complexity. It is a precious service for busy people, who appreciate their time and want to use it effectively.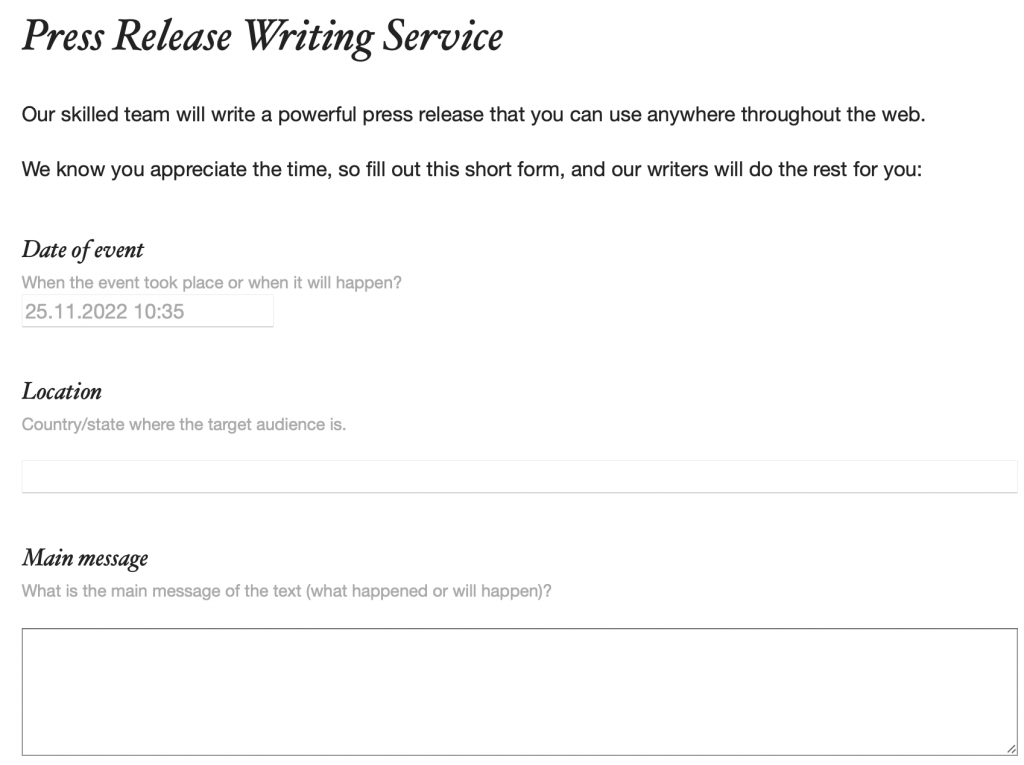 Professionally written press releases can make your brand known and respected. Once you try professional writing services, you will never ignore such an efficient tool. It is a way to increase sales, boost brand awareness, increase confidence and trust between your company and clients, create a positive image, and direct the message to the target audience.
What PRNEWS.IO clients will get?
a professionally-written press release;
well-optimized content for the media representatives;
content that is stylistically and grammatically polished;
a text that works as a worth-reading announcement about brand news;
client's satisfaction;
met deadlines, even the strictest ones.
How much does it cost to distribute a press release?
Writing a press release is half the battle. Now you need to distribute it properly.
Our consultants will help you choose the best media outlet for your press release among the 100,000 outlets available. Choosing the right platform is the key to reaching the right audience and attracting potential clients.
Check our prices for placing press releases on different sites here: Sponsored Content Online Store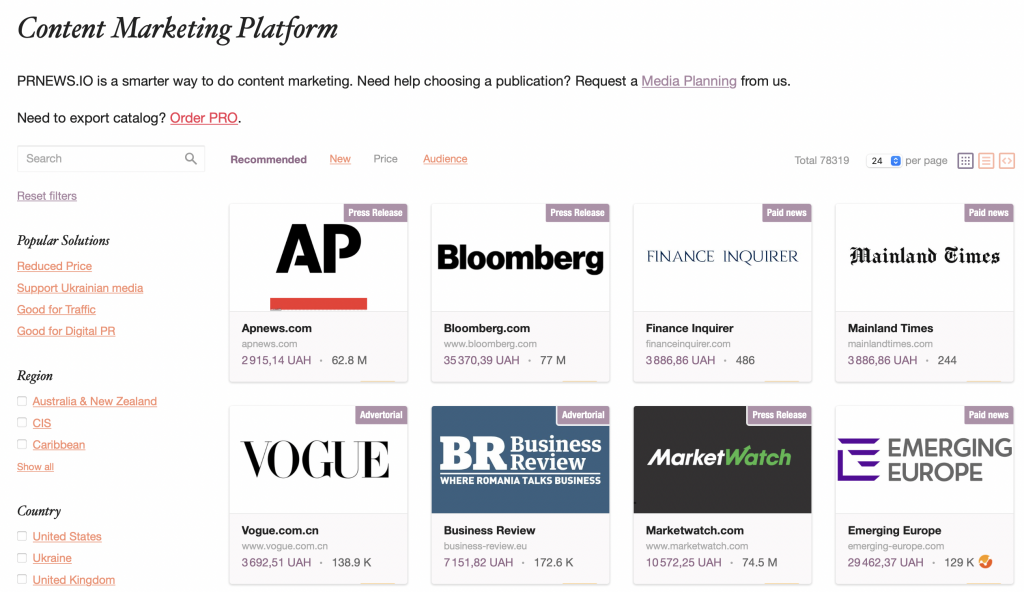 Here you can appear in many popular publications without spending much money on them. We can do all the work and get you on any pages you like. Provide the information about your business, the details, and your newsworthy event, and we will do the rest.
How To Do Public Relations For Small Business
How to use PRNEWS.io
In this video, I share a great tool called PRNEWS.IO – a marketplace where PR specialists, internet marketers, and advertisers can buy sponsored content. PR is great for visibility, business growth, and SEO backlinks (it can help you rank in Google)
The Advantages of Ordering Professional Writing Services
PRNEWS.IO knows how to distribute eye-catching press releases via the most popular media outlets and channels. You can see the difference between a press release written by an inexperienced writer and a professional team. Make sure your media release sends the right messages to the target audience.
Efficient media coverage is essential for every business. It is the only way to maintain a consistently positive brand reputation in the market, both on a local or global scale. PRNEWS.IO team has enough experience to select the right words to describe your brand, services, and products in the best light.
Take examples from other well-known brands in your particular niche. They would not achieve such bright success without getting the maximum benefits from the media. They use it in their marketing and public relations campaigns to attract as many new clients and business partners as possible. You need a press release every time you'd like to deliver information about a brand event, a new service/product release, a discovery, or other essential and interesting announcements. A press release is the best tool to deliver the brand message to the target audience and, as a result, gain people's full attention. Indeed, your project can benefit a lot from a properly written press release.
Content Marketing Platform
100,000+ media publications;
get backlinks to your product;
scale work with content distribution.
The Reasons You Should Buy a Press Release
Advertising. When you have a new line of products coming out or improved materials to manufacture even better goods, your followers need to know about that. First of all, your company's reputation depends on your customers' reviews. Secondly, you would have to attract some users to grow when you are trying to promote a startup. By writing press releases, you will inform the crowd that you have made some changes to provide great services and things. Thus, a press release will work as an advertisement. The launch of a new product or service may be of interest to industry journalists.
Supporting customers' interests. If you already have a list of devoted clients, they will be eager to know how their favorite store is doing. What are they producing now? Do they participate in charity campaigns or organize some beautiful meetings among customers? A press release is a viable opportunity for the public to get information about you directly.
New sponsors. When you are writing for the media to tell about yourself, try to describe the company's mission, and it might find you, new supporters, and sponsors, for fruitful collaborations.
Increase in search engine awareness. Any article that you publish in the media can improve your organization's reputation and help your clients find Google reviews and other data about you. Publications are a viable marketing tool that will assist you in developing your startup.
There are times when a company's press release is simply necessary — for example when you have a public joint-stock company, and you are required by law to notify the public about the company's financial results or report changes in top management. Or when the well-being of the entire city depends on the activities of your organization (for example, if you are responsible for electricity, water, or heat supply) and an accident occurs on the line, or when you are organizing a large-scale event and want to invite as many people as possible to it.

Tips on Writing a Press Release
Before you start writing, select the type of release. It might be the launching of new services and products, the organization of special events dedicated to the company's event, or just news about crucial changes.
The structure of each press release would be different according to the chosen type. As a rule, each news item should have a heading, date, and message itself, where you explain the point of the release. If you lack experts and do not have time to write a press release yourself, you may apply to PRnews.io.
How to Write Press Release – Guidelines, Formats, Free Samples
Every customer can tag some filter marks to choose the press release category, geolocation, and a suitable price. This clear navigation helps you to find what you need for the moment. Sure, you order a bunch of different works, and we will gladly create news about that.
Our professional writers can make a fine press release based on the data provided by you or your representatives. By the way, we can help with media planning, depending on your goal. We draw up a media plan for:
SEO — high-quality backlinks.
ORM — Positive Reputation / Fighting Negative.
PR — Media Coverage and the Publicity of the Brand.
Media Planning - ask for media plan for your campaign
Conclusion
PRNEWS.IO is a reliable service for your marketing and public relations campaigns. The team will help you with a valuable resource, which is time. Placing a new order is simple and happens online. Clients receive unique content on the specified date.
Cooperating with PRNEWS.IO, means investing in the result.
Is your business in need of a PR makeover?
Benefit from media coverage assistance.
Witness a refined branding approach.
Watch as your recognition soars.