Businesses put a lot of effort into making their business the best it can be. They have to engage in effective communication, marketing, and sales activities to maximize revenue and ensure viability.
PRNEWS.IO facilitates business interaction with publishers of news sites. This greatly speeds up the work on seeding branded content – press releases, promotional articles, interviews, and news. The PRNEWS.IO team can save you a lot of time with effective content service. Here's a quick guide to help you.
PRNEWS.IO Overview
There are at least three basic strategies that this tool is suitable for:
To increase brand awareness and reputation management.
Regular branding posts on high-traffic first-tier sites help readers learn about your brand and increase social proof. The plots of the articles appear in Google News and are quickly indexed by search engines, thus appearing at the top of the search results.
For digital PR by building backlinks to your site. Many news sites link to websites of the story "protagonists", and these links are visible to search engines. This allows you to build a link environment and increase the weight of the site for the search engine. Such links are much more effective than links on forums, social media posts, or rented links on dubious resources.
To drive traffic to the site. Published articles allow you to "warm up" the user and attract him to your site already involved. Since many websites publish articles forever, you can get extra traffic regularly. This is more profitable than PPC ads that stop referring customers as soon as you pause the campaign or run out of funds.
Build Quality Backlinks For SEO
Sorting sites by attendance by country
This feature is available in the PRNEWS.IO catalog. With it, you can easily find sites that are popular among residents of a particular country. The high share of British traffic on Polish sites indicates a significant number of ex-pats and ethnic Poles living in the UK, but consuming "home" news. This feature is highly valued by clients in the money transfer segment, who post promotional materials on news sites popular with ex-pats.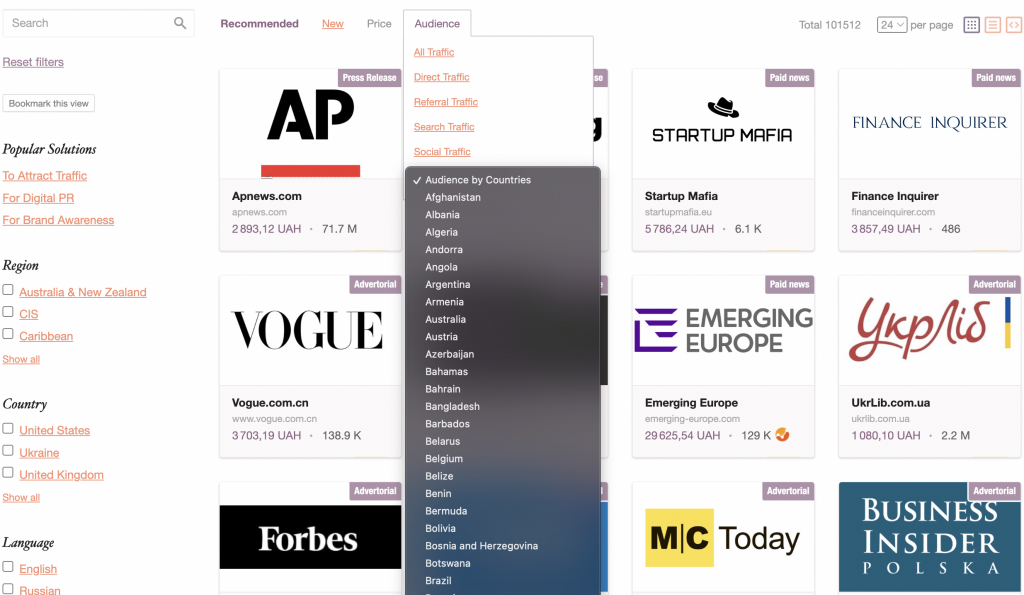 Publishing to sites with access to their Google Analytics
Sorting sites using Google Analytics – placing materials on these sites will allow you to track analytics by viewing the article in your personal account. The service is the only one in the world that offers such opportunities. The number of connected sites is constantly growing. Currently, more than 1600 domains have been connected, and this figure is constantly growing. The list includes sites-millionaires and domains from the US and UK. The list of selected websites can be exported to a CSV file for further analysis and reporting.
Sort by parameter range
The advanced view of the catalog allows you to customize the columns and their order for display. All values are sortable by a range of values. For example, you can select all sites with traffic from 1 million to 20 million people per month. This format is helpful for professional users who need fine-tuning.
Contrary to this is our Popular Solutions wizard available on the user's dashboard. Wizard suggests using the three basic strategies listed above. Choosing an option – Digital PR will take the user to the catalog in advanced mode, where all the necessary filters have already been applied. Since digital PR directly depends on the quality of the domains from which the link environment is built, the system selects sites with pre-necessary parameters in terms of domain quality, hyperlink conditions, etc.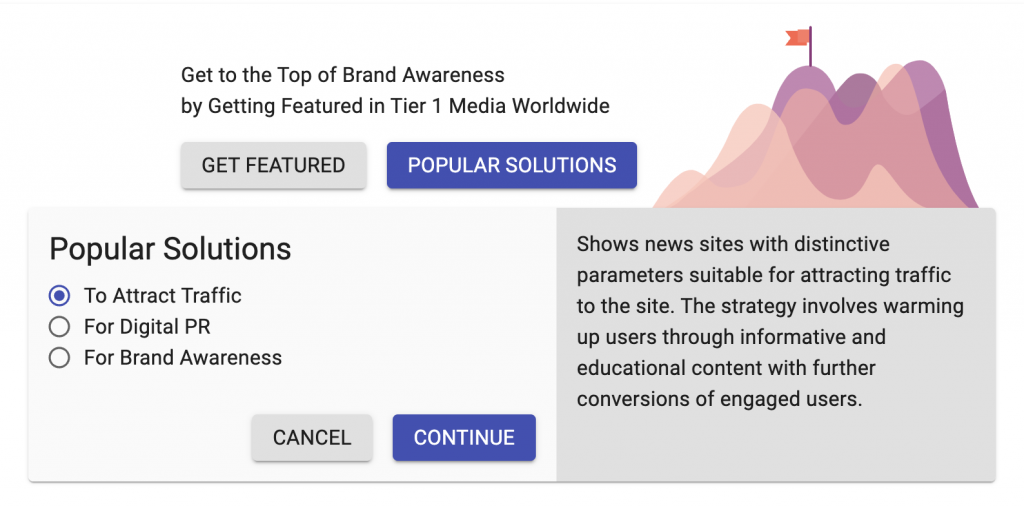 It remains only to apply filters related to the desired geography or language of the site:
Region and Country – select sites from the respective regions.
Site Language – Selects the available language versions of the site.
Category – selects the topic of the site.
Visit data for several years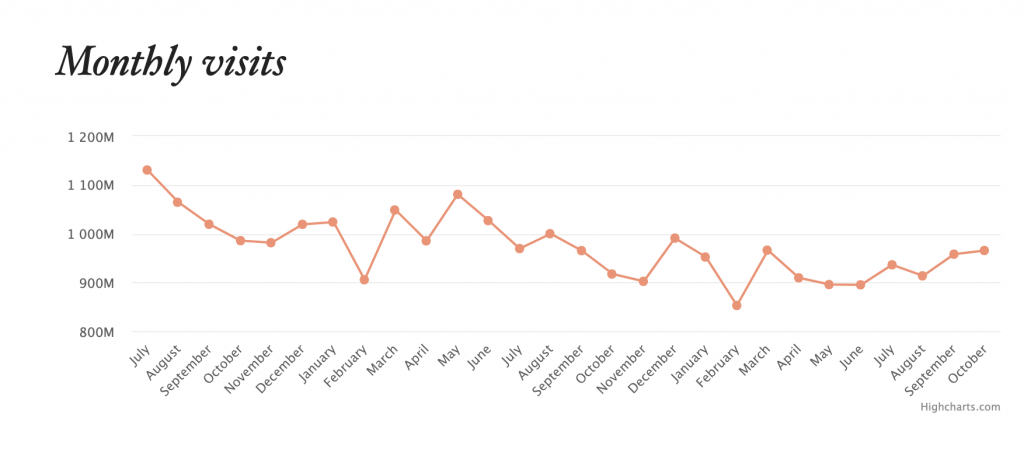 You can see the monthly traffic, the average time users spend on the website, how many pages each user views on average, and the bounce rate. When viewing data through SimilarWeb, by default, results for the last 6 months are visible, in the paid version this period covers the last 12 months. If you use the feature on our service, you can track 2-3 years of data. And only we have such an opportunity.
Bookmarks and Lists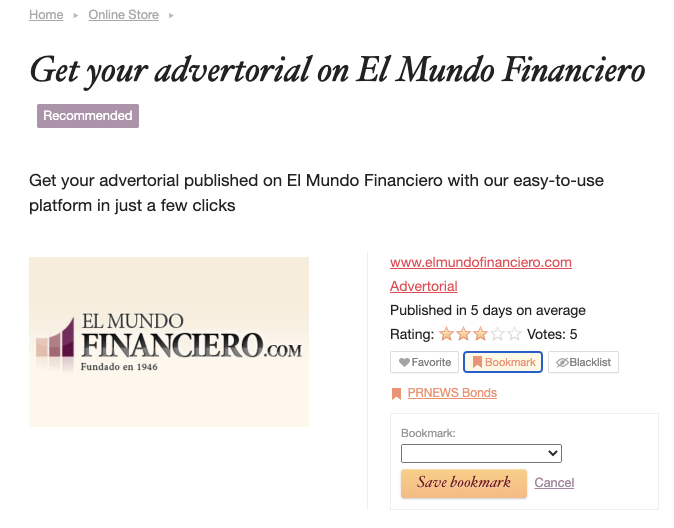 Adding favorite sites – to favorites or blacklists, as well as creating your own bookmarks, makes it easier to access sites in the future and quickly view them.
An extension of this feature is the Bulk Site Checker for a match with the directory. Allows you to check a list of links, for example, a list of backlinks to your competitor's site from Ahrefs, and compare against the presence in the PRNEWS.IO directory. In fact, this is a ready-made media plan: just put the found sites in the basket with one click or create your own list based on the results. This feature is currently available for PRO accounts, but it is planned to expand it to all users soon.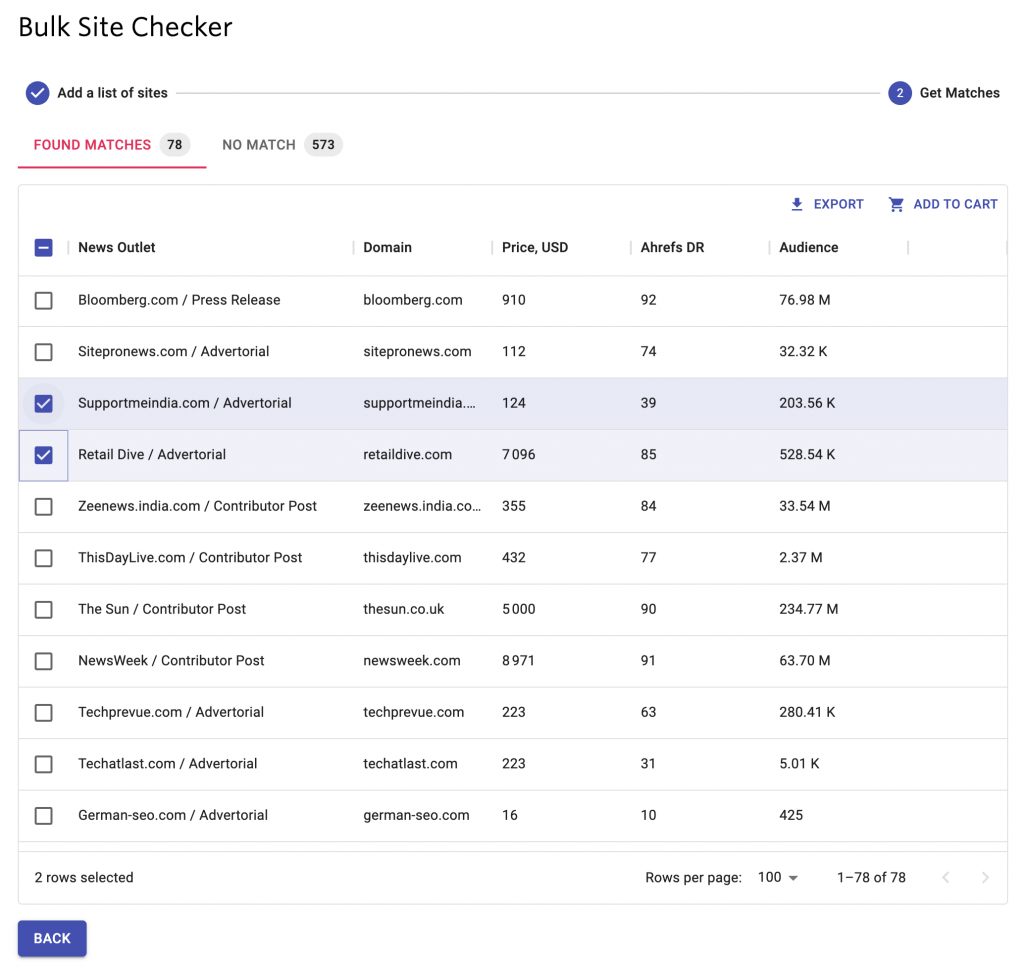 Other benefits of PRNEWS.IO:
The largest media catalog – has 102 publications in 197 countries in 77 languages.
Easy-to-use interface. Buying a branded article is no more difficult than buying a microwave oven from Amazon.
Full control over what will be published. Theses and accents placed in the material will remain and will not be taken out of context by indirect references.
Postponed publications. The "Embargo" function allows you to delay the launch of the material until the specified time.
Payment logistics and work with one counterparty instead of a dozen (the accountant will thank you!).
The ability to follow the publication: the number of views of each material, the history of orders. An already published article can be further advertised.
Unique viewers estimator. Allows you to predict the expected number of article views.
Income for webmasters. If you are a publisher of a news site, you can offer advertising space and accept orders for press releases, news, and promotional posts.
Content Marketing Platform
100,000+ media publications;
get backlinks to your product;
scale work with content distribution.
Bottom line
PRNEWS.IO is the perfect tool for broad media coverage in a few clicks. It helps to implement three basic strategies: increase brand awareness, create digital PR through a high-quality reference environment, and attract targeted traffic interested in your business products and services.
The service is useful for any kind of business. Startups should provide a media explosion that will provoke a wave of interest and attract the first customers. For companies that have already established themselves in the market, to make their business viral and recognizable among large masses of the population. And this, in turn, will attract clients from the zone of the early and late majority – the most numerous groups of clients who rely on the arguments "famous", "fashionable" and "largest" when making a decision. SEO specialists in site promotion – to get backlinks from visited resources and traffic to clients' websites.