PRNEWS.IO is a service that facilitates business interaction with journalists. It can significantly accelerate the work of your PR department. With PRNEWS.IO you can distribute press releases, promotional articles, news in tens and hundreds of publications, thereby increasing brand recognition, as well as receive backlinks and lots of traffic.
PRNEWS.IO Overview
Service tools and capabilities:
PR coverage to increase brand recognition and reputation management. You are posted on visited websites (information portals, news resources), and readers will find out about you. Also, texts are quickly indexed by search engines — an article about you may end up at the top of search engines. Posted articles help readers form a positive attitude towards your brand and overlap the negative in the information space in time.
Getting backlinks. Many websites from the PRNEWS.IO catalog post direct links to advertisers. This allows you to increase the reference mass and increase the weight of the website in front of searchers. Such cooperation is much more profitable than buying links for placement on forums, on social networks, or dubious resources.
Build Quality Backlinks For SEO
Traffic to the website. Published articles allow you to attract a ton of traffic to your website. Since many websites publish articles forever, you can receive additional traffic regularly.
Order promotional mentions from opinion leaders and bloggers. Available for missile defense accounts.
Unique Viewers Estimator. Approximate calculation of article views.
Earnings for webmasters. If you are the owner of a high-quality visited resource, you can offer a platform for advertising and accept orders for the placement of press releases, news, advertising posts.
PRNEWS.io Advantages:
Optimal placement of PR content in the media on its terms. Through your personal account, you can specify a particular time to send information to your location. Theses and accents placed in the material will remain and will not be taken out of context by indirect references.
Automation of materials placement in the media.
Thoughtful payment logistics and lack of intermediaries. Regardless of the form of payment for PR-publication and the currency used, the media edition anywhere in the world is guaranteed to receive payment from PRnews.io.
Ease of use with the platform. The simple interface allows you to easily and quickly download a press release, supplement it with photos and videos, and distribute it on the Internet. You do not need to install other applications or programs.
The ability to monitor the publication: the number of views of each material, the history of orders. Working with promotion tools.
A unique press center that adapts to the company's brand. Setting this option allows media employees to collect the necessary information about the company: logo, information about the manager, scope of activity, and other data for the design of a news article.
Online technical support allows you to quickly and easily solve any problems with a press release: from the moment it was created to publication on the Internet.
The platform catalog has 54,643 publications from more than 200 countries. Press releases are available in 66 languages in any of the 52 news categories.
5 Functions of PRNEWS.io Over Competitors
Sorting websites by country traffic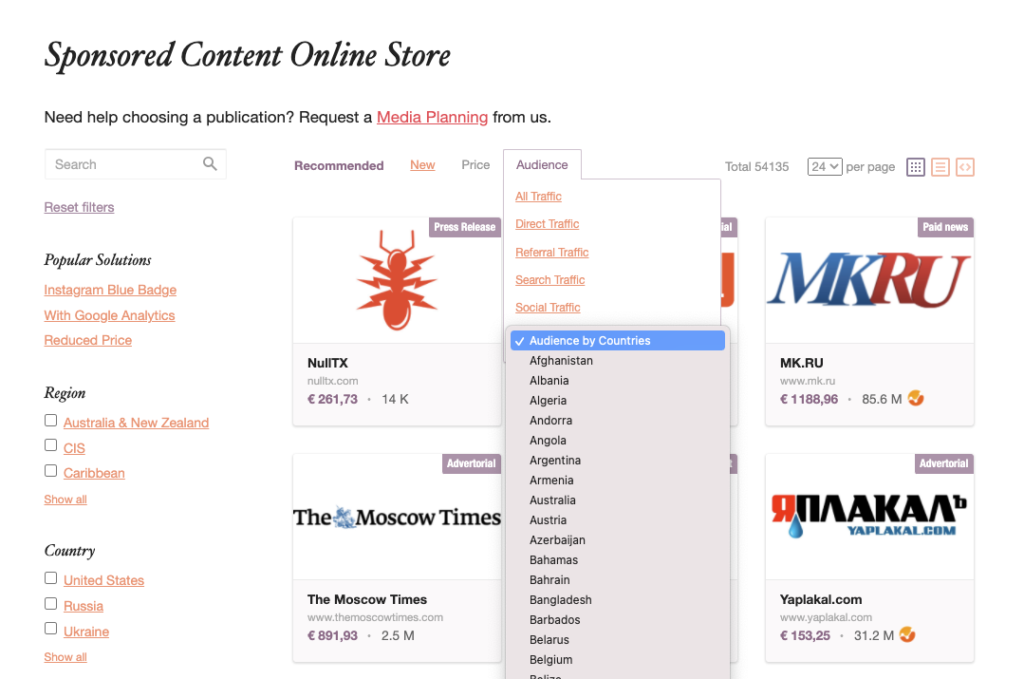 This function is available in the directory PRnews Sites. For example, you can easily post American websites that are most popular with residents of other countries. If you have a local business — choose country, if international — those countries in whose markets your business is oriented. You can post articles on blogs, news websites, news agencies, portals, regional websites, press release services, social media. Also, all websites have detailed statistics that will help you understand what to expect from the placement. To study it, you need to click on the website logo.
Publication on websites with access to their Google Analytics
Sorting websites with Google Analytics. Posting materials on these websites will make it possible to track analytics by viewing an article in your dashboard. The service is the only one in the world offering such opportunities. The number of connected websites is constantly growing. Today, more than 1600 domains are connected, and this figure is constantly growing. The list includes website millionaires and domains from USA & UK. The list of selected websites can be exported to a CSV file for further analysis and reporting.
Sorts by parameter range

In extended column mode, you can customize the parameters to your taste, respectively, and the values for sorting will change:
Region and Country — we choose which countries to publish in publications.
Select the language of the website (accordingly, the text of the article should be written in that language).
Category. The subject of the website on which we will post texts.
Website type. Type of publication. Through PRNEWS.IO you can post not only press releases, but also interviews, thematic columns, native advertising, news, advertising posts, information articles.
News aggregators. If you post news on the website, you can filter such resources by source.
Additional conditions. You can find websites that post texts without a note about advertising, publish the announcement of your article on the main page of the website, post direct links to you, and provide viewing analytics.
Rating and time of publication. With this filter, you can select the highest quality sources and find the ones on which your text will be published the fastest.
Website cards are displayed to the right of the filter column. You can also filter them: show recommended, new, configure the price range, and select the source of traffic.
Visit data for few years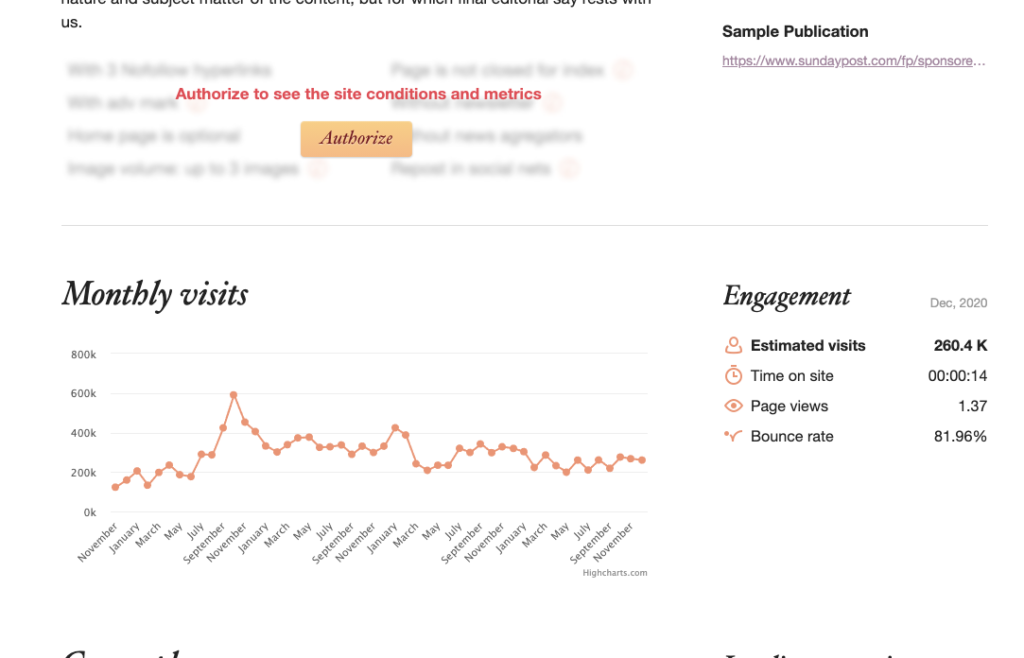 You can see the monthly attendance, the average time users spend on the website, how many pages each user views on average, and the failure rate. When you view the data through the SimilarWeb, by default you can see the results for the last 6 months, in the paid version this period covers the last 12 months. If you use the function on our service, you can track the data for 2-3 years. And only we have such an opportunity.
Bookmarks and Lists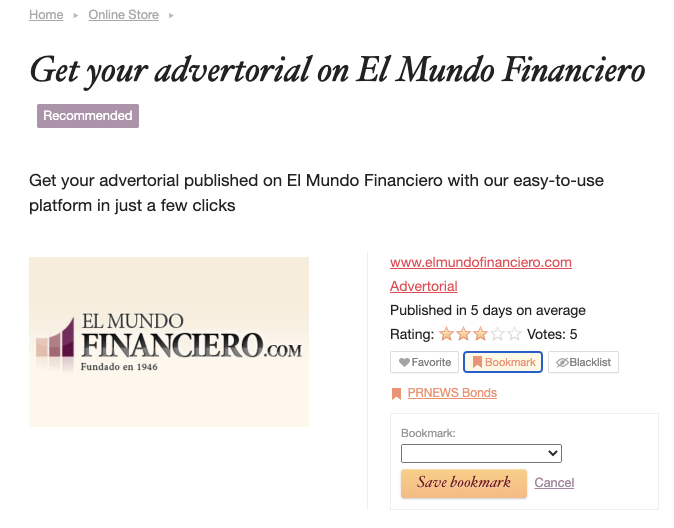 Adding your favorite articles to lists and bookmarks makes it easy to access and quickly view them. This feature is currently available for PRO accounts, but shortly, it is planned to expand for all users.
Bottom Line
PRNEWS.IO is an ideal tool for solving the following problems: building a positive brand reputation and combating negativity, media coverage and brand publicity, obtaining high-quality feedback and traffic.
The service is useful for any type of business. Companies that are already entrenched in the market, PRNEWS.IO will help increase brand recognition and bring more customers, startups — find the first buyers, SEO specialists promoting websites — get backlinks from visited resources and traffic to customers' Internet portals.