For search engines that crawl the vast "planet" of the Internet, links are "rivers" between pages. Using sophisticated link analysis, search engines can find out how pages relate to each other and why. This is how the concept of link building appeared.
Link building is a method of link promotion of a site by building up a high-quality link mass (here it is important to understand that we are talking about an external link mass), in which a large number of external links are recruited to optimize the required resource. And local link building is the same process of getting backlinks but from the corresponding local websites.
In this article, we will analyze the main link-building strategies for a local business, their importance in general, and determine the reference methods for obtaining links that are guaranteed to show their effectiveness. Want to rank in local results in Google, Bing, Yandex, and other search engines? You are in the right place! Let's get it started!
Content Marketing Platform
100,000+ media publications;
get backlinks to your product;
scale work with content distribution.
What is local link building?
Local link building is the systematic receipt of backlinks to a site from other local sites to increase authority in the eyes of search engines. Link building has many tasks, but the key is to constantly increase the authority of the domain.
The concept of "local" popularity, which first appeared in the Teoma search engine, suggests that links from sites in a thematic community are important not only as links to general and off-topic sites. But over time, search engine algorithms have become more complex, and accordingly, gaining popularity now needs to be approached more creatively. But we know in practice that backlinks are still a key ranking factor.
Plus 46% of all Google searches are local. This proves the importance of local link building in the general strategy of promoting your web resource.
?  How to Send a Press Release to Local Media
Where to start and how?
Here are the main points to pay attention to when seriously dealing with the issue of link building for local SEO.
Quality
In almost every article about link promotion of sites, we mention the importance of internal revision and total site verification at the start. It seems a priori understandable, but few people will refer to a "raw" site. And especially such flaws will definitely confuse popular search engines.
So check:
Phone numbers, email, addresses. Make sure that the contacts are correct, they are easy for the user to find on the site, they are readable and easy to interact with.
Correctly working feedback forms.
Anchored map with exact location.
Detailed driving instructions. Nowadays, the video format of such instructions is becoming very popular, when shooting takes place in the first person.
Schedule. Now in the period of quarantine and lockdowns, this is more important than ever. You should regularly update the information on the website at the slightest change in the schedule.
Notices and rules. A mask is obligatory, no pets allowed, 18+, we work only for takeaway or on pre-order, dress code, etc.
Delivery information. What services do you work with, on what schedule, the actual cost.
Legal documentation. This inspires absolute confidence. Certificates, licenses, permits, statutes, etc.
Adaptability
Do not forget that local Google searches are performed from different devices and applications. Your website will display differently on a mobile, tablet, and the Google Maps app. Pay attention to this at the start. Smartphones are our everything, so your site should be 100 percent mobile optimized. In today's world, a visitor is more likely to connect with a local business if you have a mobile site. And even better if you have an application.
GMB
For those of you who do not know, building and optimizing your organization at Google My Business is the foundation of local SEO. According to statistics, more than half of the existing companies have not even announced their organization in GMB. The Google My Business statement is a good starting point for much more than just local SEO. Local Business Directories are indispensable in Google My Business.
Creating a company card in this directory not only allows you to get a link from a trusted donor but also increases the credibility of the company on the part of Google and your target audience.
Important points:
Fill in absolutely all information fields. The more details about you are written, the better you will be perceived by the search engine.
Add only relevant contacts.
Add a work schedule.
Attach visuals. Logo, photos, videos. Anything that helps you get to know the company and provides a better visual experience.
Links to social networks of the company.
Active link to the site. Be sure to check it after posting.
Reviews. Most catalogs and mapping services have a column of company reviews. It is worth monitoring them regularly and responding to users promptly. This is how you earn loyalty.
Indicate the pros. Parking, terrace, vegetarian menu, free WiFi, children's corner, etc.
Add the current price list. On some sites, the presence of a price list or at least a price fork is required.
Niche analysis
Before you start promoting your site, you need to see the whole picture of your niche.
Namely:
What are the competitors doing?
What methods are used?
What are their strengths and weaknesses?
What budget is needed to get the result?
In what time frame can the result be expected?
How can you overtake them?
But, there is an important point with the correct analysis! Many local site owners prefer to consider the big world business as their competitors. For example, a sportswear store might easily consider Nike as its direct competitor. There will be little benefit from such competitors. It is always worth relying on young companies that have achieved success in a short time. And use useful practice for yourself.
Fixing indicators before starting promotion
This will help not only track the effectiveness of the link-building strategy that you choose but also understand what mistakes were made and what brings real results. And we are smoothly moving on to local link-building strategies.
Local Link Building Strategies
Now that you have an understanding of the meaning of local link building, it's time to think about how to properly develop a promotion strategy and which direction to choose.
Crowd marketing
This is attracting the target audience through the placement of recommendation reviews on various sites, forums, blogs. With the help of crowd marketing, you can give a natural link profile, increase audience reach and improve your company's image. But you must remember that crowd marketing if it does not work properly, can significantly damage the site and its reputation. Before taking on its implementation for a local business, consider a few nuances:
Crowd marketing sites should be selected solely by the topic of discussion. Not the topic of the site, but the discussion.
The discussion should be relevant. It does not matter when the conversation was created, it is important that the visitors still support it.
Try to add a picture, video, and links to third-party resources to your crowd marketing post. This will attract more attention.
Do not enter into conflicts and disputes with the participants in the discussion. Do not forget about reputation and word of mouth.
Competitor analysis
Let's tell you a little secret… You are not the only person in your site niche actively trying to build backlinks.
In fact, most of your competitors are also actively investing money in link building. They may have already built a huge link mass. Believe it or not, it is actually a good thing. Why? Because they have already done all the hard work for you. All you have to do is duplicate their link profile. Analyze the semantics and find profitable keywords with low competition. Research all competitors on any topic, ad, or keyword using a variety of analysis tools to identify their traffic sources.
Collaboration with local bloggers
Ideally, of course, a backlink to you on the Twitter of some popular star =) but blogging is very popular in the modern world, so the recommendations of bloggers are considered trustworthy in their circle. If, of course, your target audience matches, then this strategy is perfect.
What do you get:
Backlinks from trust sites in your niche.
Increase the level of awareness and trust in your brand.
Get targeted traffic to your website.
Build partnerships with powerful potential.
Establish a mechanism for ranking insanely competitive keywords.
Publishing content from influencers in your industry is a great way to earn links to authority sites that have a lot of traffic.
Collaboration with local newspapers, news sites, magazines, etc.
Whatever one may say, but almost every person reads news sites every day. Collaborating with these sources will increase local awareness of your business. Especially if you make your business useful in your niche and your area. And then, word of mouth has not yet been canceled.
Why is local link building important?
For any business, the main task is to be visible in your region to generate a stream of referrals from clients who are near you. This is why local link building is so important in achieving this goal.
But here you are directly dependent on the search engines. They innovated using signals such as anchor text, trust, spam, and even human simulations to understand how a link might affect a linked site. It makes sense that trusted sites tend to link to other trusted sites, while spam sites receive very few links from trusted sources. Unfortunately, however, many in the SEO field are still unaware of these changes and how they affect outside marketing. Having understood the intricacies of link building, you can use all this knowledge to the benefit of your business.
Plus, do not forget that you also need to track conversions as much as possible. Otherwise, you will not be able to figure out if your local SEO work will actually translate into leads and ultimately increase revenue for your business.
The main thing to remember is that nothing will help you gain the trust of potential customers, except for a truly sincere desire to help them. This is the main secret! And SEO link building will help you.
Tools for local link building
As you have noticed link building for local SEO is a complex process that requires the use of additional tools.
We mentioned Google My Business above, which is a free and easy-to-use tool for businesses and organizations to manage their online presence on Google, including Search and Maps. As you understand, creating a company card in this directory allows you not only to get a link from a trusted donor but also to increase the credibility of the company on the part of Google and your target audience.
It is a tool that helps you analyze backlinks to see if they are of good quality. You can identify your competitors and analyze them from an SEO perspective, where you can see their load speed, their web design, the fonts they use, ads, and banners.
The local link search tool finds opportunities based on your location and key phrase. Just enter your location and a few keywords related to your business (for example "interior design"). The tool will do everything for you.
I think everything is clear from the name. Just enter your keywords and locations and then click Generate Keywords.
In this situation, it will be very convenient for local businesses through our service to find local media and order publications in the media. This is another useful tool in link building, and publishing in niche publications will create an excellent reputation in the global network.
The service provides very convenient sorting by local media. For example, here in the US media (sorted by City).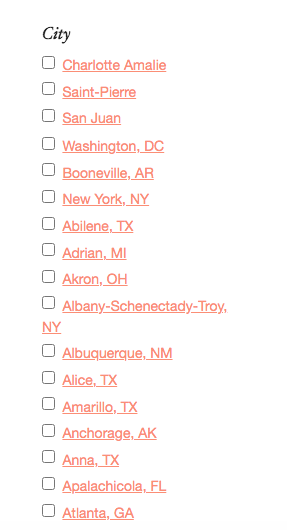 Plus, you will find publications for every taste and topic.
Links on the Internet that mention your business, which usually displays your company name, address, and phone number – collectively referred to as NAP (name, address, phone number). And publishing in the media is a great use case for such a link. Plus, Google is not the only place people are looking for businesses. They also search through Facebook, various directories, etc. Having the exact NAP listed on these sites will allow potential customers to find your business, which will lead to an increase in the number of customers and, accordingly, in revenue.
Conclusion: Local Link Building
Remember that in large markets, first of all, you need to create a positive business reputation, and only then think about the link profile and getting to the top.
Today, when Google has banned all kinds of exchanges, it is actively fighting any industrial service that provides link building services, safety is most important.
And this is first of all:
quality of links;
quality of the whole site;
correct anchor sheets;
inaccessibility of links for everyone.
We recommend that you do not limit yourself only to the methods that you found in the article. Add new ways to get links to your strategy, experiment. Keep in mind the importance of the quality of your site, content, and link donors.
To keep abreast of the current trends in your region and niche, we recommend that you follow the top experts. You can use our convenient sorting by city and region. Want quality links from top local media? You can just register and tell your personal manager about the project tasks. PRNEWS.IO will help you achieve your goals.
Local Link Building Related Posts:
Local Link Building FAQs
What is local SEO?
One of the online rankings "optimization" processes to drive more traffic to your website from local queries. Users drive these queries into Google and other search engines.
How to start local link building?
The first thing to check when promoting a local business is the relevance of contact information and the correct operation of the functionality on the site. And creating and optimizing your organization in Google My Business is the foundation.
What is the difference between a backlink and a citation?
Citation is a direct online reference about your company, and a backlink is a direct link to your website from the page of another web resource.