What is Local SEO? The previous year has been challenging for everybody, including SEO professionals. 
Who are they? These specialists are wanted because of their skills to make your websites visible to the customers. If you have great SEO-optimized, original content, browsers will qualify the website as top-rated and show it on the first pages of their search results. We will look at the relevant trends at the moment and continue to stay that way in 2021. It is safe to say that someone who does not work with SEO cannot hold a leading position in the market. By knowing and applying current trends, you can make a resource relevant, visited, and effective.
Build Quality Backlinks For SEO
New Trends of Local SEO
What to expect from search engines in 2021? Briefly trends with explanations to understand where to go in work.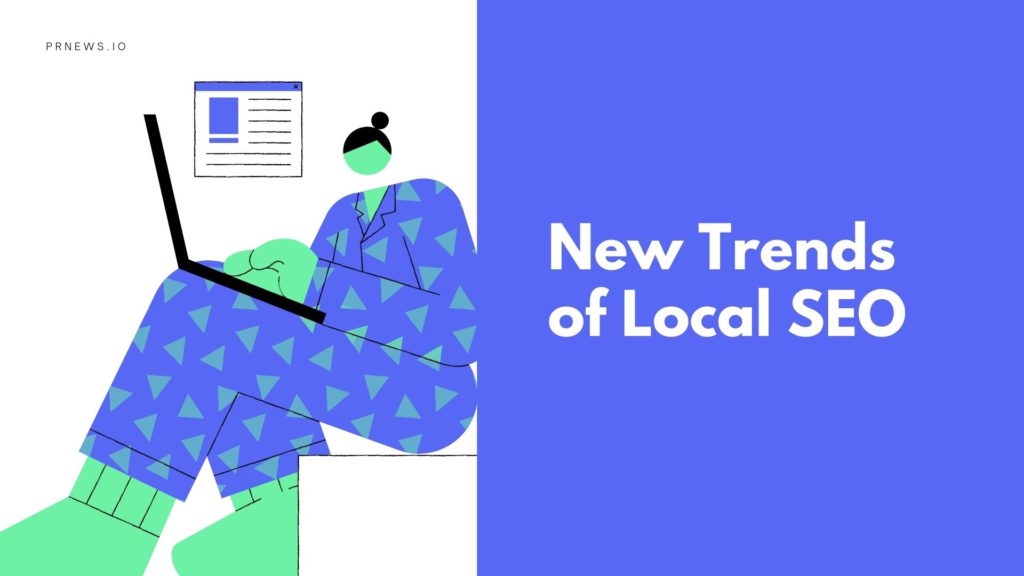 Trend # 1. User-friendliness and Safety Come First
In 2021, Google launches a new ranking algorithm — Page Experience Update. It will focus on evaluating sites based on how users interact with them. The principle is simple: the more convenient and safer a resource, the higher its position in the search ranking. After this update, Google will analyze the following metrics more thoroughly and rigorously:
Core Web Vitals — the main indicators of the site's quality, which were supplemented and updated in May 2020. In the PageSpeed ​​Insights service, they are displayed in the upper block with a special mark in the form of a blue flag.
LCP is the loading speed of the main visual content on the page. It should not exceed 2.5 seconds. 
FID is the delay time between the first click on an interactive element on the page and the server's response. It should be less than 100 milliseconds.
CLS — Visual Content Stability. It is calculated based on the displacement of elements on the page without any user input. For example, the text is suddenly shifted, or a button is dropped. The maximum allowable value is 0.1.
Adaptability for different types of devices and screen extensions. According to John Mueller (Google employee), in March 2021, the search engine was completely switched to mobile-first indexing. It means that websites without responsive design simply will not have a chance to reach the top of the search results. Check how your site is displayed on different devices, whether all elements are clearly visible and accessible. It can be done using the BlueTree.ai service.
Secure HTTPS protocol. It is necessary to protect the personal data of users. If you still don't use it, follow the step-by-step guide to configuring the HTTPS protocol. The absence of viruses, malicious files, and content can mislead users or threaten their safety. We wrote more about how to protect your site in the article "How to scan a site for viruses." No pop-ups that block and make it difficult to access the main content on the site.
Something of this has already been met, something completely new and initially did not affect the ranking, but Google says that the integrated assessment of these 7 indicators will significantly affect the ranking in 2021.
By working on the metrics described above, you will not only be able to improve your site's position in search engine results but also show concern for your potential customers. This means you can increase the conversion rate and your profit.
Trend # 2. Emphasis on Long-tail Keywords
They are precise and specific keywords that are 5-8 words long (and more). As a rule, they are less frequent, but in total, they can bring up to 70% of the traffic to the site. Various variations of "tailed" queries enable users to find the information they need faster, which means they save time.
There are at least 3 more reasons for this:
High conversion
A user who is looking for a specific product or service is already ready to order. And the chances that he will make a purchase are much higher. For comparison, when a person is looking for a "smartwatch," he may be interested in: what it is, how to choose, which ones are, etc. And by driving in the request of a smartwatch, he has already decided on the model and is looking for a store where it can be purchased.
You can get results easier and faster
Most of the site owners are engaged in promoting only high-frequency keywords, forgetting to optimize low-frequency ones. As a result, there is less competition for long-tail queries, and you can bring them to the TOP much faster and with less effort.
Better Behavioral Factors
Long-tail queries drive targeted traffic. In addition to the increase in conversion, this affects the improvement of behavioral factors: lower bounce rate, greater viewing depth, longer visit. All this has a positive effect on the local SEO promotion of the site in general.
Use the long-tailed key phrases to optimize your resource in 2021.
Trend # 3. Expertise, Authority, Trustworthiness, or E-A-T
It is a Google ranking algorithm that evaluates the quality and usefulness of content. First of all, it concerns resources that can affect a person's health, safety, and financial well-being. These topics include purchases:
Online stores and any other resources where online payment is provided; medicine: pharmacies, clinics, doctors, health blogs.
Finance: banks, insurance companies, accounting services.
News: articles about international events, business, politics, new technologies.
Jurisprudence and civil rights: lawyers, notaries, social services.
All the resources that can somehow affect fate: fitness, nutrition, job search, career choice, car repair, etc.
For the first time, they started talking about the E-A-T ranking factor back in 2015, but the search engine began to pay even more attention to it over time.
You have to increase the expertise, authority, and credibility of your content and the site as a whole in 2021: Publish materials that reveal the stated topic. Structure them – use lists, H1-H3 headings, images, videos, tables. Rewrite uninformative texts. Indicate the author of articles – a person who is responsible for the accuracy of the content. Create a separate author page, where to indicate: real name, photo, short professional biography, certificates, awards, and achievements in this area. Register the address of the offline office/store, contact information, links to social networks. Place a map of the road, information on the terms of delivery, and payment. Design a page "About the Company" or "Team" with photos of employees and brief information about them. Add copyright and date in the footer, which corresponds to the year of business creation and the current one. Post testimonials from real customers with their names, photos, or videos.
Trend # 4. Protecting Content from Theft
In 2021, it is not enough to publish unique content on your site; you also need to protect it from theft, track plagiarists, and punish them. To understand why it is viable, consider the possible consequences of stealing your texts and images:
Filters and sanctions from search engines. It often happens that stolen content is indexed before the original source. As a result, sanctions may be imposed on the site of the real author: positions will decrease, and pages will fly out of the index.
Loss of Traffic. If the content was copied by a resource with high traffic and good behavioral factors, it would likely rank even higher than the original. And most of the target audience will go to him.
Loss of rating positions. If articles are stolen massively, and many copies of them appear on the Internet, they lose their value for the search engines. Positions are sagging not only for plagiarists but also for the source site.
Loss of reputation and audience loyalty. Users will not trust the resource on which, in their opinion, the stolen content is published.
Nowadays, it is a common problem when businesses of the same niche steal articles and experts' viewpoints. In social media, it is more likely they will utilize the pictures and photos of your work. Especially the beauty segment is quite vulnerable here.
To avoid this, in 2021, be sure to add the following steps to your local SEO strategy: 
Track stolen content. The most convenient way to perform a search is by batch checking a site for uniqueness in the Content Watch service. After completing the analysis, download the resulting list of plagiarists.
Send DMCA Complaints to Google. Its search console has a dedicated copyright protection tool, the DMCA Dashboard. Create a new application, fill in all the required fields with the URL of the pages that copied your content. It is worth noting that Google will not be able to remove content on the site, but it will exclude it from search results. On average, this process takes up to 14 days.
Try all the options to get rid of the pages that contain the stolen content and protect your resources.
Trend # 5. Re-linking and Referencing of Queries as Anchors.
Re-linking is the connection of the internal pages of the site with each other using links. It is necessary:
​​For users, as it makes it simpler to navigate the site and allows you to find the material they need quickly. In this case, the anchor, that is, the text of the link, serves to understand exactly where it will go after a click.
For the site owner, because it increases the conversion rate and even the size of the average check. A vivid example of the motivation of customers to buy more — the blocks "Similar products," "Buy with this product," "Bundled cheaper."
For search engine robots, it distributes link weight and speeds up the indexing of the site. Simultaneously, the keywords used in the link anchor increase the relevance of the page and contribute to the growth of its positions in the search results.
Select meaningful, readable, and diverse keywords as anchors. As you can see, not only external but also internal links contribute to local SEO promotion, so be sure to use them in 2021.
Trend # 6. Use Variety of Traffic Sources
Search engines encourage sites that naturally attract visitors from a variety of sources. This suggests that the resource is "live" — ​​we discuss it on the net, and it is interesting for different audiences. Therefore, the upward trend in the number of traffic sources will continue in 2021.
In addition to the benefits of SEO promotion, it has other advantages:
attracting a large number of interested users;
returning customers, and increasing sales;
mitigation of risks: the loss of one of the traffic sources will not turn into a disaster for the business.
Do not stop your choice on two resources. Try to find as many as possible from trustworthy websites.
Trend # 7. External links should bring traffic
High-quality external links are the ones the user clicks. They look natural, inspire trust in search engines and bring maximum SEO impact. You need to evaluate not just the traffic of the resource per month but also how many visitors on average fall on one page. It will allow you to understand how many people will be able to see the link to your site and, possibly, click on it. Use Google Analytics to make the analysis.
With PRnews.io you can be sure that your content will become visible for many viewers. Our experts can write great SEO-optimized material to feature you in trustworthy publications. So you can increase the percentage of external links to your website.
Conclusion: What is Local SEO? 
According to all described local SEO trends, we can conclude that search engines want to make the search results even more valuable, useful and safe for users. There is no one-size-fits-all strategy for developing, promoting, and optimizing any content. There is also no standard instruction for internet marketing or web business. Of course, companies, agencies, and marketers provide specific services such as advertising, technical support, or auditing. But if you want to understand the process of creating working content and local SEO management, as well as to make the position of the resource higher in the results of search engines on the worldwide web, then find out what tools and trends will be relevant in 2021.