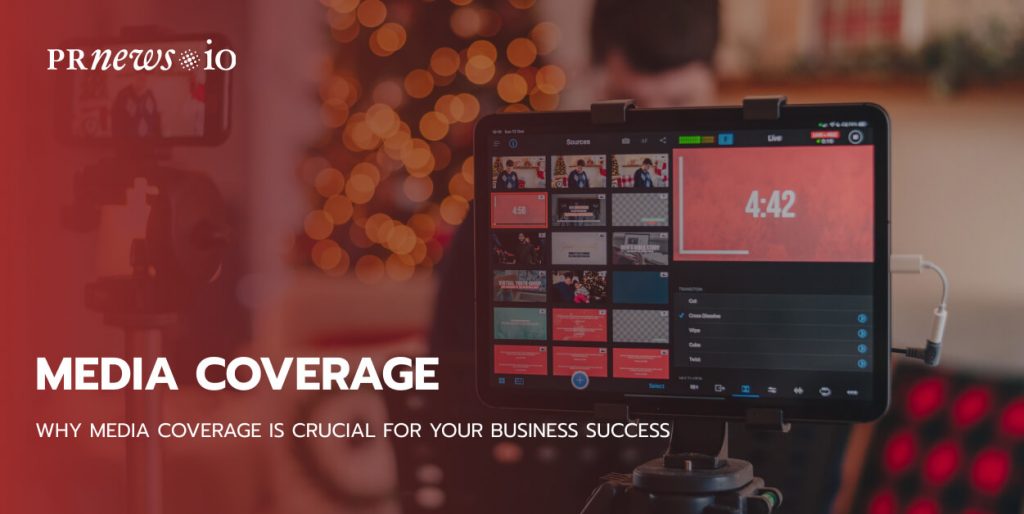 Media coverage of a product or service has become a crucial part of business marketing strategy. People have become more reliant on the media for information and opinions. Consequently, it's natural that businesses wish to benefit from media coverage by providing their consumers with an extensive amount of content. If a company does not have the right coverage, it will quickly lose out on the public's attention. That's why understanding the benefits and the various options for creating various types of publications is important when you want to boost your business.
What is media coverage though? What are the benefits of media coverage for your project? And, finally how can you get effective media coverage? With this guide, we'll give you the answers to all these questions.
What Is Media Coverage?
Media coverage is content pitched by public relations (PR) experts or PR agencies and produced by journalists and writers to transfer a message of your brand or client. In other words, it is when a news outlet or publication writes a story about your business or includes you in its content.
If you or your company is mentioned in a credible media outlet that targets your perfect customers, it will have a much more significant impact on your brand reputation than the typical ad. It's far more effective when an independent third party says good things about your business than if you say it about yourself.
Content Marketing Platform
100,000+ media publications;
get backlinks to your product;
scale work with content distribution.
Why Businesses and Individuals Need Media Coverage
Read on to find out the exact benefits of media coverage for your business or your personal brand:
Helps attract new clients
One of the greatest benefits of press coverage is that it will display your brand to a much wider audience to whom you didn't have access previously. With your own website and marketing team, you are likely to only engage people who already know about your product or are looking to make a purchase. With wider coverage in the media and press, you can raise brand awareness, to attract entirely new audiences to your products and discover new target groups.
Media Coverage Can Build a Reputation
PR can help you accelerate and build your reputation quicker than you can do it yourself. By getting yourself featured in national or local outlets or even your local newspaper, people will look at you differently.
Another advantage of PR over other marketing techniques is that you're getting a stamp of approval from a third person—the journalist or another influencer. This is a very effective way to earn lifelong loyal clients.
Media Coverage Is Better Than a Google Review
While Google reviews are useful for people deciding whether to make a purchase with you, this will only get you so far. When prospects look you up online, a positive mention of you in a leading media outlet will do so much more to affect a customer's decision than a Google review from a random person could ever do. Hence, a reliable publication can be your biggest cheerleader.
Media Coverage Leads to Lasting Connections
Media coverage is not only about making your brand look attractive to customers. It is also about connecting your business with the people who can make things happen. Media boost can quickly attract investors, collaborative partners, consultants and even more media outlets who want to message their stories to new audiences. In business, connections are everything and the media is often the most effective networking tool you can use.
Empowers Your SEO
SEO (search engine optimization) makes your website more appealing to search engines and its users. SEO is gold when it comes to PR. Being featured in online outlets or mentioned in articles or comment pieces greatly drives traffic to your website.
How to Get Media Coverage
If you don't do anything with the media coverage you receive, you've missed a prime opportunity to increase your presence above your competitors in today's highly competitive world. To maximize the impact of positive media coverage or neglect the negative media coverage, be sure to use online media platforms as well as more traditional forms of marketing.
One way that you can gain attention and help gain your business credibility is by collaborating with a freelance writer to create content for you. When you hire a writer or freelancer to get media coverage for your company, you ensure that they are experienced and can create the type of material that you need. Freelance writers are easy to find, and since they work on a per-project basis,they are perfect for helping you get the types of publicity you want to receive. But usually, it takes time, and after getting the press release or article, you have to manage the next step—distributing them to the publications. 
Another way to get media coverage for your company is to use the PRnews.io service. Their professional team will write, pitch media outlets and distribute your stories at a fixed price for publication. With their huge experience, they will make email pitches appealing, catchy and captivating providing you with the result you want. Through effective media coverage, they will build a strong positive reputation for your business.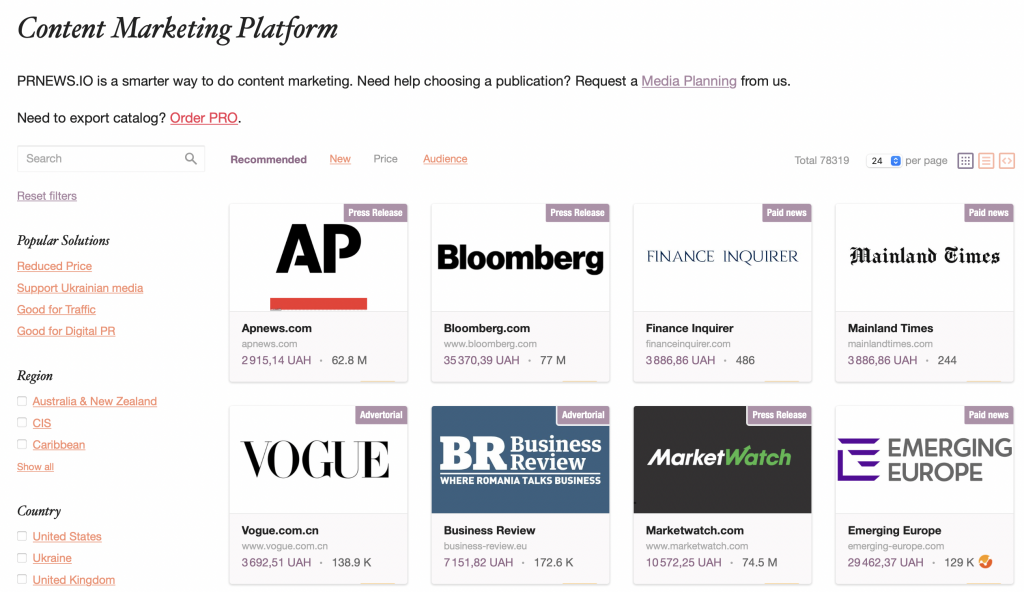 To Sum Up
Getting noticed in the media is just as important today as it has never been before. Positive media coverage is a powerful marketing tool because it positions you or your business in a favorable light by projecting the credibility, expertise, passion and image you want to convey. Best of all, it comes from an independent source; the only cost is the time it takes to organize.
Questions and Answers: Media Coverage
Which of the following gets the most media coverage?
In digital marketing, media is either paid, earned, shared or owned (also known as, the PESO model). While each of these media types has its own strengths and weaknesses, paid media is considered to be the most easily accessible and effective. Paid media includes social media marketing, search engine ads, pop-ups and other forms of premium advertising. These forms of media allow a business to get in front of its target audiences immediately. Hence, it gets the most media coverage.
What is media coverage?
Media coverage is any content created by reporters and writers and published by public relations experts to discuss your brand or client.
What is earned media coverage?
Earned media, or earned content, is any advertising or marketing about a business or service that has not been paid for by the company receiving the promotion. This type of media always comes from a third party.
How to get media coverage?
To get media coverage for your business, you have to follow these steps: 1. Pick your topic. You should make sure your story is newsworthy and fits the outlet you are pitching to. 2. Find media outlets to pitch. The second step is to find the right media outlets to pitch your story to. This covers newspapers, magazines, websites, blogs, and TV and radio stations. To facilitate this process and save time, use the PRNews.io service. 3. Write your press release. A press release is a short, newsworthy article that gives journalists all the information they need to write a story about your brand or product. 4. Pitch your story. You've written a great story and you're ready to send it to editors. This step is not so easy because your email should get the journalists' attention. Find out how to do it perfectly in this guide. 5. Follow up. It can take weeks or even months for an editor to respond. If you haven't heard back after a reasonable amount of time, you can follow up with a brief email.
Read more