Media pitching examples. No matter what industry you're representing, knowing how to pitch a story to the media is a crucial step to success in PR and content marketing. But sometimes securing a media coverage placement is easier said than done. With editor inboxes being full of email pitches, you need to find out how to get their attention. Check out these tangible tips and examples on how to write a media pitch.
Build Positive Online Reputation & Remove Negative from SERP
What is Media Pitch?
A media pitch is an email sent to a journalist or an editor of a major publication (newspaper, blog, magazine, or podcast), to spread awareness about your story.
Media Pitches differ from press releases and sponsored content:
Media Pitches give the outline details of a news story or feature article and say briefly why it's interesting to a journalist's audience. They're usually conversational and customized to individual journalists. Media Pitches allow journalists to describe a story in any way they like. When you pitch a reporter, you're not negotiating about what the content will look like; you're simply informing him about the event.
Press releases tell the whole story and its context. They're created in a journalistic style — third person — and in-depth enough that a reporter could write a post without asking you for more information.
Sponsored articles mean businesses can control the content, and make sure that it aligns with business' values. Sponsored content often makes use of product placement.
Types of Media Pitches
There are a variety of different types of pitch letters here and each will serve its purpose:
initial (cold) media pitch;
pitch with an established contact (warm);
personalized pitch;
follow-up pitch.
Initial (cold) media pitch
A cold pitch stands for a pitch a story to a journalist or influencer without any earlier connection. The purpose of a cold pitch is essential to convince the media person or outlet to feature a story that will presumably relate to your expertise or business, and result in media coverage. These types of press pitches are usually more challenging because you need to show both research and persuasive skill.
Pitch with an established contact (warm)
It's a pitch that you're sending to contacts you cooperated with before. Warm contacts are more valuable because you don't have to introduce yourself anymore and might have already built a good reputation.
Personalized pitch
It's a media pitch created with a personalized approach. The emails included the first name, or when the first customized sentence will get your attention more.
Follow-up pitch
Most reporters and professionals are busy people with a lot on their plate. A follow-up pitch is an email to remind a journalist about your piece of news.
Structure of a Media Pitch
Here is the basic scheme you should follow when you are creating a media pitch:
Start with the lead. This should be the first thing a journalist sees. An attractive lead that is relevant to their interests will ensure they continue to read your pitch.
Call-to-action. This is what you want your audience will know. It may be a product review, informing a piece of content, or announcing an interview, it's important to make your aim here clear.
Value proposition. This is a core part of the pitch. This is where you can present the value of what you are offering and why it is worth attention. It is crucial r stand out from the hundreds of other pitches they receive.
Your conclusion. This is where you should repeat your call-to-action and thank them for their time and attention.
Guide on Creating a Media Pitch Everyone Will Read to the End
Creating an effective media pitch is not so difficult or complex. But there's a catch… An effective media pitch has to be appealing, catchy, and captivating. You can do it successfully with some effort and experience. Or delegate media pitching without pitching. Use a credible all-in-one service PRNEWS.IO, that will create and share your stories at a fixed price for publication. With their huge experience and big team, they know how to pitch a story to the media much better.
Check out this service and come to this post to check the elements of every effective media pitch, you must have:
Uncovered the news story in your business
A quality press release (the guide is here) that communicates your story
The list of contacts you want to send your media pitches
An all-inclusive PR plan to show you're not a one-hit-wonder
Now that you know the check-points you want to pitch and to whom you want to send them, it's time to start creating it. Here's how:
Direct your media pitch to the specific bloggers, journalists, or influencers, if you can find it. Make small research. A pitch sent to the relevant person will get more productivity than including the wrong name or a generic "To Whom It May Concern."
Follow the media platform guides. If the newspaper has submission rules, be sure to follow them. It doesn't matter how original your content is, if you don't address your submission correctly, it will get ignored.
Personalize Your Pitch. Show that you constantly read and know its content very well. Prove you have an understanding of the media source's audience as well as what stories are most popular and shared.
Focus on what you have to offer. Too many authors write what's so great about them, but media sources would rather publish how you can help them. Remember, media business needs news and stories, so pitch that, not your business.
Make the media source's job simple. The less work the journalist has to do with your piece of information, the better. Make sure to insert any important facts along with credible sources.
Be interesting and engaging. Demonstrating your expertise, don't be boring.
Put a Great Hook. Bloggers, producers prefer reading new content in topics they write about regularly. They pay attention to email pitches that have relevant news pegs. If you can show a connection of your content to a big news story or their recently published post, it can work wonders.
Be brief and to the point. Producers don't like spending time reading long pitches. Any of such novels are more likely to be ignored.
Leave your contacts. Although your email will show up the address the journalist can reply to, leave your email address, website, social media links, or phone number anyway.
Format your pitch. It's better not to be original and use text (not HTML), basic font, and formatting to avoid a disorganized look.
Address your pitch to only one journalist at a media source. Sending your idea to every journalist in one newspaper will annoy the journalists. Usually, these people work together, so they spammed them all. With that said, you can send a similar pitch to different media sources at the same time.
Follow up. This is where many people lose great PR and publicity opportunities. If journalists like your content, they might respond right away, but often, your email is saved but not replied to. Media workers are extremely busy, and so it's up to you to send a follow-up email. The trick is to do it naturally. Wait two weeks or so, and then send a follow-up email asking if they read the pitch and if they need more details. It will be more effective to call them, but again, be quick and brief on the phone. No matter what you choose, only follow up on your pitch once. Instead, you can inform about a piece of completely different information.
7 Examples of Effective Media Pitches
Example #1: Cold Pitch
Journalists and producers receive many pitches per day, which means they can miss many of them. What can make your media pitch more noticeable? You can achieve it by providing them with some unique and valuable information. And one of the best ways to add value is by giving the person you're trying to reach out to (e.g. journalist, influencer, blogger) something they can't find elsewhere. 
To avoid the delete button or trash can, look at this example: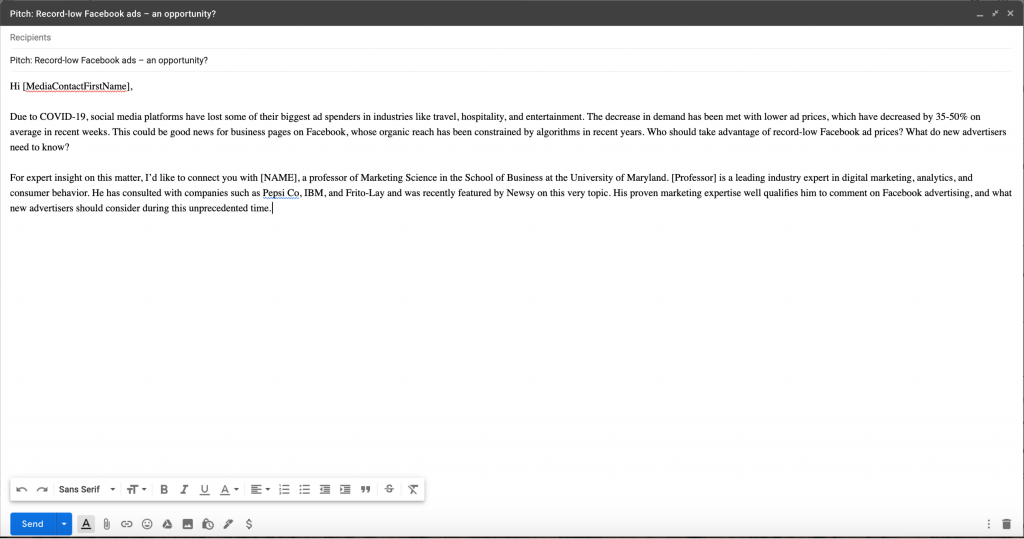 Example #2: Pitch for established сontacts
In this example, you see a "personalized conversation starter" to get build your rapport and get the relationship going. Here is something "personal" to talk about in that first email. Even if the journalist doesn't immediately recognize your name, you can refer to the previous mutual experience in the email.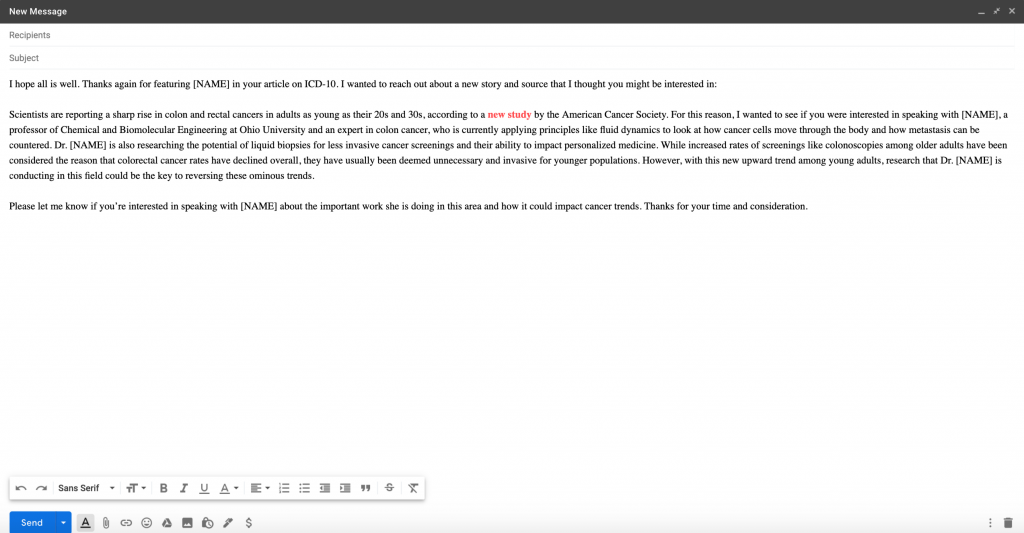 Example #3: The "Results"
The idea with this media pitch is simple: showcase that you follow an influencer's advice and share your results with them. If you have interesting discoveries from following a specific influencer's tip, use that in the subject line when pitching this blogger or influencer, e.g. "Lost 20lbs with your diet!"
Here's how you can do it: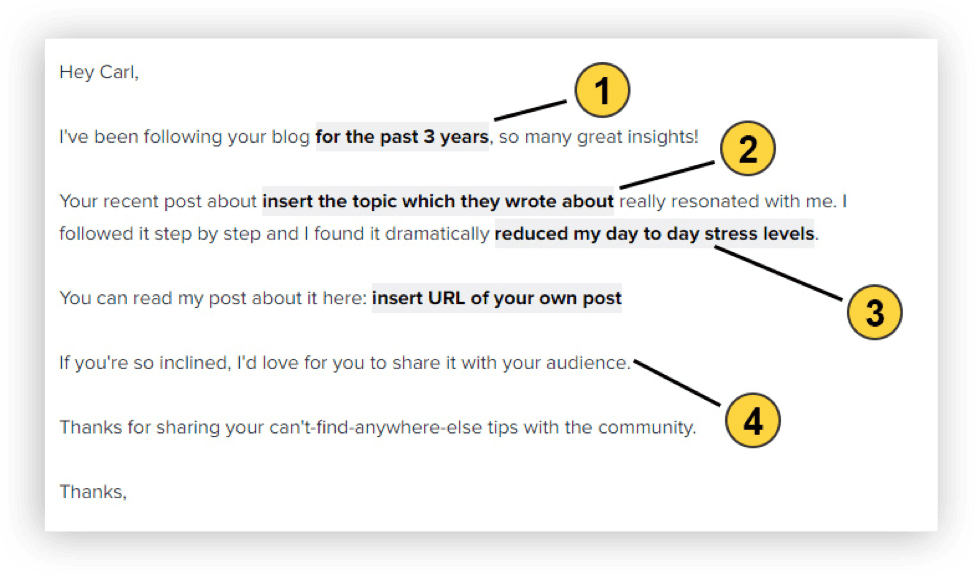 Example #4: The Related Story Email
The idea of such an email is to refer to the journalist's recent post, then use it to plug your product pitch. Write your opinion about this story to make the email sound more authentic.
Here's an example: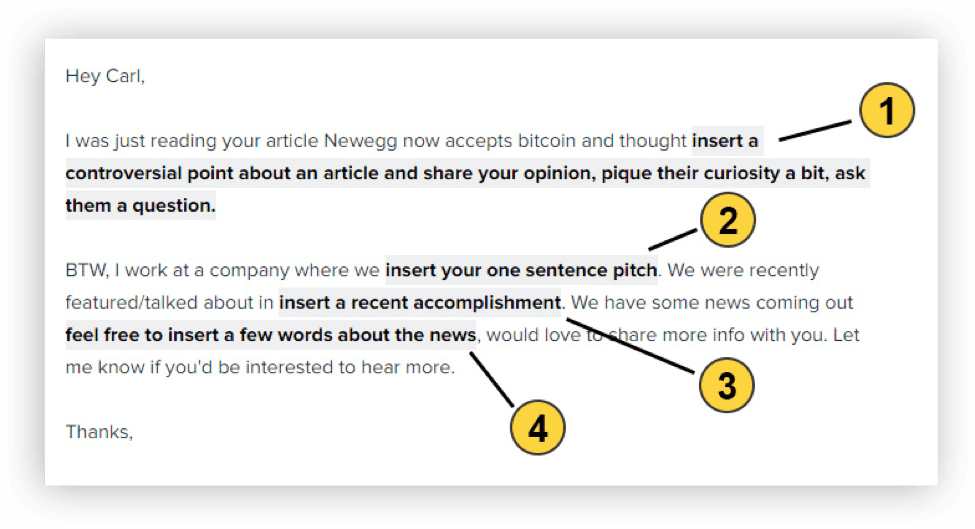 The first paragraph is completely personalized.
The second paragraph, however, only has little personalization.
Also, note that the email doesn't end with a big request. It has just a small polite question if they want to know more.
Example #5: The "Exclusive Research" Email (It fits great to the cold media pitches)
Exclusive research and data are a great way to get press. Not only do journalists love it, but it's also more difficult to do that distinguish you from the spammers. Here's an example for addressing these types of emails: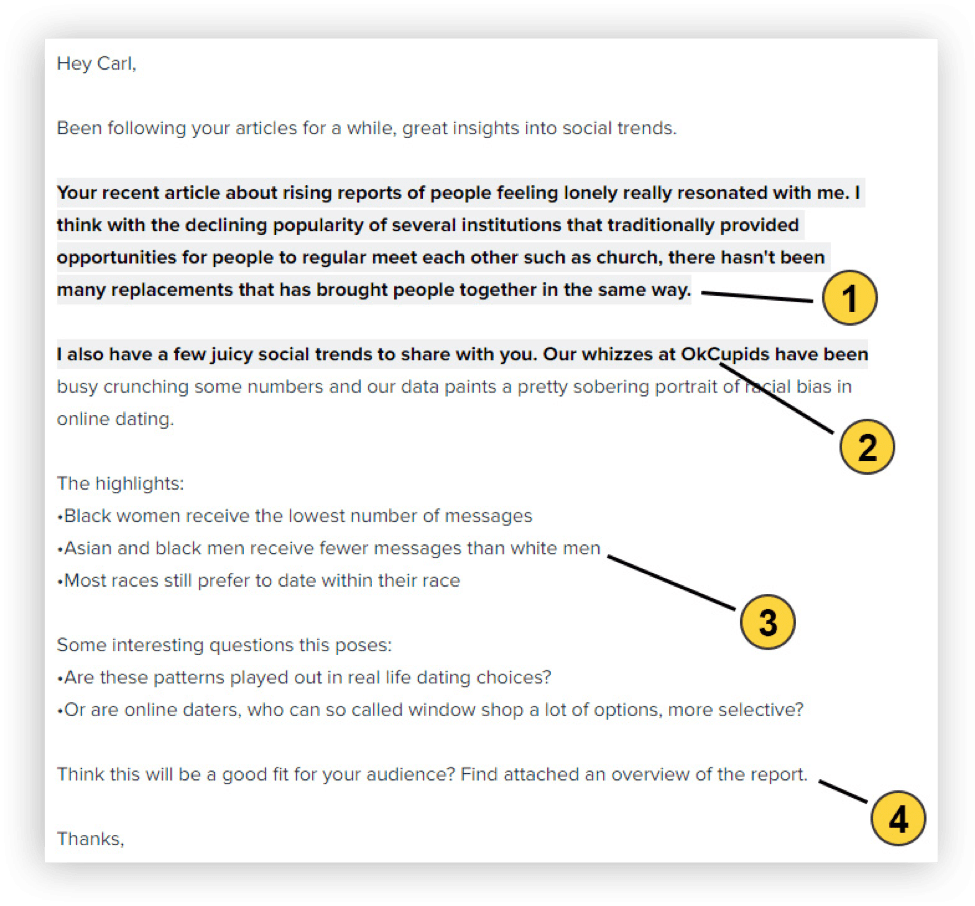 Example #6: The Story Pitch
So you found a top journalist publicly asking about a topic on Twitter or other social media platforms. Look how you can use it in your media pitch to make it more personalized:
This email is based on a specific tweet (or any other post, published on different social media channels).
To use this:
Refer to their request on the post in the first line. It appeals to their attention and tells them that you have something relevant to share.
Share your story. For this to work, tell a) what you did, and b) what you got. Be as concise as possible. Make sure to include the humorous details (here, "sleeping in a car" and "$100k lifeline") to get them interested.
Media pitching examples #7: Follow-up Pitch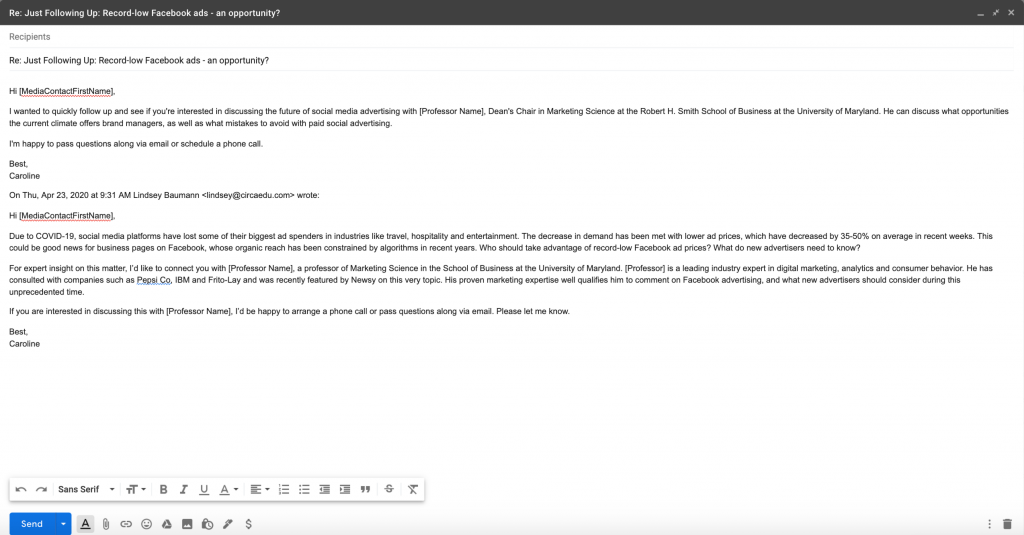 You see that this e-mail is short and polite. You can feel, that the author respects the fact that a journalist may not be interested in this topic.
Stay concise and to the point like in this example. Keeping the above point in mind, politely re-ask if they're interested or if you can provide any other details about this piece of news.
Read more: Tips for Writing an Effective Email Pitch
How To Do Public Relations For Small Business
How to use PRNEWS.io
In this video, I share a great tool called PRNEWS.IO – a marketplace where PR specialists, internet marketers, and advertisers can buy sponsored content. PR is great for visibility, business growth, and SEO backlinks (it can help you rank in Google)
Bottom Line: Media Pitching Examples
While mastering the art of pitching won't happen in one day, these tips and examples can help you reach the people you need. Being one of the critical parts of PR, effective media pitches is core to the execution of a successful PR strategy and should not be neglected. It's up to you to get your client quality media post, so get started.
Now that you have clear instructions on how to write a media pitch, it's your turn to make them your own. Have you ever tried to address a media pitch to a journalist or influencer? If so, what were the tactics you used? What worked and what didn't? Let me know by leaving a comment below.