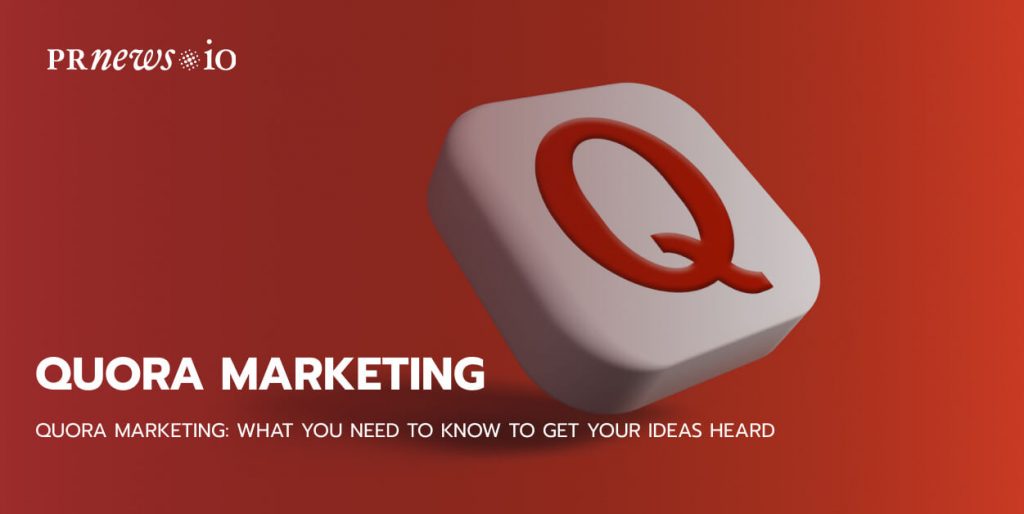 Whatever the dilemma is in your mind, you use a search engine to find an answer to it. And that's where Quora marketing starts. And the best part is that it helps skip jumping from one site to another. There is one platform that has answers to all topics.
That's Quora.
For marketers, the sad part is that around fifty percent of web content receives 8 shares or less. Often, the key problem hides in a weak content distribution strategy. And if you want more eyes to your blog post, you need to take a hard look at Quora marketing.
Marketing on Quora is perfect for both users and businesses. It helps everyone looking to reach a large audience with their product or services. Let me show you how.
Quora in General
So, let's start with the beginning. It is the biggest Q&A channel on the web. Are you an expert in your niche? Then your answer might be the perfect match for those who ask questions.
The platform welcomes everyone who wants to showcase their expertise and get attention. The topic doesn't matter; it is ideal for young people, professionals, bloggers, and business leaders who want to share ideas. And as far as you know, sharing is about caring.
It stays among the top results in all your Google searches. However, if you haven't utilized this marketing channel, that doesn't mean it is not working. If you check Google Trends for the last five years, you see the graph that is continuously going up. Chances are, you won't see a figure like this for any other Q&A website.
Why Use Quora to Market Content?
Use it in your next content marketing strategy for reasons. Find yours on the list below. The 'real name policy' makes the platform for building trust. Trust is what business is about. In the blogging industry, traffic goes to those who have authority. Nicknames do no good.
Now, let's check the other benefits of distributing your message on the Q&A platform.
63% of platform visitors come from online searches.
Once you learn the game's rules, you can drive leads.
Mobile users make up 3/4 of the platform traffic
India is the largest market. The sad part is that very few people own a personal computer. However, half of those use smartphones.
You know who is your ideal audience. The platform knows where to find it. For example, you want to add a comment to the post you are viewing. Now, click the More menu button and pick View Question Log.
Promote your message in various forms
Images, videos, quotes, eBooks, videos, or online courses; the choice is wide.
Position yourself as the one who knows his stuff. Provide value. Be consistent in your message.
A gold mine for fresh topic ideas
The platform is a pool of never-ending Q&A, making it a perfect tool for discovering new ideas.
With all the benefits of distributing ideas with it, there are still some issues you might face once you are in.
The site navigation seems rather difficult for newcomers. Take your time to get the knack of it, and you will find it gets simpler to use.
Fact check. Q&A is done by users. Not editorial staff. So, if the accuracy of the message matters, check it. That's why authority is key here.
Content Marketing Platform
100,000+ media publications;
get backlinks to your product;
scale work with content distribution.
What and How to Distribute Content on Quora?
Quora marketing starts with an account. Be honest. Reputable description connects people emotionally with you.
So, place your name, a headline that is relevant to your industry, and your photo. Even if that is a simple headshot, it is worth adding.
Adding credentials and highlights is the next step to make. That will help increase the reputation and relevancy of your profile.
See the topic you like? Hit the Follow button to start following it.
Finally, submitting to a specific Q&A is the most interesting part of Quora marketing. Take your time to ensure it is very specific and strategic. In the end, your profile will look something like this:
Now, when you are ready, it is time to provide value. And here is one thing to remember- give more than you take in return.
Promote your business by answering with passion and authority
You can do it by simply Q&A you like and including relevant links that point to your site. Or you go to the search box and do homework. Type the question you like and scroll through all the results based on it. Now, write the most descriptive comment you could give.
Ask to promote your message
Getting traffic via asking questions is possible.
Once again, it is a social media channel. That means you need to promote your answers/questions. Just add a link to a source for a better context. However, ensure it is relevant. Answer more comments to show you care so that others will bother about yours.
It is a powerful advertising platform for businesses. That could be a text ad, image ad, or promotion of replies. Specify it so that it is effective in terms of targeting.
Recommend comments for higher ranking
Just like Google has its page rank system, Quora has a similar one. It recommends the answers. Also, it recommends questions that might be interesting for users. There are two ways to make the marketing effective. First, use the upvote/downvote button. The second way is to use the 'suggested edits' option.
Spaces is a relatively new feature for the platform. It is a spot where communities share interests and tastes. However, individuals can make the most out of it, too. You will find spaces for specific topics where you will discover new Q&A. You can post relevant links to share with other followers. Also, you create a space to have shared conversations.
Best Tips to a Better Internet Marketing Quora
If you position yourself as a mover and shaker in your industry, the platform will help. It is in no way a copy-paste for your blog post. Instead, it is all about value. Problem-solving content is the center of attention.
On the other side, there is not as much competition as it is on Facebook or Twitter. However, it is the perfect channel for distributing ideas in terms of topics that interest you. Also, it helps drive traffic back to your site.
Finally, promote your brand directly, and you are going to be banned. Take it easy. Follow some best tips to help get your ideas shared.
Your profile is your landing page. Clean, optimized, with clear CTAs to the actions you want your readers to make.
Forget about copy-paste. Answer with passion and authority.
Optimize your comments, so it is easy to read. The quality of your wording helps with ranking.
Republish your ideas to build a great source of traffic to your topic.
Link to reputable resources in your comments to outline your opinions. Your website is not the only option.
Carefully use links to your website unless you want to be banned.
Be informative and care about what you write.
Mix marketing discussions with general ones (at least three).
Use custom credentials for different comments.
Include images if they can help the reader better understand your thoughts.
It Is Time to Start Content Marketing on Quora
Because it is open to everybody, it is a good choice, at least to try it. Next, it is a spot for expanding your knowledge. Also, it is an important marketing channel for everybody who wants to share their knowledge and market their brand or business.
Learn the rules of the game, and you can drive thousands of free visitors and customers. Will it take time? Yes, sure. Quora marketing won't happen overnight. However, it will be worth it in the end.
Quora Marketing FAQ
How to Use Quora for Marketing?
Quora is a digital spot where people from all over the globe ask questions and get answers. Google likes websites that share fresh and relevant content. As a result, Google may rank Quora highly. Provide value, and comment. Also, ask. This way, your content might become a natural match for anyone who is interested.
How to Use Quora for Content Marketing?
The platform can keep you creative. It offers a valuable list of topic ideas for your blog. Take your time to research and see what the most evergreen content in your niche is about. Find, for example, five comments with a high number of upvotes and join them. Reply to the fresh remarks even with a link to your old post. Share your knowledge, and you are more likely to drive traffic to your brand's website.
Read more: