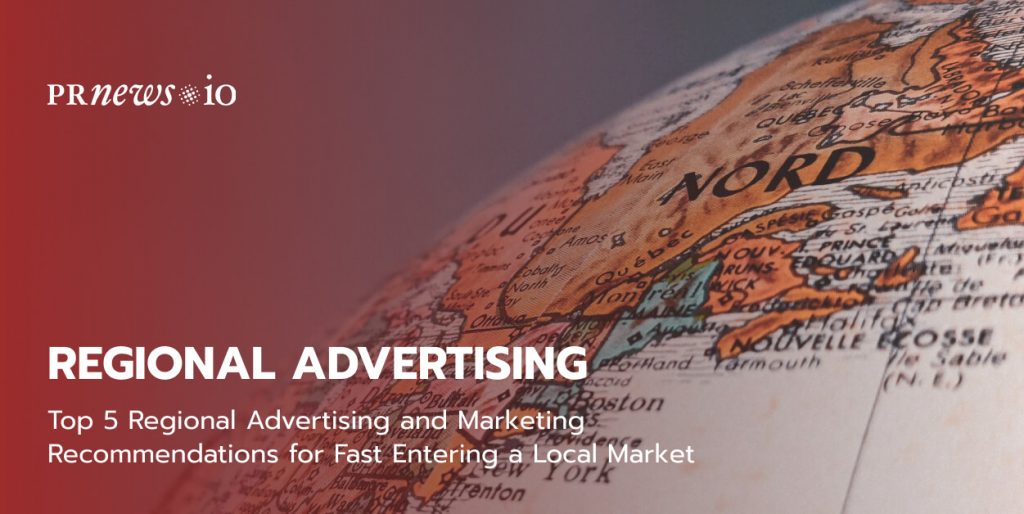 Local advertising and marketing are efficient for promoting local businesses, as well as for international companies when they want to focus on marketing strategies in a particular location. Thanks to regional media, you can provide a unique experience and attract clients in the needed area.
By reading the following recommendations, you can improve your marketing strategy, increase regional sales, reach a lot of new local customers, and build brand recognition.
Understanding the Regional Advertising Meaning
A clear understanding of the regional advertising meaning will help you achieve better results. This type of advertising focuses on developing high-quality promotional campaigns in specific locations. A lot of international brands use the services of companies such as PRnews for ordering publications in regional newspapers, targeting new customers in the preferred locations, getting access to GEO filters, and achieving the desired results.
The Top 5 Regional Advertising Tips
Now you see the importance of regional marketing/advertising, so you can follow these recommendations to get started and be sure to achieve the best results. These tips should be used in your next marketing campaign and strategy.
Getting to know your local target audience
You should start any marketing campaign for a particular region with in-depth research on your local audience and potential customers. The needs of people differ from region to region. For example, clients living in NYC differ a lot from clients in the countryside. It is always better to study the essential needs, spheres of interest, personal values, priorities, etc. It is important to define the unique customers your company has the ambition to target.
Finding inspiration from local insiders and influencers
There is nothing more challenging than to find new clients in the local area which you are not so much familiar with. If you do not live permanently in the region, you can't know its specialties and way of living/thinking. The best solution is to find regional bloggers, insiders, influencers, and local experts. Such cooperation can bring excellent results and let you know all the hidden insights in the region of your choice. It is the easiest way to identify the local dialect, interests, and themes of local people of all age groups. By infusing the regional culture and traditions into your advertising marketing, you will build trust and brand awareness. Do not forget to spare some time for reading regional newspapers, magazines, and blogs to find out the latest trends and popular places in the local area.
Launching unique marketing campaigns for regions
After getting a bit familiar with the specificity of the region and its inhabitants, it is the right time to start launching a regional marketing campaign for the needed location. Do not forget to keep in mind a few important details.
You should shape your advertising for the particular region. You can use the information from your research in order to grab the maximum attention of your target audience. As a rule, creating regional advertising campaigns devoted to local events/holidays/celebrities/sports gives the best results. Use any details that resonate with the local customers.
It is recommended to advertise local properties to your target audience. Every regional company has a national marketing campaign and it aims to go out to target audiences all across the entire country. In order to achieve success in regional marketing, you need to find a unique approach to your local audience. The best thing you can do is to use geotargeting/geofencing. Such campaigns are relevant and help boost brand awareness.
Creating unique regional content for the needed location
Every professional regional advertising campaign includes specific content, which is unique for every region. It is an excellent idea to make a separate location web page. Your brand can have a list of available locations. Instead of creating a separate site for each region, you should just create a stand-alone location web page. It is the best way to boost your SEO and provide your clients with useful content. You can start a local brand blog, which can showcase the region. By doing this, you will build trust with your clients.
Content Marketing Platform
100,000+ media publications;
get backlinks to your product;
scale work with content distribution.
Creating strong links with local communities.
Regional clients have the tendency to be a bit skeptical of international/national brands. Usually, people do their best to support small local businesses in order to support their communities. Your goal is to demonstrate care about local communities. Get involved in their activities and try to satisfy their needs. The best thing to do is by hosting local events. If you launch a regional advertising campaign, you will interest people and they will be motivated to come and get to know your business closer. If you host such events for the first time, make it free of charge by offering fun activities for children or training for adults. Alternatively, you can sponsor and get involved with popular regional events. It is a perfect way to make your brand known in the entire region and build a positive reputation. Consider sponsoring music festivals or regional sports events.
National vs. Regional: what media to choose for the article publication
In preparation for the media plan, many are getting lost: publications on large national websites cost much, on other hand, local mass media have low attendance. Let's discuss, what will be more effective for your company.
National mass media: Long, Expensively, Effectively
Such platforms will be suitable if you need a 'large fish'. Business sharks think globally more often and read the top media. If you post good stuff on these websites – you will manage to catch such clients.
National (federal) media have a huge coverage: Their audience is several hundred-thousand times more than local mass media. They are read by the whole country; it is obvious that the article devoted to medical care reform concerns a much wider range of people, than news about charitable action in Springfield.
The team of a large platform can offer more options if you need not just the link to the publication but the achievement of the necessary result. Here you will be provided with hitting the target audience, using native advertising and special projects. Here you will get the viral solution, which will be reposted for a long time by social network users.
However, the costs of such solutions pay off quite quickly, their cost for building materials online store from Springfield can be equal to the annual marketing budget.
National media will suit those, who try to catch a large fish and are ready to pay for it.
National media will suit those,who try to catch a large fish and are ready to pay for it.
Bonus
The journalists of the local platforms are often fed on the top RuNet media websites. If your article is connected with an important event that concerns one or several towns, the material published in large mass media gives you a chance to receive free reprints or event mentions.
The keyword here is "free". The editorials that publish such materials can remove some details, first of all, the commercial character. For example, the name list of event sponsors or a link to your website. When it all was extremely important – it is better to apply for smart publications in local mass media.
One would think: why not send your press release directly to journalists of local mass media? Later, all of them will anyway reprint the same from the national websites. Why not give them a chance to receive an exclusive first?
However, everything is not so simple. If you will send the press release directly to the local online newspaper in the hope of free publication, the journalist will have to report your material to the sales department. It will then suggest you place the article for a price, even with an excellent noncommercial newsmaker. But if the journalist uses good text or a newsmaker from the capital press – there will be no claims.
The Local Media: Cheap but Good
These platforms are a real catch for you if it is necessary to catch many small fishes. Though the local mass media will provide quantitatively smaller audience coverage, it is sometimes more expedient to post the materials on these websites.
First, it is favorable in terms of cost; publications in small media will cost several times cheaper. Secondly, if it is a speech about regional-scale business, its target audience is interested in the local news first. Therefore, if you carry out flower delivery in Springfield, there is no sense to apply for the press release to Forbes. The publications on the websites of Springfield's local media will be much more effective.
The companies, which work overall in the country, have some use to paying attention to local platforms if they plan to strengthen their presence in certain regions. The publications in regional mass media give an opportunity to aim more precisely with the customized message at the audience in this region. One thing is to read how the large international supermarkets' network comes into the country, and absolutely another – is to learn from the local "evening newspaper" about the opening of one in the nearest shopping center.
The regional mass media is a real catch for you if it is necessary to catch many small fishes.
The regional mass media is a real catch for you if it is necessary to catch many small fishes.
Nuance
The small business should apply to the large platforms only in one case: if you have a really abrupt idea. It can be a view of usual things at an essentially different angle, the brilliant and simple solution, perhaps even in something obvious. In that case, in which you will be surprised how nobody could guess it before you.
If the Huffington Post will write about it, this is how the media of various levels will write about you: "The pizzeria from Springfield surprised the whole world". And guess what? You won't care how many direct links to your website will stand in hundreds of such materials.
Conclusion
Your national business needs to connect with locals in a creative and engaging way. Regional marketing/advertising is the best solution to involve local communities and demonstrate to potential clients that your company cares about their needs. news specializes in marketing and regional advertising particularly. The team will help you make a bright splash in the regional market.
Regional Advertising FAQ
What is the meaning of regional advertising?
This advertising type focuses on developing high-quality promotional campaigns in specific locations.
How to attract locals to use your services/goods?
Your company has to build a smart regional advertising strategy to study the main needs of local people and find ways to satisfy them.
How to launch a successful regional advertising campaign?
Creating regional advertising campaigns devoted to local events/holidays/celebrities/sports gives the best results. Use any details that resonate with the local customers.
What tools do marketers use in regional advertising campaigns?
National brands order publications in regional newspapers, target new customers in the preferred locations, get access to GEO filters and achieve the desired results.