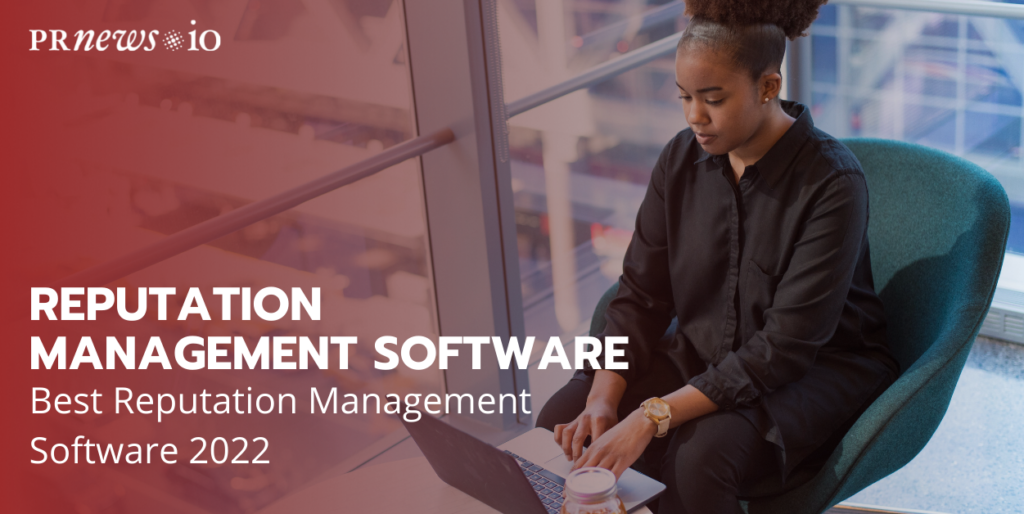 What is reputation management software?
As the name implies reputation management software is a tool that can help you keep an eye on your reputation online and take measures when it is under threat. There are different reputation management software tools developed for different businesses. Some pay more attention to reviews and make it easier to improve both your business and reputation. Others are developed to promote your brand and improve your cooperation with clients.
Only Reputation Management is something being done more often and more strategically these days through the use of specifically designed tools. Reputation Management software- like the one designed by Cision, Brand24, BirdEye, and more – allows you to keep your finger on the pulse of the reputation of your brand.

For example, what is the sentiment of articles about your company? What is being said on social media about your brand? Where are you receiving the most coverage – print, broadcast, radio, or social? What type of reviews are being published about your business across all review sites?

Reputation Management tools compile everything and provide you with data that allows you to see a wider, clearer picture.

Claire Lamb
Director at Skout PR
Best Reputation Management Software 2022
Brand24 is a reputation Management Software that allows you to track your competition online and respond fast. It has features that allow you to follow your audience and react when something is out of order. It perfectly suits small and medium-sized businesses because many things have to be done manually. Though it will suit big companies too.
The Reputation Management Brand24 team developed a useful web scanning. You can write keywords in a special list and monitor them.
Brand24 instantly and automatically informs you about negative reviews. And they can harm your reputation. With such a tool, you can easily track negative reviews and fix any issue with your clients.
This company position itself as an all-in-one platform. They provide you with tools to track negative content and respond in one place. Even if you have a few websites.
They also claim to be a company established in Silicon Valley. In any case, they provide a lot of features:
You can connect all critical business systems (You can connect 500 integrations to search engines, directories, review sites, social networks, apps, and more)
Streamline feedback
Work with data and improve your reputation
Build the brand and make it popular
And many more
Worth noting that Raputatuion.com allows you to follow your competitors and get notifications about new content.
Content Marketing Platform
100,000+ media publications;
get backlinks to your product;
scale work with content distribution.
You need the Mention In case you are looking for a tool that can help you work with social media effectively. And nowadays all of us have to work with social media since it is the biggest source of new clients. It is also the best way to cooperate with them.
Using Mention you can analyze and cooperate with posts and messages on Twitter, Facebook, Pinterest, and Instagram. Or you can easily filter data.
Another important thing about Mention is that they keep an eye on trends (hashtags, influencers, images, and so on) and allow you to suit trends better.
The company claims that even Microsoft uses Mention.
Swells moto is Growing Your Local Business. And the Swell project does all possible to help you make your current customers your regulars. It was developed for small and medium-sized businesses and this is why Swell is extremely easy to use.
It can send messages asking to leave reviews. And Swell reputation management software knows when to ask about that. It does it automatically, yet these messages can be customized according to your wishes. 
Swell also reminds customers about payments, conducts surveys, and allows you to integrate with your CRM, POS, or EHR.
Due to its simplicity Swell is a great option for businesses that do not have a lot of time to work online.
Chekkit is a reputation management software developed for your cooperation with customers. Developers made an accent on texts to make sure that clients will be satisfied with your cooperation.
Chekkit cooperates with Facebook and Google to keep an eye on your reputation online. And if you have Chekkit app then you get all notifications from Facebook, SMS, and Google services in one place. They have video chats too. That makes reputation management easy.
Also, you can keep an eye on payments and remind customers about them in time.
This reputation management software has a powerful AI. It allows you to search for content on main social media like Facebook, Instagram, YouTube and analyze it. With such a tool you can understand more about social media trends and your users. This is a great thing when you want to increase your client base. Or when you want to make your brand popular.
With Hashtag'd you can work with user-generated content and create better ads.
This reputation management software is all about reviews. In case it is a point of concern for your business and you want to cooperate with negative revies more efficiently then you need Trustpilot.
This tool provides you with automatically review collection process, analyzes feedback, improves CTR, and so on. Besides, since Trustpilot is open to all you can learn more about your clients and their needs.
It works in two steps: clients share their experience and companies create a better experience. It is a win-win reputation management tool.
As the name implies this reputation management platform was developed specifically for recruitment agencies. Staffing agencies can improve their reputation through reviews. And Great Recruiters automatically send requests for feedback. You will either have a great review or a chance to improve the experience of your company. Great Recruiters work with testimonials too.
It improves engagement with your employees, both new and former. And allows you to keep an eye on your connections with them. It helps to protect your reputation among employees and improve your brand.
Chatmeter was developed for multi-location businesses. And it does all to make reputation management easy for such companies.
One of their most popular and unique features is local SEO Tracking. Since Chatmeter was developed for multilocation businesses it allows you to compare your stores or other locations. It will show you where customers' experience is better and where it needs some improvement. And when you check the reviews you can find out what is wrong.
It also features advanced geolocation tools, boosts your search ranking, and automatically provides you with the most important info about your online reputation.
This reputation management software provides you with a top-notch dashboard for hospitality operations. This tool gathers information and feedback about your business from customers via smart surveys, social reviews, and interaction via social media.
Feed it Back gather feedback and separate it depending on the venue, region, and estate. Moreover, this reputation management software is perfect when it comes to case management. When you learn about a customer's negative experience you can solve the issue fast. It both improves your business and your reputation.
#1 Reputation Management Tool – PRNEWS.io
PRNEWS.io can help you with Reputation Management. With us, you can get rid of negative content on SERP. The best way is to interact with information that bothers you is to displace it. With positive or neutral sponsored articles on trusted websites, for example. After all, sponsored posts are a great tool in online business. It influences your reputation and brand image. That is why when you displace unwonted information on important web pages you get more users and sales.
Build Positive Online Reputation & Remove Negative from SERP
Also, sponsored posts proved to be the best option in terms of budget when it comes to the creation and promotion of a brand. And high-quality backlinks to your website prove to be the best option when it comes to SEO ranking.
With PRNEWS.io you can:
Monitor your online presence and understand your clients better.
When it comes to sponsored posts you can check them before release and choose the best time for release.
Get an all-in-one convenient pressroom, customize it and work on your brand identity.
PRNEWS.io also provides you with access to a useful niche filter. With this tool, you can get more info about websites that post sponsored content, the audience of these websites, quality metrics, and so on. And of course, you can post your articles in a few clicks.
More Reputation Management Tools:
FAQ: Reputation Management Software
What are the Benefits of Online Reputation Management Software?
Like any software, it makes your life easier. Some reputation management software can be installed into your phone and provide you with feedback on Facebook, Instagram, SMS chats, and so on in one device. Such software is important because customers tend to leave feedback online nowadays. And when you gather data with reputation management tools for enough long time you will find more ways to improve your business.
What are the Common Features of Online Reputation Management Software?
They all pay a lot of attention to your clients and the reviews they leave. And that is obvious. After all, reputation management software mainly cares about your customers and the experience they gain interacting with you and your business.
Besides, most reputation management software works as aggregators. They gather content from different sources and deliver it to you.
Online Reputation Management Software also provides you with the ability to generate positive and neutral reviews on various sites. And work with negative reviews too.