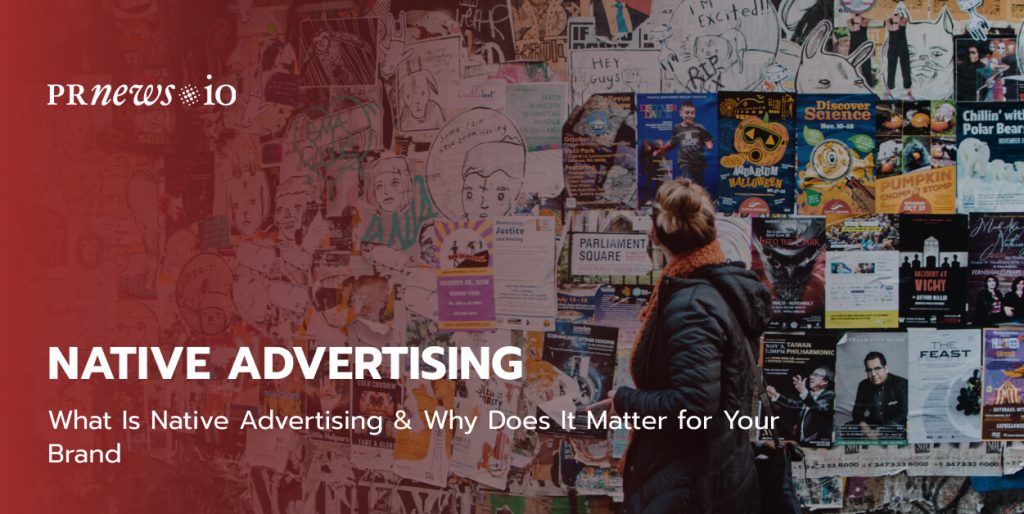 Companies have many ways and approaches to advertise their services and products to reach a wider audience. Native advertising is an alternative way of letting a wider public learn about your brand. So what is native advertising, and why should your company implement it? Let's find it out in this blog post.
Native advertising definition
The advancements in digital advertising have both positive and negative effects on brands worldwide. On the one hand, it allows companies to promote their offers for maximum efficiency. On the other hand, the abundance of digital ads makes it more difficult for businesses to build trust with the audience. Modern users have become more demanding. Young people, in particular, have become extremely critical of direct advertising and are more likely to interact with alternative forms of ads. That is when native advertising comes in.
Native advertising is a format of digital ads designed to mimic the look and feel of the platforms where they are published. You could have encountered native advertising on social media platforms. When users come across such content for the first time, they might need to realize that those are ads they are dealing with. Native advertising is intended to mirror the website and applications where they appear.
The main goal of native ads is to fit well the web environment without disrupting or deceiving the end user. Many marketers prefer this form of ad over traditional social media commercials because native advertisements do not distract users from the experience they are already having.
Native ads are made of many metadata elements. As a rule, such ads feature a headline, thumbnail image, description and content URL. Although it might seem somewhat complicated, creating native advertising is simpler than you think. The main point is that marketers and content creators should clearly know their target audience and what type of native ads they will create.
The three main types of native advertisements are:
Click-to-watch ads with embedded CTAs are the best choice for companies aiming to tell compelling stories and drive conversion.
Native carousel ads are commonly used by eCommerce companies that want to showcase collections of their products.
Mobile app install ads are the popular choice for app developers looking forward to encouraging a wider range of users to click and install apps.
Content Marketing Platform
100,000+ media publications;
get backlinks to your product;
scale work with content distribution.
How does native advertising work?
Native ads are intended to help businesses engage with audiences likely to be interested in their offers by displaying high-quality and engaging content on relevant social media platforms. A well-designed and professionally written native advertisement should motivate a user to buy a product, order a service, download media content, etc.
As a rule, the creation and implementation of native ads work this way:
Working on the creation of quality content that should appeal to the target audience
Publishing content on relevant websites or social media
Launching native ad campaigns
Letting customers check out native and take the required actions
In simple words, the performance of native ads is based on the following principle—engaging the target audience to click on the content they find appealing.
Native advertising examples
To help you better understand what native advertising is, let's consider the following native advertising examples implemented on different social and web-based platforms.
Sponsored posts
It's not necessary to publish native ads on social media platforms only. One more popular way of using this form of advertising is by publishing sponsored articles on websites and blogs that target a specific type of audience. It's common practice for sponsored articles to appear in the recommended articles section, accompanied by a CTA button leading to a separate page.
Besides promoting a specific brand, product or service, sponsored posts are aimed to provide some value to the readers and be relevant to the topic of the web resources where they are published.
In-Feed Social Ads
Social media platforms (Instagram and Facebook, in particular) mainly focus on a feed. Paid ads also appear in the scrolling timeline of posts and content. A well-designed and professionally written copy of a paid ad can easily blend in the flow of regular content without making it an obvious indicator of being a part of a particular brand's marketing campaign.
Story Filters
It's a common practice for Instagram and Snapchat users to use story filters. Brands can use story filters that connect users to a brand in an engaging way. People enjoy fun and entertaining content. Whether a story filter is sponsored or not, people will use it if they like it. Some of the most common examples of how story filters can be used in practice include background graphics, interactive quizzes, AR makeup overlays, etc.
TikTok Trends
TikTok is heavily dependent on the use of native advertising. Rather than publishing paid ads with the skip option, making TikTok videos using popular sounds that fit well with your product or service is recommended. When posting native social media ads, it's also important for brands to keep an eye on the positive or negative feedback they get from people watching such content.
Spotify Playlists
It's not a must-follow rule to publish native advertising in written content or videos. You can also create Spotify playlists based on your brand's services, products or themes. Netflix and Shopify's cooperation is one of the most vivid examples of how Spotify playlists can be used. Netflix created a Stranger Things playlist to promote the eponymous show.
Bottom Line
Here we go. Native advertising can benefit businesses and companies related to different industries and offer various products or services. Native ads let you achieve a better performance for your company's promotional campaign. Sometimes, people may not even guess they are dealing with a native ad. That's one of the goals of achieving the best results with native ads. Once you learn what native advertising is and check out some of the most effective native advertising examples, you can benefit from using native ads for building awareness, engagement and revenue.
Read more:
Save to Pinterest
You can save this page to your Pinterest board for later.