This article will delve into the practical steps of using PRNEWS.IO, a versatile platform that can catapult your business into the spotlight of global publications. From understanding the platform to selecting the right publication opportunities and crafting your content, we will guide you through the process.
By the end of this article, you'll be equipped with the knowledge to harness the potential of PRNEWS.IO, bolstering your business's presence and authority in the digital realm. Let's embark on this journey to elevate your small business's public relations game.
Sign Up for PRNEWS.IO
Go to the PRNEWS.IO website.
Click on the "Sign Up" or "Register" button.
Follow the prompts to create your account. Registration is free.
After successfully registering and logging into the admin panel, you will be presented with the following screen:

To begin working with the media database and to place your own materials, click the 'Get Featured' button. The 'Popular Solution' button will help you navigate the media landscape if you're not yet sure which specific platforms you need for your articles.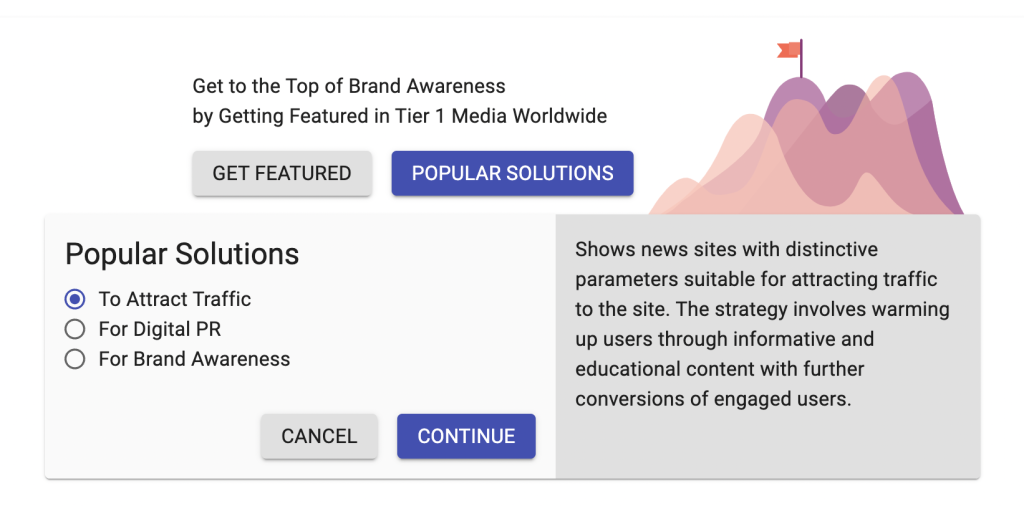 The PRNEWS.IO team has prepared several separate media databases that best align with specific objectives:
To Attract Traffic: This database showcases news sites with specific parameters tailored for driving traffic to your website. The strategy involves engaging users through informative and educational content, ultimately leading to conversions from these engaged users.
For Digital PR: This database features news sites with distinctive parameters ideal for a digital PR strategy. This strategy focuses on building a link environment to enhance your Google ranking.
For Brand Awareness: In this database, you'll find news sites with distinctive parameters suited for increasing brand awareness. The strategy revolves around securing regular mentions from prominent media outlets through interviews, quotes, and news articles, which contribute to brand recognition and enhance social proof.
Search for Publication Opportunities
Next, you'll enter the PRNEWS.IO catalog, where you'll need to utilize various filters to select the ideal media outlets for placing your information. For example, if you're interested in media outlets only in Poland or Switzerland, or if you prefer publications in French, you can easily sort and filter these preferences directly within the catalog.

If you're concerned about SEO and require dofollow links in addition to other features, you can enable this option in the settings with just one click.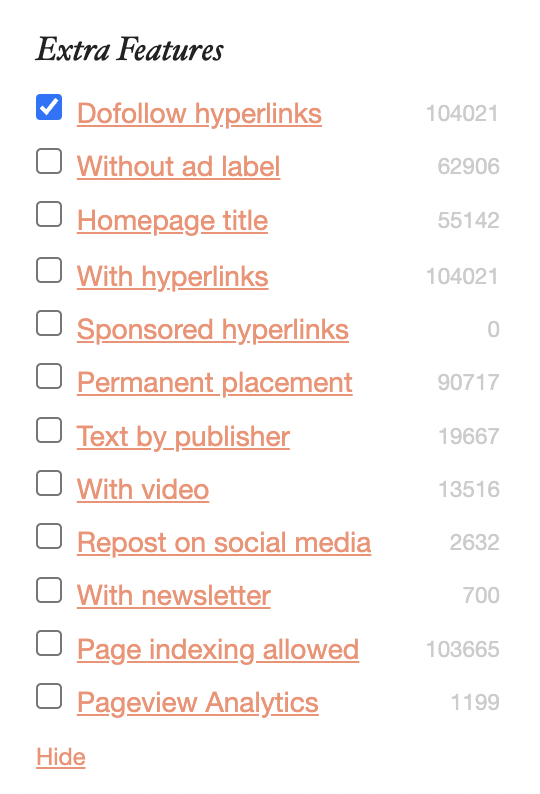 Furthermore, I highly recommend utilizing additional search settings for a more refined search experience

You'll find a multitude of sorting options for media, including by price, DR (Domain Rating), MOZ DA (Domain Authority), visits, and more.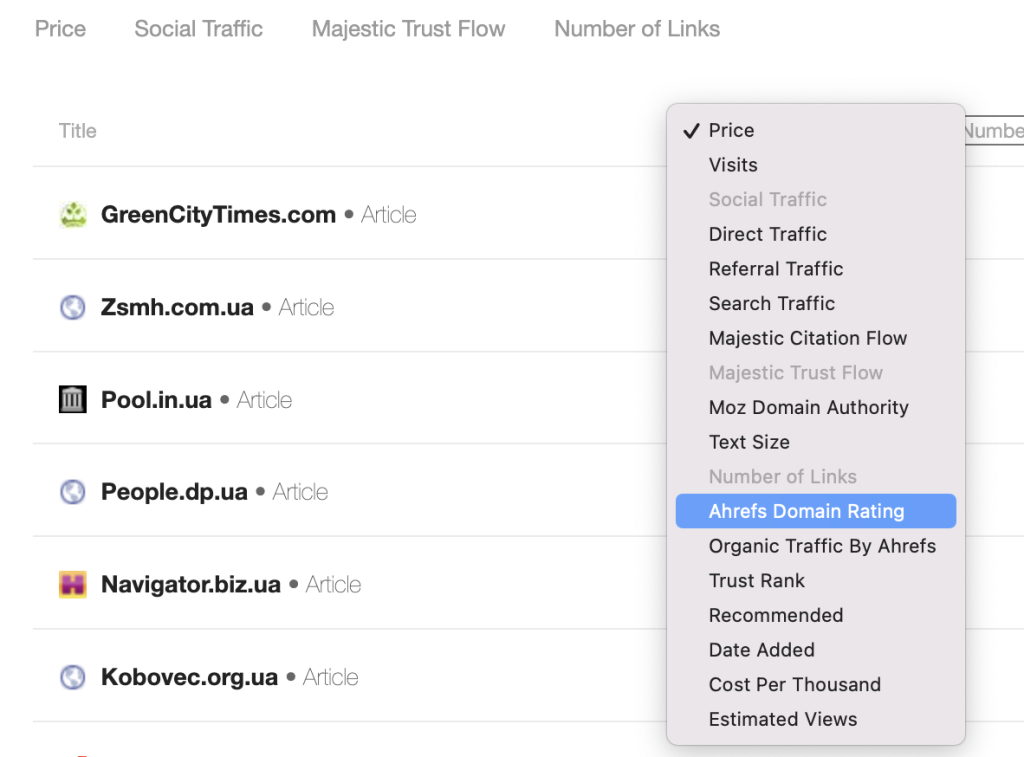 Select a Publication Opportunity
Okay, let's assume you've selected a media outlet for publication, such as Investing.com. On the page of this media outlet in the catalog, you'll find all the terms under which the media can publish your material and the price of the service.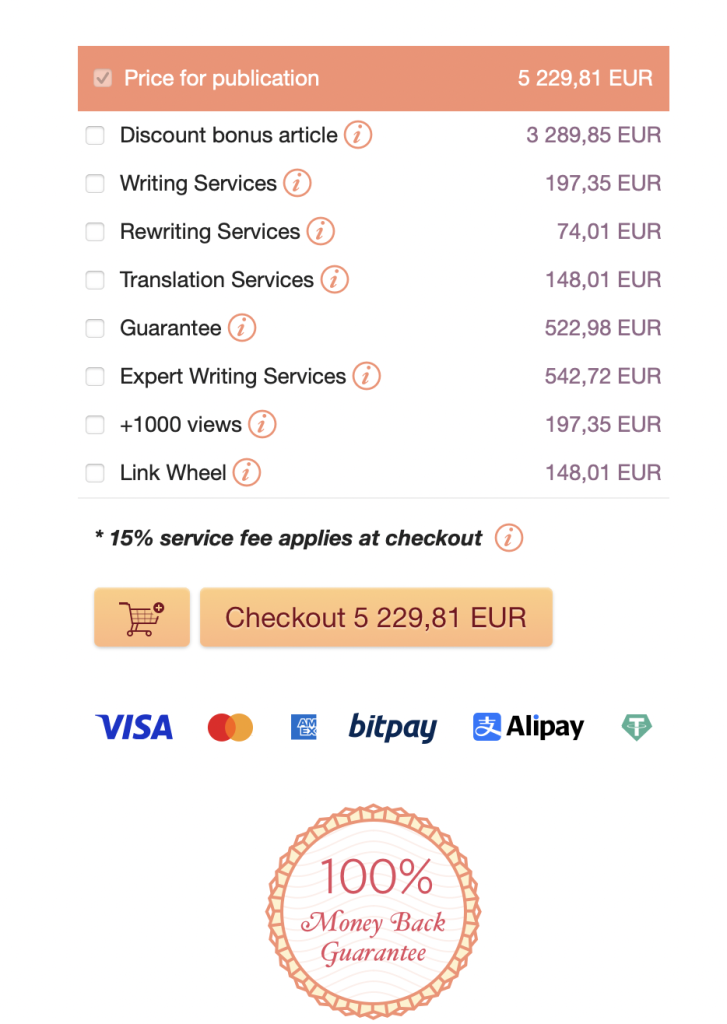 Here are the conditions for publishing an article on www.investing.com:
Published within 15 business days: Expect your content to be published within 15 business days.
Estimated Views: Your content can potentially reach an estimated 17.5k views.
3 Nofollow hyperlinks: You can include up to 3 nofollow hyperlinks.

Furthermore, you'll find information and metrics about the media outlet where you plan to place your content:
SEO Metrics:
Ahrefs Domain Rating: 87
Organic Traffic By Ahrefs: 5.9 million
Moz Domain Authority: 90
SEMrush Rank: 153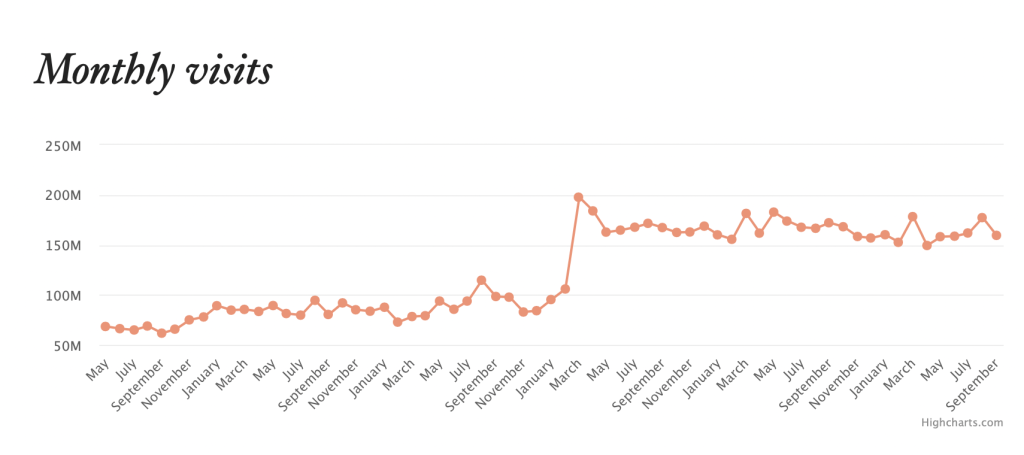 PRNEWS.IO purchases data on website traffic from SimilarWeb, allowing you to identify websites with the most relevant and high-quality traffic. On the page, you can find approximate statistics on visits, time spent on the site, page views, and bounce rate. If you're interested in specific traffic sources from a particular country, you can also find this information on the dashboard. Additionally, there are numerous useful SEO metrics provided, such as Ahrefs domain rating, SEMrush rank, Majestic citation flow, Majestic trust flow, trust rank, and more. If you need assistance with content writing or translation, PRNEWS.IO can also help in this regard.
So, here's an approximate plan of action for selecting media outlets manually through a catalog:
Go to the PRNEWS.IO catalog.

Open your web browser and navigate to the PRNEWS.IO website.

Choose the relevant filters:

Select the category: Choose the category or niche that best aligns with your content or target audience.
Specify the country: Select the geographic location that suits your target audience or campaign.
Choose the language: Opt for the language that matches your content or audience.
Filter for dofollow links: If you want backlinks, ensure you filter for websites that provide dofollow links.
Consider other important metrics: Look for additional metrics such as domain authority, traffic sources, and more.

Analyze SEO metrics from tools like Ahrefs, Moz, Majestic, etc.:

After identifying potential media outlets, use SEO analysis tools like Ahrefs, Moz, or Majestic to gather more data.
Analyze each site's Domain Rating (DR) from Ahrefs. Sites with a DR above 40 are usually considered authoritative.

Take into account various parameters:

Consider the website's traffic: Analyze the number of visitors the website receives regularly.
Assess direct traffic: Understand how much direct traffic the website gets, which could indicate a loyal audience.
Examine referral traffic: Look at the sources of referral traffic to evaluate how effectively the site is linked to from other platforms.
Analyze search traffic: Check the website's search engine traffic, which can be an indicator of its SEO effectiveness.
By following these steps, you can manually select media outlets that best align with your goals, ensuring that you choose websites that have the right metrics and audience for your content or campaign.
Customize Your Purchase
After adding media outlets to your cart, you'll have an additional window where you can order optional services. Here are some examples: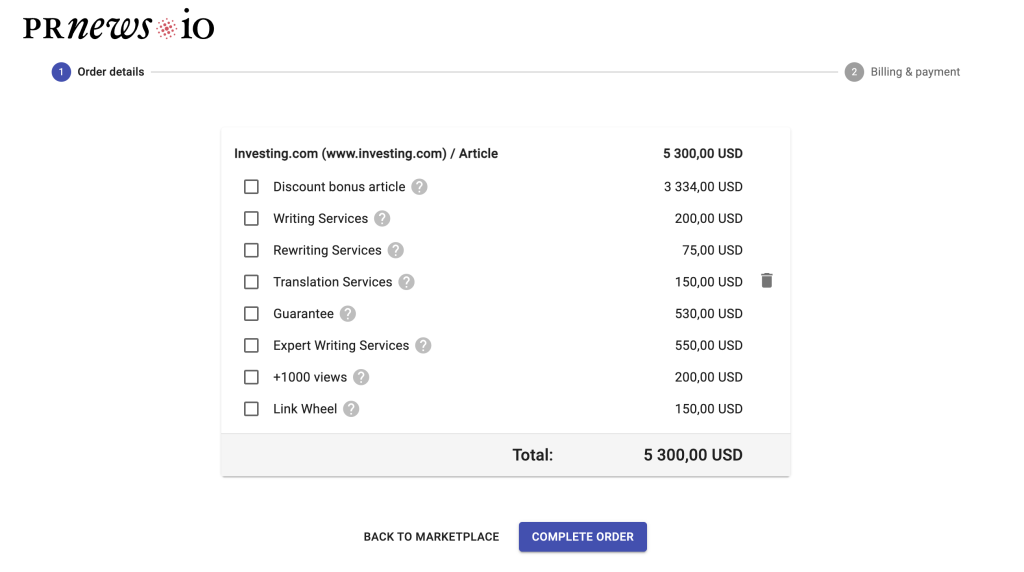 Writing Service: If you don't want to write the article yourself, you can order a writing service. This means that the platform will provide you with a professionally written article tailored to your needs.
Additional Article Views: You can add 1000 additional article views. This service typically involves running promotional campaigns to boost the number of views your article receives.
Additional Link Building Services (Link Wheel): If you want to enhance the SEO and backlinking for your article, you can opt for additional link building services like a link wheel. This service involves creating a network of interlinked web pages to improve your article's visibility and authority.
These optional services can be valuable for maximizing the impact of your content and outreach efforts on the selected media outlets. It allows you to customize your campaign according to your specific goals and needs.
Easy Payments with PRNEWS.IO
PRNEWS.IO has a decade-long presence in the global market. Throughout this period, we've continually strived to enhance the financial aspects of engaging with our company, prioritizing convenience, speed, and transparency for both our corporate clients and individual customers.
Nowadays, you have the flexibility to settle payments for our services from virtually anywhere across the globe and in a variety of currencies. You can seamlessly transfer funds between associated accounts, among other convenient features. In this article, we'll share insights on strategies and techniques that streamline our customers' experiences and operational efficiency.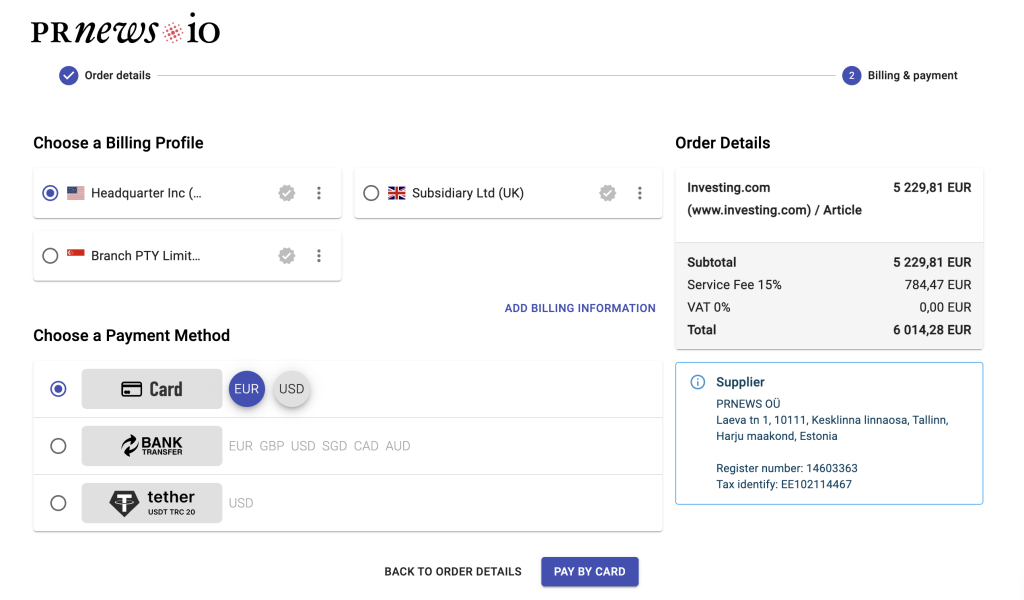 Read more: Easy Payments For PRNEWS.IO Services: Multicurrency, Separate Payment Profiles, Linked Accounts, and More
By following these steps, you can effectively use PRNEWS.IO to promote your business or content through publications, gaining visibility and SEO benefits in the process.
Is your business in need of a PR makeover?
Benefit from media coverage assistance.
Witness a refined branding approach.
Watch as your recognition soars.