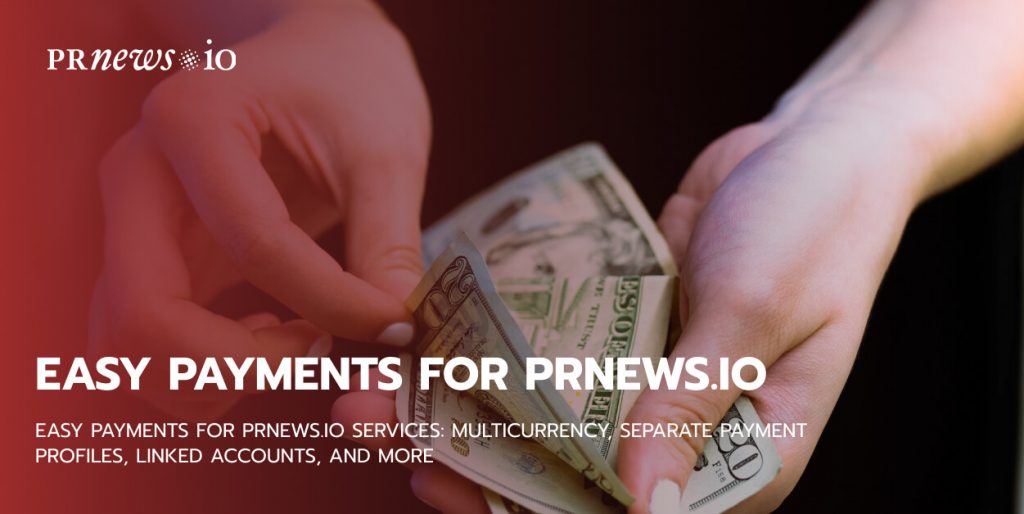 PRNEWS.IO has been operating on the international market for more than ten years. During this time, we have tried to make the financial side of working with our company as convenient, fast, and open as possible – for both corporate clients and individuals.
Today you can pay for our services from almost everywhere in the world and in different currencies, transfer funds between linked accounts, and much more. In this article, we will tell you the tips and tricks that make the customers' lives easier and processes more efficient.
Payment profiles
With PRNEWS.IO you can create payment profiles for different countries.
If your company is represented in several countries, you can create payment profiles for each of them and pay for promo campaigns to individual countries from the corresponding legal entities.
For example, your main office is located in Latvia, but you have opened offices in Germany, France, and Ukraine. If you are launching a PR campaign for the German market, you can easily pay for the PRNEWS.IO services from the payment profile, created especially for German PR campaigns. In this way, you can be assured that VAT will be paid correctly.
This is an important point as VAT differs from country to country. For example, in Germany, the general VAT rate is 19% and in Denmark 25%.
How is VAT charged to buyers in the EU?
How is VAT charged to buyers outside the EU?
How to add payment profiles?
After you have added your chosen media for publishing to your cart, click the complete order button. On the next screen, you will see the add billing information button:
If you already have several profiles in your account, you will see them on this page and you can choose from which account you want to pay. For convenience, the countries for which the profile is registered are highlighted:
If you need to add a new billing profile, click the add billing information button, where you need to specify:
type of transfer (individual or business);
name, email address, and phone number;
Billing info (here you specify the country in accordance with the legislation of which VAT will be charged)
Money on the balance
On the PRNEWS.IO content marketing marketplace, you can easily pay for individual article distribution or replenish your balance by a certain amount.
Why is it so important?
there are no restrictions from your financial department;
one invoice for all publications within the PR campaign.
Sometimes there are situations when you have a PR budget but don't have a media plan yet.
For example, your finance department pays bills at the end of the month or on Tuesdays. By replenishing a balance, you can easily create a media plan, select the necessary sites for publishing, and coordinate them with the managers without haste and any dependence from the finance department.
Your money on the account does not burn out, and you do not pay any hidden fees.
In addition, you´re receiving only one invoice, which greatly simplifies accounting. When paying for each transaction you will get a separate invoice, which has to be transferred to the accounting department for declaration. If you add a one-time certain amount to the balance, there is just one invoice. Then the user can withdraw the funds in the system as needed. And this significantly simplifies tax reporting.
Transferring funds between linked accounts
It's also a very important feature. It works well for large agencies that run multiple projects at the same time.
For example, your CFO has one main account where he/she transfers the entire approved budget for the promo campaigns. Then CFO can distribute this budget between projects. The advantages you receive:
It is easy to track the distribution of funds between the projects.
Your projects will not exceed the budget, you will spend exactly as much as you have on the balance sheet.
One invoice, a simple reporting.
Multicurrency
PRNEWS.IO works with different currencies: USD, EUR, GBP, UAH, AUD, SGD, CAD, HKD, CNY, BTC, and ETH.
Moreover, you have the opportunity to convert everything to one currency directly in the system in a couple of clicks. The PRNEWS.IO system charges 3% for conversion. Exchange rates in the system are updated once a day.
If you currently have USD, EUR, and GBP in your account, you need to convert the funds into one currency and pay for the order.
Accumulation of funds
PRNEWS.IO customers have the opportunity to pay for one order with different payment systems. For example, publication in one media costs 500 USD, which the client can pay:
120 USD by card via Stripe.
300 cryptocurrency.
80 bank transfer.
A detailed list of payment options can be found here.
Saving time and transaction costs
When buying a publication, in case of refusal – you can return the funds to the balance and pay for another publication. This saves time and reduces transaction costs on refunds.
How To Issue Refunds For The Ordered Packages/Platforms?
No additional fees
After you add money to your balance and pay a one-time commission on the PRNEWS.IO system, you´ll see a net amount of money at your disposal, which you can fully use for publishing in the media at the prices you see in the catalog.
There are no additional or hidden fees in the PRNEWS.IO system for:
Transferring funds between linked accounts.
Possibility to accumulate different payment methods.
Work with multiple payment profiles.