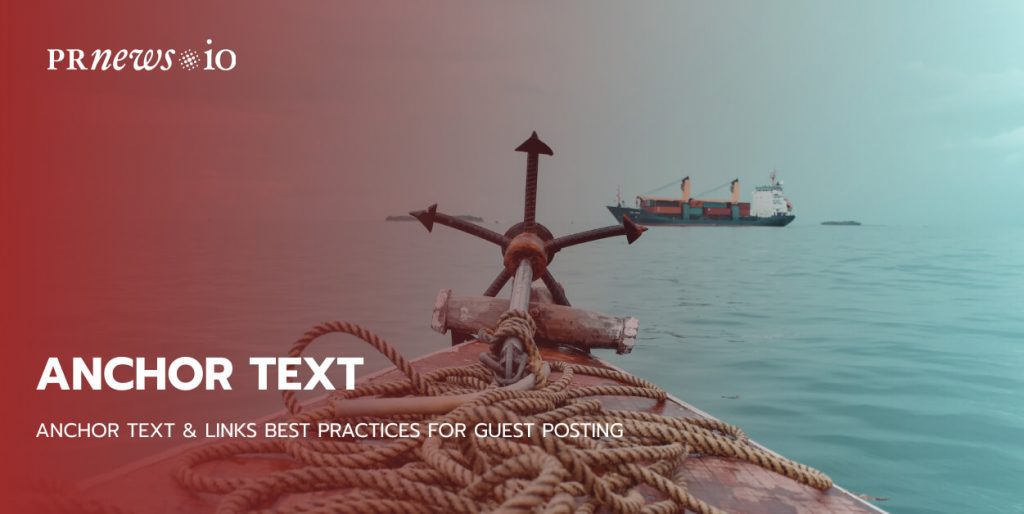 Clickable text written on a hyperlink is known as "anchor text." It is crucial to search engines and is used to evaluate the relevance of web pages to search queries. Typical SEO best practices determine that anchor text is relevant to the page you're linking to.
A qualitative anchor is not a panacea for increasing sales, but it does possess a certain power. Read our article about what types of anchors exist, how to insert them properly into the text, and how to make them work for the benefit of your company.
The Two Elements of a Link
Before beginning a discussion about anchor text, it's critical to understand what "anchor text" means.
Luckily, it's quite simple. Anchor text is the clickable text of a link.
Any link consists of an URL, such as http://buybitcionplease.net, and text – for example, "buy bitcoin cheap". Accordingly, the anchor is the text of the link. It is usually a search term that one would use to search for the company on the Internet.
In the page code, this will be written as follows:
The bold text is the anchor. The user clicks on this text and goes to another page.
There are two elements to any link:
The anchor text.
The destination URL.
The destination URL is the destination that the link points to.
The anchor text and destination URL must be properly paired together. For instance, it wouldn't make any sense for the anchor text to say "beach balls" if the destination URL was linked to a page about polar bears.
Content Marketing Platform
100,000+ media publications;
get backlinks to your product;
scale work with content distribution.
Why is anchor text essential to SEO?
Online search engines utilize anchor text to understand the context of the connecting page.
Anchor text should be relevant to the page that it is linking to, i.e., by reading words and phrases, both users and search engines should get an idea about the linked page.
Any failure to do so can lead to high bounce rates and a negative impact on rankings.
For example, the anchor text is "Best SEO Tools," so the linked page should talk about the best SEO tools and nothing else.
Proper destination URLs
Destination URLs are pivotal and should be considered carefully. Links to homepage URLs are risky in today's post-Penguin environment. Avoid linking to home pages, and instead, link only to internal pages within a website.
Linking to commercial websites (i.e., websites that sell products or services) is riskier than linking to resource websites.
Instead, try to link to authoritative, credible, trustworthy websites like Wikipedia, YouTube, Mashable, TechCrunch, Forbes, etc.
Articles that link to your website in addition to an authority website will associate your website with the authority website using co-citation.
It will have the effect of increasing search engine rankings for your website.
Anchor & non-anchor links
The text you select for anchors is crucial for a couple of reasons.
It tells your readers exactly what to expect before they click on the hyperlink. Anchor phrases are the guarantee of what's on the other side of this connection, so they need to be highly applicable.
According to the number of words, anchor links are divided into single-word and multiword. They are also called "undiluted" and "diluted".
It tells Google's calculations what your content is all about. Google's algorithms utilize your anchor options to be certain you're not engaging in spammy practices and to comprehend the subjects you're linking to in your copy.
That consumers see. It's essential for SEO since it gives search engines a substantial hint about the content of this linked page. It is correct that the Google guidelines regarding anchor text use are contradictory. They instruct us to utilize brief and concise values, and they may punish a website for doing this.
Relevant anchor text can boost backlink value even more.
Ultimately, do not worry about over-optimizing the anchor text in your inner hyperlinks. There's absolutely no such punishment.
It happens sometimes that the editors of a site will return text to our clients for revision. The comments say that the publication only allows anchor (or non-anchor) links. In non-anchor links, instead of an anchor, words are used such as "here", "there", "look", "site" or simply a site URL (site.io, https: //site.io/, etc.).
Sites can use both types of links to make the text more natural. Search engines value non-anchor links less than anchor ones. Therefore, sites often ask you to use exact anchor links in the text.
There's a variety of types of anchors to consider:
Exact match: anchor text=keyword.
LSI anchors: synonyms of the main keyword.
Branded anchors: use the brand name as text.
Brand + keyword anchors.
Image anchors.
Generic anchors: "click here", "this".
Naked link anchors: simply the URL.
For sellers: commercial anchors
Commercial anchors, like regular anchors, promote visits to the site. How to distinguish a commercial anchor:
It contains the words "buy", "sale", "price".
In the text surrounding the link, there are also words like "sale", "price", "cheap", "profitable".
Commercial anchors are often written in an unnatural manner. People don't talk and write like that. But search queries are formulated exactly like this: "buy iPhone cheap" or "crankshaft price".
Anchor text cheat sheet for guest posts
Best practices to keep in mind:
Write relevant anchor text.
Avoid linking to and from spammy websites.
Use of keyword-rich anchor text for internal links should be minimal.
Pay attention to the surrounding text and then decide on an anchor text.
Include the anchor text naturally. Links should never seem out of place or look suspicious.
Use LSI anchors. Find an optimal ratio of anchors of different types. Using the same keyword as an anchor text is a bad practice because every time you do it, you bring your website closer to getting penalized by Google.
Remember that optimizing anchor text is as important as any other element of SEO.
Check anchor clickability.
Do not use too many keywords.
Do not make the anchor text long.
In SEO, every case is different. It is worth taking into account the peculiar features of a specific project. 
How to write an anchor to avoid it being seen as spam
Sites ask you to make corrections not only when there is a lack of anchors, but also when they are incorrectly written. This is done because of the fear of being penalized by Google or Yandex.
Everything should be used in moderation. If one uses too many anchors with the same words in the text, search engines will interpret it as spam. To avoid this, you can diversify the anchor: "rose bouquet" can be transformed into "beautiful bouquet of roses", "bouquet of roses in Kyiv", "bouquet of white roses," etc. But it is better not to abuse this.
A quality anchor should naturally fit into the text and correspond to the subject matter of the site. Violating this rule is not considered a serious mistake, but you also won't get any benefits from such a link. If a user visits the site to watch a movie, it is unlikely that they will also happen to need information about an upcoming ICO.
An anchor that is spelled wrong will have a negative effect on the whole SEO campaign. People don't trust illiterate advertising. In addition to grammar and spelling, one needs to also watch out for syntax. An incoherent set of words such as "spare parts Volvo Poland cheap" will be interpreted by a search engine as spam.
The main criteria for successful SEO text:
Do not use many identical anchors.
Readable text and anchors.
Literate and natural anchors.
Online Publicity Workbook
100+ content ideas for your B2B startup;
ideal for do-it-yourself publicity plans;
schedule your PR campaign in advance.
In Closing
Anchors that are organically inserted into the text are useful to everyone. Sites have increased relevance and moved closer to the top position in search results, and the user is happy to read text that is not overloaded with links, and which has natural and useful anchors.
Read more: