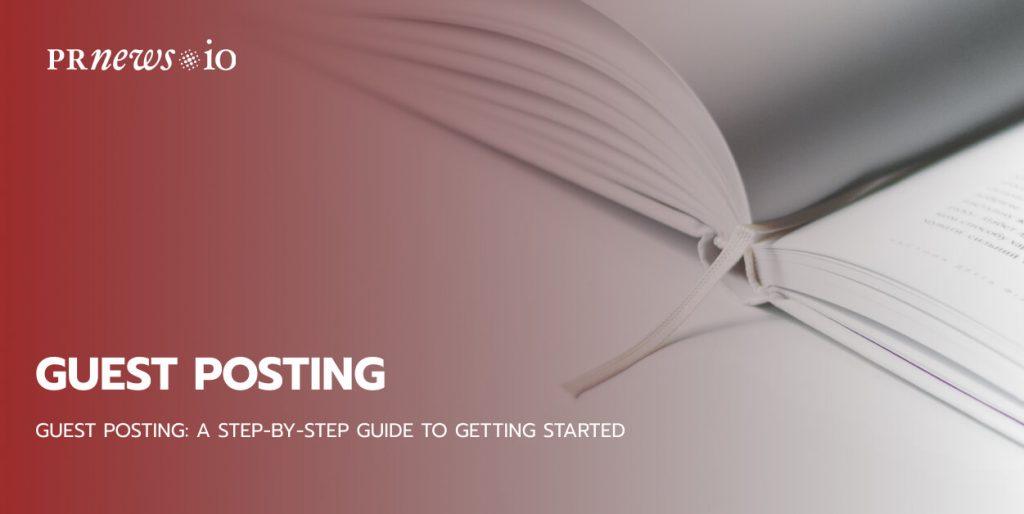 Guest posting is an extremely effective and impressive marketing technique to learn and practice. Guest posting is one of the most effective ways to grow your website. You can boost traffic and gain authority by doing it.
Guest posting can help you build your brand, get more website traffic, and earn high-quality backlinks.
Though guest blogging may seem pretty straightforward, it still has some peculiarities you should know to succeed.
Here's a checklist you should use to run a successful guest posting campaign:
Define the goals you want to achieve.
Find relevant websites to post on.
Outreach to blog owners.
Create superior content.
Promote your post and engage with readers.
Define the goals you want to achieve
First, define your goals and decide whether guest blogging can help you achieve them or not. If you want to increase brand awareness for your business, position yourself as an expert, drive traffic, increase sales, and build high-quality backlinks, guest posting is what you need.
The main goals for guest posting are:
to improve yourself as a writer;
to establish or enhance your domain authority, use external links to high-authority domains;
to drive huge organic traffic back to your site;
increase their brand credibility and awareness;
an opportunity to interact with influencers in your niche and build relationships with peers in the industry.
Then you need to find websites you will post on.
Identify high-quality sites for guest posting
Many low-quality sites look for free content by offering to accept guest posts. These are not the sites you want to guest-blog on.
The number one aspect of a good target for a guest post is traffic. Without traffic, there's no benefit to posting.
The second aspect is that a significant amount of traffic must be generated by your target audience. Otherwise, no one will care about your post, no matter how good it is.
In general, there are two types of quality sites to target:
Broad authority sites. These sites are often household names (think Forbes, The Huffington Post, or Business Insider). They have tons of traffic, and even if only a small percentage of that traffic is your target audience, it's worth it.
Leading industry blogs. These blogs are much more niche-specific, but they are mostly made for your target audience. But don't post too frequently, as most of these readers will already know you.
Content Marketing Platform
100,000+ media publications;
get backlinks to your product;
scale work with content distribution.
Find websites to guest post on
Here are some ideas for finding blogs in your niche:
Google Search Tricks. Just replace "keyword" with keywords from your industry and use Google to find websites for guest posting: keyword "submit a guest post".
Twitter search tricks. To find blogs for guest posting, use the Twitter search term "keyword + guest post."
Competitor backlinks. Start with a backlink research tool like Ahrefs. After uploading the list of domains you are interested in into Bulk Site Checker, you will receive data on the cost of placement on each site, audience size, and SEO characteristics of the resource. All this you can download to a separate CSV file for further analysis and database work.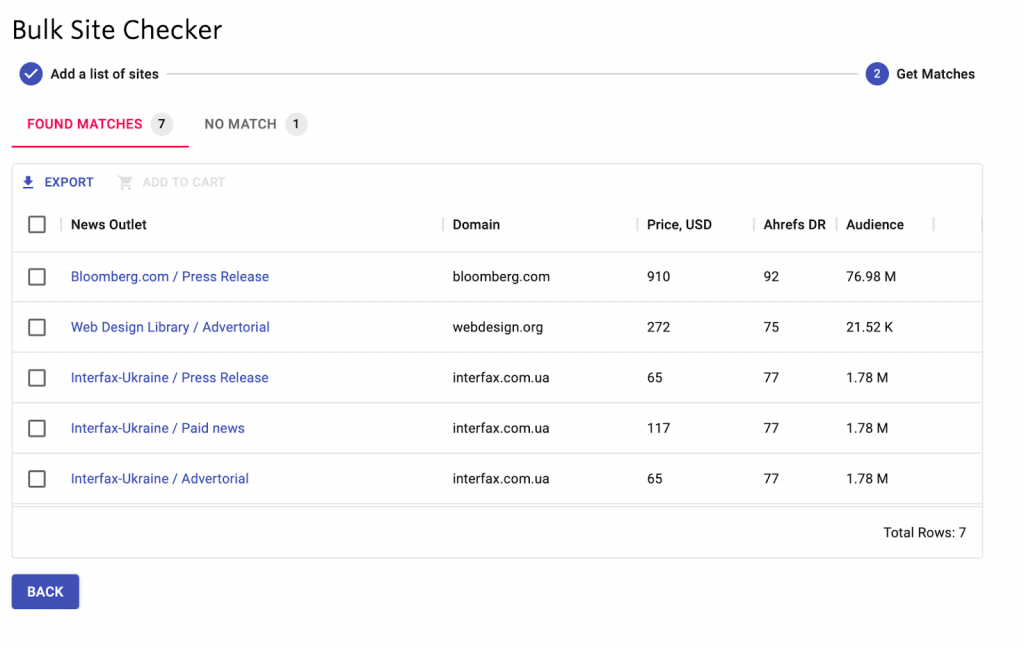 Prolific guest bloggers. Another hotshot idea for finding tons of qualified guest posting websites is following the prolific guest bloggers in your industry.
Free guest posting sites. Check all lists of free guest posting sites.
Social media accounts. For example, LinkedIn is the perfect professional space where you can find many bloggers and webmasters in your niche who allow guest posts on their websites.
Community. I'm sure you're aware of one or two excellent blogs in your field. Take a look at the comments and the people commenting. Some of them will surely be running their blogs.
Alltop. Alltop collects "the headlines of the latest stories from the best sites and blogs that cover a topic." It helps you discover stories and blogs in your field of interest.
Use PRNEWS.IO! PRNEWS.IO is a platform for guest blogging that publishes articles and connects advertisers with influential news outlets. Our expert team assists your company by publishing your guest posts in influential press outlets around the world. We are experienced in digital marketing, link building, and providing high-quality content that is published on portals around the world.
Use filters in the PRNEWS.IO catalog to find sites relevant to your niche.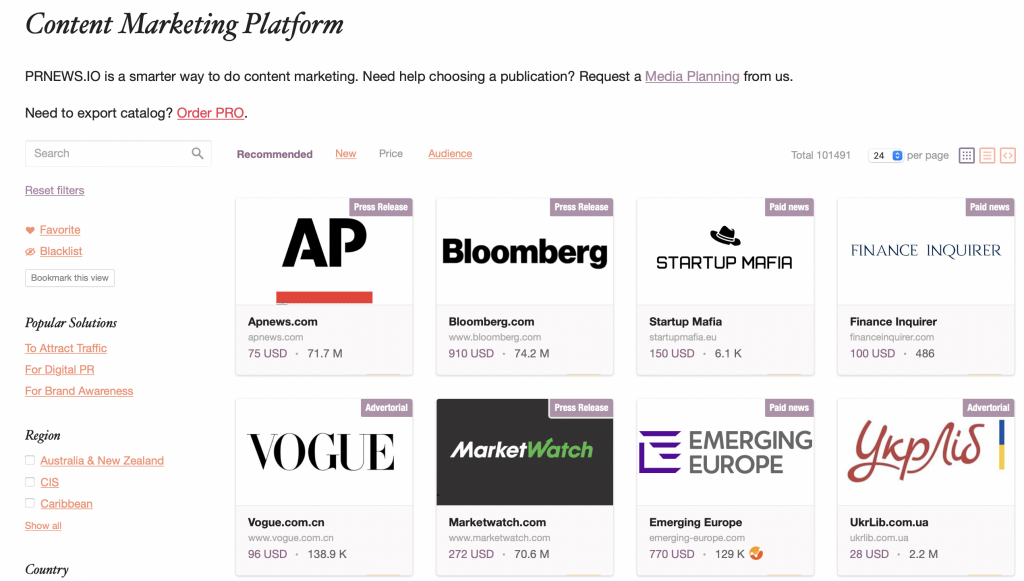 How to write a high-quality pitch?
Blogging is a very hard scene to break into. So, here's the reason guest blogging should be a need of yours if you are serious about building your name.
Blogs that invite guest posts, get a lot of emails from people like you. So, to stand out from the crowd, be extraordinary.
How do you write a high-quality pitch?
Show up on the blogger's radar. Join blog groups on social media and leave relevant comments.
Personalization is a must. You should customize your letters as much as you can.
Your focus should be on the blogger's benefit. Ensure you've included all the advantages of your post, or give them a free trial of your service.
Do a brief SEO audit of the website you want to pitch your guest post to.
One of the problems that blog owners face is that they get repetitive guest post pitches – it's the same topic or approach in many posts. However, if you use a tool like Ahrefs and do a content gap analysis, you can easily find topics that add variety to their existing content. Doing keyword research and a content audit will help you pitch topics that add to their topic cluster. This then builds their authority on their subject, drives more traffic to their site, and supports other posts. What blog owner wouldn't love that? Make your pitch personalized and your content relevant by doing SEO audits when reaching out. It increases your pitch acceptance rate dramatically.

Debashri Dutta, Founder & Content Writer at dmdutta.com
Produce Epic Content for Your Guest Post
You sent out a few pitches, and one of the sites you approached told you to go ahead and write your post—success!
Now you need to deliver.
An epic post for a particular site is better than 95% of other posts published earlier. In other words, epic is relative.
A guest post should funnel people toward an outcome, not a home page.
A guest post should mention famous bloggers in your niche.
A guest post should be followed up by sister posts.
A guest post should be aimed at ten years of results, not 10 hours.
Each guest post should be part of an anchor text strategy.
Consider PRNEWS.IO Writing Services
If you feel that writing a quality guest post is not something you can do well, you should delegate it to our reputed writing team and relax. PRNEWS.IO provides blog post-writing services you'll love. Our Content Studio writers have diverse professional backgrounds to serve a variety of industries.
Does a guest post still work?
Most certainly still works…!
With a bunch of high-quality backlinks, you'll improve your overall DA (domain authority) – making your website more trustworthy.
It has to be done correctly, and I'd personally focus on guest posting on sites with a similar high DA – not a spammy blog with ten different posts a day