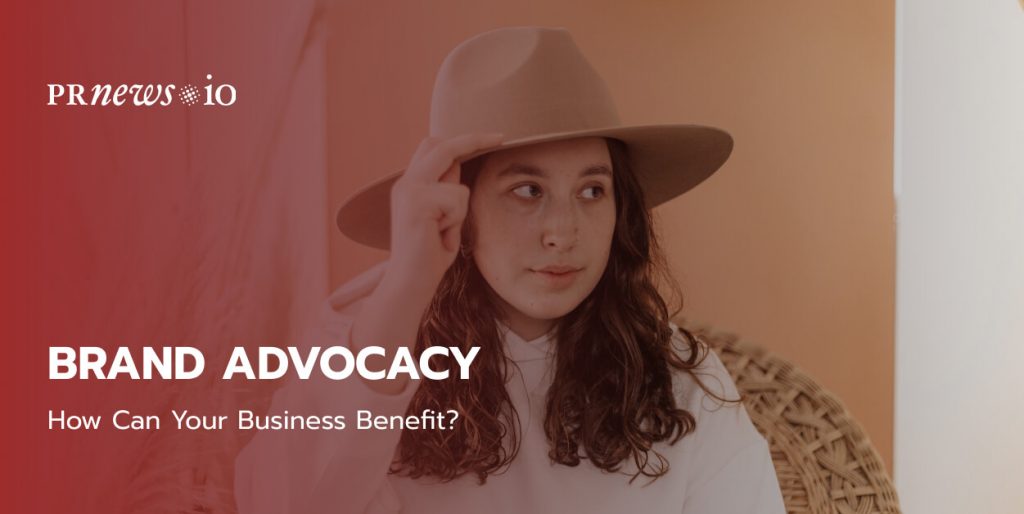 You can build any type of brand, there are a lot of ways a smart brand advocacy program can bring you significant benefits. It works on involving clients and encouraging them to support and recommend your brand on the market. We are going to see the definition of brand advocacy, its benefits, and professional tips on how to turn clients into brand advocates.
A successful marketing strategy isn't based only on high ROI and conversions. Modern brands should establish an emotional connection with their customers, and share the brand's inner culture with them. In this case, customers may become a part of a brand's team and stand out as brand advocates.
Brand Advocacy Definition
Brand advocacy is an efficient way to build and boost your brand awareness. It is how many companies drive a lot of new leads, close new clients, and attract job candidates.
The brand advocacy definition is simple: it is a term used for describing various actions taken by clients, fans, or random people who are fond of your brand and would like to give you support by promoting products/services to new prospects.
As soon as you start launching your first brand advocacy program, you will make your company visible and more attractive to a larger target audience. It is a smart way to build brand awareness while eliminating costs, which are usually associated with old-school marketing campaigns. It is time to bring value to your business and enhance its reputation.
What Are the Benefits of Brand Advocacy
Your brand can build trust by sharing referrals/recommendations, writing unique and eye-catching content, or composing storefronts.
Your company's reputation gets enhanced. Brand advocacy will positively impact your company by posting positive feedback on social media accounts.
It is a way to acquire new clients and keep them engaged. It is important for your brand awareness and recognition.
Your company gets valuable insights. It is your chance to enter the social network of potential clients outside of your brand and offer your valuable services.
Increased sales thanks to building company trust and enhancing your brand reputation.
Brand Advocates: Who They Are
Brand advocates in a large sense can be customers, bloggers, employees, family members, or friends. Those people share the brand's corporate culture, values, and mission. They like the product or service they get from a company and gladly share their positive experience with their audience.
Ted Rubin, the renowned social marketing strategist, calls relations between brands and their clients a cornerstone of good marketing. He introduced the term Return on Relationships (ROR), on the analogy of ROI. It is the value a brand gets through establishing strong, trust-based relationships with its customers. Today these non-material signs of a brand's reliability cost more than the money you pay for advertisement.
ROR gets profitable for both sides. Customers get high-quality products or services, while brands get publicity and outreach for potential customers for free.
Power of Brand Advocates
More and more studies show the growth of ordinary people's trust in recommendations and reviews from others. Nielsen's Global Trust in Advertising report claims that 92% of 28,000 consumers from 56 countries trust their friend's and relatives' recommendations rather than traditional forms of advertising. Consumer reviews on earned media gained the trust of 70% of online respondents. Editorial articles that brands publish on earned media came third and gained the trust of 58% of consumers.
BrightLocal survey conducted that 9 of 10 (88%) consumers read reviews about local businesses before purchasing. Among such businesses are hotels, flights, cars, restaurants, doctors, plumbers, etc.
It seems pretty logical today when people get tired of a false image of a product created in adverts. When no one is surprised that celebs are getting money for their promotion of this or that brand. Thus consumers rely more on the opinions of average buyers who tested the product and genuinely liked it. According to the same survey from BrightLocal, customers, in general, read from 6 to 10 reviews before making a decision to purchase.
"Word of mouth" becomes one of the most powerful ways of promoting a product, business, or service. Such trusted resources as TripAdvisor welcome customers' reviews and treat them as a base for building a brand's rating. People in the modern world love to share their opinions on social media. The trick is that people tend to share their negative experiences rather than positive ones. And brands need to monitor all mentions of it online and try to turn every experience into a good one.
Content Marketing Platform
100,000+ media publications;
get backlinks to your product;
scale work with content distribution.
Tips On How To Turn Clients Into Brand Advocates
Every business owner would like to see his clients happy and will be satisfied hearing them say positive things about the company, products, and services. The positive feedback left by clients is essential to your company's success, yet you have to take a proactive position in order to turn satisfied clients into your brand advocates. It is the secret to attracting even more potential clients. So how can your brand turn clients into brand advocates? Continue to read the tips to achieve the best results.
Delivering new and innovative services
Your brand has to always be one step ahead of clients and competitors. Do your best to offer new services to simplify their lives. Offer your clients a live chat to make the sales process faster and notify them about any brand updates.
Offering unique loyalty programs.
If you want to show your clients loyalty, your company can offer them a loyalty program, which includes attractive discounts, promotions, upgrades, and free services/products. Make sure they are based on a client's purchase history. Always welcome new clients with first-order discounts.
Offering referral programs to clients.
Referral programs focus on pleasing current clients and at the same time attracting new ones. Every time your brand advocate brings new customers, you should reward them.
Popular social media platforms are the best place for your brand to look for brand advocates. Every time you see a positive comment, you can consider this person your brand advocate. Never miss an opportunity for engaging such individuals in your marketing campaigns.
Personalizing clients' experiences
Your brand has to deliver a positive customer experience, as it counts the most in your brand's popularity. Make sure you address clients by their names when you make offers. If you want to humanize your brand, it is essential to keep the tone friendly. Treat all clients with respect and special care.
Making appealing marketing offers
You need to research to find out what marketing offers your clients would like to get. Such offers should be engaging and be based on the purchase history and your client's preferences. Do not forget to recommend new products/services or offer upgrades on already-known items.
Create Community
Start with your target audience. Research your social media followers and take a closer look at the accounts that usually speak about your brand in a positive way. Learn what makes those people satisfied with your product, and engage those users for closer collaboration.
Useful tools that help monitor your brand mentions and other activity connected with your business:
— Followerwonk. An app from Moz that helps track your Twitter follower's activity, location, and general interests. Allows compare users' accounts and organize your followers into groups for more specific targeting;
— ReFollow. It helps find the right audience, "grooming and manage" your relationships with followers effectively;
— Klout. One of the most popular tools for sharing content on social media and tracking social media activity. It also offers suggestions about Twitter accounts to follow;
— BuzzSumo. Amazing service that helps identify what content performs the best and how it can be improved. It also helps monitor influencers that can impact your business;
— Sprout Social helps track and measure social engagement, get messages from followers, monitoring brand mentions and specific hashtags.
Make your brand open to your customers. Offer insights about its corporate culture and values. Your brand's values should be clear and easy to understand for your audience. The blog content, social accounts, or publications on earned media should promote those values. Encourage your followers and readers to share your content and comment.
Your employees can act as onboard brand advocates too. Since people are more likely to engage with individuals rather than with brands, your employees can become that bridge between your business and customers. Surveys show that people are 3 times more likely to trust employees than the company's CEO or other official representatives. Here, at the PRNEWS.io Ukrainian office, we use this idea during the recent IT event iForum.
Ask People for Reviews
The above-mentioned BrightLocal research shows that about 9% of customers are open to collaboration with brands. They are happy to leave reviews if a brand asks for some. Thus, if you send a message to 100 customers and ask them to leave feedback, 10 may yield to your request.
Brand advocates like attention to their own needs and personalities. So make sure that their reviews are shared with your community. Don't forget to thank people for the feedback they leave — they spend their time on it, and appreciate it. Building relationships is listening to everyone and answering people's needs in return.
Provide a Reward
Building relationships with brand advocates is not a totally free source anyway. But that doesn't mean you should literally pay for reviews and comments, no-no. Small treats and pleasing surprises will definitely work. You can offer:
— Badges or Certificates that a person can display on their social media account or a website;
— Nice discount for your services or products;
— VIP treatment during company's events (e.g. exclusive sneak-peeks of the latest product and the process of its creation);
— Invitation to be beta-testers of a new product;
— Branded stuff like t-shirts, mugs, hats, etc.;
— Backlinking to their posts, profiles, etc. on your blog articles or in editorial content on other websites.
Make Your Brand Page More About Your Customers
People like sharing their thoughts about various things. But more of all that they love talking about themselves. Make your blog or social media account a friendly platform where your customers can enjoy a real conversation, share their own interests and expectations.
Choosing The Best Brand Advocacy Software
Brand advocacy software can be often called "Advocacy Marketing Software" The idea is widely used by many famous brands, when they enable their clients to promote their services, products, or content by means of so-called "word-of-mouth". By using brand advocacy software, you help your company to gather essential testimonials for further usage with prospects.
Influitive
Influitive software is highly efficient in building a community of advocates. Thanks to such a community, you are able to invite your clients, employees, or business partners to complete interesting challenges, product reviews, posts on social media platforms, etc. By completing such challenges, people earn privileges. Influitive software is easy to use thanks to reports and the ROI of all activities. Besides, it can be integrated with your CRM for a better experience.
Birdeye
Birdeye is another efficient brand advocacy software with one of the highest rates on the market. It has a positive reputation and numerous feedback from users. 90,000+ businesses refer to the Birdeye platform on a regular basis. It is simple, straightforward, and effective in managing the online reputation of your brand, connecting with prospects via digital channels, and gaining positive client experience insights. As a result, your company increases sales and thrives.
ReferralCandy
ReferralCandy is excellent referral software for your e-commerce shop. It helps in automating the referral program, tracking all the results, and reducing the risk of fraud. There is nothing difficult in connecting the ReferralCandy software to e-commerce platforms, such as Magento, Shopify, BigCommerce, etc. You can benefit from using API and integration tools, such as AdRoll, Google Analytics, ReCharge, etc.
The Bottom Line
When you turn clients into your brand advocates, you demonstrate that their opinion and feedback matter a lot to your company. Such feedback will help you improve your services and boost clients' experience. Always encourage clients to write comments on social channels and do not be shy to express their feelings about your brand. Remember that your happy clients are your best asset.
The strategy of ROR is not about the advertisement. It is about building relationships and nurturing an emotional connection with your brand. Focus more on your customer's needs and wishes. Treat user-generated content with care and genuine interest and people will trust your brand more.
Brand Advocacy FAQs
What is a brand advocate?
Brand advocacy is an efficient way to build and boost your brand awareness. It is how many companies drive a lot of new leads, close new clients, and attract job candidates.
How to measure brand advocacy?
The best way to measure your brand advocacy is by evaluating your brand's landing page shares, all kinds of positive mentions on social media platforms, usage of marketing campaign hashtags, etc.
How to become an advocate or brand ambassador?
Every client can become a brand advocate/ambassador by spreading the brand's content, sharing the corporate message online, and leaving genuine reviews on social media platforms.
Save to Pinterest
You can save this page to your Pinterest board for later.