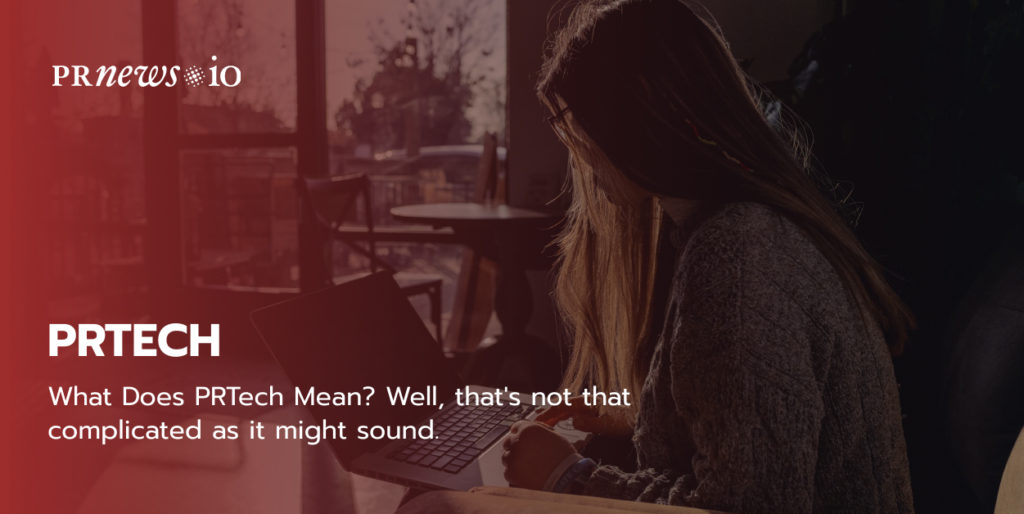 Humanity lives and breathes communications every day. And still, getting a message across is a tough task for many. If you don't practice public relations, you're bound to fail. PR is a far cry from what it was even five years ago. And nothing has changed the PR industry more than technological innovation. Since then, PRTech has taken center stage in the business strategy arena.
So, what PRTech stands for and why? Well, that's not that complicated as it might sound.
PRNEWS.IO is a user-friendly PR platform to share your news in just few steps.
Defining PRTech
RTech lets you adopt various types of technologies to drive better business results
In a nutshell, PR means using all available communication channels and tools to get your message across. But that doesn't mean you should work harder but smarter. And that's where technology comes into play.
PRTech lets you adopt various types of technologies to drive better business results. Adopting here means not buying but using it as a solution to a need. For starters, that can mean researching new platforms and learning new skills. To others, the goal is to drive business results.
When a tree falls in a forest, and no one hears, does it make a sound? The same story here. No matter how loud you inform, persuade or motivate your audience to take action, the result is zero if the message doesn't reach it. Instead, you can give your PR campaign the boost it needs by adopting technology.
The good news is that you don't have to reinvent the wheel. The new normal is already a part of PRTech today, and you can't help but use it. Here are some tried and proved PRTech solutions for doing business today. Which one will work for you best?
PRTech Solutions that Enable Efficient Communication
Be smart. Use the right PRTech tools.
#1 Unwilling Victims of Visual Storytelling
The power of visual storytelling surprises. The reason for that boils down to the simple fact – fantasy novels' authors. It turns out, before to start writing, they draw first. That's easy; our brain processes images n-times faster than text, so that's where the creative side of writing begins.
Done well, it catches the user's attention quickly. To start telling visual stories, you need a toolbox full of tools. Everything needs to be at your fingertips, imagery, formats, programs, and platform.
And then comes authenticity into a play. Need ideas? Below is one of the latest marketing campaigns of the Mexican beer brand Corona.
Fear not to destroy stereotypes. Put your audience a center stage and get them involved with your brand. A good slogan is good, but the one that makes it stick is far better. How to understand you did it right? You'll see an increase in user interactions.
Media monitoring technology is an important asset to build brand awareness when we think about PR. It's a way to stay ahead of breaking news to make an effective campaign and a robust media report. You need to be where your audience is and track what beats and the hot topics of the internet. You need to know what they are saying about you. Otherwise, you are already losing.
Media monitoring is a crucial tool for understanding your reach and brand impact. When you track stories as they unfold, you know when a story breaks, peaks, and the factors that will influence coverage. That is a great way to ensure that the right message is shared at best possible time. Being up to date with recent events ensures that the content you publish is relevant and adds value to the current news scene. As a result, it has a better chance to be covered by reporters.
The list of the best media monitoring tools is large, including free and premium ones. The choice often depends on the layer of complexity and the media type you're focusing on. Think on your feet and marketing goals to ensure you go for the right option.
#3 Expand Your Press Network for Closing Deals
To make sure you put your offer on the table, it's smart to stick with tried-and-true approaches. For that, you need to adopt various PRTech tools to distribute your pitches and press releases to ensure maximum exposure and coverage. That can be artificial intelligence programs that do all the difficult tasks for you and save time. As a result, you expand your database with a few clicks instead of hours of research.
When sending a press release, you need to narrow the list of influencers interested in receiving media pitches. However, there's a very important caveat to this: it has to be real news. Convinced you have a relevant news story? Then you'll need a killer press release to get things started. Well, the good news is that you can speed up the process of writing a press release. PR companies such as PRNEWS.IO are a perfect choice for that task, for example.
It's a great PRTech solution to skip press release writing hassle. Also, it will help you distribute it and find people subscribing to your content without you lifting a finger.
#4 Influencer Outreach Promises Big Results
Monopolized once with Instagram, today's "shoppable" commerce content market has emerged vastly. New social networks are now poised to get a larger piece of that pie, and no wonder why. That's no better way to improve PR or market goods and services. And influencers are key mouthpieces for that.
Though not 'celebrities' in the traditional sense, they are the source that wields a lot of selling power. Sure, some influencers will charge for collaboration opportunities. And then comes the million-dollar question: does it work? You bet it does.
If you think that you don't have money to shell out for an influencer marketing campaign, then think again. Once you find a partner that fits well with your business, expect to get a return on investment 11 times higher than through any other traditional digital marketing method. And that doesn't need to be a celebrity. Recent data shows better engagement rates for smaller influencers than for larger ones. The key is to find a person who shares your passion, whose content resonates with the micro masses.
#5 Prioritize Smart Channel Choices to Make Your News Popping
Practice sending mass emails to journalists and hoping for the best doesn't work anymore. It is great to gain access to a wider audience, but it also doesn't bring the desired results. One way to do this is by serving the right people.
The last thing you want is to create content that nobody sees. Yet, the thing you need is to capture your target audience's attention. For that, you need a content distribution tool that works cohesively with your entire marketing strategy.
People consume media in different ways and on other platforms. If you randomly share content on different channels, your results will be significantly lower than expected. To do it effectively, it's smart to mix platforms. That is a way to stay competitive and grow your influence. The catch is that it can take time.
PRTech tools come in handy to get your content in front of the right audience. PRNEWS.IO is a noteworthy tool in this respect. It can save a ton of a great deal for you by amplifying visibility. With the focus on content distribution, it lets you gain media coverage and increase pickup.
#6 Extend Your Email Campaign
Email isn't dead. And it is still the king of all PR and marketing channels even in 2022. Need proof? Cision's State of the Media report says that a whopping 92% of journalists prefer it. So, for every dollar spent, you make- $44 in return. Not bad, right?
On the other side, journalists' boxes have become a swamp of unsolicited emails. It's no longer just a matter of automating email marketing campaigns but a matter of worth. Yet, a clear subject line with data can add a benefit to your email. Tell the truth and offer value right off the bat to catch attention. That is the best practice to outshine your targeted, automated, and hyper-relevant email. Otherwise, ready to be left out completely.
#7 Analyse Reports and Test out Theories
While coming up with the right PRTech solution is important, reviewing and analyzing reports is necessary.
Whatever you do, prove worth, create a buzz, or reach, you come with crunching the numbers at the end of the day. And you can see some patterns that reveal possible theories on how to reach out to really good coverage for your brand. Adopt technology to see an actual picture of what is going on. Then you can test your theory and analyze results.
The best thing is that the right PRTech tool lets you adapt your message to various audiences. Some will be more effective and demand the bulk of your time; others won't give you much. Anyway, that may mean ramping up your social media activity to reach the new and hungrier active users in many cases.