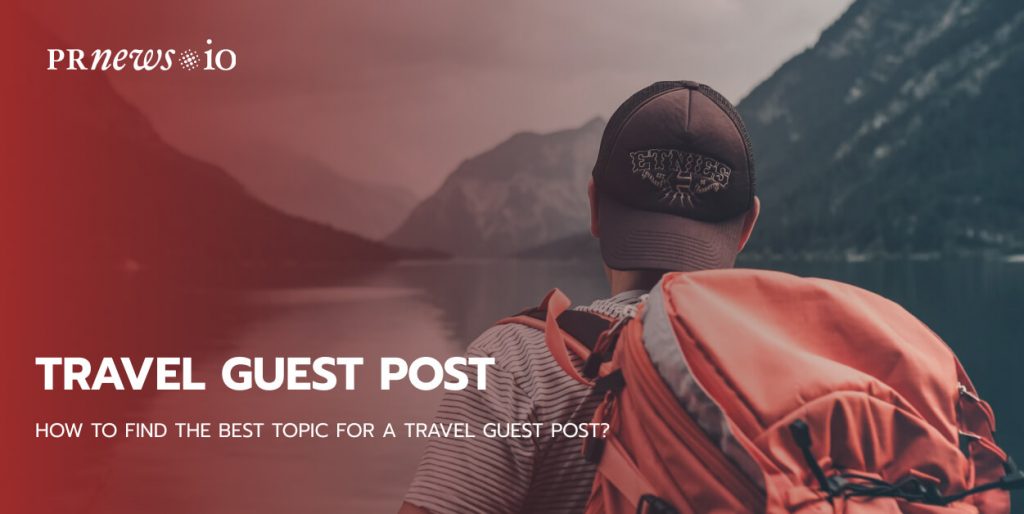 If you're trying to grow your audience, domain authority, and backlinks, scoring guest posts on travel blogs is a great way to start. Content is the most potent tool to generate and expand the audience that would develop your travel business. For guest posting, you need unique and fascinating topics in a travel niche to gain attention from the audience and to attract the webmaster first as the blog owner of your target site.
Content Marketing Platform
100,000+ media publications;
get backlinks to your product;
scale work with content distribution.
How to Find Unique Topics for Guest Posting?
When you propose a topic, check if it hasn't been covered before by the publishers/your target blogs. If they have published similar topics, point out how your content will differ from what they already have.
I have some suggested ways to help you find unique topics for guest posting:
Using tools and platforms. Using this method as your inspiration for content ideas, you can find and generate a hundred valuable topics to choose from.
Siloed content topics from bigger content assets. Find unique topics in your or your client's assets.
Competitor's/prospect's top referring content. See the topics that are giving constant traffic to your prospects/competitors. It will help you see which content topics have good demand from people in your niche.
Content gap analysis. You can do some research on your target sites and read their posts. It also assists you in generating topic ideas that may fill your gap.
Update their outdated content. Another effective way to get content ideas is to focus on topics that your target sites have already covered in the past. Check their post-dates a few years back, and if you find something new, you can put it on there.
Inspiring Travel Blog Post Ideas
Tourist destinations
It is essential to provide information about the different tourist destinations. You must indicate the main attractions, and how they stand out from the other goals.
Calendar of traditional festivals
All the cities have important dates, hold cultural festivals, and receive many visitors. In this sense, I suggest you write a post about cultural events, supporting it with images that highlight the significance of the celebration, and a brief history of the festivities.
Also, I recommend you add other dates to the calendar, such as sporting events, concerts, etc. The idea is to create a program with as much information as possible so that tourists have different entertainment options.
Hotels and inns
To create themes for a travel agency blog, you need to know your target audience's preferences and interests.
This topic is highly sought after by travelers, so do thorough research on the best hotels and inns: ski resorts, the best neighborhoods, boutique hotels, and cheap places to stay.
You can even do this by categorizing the hotel, such as 2, 3, 4, or 5 stars, and providing information to customers about the amenities and benefits. Therefore, in the material you should include:
Address of the hotel and inn.
Description of its rooms, recreational spaces, swimming pools, nightclubs, etc.
Images of the hotel and its surroundings.
Photos of the staff.
Testimonials and comments from travelers.
More ideas for your travel blog: road tips, dog-friendly trips, travel with kids, non-touristy things to do, free things to do, kid-friendly restaurants, and the best cities in specific countries.
How to Find Websites to Guest Post About Travel
To find some websites to guest post about travel, Google:
Travel + "blog for us"
Travel + "guest post"
Travel + "write for us"
Travel + "write for me"
Travel + "become a contributor"
Travel + "guest column"
Travel + "guest author"
Travel + "guest article"
The easiest way to find blogs for guest posts is to use the PRNEWS.IO service. It is a handy new marketplace with a catalog of 100,000+ sites.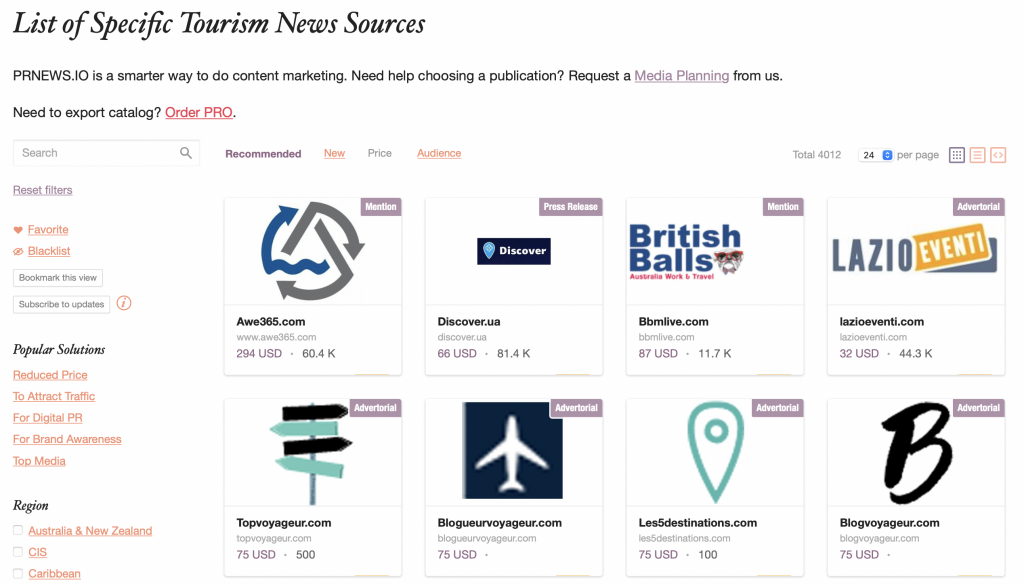 Open the tourism category, use the filters, and find the best sites for your travel guest posts.
Is no need to waste time creating a pitch.
There is no need to waste time on outreach and correspondence with editors.
Please select a site, pay, and have it published.
Why Accept Guest Posts on Your Travel Blog?
Accepting guest posts can passively increase your presence *after* you take a few simple steps.
Pros:
publish content passively; after proofreading posts for quality control;
drive traffic without spending time and energy to create content;
align with successful bloggers;
build blogging relationships;
expand your overall reach;
boost your credibility.
Cons:
spend time and energy proofreading guest posts;
spend time and energy sifting through and disqualifying a high volume of low-quality content;
spend time and energy sifting through and deleting low-quality pitch emails from bloggers and outreach brokers.
All in all, accepting guest posts can be a fun, free way to make friends and accelerate your blogging success.
However, a significant amount of time and energy goes into filtering out a high volume of low-quality pitches and poorly written guest posts.
Online Publicity Workbook
100+ content ideas for your B2B startup;
ideal for do-it-yourself publicity plans;
schedule your PR campaign in advance.
Read more: