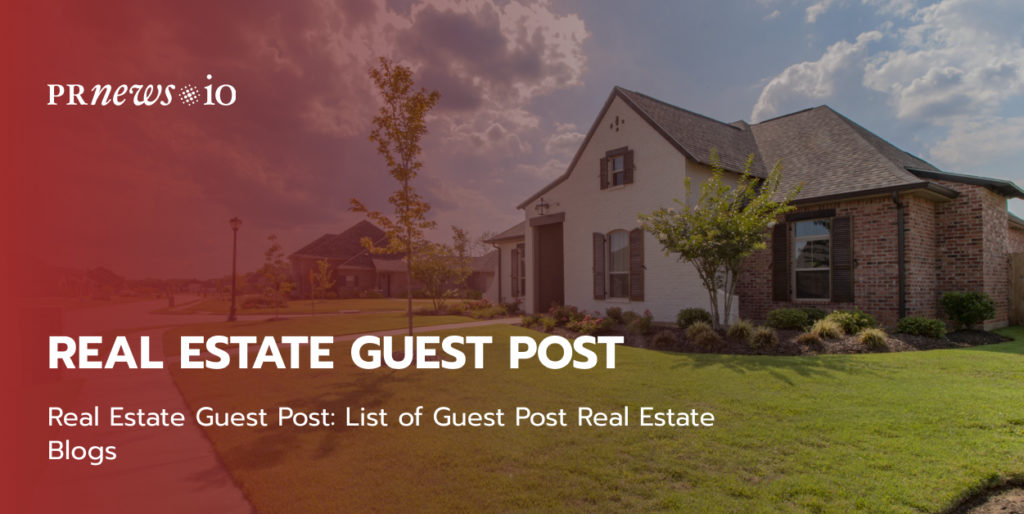 Guest posting is one of the most effective ways for content marketers to drive traffic and build their personal brands. However, guest posting opportunities have become a scarce resource due to unprecedented demand. If you're looking to increase awareness of your Real estate brand, promote your services, or establish yourself as an industry expert, it's time to get creative and leverage our content marketing platform.
We here at PRNEWS.IO offer you a huge list of blogs for your real estate-themed guest posts.
Real Estate Blogs You can Guest Post On
InterTaiNews real estate blog
If you are looking for quality websites, you are at the right place. They accept guest posts from all industries and topic areas. InterTaiNews.com is up to date on the latest news, breaking news stories, and trending topics, and is always relevant to your industry and niche. Therefore, I consider this site a great resource for content, especially for posts and articles that are keyword-rich.
Placement conditions:
2 Dofollow hyperlinks
Ahrefs Domain Rating 28
Unique text is not mandatory: 90%
Text volume: from 700 words
AZBigMedia.com
For more than 35 years, AZ Big Media has been bringing readers the state's most compelling business, real estate, and lifestyle news through the print editions of Az Business and AZRE magazines, Ranking Arizona, Az Business Leaders, Experience AZ, People & Projects to Know, Arizona Business Angels and Play Ball, the only official spring training publication of The Cactus League.
The company has the fastest-growing news website in the U.S. at AZBigMedia.com. The website serves as a complement to its print publications and incorporates up-to-the-minute breaking news, compelling business stories, C-Level executive editorial profiles, and much more.
Placement conditions:
3 Dofollow hyperlinks
Ahrefs Domain Rating 78
Text volume: from 2000 chars
CelebHomes.net
CelebHomes.net is the world's most comprehensive celebrity house encyclopedia. Celeb Homes has become synonymous with the celebrity and real estate community and has grown a loyal and influential readership.
Placement conditions:
1 Dofollow hyperlink
Ahrefs Domain Rating 32
Text volume: from 500 words
Unique text only: 90%
Business Upturn
Business Upturn covers news from India and around the world, featuring a wide range of topics including business, entertainment, sports, real estate, national and international news, luxury, travel, and tourism.
Placement conditions:
2 Dofollow hyperlinks
Text volume: from 300 words
Realty Times®
Realty Times® is by far the leading Real Estate News site on the Internet and is fast becoming one of the most informative real estate news broadcasts. Nearly a quarter of a million consumers and Real Estate professionals visit Realty Times online each month to read and watch the latest in news, advice, and market conditions from our talented staff of award-winning contributors. From buying and selling advice for consumers to money-making tips for Agents, our content, updated daily, has made Realty Times a must-read, and see, for anyone involved in Real Estate.
Placement conditions:
1 Dofollow hyperlink
Ahrefs Domain Rating 77
SEO writing is a highly effective way to build backlinks and rank your websites. It is a new and updated technique for generating backlinks that are 100% authentic, permanent and do-follow. This technique is highly recommended for getting high-quality backlinks.
Content Marketing Strategy for a Real Estate Website
The strategy for all sorts of websites remains the same, irrespective of their niche. Since it is the real estate sector that you are in. So, you can do the following:
Identify your ideal customer and make their persona.
Identify what this persona searches on the internet regarding your product.
Make a list of probable keywords that target the intentions/behavior/ challenges/ aspirations of the persona.
Create the content on those selected keywords.
Create good pillar posts/skyscraper posts that stand out from the rest of the competition (being in real estate, the skyscraper is what you can relate to best).
Generate leads from the visitors with a good option.
Nurture leads with appropriate mail marketing.
Repurpose content with Infographics, Books, and Case Studies
Repeat steps from 3–8.
Real Estate Blog Guest Post Ideas
"How-to" posts and videos perform well in addition to hyperlocal information.
You can use different forms of content: blog posts, videos, ebooks/guides, newsletters, podcasts, social media posts, infographics, direct mail, etc. – that's all content.
Often, copywriting in real estate is about writing copy describing a home and its features in a way that drives a great amount of interest in the home. There could also be agent biographies, website copy, and copy for printed marketing flyers.
Real estate content needs to be more of a story and yet not a boring one. Something interesting to read, the end-users should get the information they are looking for.
Content Marketing Platform
100,000+ media publications;
get backlinks to your product;
scale work with content distribution.
Here are a few topics.
1. How much are closing costs when selling a house
2. What is the cost of living in Las Vegas
3. How much does it cost to buy a house
4. How to sell a house during a divorce
5. What happens if the buyer doesn't close on time