Many entrepreneurs and business owners can build a product. However, it can take a special type of individuals who can sell not just a product but build a good image for the company. Image making, public relations are the broad terms that cover things like brand awareness, media relations, publicity, corporate communications, reputation management, and much more. Since it can be expensive to hire a PR manager, small and mid-sized businesses may also outsource their public relations needs. Between content creation, gaining media contacts, blog writing, drafting ad copy, and setting up an email workflow, it's hard to make time for brand awareness and media management. That's where a PR manager can come in handy.
However, PR can also be risky. There are many things to consider on how to hire a PR manager and also know who you should trust to do this for your business. But first of all, how do you know when you'll need to hire a PR manager? Let's figure it out.
Who is a PR manager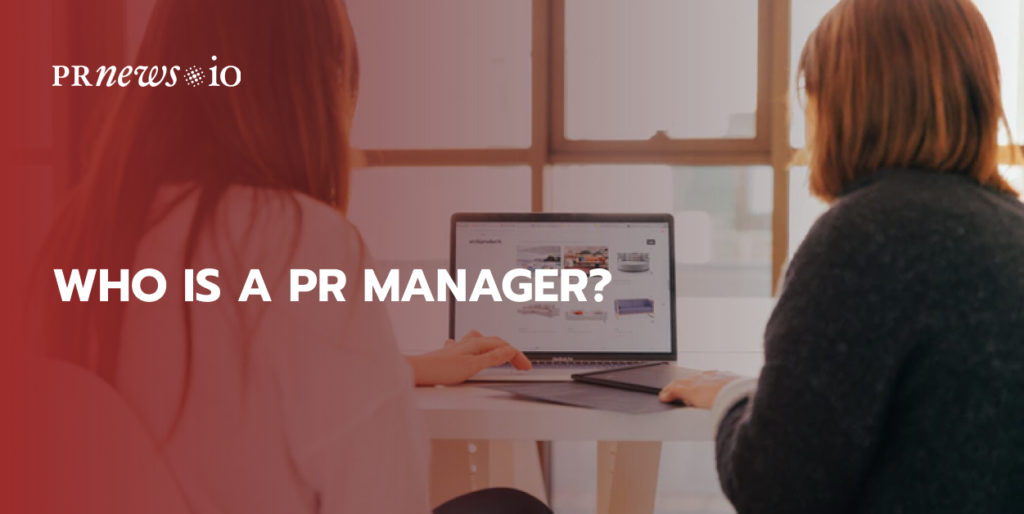 PR managers create and carry on a favorable public image for their employer or client by communicating campaigns, achievements, and/or points of view. The PR managers help to improve the image of their company by organizing corporate events and reviewing press releases. They maintain observance of the social and business trends and test strategies to improve those trends as well as test the social and economic influence their client or company has.
With this information, they suggest to the company of ways to improve and use their image to their profit. Public relations managers are charged with fielding media questions and pitching stories to the journalists and media outlets, preparing media kits, and arranging press conferences. They manage all the teams and professionals working to promote the image their client wants the public to perceive of them.
The Main Responsibilities of a PR Manager
How will you know what to look for in the perfect candidate? It will help if you come to this task with a good understanding of the strategies, tools, and methods in a well-stocked PR toolkit.
Here's a typical list of skills for a professional PR manager:
Strong written and oral communications skills;
Attention to detail;
Strategic planning skills;
Ability to manage multiple projects and adjust priorities;
Excellent "people skills," including active listening;
Problem-solving and analytical abilities;
Technical proficiency (computer savvy, experience design, digital media knowledge).
Here's an additional list of common tasks Public Relations Managers are required to have.
Plan, execute, and coordinate public relations programs;
Arrange and budget for PR events, campaigns, and initiatives;
Create or review the online content in media announcements and media kits;
Check and coordinate content produced for website and social media accounts;
Help in creating and reviewing a variety of promotional and marketing materials;
Develop and carry out PR policies and procedures;
Define KPIs for the PR department;
Measure and make reports on each PR campaign;
Supervise corporate image frequently and ensure it complies with company brand;
Build long-term relationships with all relevant stakeholders, such as local government, media people, journalists, politicians, etc.
Hire, onboard, and educate new members of the public relations department;
Create content for various speeches, events, hearings…
Craft and implement crisis communications guide and media strategy, as needed;
The PR Manager is responsible to create and supervise the creation of media releases and content for social media accounts, establish relationships with media outlets, journalists, and key influencers, and manage the image of the company in critical situations.
The PR Manager is also directly responsible for the implementation of tactics and for keeping engagement and coverage from clients in the market and media outlets. Day-to-day tasks of the PR Manager are inclusive of overseeing media placements, maintenance of the business's media databases, assisting and pitching in journalist inquiries, creating materials for conventional public relations, among other administrative tasks as are necessary.
Do You Need a PR Manager?
You should think about doing your publicity first. You will make the best representative for your product or service. Also, if you try to do your publicity, even for a few days, it will give you a much clearer insight into the situation and you'll be in a much better position to realize your audience, what to look for and how to cooperate with an outsourcing PR agency or in-house PR manager.
There are many items to consider when recruiting a PR manager and also when thinking of who you should trust to do this for your business. But first of all, how do you know when you'll need to hire a PR manager?
PR experts know their audience and have a growing contact base to which they can sell your company, your product, your story, or a mix of all of these factors. You'll know you need one the moment you go through these:
You've tried many different ways to boost your company and your product, but are not satisfied with the results;
Something happened in your business that you think is newsworthy, but any newspaper or magazine has picked up on any press releases you have sent out to them.
If you are extremely busy or uneasy about certain aspects of coordinating your PR or hiring an in-house PR manager, you can use the outsourcing PR service. PRnews.io Media Planning service can help you in creating a media plan to perform your PR strategy. This service has a long list of media outlets to distribute the content and spread the word about your brand for you.
Media Planning - ask for a mediaplan for your campaign
Many entrepreneurs and marketers today find it difficult to organize all areas of the company promotion such as strategy, production, and distribution. This is when you might need to use an effective PR and marketing platform. Such platforms that enable marketers to distribute targeted messages, buy media, and facilitate distribution have changed the marketing landscape dramatically. By choosing the right tool, you will achieve better and faster results, focusing on the wider business and personal goals.
How to hire a PR manager: Step-by-step Checklist
Recruiting the right PR expert can be difficult, so check out these tips that will make hiring a PR manager a lot easier:
Step 1: Set your goals
Brainstorm a list of the objectives you hope to achieve with a PR agency and then narrow the list to those goals that are most important to you.
Step 2: Think about a budget
Employing a PR agency can get expensive. If you don't define a budget and convey that budget to a prospective PR manager, you might find yourself getting too far along the process of hiring a PR expert or agency you can't afford, wasting your time and theirs.
Read more: PR on a Budget 101: Getting Press on a Tight Budget
Step 3: Consider who you need
You essentially have three options in terms of hiring for PR:
An in-house team
A PR company
A combination
Each of these options has a different price tag and will require different options of involvement from you.
Step 4: Write a list of questions to discuss
Before you contact a PR agency, write down a list of questions to ask.
You'll want to learn about:
Price
Experience/expertise
Previous clients
Prior successes
Reviews/testimonials
Make an appointment
Equipped with your questions, your next step is to make an appointment with different PR managers or video calls with PR services.
Step 5: Set expectations
Set up a clear line of communication, while also determining your expectations. Chat with the representatives of the PR service or PR manager about your SMART goals and establish how you'll measure success.
Read more: Analytics in PR: How to Measure Campaign Performance?
Step 6: Onboard your PR manager
Discuss your communication goals. Ask questions like, "How will we monitor the results of our work together?"
Wrapping Up
If you are attempting everything you can to get the public interested in your company or product, and you are not getting results, hire a PR manager or PR service for your needs. By now you have everything you need to recruit just the right PR agency or PR manager for your brand. But once you start cooperating with a PR firm or hire a PR manager, your job isn't done. For the best results, be ready to work as a partner to ensure that the strategy and messaging they transmit are what you need.
Read more:
FAQ: PR Manager
?What does a PR manager do?
PR managers are responsible for developing and executing an organization's PR and media strategy, building its reputation, and assuring successful media coverage. As a PR manager, you will write or control the creation of media releases and posts on social media, forge relationships with reporters and key influencers and manage the response to 'crisis' circumstances. PR managers are required in every sector from finance to fashion, from education to politics.

? What is a PR manager?
Public Relations Manager (PR Manager) is a media and public relations professional chargeable for planning and coordinating the creation of content that will maintain or enhance the public image of their employer or client.
It is suggested to have a minimum of a bachelors' degree in public relations, marketing, communications, fundraising, journalism, and English for a public relations manager. In addition to gaining a degree, public relations managers are also required to have years of experience in their CV before being considered hired for this position.