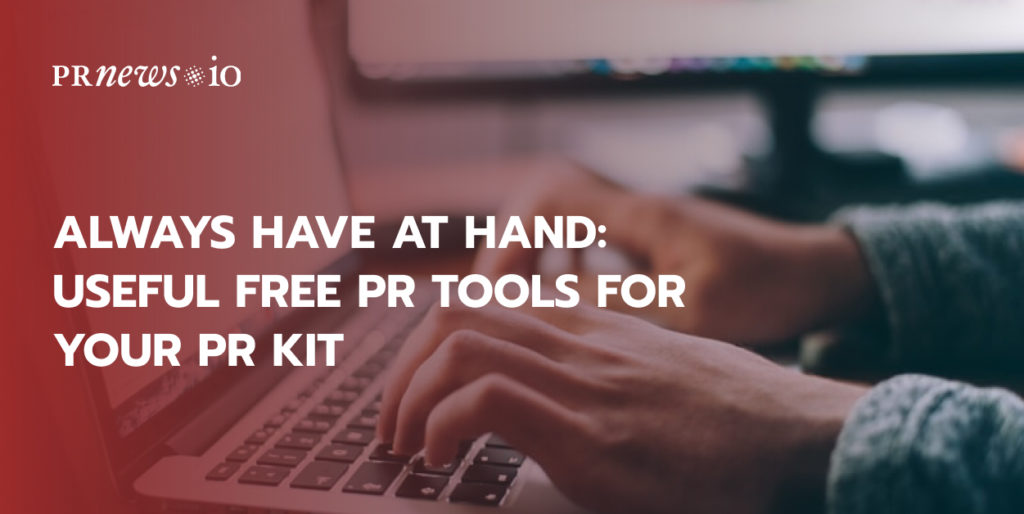 Nowadays PR experts just can't provide a quality service without digital PR tools. Free and premium PR tools create new opportunities and make working in public relations more productive and less time-consuming. Credible PR tools are crucial for PR managers' successful work that requires completing plenty of tasks.
There are lots of PR tools to try and adapt them to the requirements of your company. They're all just a few clicks away. Here are the 20 best PR tools for many areas of work in public relations to simplify your PR workflow.
20 Must-Have Tools for PR
PR Tools for Media Monitoring
Media monitoring, social media monitoring, or digital media monitoring is following what the media and online media say about your business. This process is essential in the PR routine. These PR tools can help you:
Brand24 is a media monitoring tool that can easily help you track and analyze online conversations about your company. It gathers company's mentions on the internet of particular keywords from multiple sources. Brand24 analyzes websites, blogs, online media, audio, press releases, news sites, discussion boards, social media pages, newsletters, or video sources.
Apart from finding mentions, Brand24 offers analytics and reports to help you estimate the performance of your online presence and the performance of your PR efforts.
Pricing: from $49/per month
Google Alerts is a very easy-to-use, free tool that allows you to manually predefine keyword mentions for receiving emails. This tool is a great choice as a first step if you're serious about monitoring your niche. While your email inbox will see a lot more action, a Google alert is an easy way to know almost all your company's or your competition's share of voice.
You can monitor this coverage by downloading the links into a Google/Excel sheet. You can also choose with what frequency you want to be alerted or if you only wanted to be emailed when your company is mentioned on news websites, social media, or blogs.
Pricing: free
Brandwatch is an effective instrument in data analysis and AI-supported service. The platform is now changing focus from media monitoring to data collection and insights tools. Brandwatch fits enterprise-size companies. As a monitoring service, this service will surely help you stay on the edge with media mentions and the newest press releases.
Pricing: from $800
BrandMentions allows you to track and engage in online conversations in real-time. Works great for spying on your competitors, managing your brand reputation, media & brand monitoring, content marketing, and much more. You'll also get a real-time notification when a new post appears anywhere online. BrandMentions has a complete social tracker app that performs efficient social listening, while also revealing competitor's social media performance. Brand Mentions supports Instagram, Facebook, Twitter, Reddit, LinkedIn & more. You can also link your Google Analytics account to collect even more mentions.
PR Tools for Finding Media Opportunities
Some of the best PR tools for outreach allow PR managers to find reporters, reach them out, build relations with and increase your professional contact database. PR managers who are constantly looking for new media contacts or press contacts and the next PR tools will make this much easier:
One of the great reputation management and PR platforms is PRNEWS.IO. This professional tool will offer you the best results because of its excellent mastery and a great base of famous and credible publications.
The goal of PRNEWS.IO is to make online creating PR content and its distribution easy to manage. Here you can count on the help in improving the company's image in public through the help of media coverage. Creating and distributing the content is their business and they do it great. They guarantee to provide you with content written, checked, approved by you and sent out within two days.
Pricing: from $6
Muck Rack is a PR service that offers lots of features to handle your outreach efforts: media database, monitoring, collaboration, pitching, and reporting.
Muck Rack has a great database that helps you find reporters and gather press contacts. Using the rest of the features, you can get an all-in-one outreach platform with an intuitive dashboard.
Pricing: $4000/per year
Content Marketing Platform
100,000+ media publications;
get backlinks to your product;
scale work with content distribution.
PR Tools for Detecting Trends and Topics
PR managers should be the first to know what's going on in the world to line up their clients and companies with things that people actually care about at a certain period of time, and create content that generates actual engagement. Using particular tools for discovering trends is one of the best ways to do that.
Exploding Topics, founded by SEO whizz Brian Dean (Backlinko), with a help of AI shows you topics that are trendy and popular across the web. The ET team performs these topics, placing them by category, and sends them straight to your inbox in one handy newsletter. The goal of this tool is to provide its users with ideas for content based on trendy topics that are popular.
The software is checking many websites and content sources for new information and gathering current trends. Then you can create content around these trends, perfectly being one of the first to do so.
Pricing: free
Quick Search is scanning social media channels and finding the trends in your field, surrounding your brand, or a topic you're interested in. You can use this tool to help create content that reflects the needs of clients by adapting to the trends that they're engaging with.
Quick Search is a user-friendly and powerful social search engine service that will help you increase brand impact, find content ideas, find influencers, discover your audience, and spot trends.
Pricing: free and $800 for business
BuzzSumo is among the most strong online services on this list, mainly because it has great features to carry out a wide variety of valuable research for you and your client. What you can see at BuzzSumo is a growing interest in particular topics, the number of posts published with this trendy topic, and both the total shares and average shares of those posts. This is when a trend should work for the popularity of your company.
The service also delivers keyword alerts for chosen keywords, meaning you stay up to date with all of the current content relating to competitors and your industry.
Pricing: free and $99/per month
PR Tools for Finding Influencers
If you choose not to use a digital platform or an agency for your PR activities then you will have to establish relationships with influencers yourself. To do this, you first need to find the influencers that dominate in your niche. You can use such easy-to-use tools:
This tool connects with global influencers. Anewstip is a search engine for finding and connecting influencers that have talked about a particular topic on social media, in blogs, news articles, and other media. This PR service has a good influence scoring feature and filters by a number of tweets, keyword mentions, time, topic, and language. You can also create alerts. And then you can create media lists and export them for pitching.
Pricing: free and $200/per month
BuzzStream helps you find influencers – their contact information, social media accounts, and website metrics. This PR platform helps you follow up conversations and projects by saving email and conversations, with reminders to keep track of.
This PR service is great for businesses around the world. You can see there who has been in contact with who, how long ago, what you were talking about. In addition, you'll get reports about your response rates and templates that can be auto-populated.
Pricing: from $24/per month
Upfluence is a full-scale influencer tool, offering lots of features. An essential part of Upfluence is its search and discovery feature. It includes a massive database of over 3 million influencer profiles. Upfluence's AI indexes and upgrade these profiles in real-time. The AI analyzes each piece of content for reach and engagement.
Users can search through Upfluence to find popular bloggers using as many keywords as necessary. By setting up keywords, you may tight the pool by using criteria like location, social platform, or the number of followers. The resulting statistics show up in near real-time. The left side of the interface is where you input search terms, and the right side shows the number of results based on your search—and organize them into groups based on follower size.
Pricing: from $495
It stands for Help A Reporter Out and is one of the most popular PR services around. HARO reaches more than 475,000 sources and 45,000 journalists, making it a vital tool for brands and reporters alike. You will need to sign up and then you сan receive emails of press queries which can be organized by industry or interest.
PR Tools for Hunting Down Contact Details
Finding an email address is often the missing link. Often you know exactly who you want to contact but you don't have contact information. For a PR manager, an email address is literally worth its weight in gold, but you have the next tools to ease your search:
ContactOut is an email search engine-powered tool, equipped with artificial intelligence, that may provide you with over one billion emails. ContactOut allows you to get anyone's personal email and phone number.
Its AI engine can find emails about 75% of the western countries, and its data is compliant with GDPR and USA privacy laws. ContactOut's Chrome extension helps you get phone numbers, emails, and links to social media accounts of those who you need. Inside the tool you have access to all your saved leads in one place, organize candidates into groups to share with your team, and download spreadsheet and ATS with one click.
Pricing: from $39
Hunter is another popular platform to find company email addresses. Hunter PR is a team of professionals that deliver public relations programs created to boost engagement and enhance reputation. This organization uses a broad range of traditional publicity, social media outreach, strategic cooperation, and more to connect with target clients.
This service contains an email and domain search, and email verification (95% of verified emails are deliverable). If you enter a target domain (e.g. Facebook), Hunter will show you as many verified emails as it can find for that domain.
Pricing: free, premium from $49
Voila Norbert is a user-friendly digital assistant built to help you find corporate email and lets you start and try their service with 50 free leads. It's easy to use — you don't need to install any plugin — but it limits the number of queries users.
Pricing: from $49
Public Relation Tools for Text Editing
Whether it's an email, a post, or a press release, writing is an essential part of the job. Make sure you create it in a text editor. But let's see what we have:
Grammarly is an advanced writing helpmate. You can count on this app in grammar and plagiarism control and in improving the text's readability.
Along with the text editor, Grammarly provides a free browser extension for Chrome, Safari, and Firefox and fixes over 150 types of mistakes. It's correcting wherever you're writing online – Gmail, social media platforms, etc. Grammarly Premium, checks for over 250 types of grammatical mistakes, offers synonyms, clarification suggestions, and hunts down plagiarism.
Pricing: free, from $12/per month
iA Writer is perfect if you're looking for a minimalistic text editor. It also gives some kind of typewriter feel. With its minimalistic design and very few, yet powerful features, you can fully immerse yourself in writing. Some of its features include reading time mode, auto markdown, syntax highlight, content blocks, hashtags, various fonts, and more.
You can use this app on iOS, OS X, Windows, and Android.
Pricing: from $29.99
To note all the important thoughts before you lose them, use Google Keep. Apart from being an accessible and simple tool to write down your ideas on the run, Google Keep is a part of Google Suite and stored in the cloud, so you can take your thoughts, notes, ideas, and things to do everywhere you go. Google Keep can help you keep in mind important topics, collect ideas considering PR campaigns or PR strategy, and correct this text.
Pricing: free
This manuscript tool is specially made for writers and for all people who need some help in strengthening their writing skills. You can self-edit your work anytime and simply control the editing process.
Public Relation Tools for Mind-Mapping
Mind-mapping is a good way to create ideas and visualize PR strategy on the project you're developing. Sure, you can do it everywhere but it's difficult when you have to attach files, refer to files, share with collaborators, or present them to your team. Check out these options:
Diagrams.net isn't just a mind mapping tool – it's more a diagramming instrument. This service is built especially for professional PR managers and marketers. If you want to take your presentation skills to the next level, then this tool is one of your best choices. You can create convincing professional diagrams while keeping your ideas highly secured.
Therefore, it might be surprising to see some features not typical for mind-mapping. You can insert into your scheme many objects and draw basically anything you want. Diagrams.net is a completely free online diagram tool, that enables you to create flowcharts, UML, entity relations, network diagrams, templates, and more. You will be able to store your data only in Google Drive, so no additional third-party participate in your data.draw.io.
Pricing: free
MindMup is an easy-to-use mind mapping app, where you don't even need to register an account to get started.
In its menu, you can find quick links to all the typical features of mind mapping, from changing the color of each item to adding description and file attachments. But unlike Diagrams.net you can publish and share your mind maps everywhere you want.
Created mind maps in a free mode are automatically deleted after six months, but if you're using it for a quick brainstorming session, it's also is a great option to use.
Pricing: free, $2.99/per month
ClickUp is a mind mapping tool for planning and organizing your projects, ideas, and more with help of mind maps. ClickUp's mind mapping characteristics allow you to connect projects and tasks, visualize workflows and project or task schemes, and also create and manage tasks directly from your mindmap with ease. You can also share your mind maps with your team and other partners in real-time.
ClickUp includes integrations with Slack, G Suite, Dropbox, and many other platforms as well as over 1,000+ integrations through Zapier.
Pricing: Free, Premium – from $5/per month
Staying connected with over 35 popular social networks, Hootsuite lets you do more with social media and easily manage your working process. The Hootsuite free plan includes basic analytics, message scheduling, access to basic Apps, three social profiles, two RSS feeds, and SSL security. Hootsuite also offers Pro and Enterprise paid plans to get more from your experience.
Designed for social media marketing, Hootsuite offers a limited free option that has been created to send out scheduled posts and keep your page engaged with the audience. The paid-for version offers more functionality but tries the trial to see if it is right for your business.
Using a free version of this service, you can monitor your hashtags across different networks and track your social activity.
Final Words
As the tools are constantly developing and becoming more innovative, the pressure for PR managers and businesses to keep up is tense than ever. Corporate innovation makes the day-to-day workflow more efficient and productive, while also discovering new options for growth and expansion. That is to say, it gives businesses the advantage needed to stay ahead of the competition. Also, it makes it possible to do PR yourself. Today's PR tools allow for easily executing even the most routine tasks, leaving more time for experts to focus on things that matter the most. Use these PR tools free and premium to get the fame and popularity you deserve.