Struggle to brainstorm your PR campaign ideas? That happens to the best of us. Whether you want to lunch your new game or fix a crisis your business is facing, there's a solution. To make a difference, make sure that the goals that you have set are ones that you genuinely want to achieve. When set correctly, it can help promote your brand value much easier. If you don't already set your goal, do so, starting now.
To stand out, a PR campaign is what you need. Relevant and effective, it can place your brand in front of your target audience. Oftentimes it is not about a huge budget but a unique angle.
The trick is to set a SMART goal that motivates you to get the desired result. By knowing precisely what you want to achieve, you know where you have to concentrate your efforts. For you to excel in PR, a clear plan with deadlines and dates will save you the day. The next step is to execute your plan to achieve its goal. Thus, it takes you from your current situation to your end goal. Either short-term or long-term, it needs to be agile to meet your business goals.
What Is a PR Campaign?
Everything happens for a reason, and PR campaigns are no different. There is always a unique reason for a PR campaign to be created and carried out. The only difference is the end goal. Do you want to improve your brand's image or reach a new audience? Or maybe you want to raise awareness and boost sales? Once you set it, get the ball rolling. So, what exactly is a PR campaign?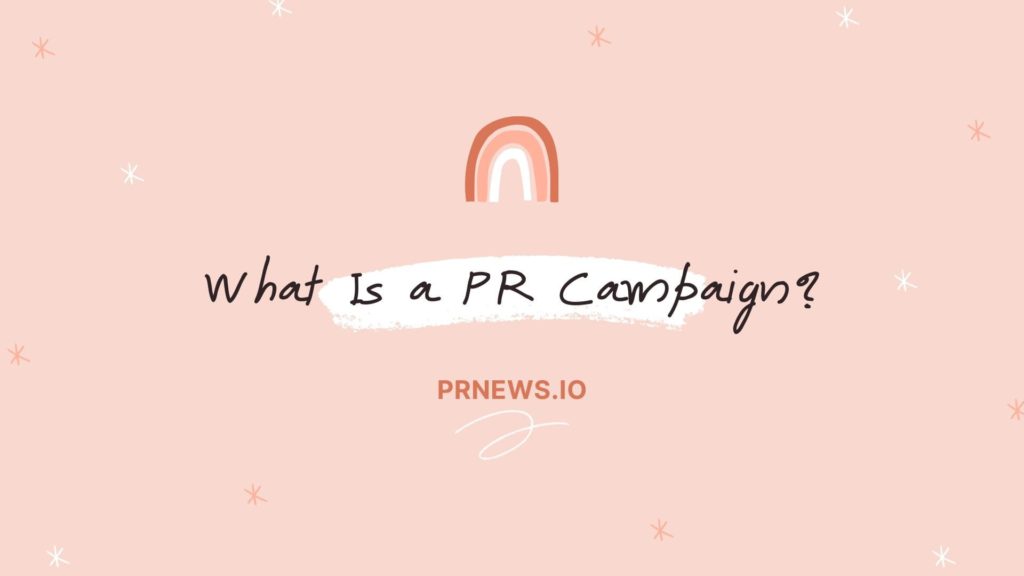 PR Campaign Definition
Think of a PR campaign as a process. It includes a series of thought-out activities focused on a specific goal and working towards a business. A clear objective and a fixed time frame make the campaign complete. Typically, it implies both its own and paid resources to generate a huge media buzz for your business.
The key to a successful PR campaign is to be creative in your messaging. Below you can find a simple guide on how to create the brand awareness that you're looking for.
How to Create a PR Campaign That Will Improve Your Brand's Image
A favorable public image for a company is everything. To be heard in your industry and market, get your message to people who are interested in receiving it.  Not sure where to get started? Let's learn how to make your PR campaign work for you.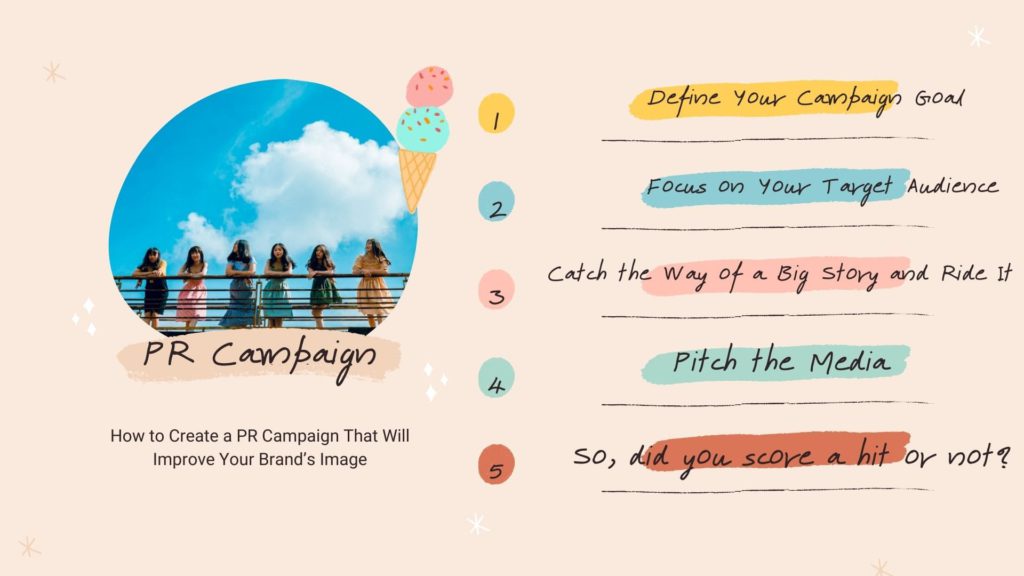 #1 Define Your Campaign Goal
A clear goal is the motto of every successful PR campaign. Brainstorm ideas. Want to share your unique expertise with a captive audience? Maybe to boost your game's installations? What about increasing your conversion rate? Great. By how much? Within what time period? No matter your goal, do not go too high.
Think of your campaign goal as your dream. Say, "I want to be rich". Poor, because it's not specific enough. Instead, a goal to increase sales by 20 percent sounds much better. Thus, if your goal can't be measured, how would you know you've met it? Remember, measurement is about making evolution is about improving.
Once you've done with your goal, narrow it down to how you will reach it within a specific time frame. Forget not about obstacles and what it will take you to see the desired results. Be SMART about your goal. Otherwise, it can be achievable.
#2 Focus on Your Target Audience
Who is your ideal customer? Is it a business, community, individuals, or groups? Not sure? Well, then you don't know whom you are trying to reach. To make your PR campaign effective, it must be relevant to a larger audience segment in your particular niche.
The key is to build strong, positive relationships with your audience. To make that happen, you need to know what's important to them. What's their lifestyle and what behaviors are common to them? Where do they spend more time online or offline? Where do they get information about their purchases? Once you've done some research, you will know who you are trying to convince.
#3 Catch the Way of a Big Story and Ride It
A good story is no easy part. 100 percent of journalists still stipulate their number one way of finding worthwhile stories is through press releases. The audiences are inundated with more media options, so get their attention. Sure, this could be challenging. So, if you want your story to succeed, shy not to differ.
As competition increases, a compelling story is the greatest advantage for any business. Get it right and it will drive the engagement. Newsworthy and interesting to the point, that's how your story should sound. Also, it needs to have a clear call to action with a sprinkle of insightful quotes.
#4 Pitch the Media
Found your newsworthy angle? Then it's time to get your message across. Go the other way, create and share stories with journalists on your own terms. Remember that a well-written press release, backed by strong distribution can be your greatest advantage. Don't waste your time sending your message to generic media. Instead, with just three clicks, spread your story with the help of Prnews.io service. No matter your industry, Prnews.io will take the stress out of sharing your news and stories with the whole world. 
Build Positive Online Reputation & Remove Negative from SERP
To share your news or story, register online. The choice of news agencies, industry-specific websites, or themed blogs has no end in sight there. Use filters from the left to choose the perfect ones that could help you get the most views. Finally, request the order.
Besides, a media monitoring service is a huge help, too. Thus, you won't miss any targeted keywords in the news flow worldwide. All in all, the service has helped over 30,000 customers from 25 countries to establish their online presence. So why not check it out?  
Monitor Brand Mentions in The News
#5 So, did you score a hit or not?
Now the time to measure the results. If you can not measure your PR campaign, you can not improve it. But first, define what you are going to measure and how often. For instance, each media, whether it's social media, your website, or email, has different KPIs. Also, your brand mentions, backlinks to your website, or conversions are other important PR metrics to consider. Without a doubt, they affect your PR campaign.
Because PR campaigns have a lot of moving parts, it's often hard to get a sense of the overall picture. The beauty of a PR campaign template is flexibility. You can define every aspect of your campaign and customize it as per your specific needs. Stay in the know, to understand what influenced your audiences' purchasing decisions. Then, at the end of the day, you'll be able to target your market and score a hit.
PR Campaign Example to Inspire
Scaring your fans to death sure can be an interesting approach if done right. To help you see how far you can get with your creativity, enjoy the PR campaign below.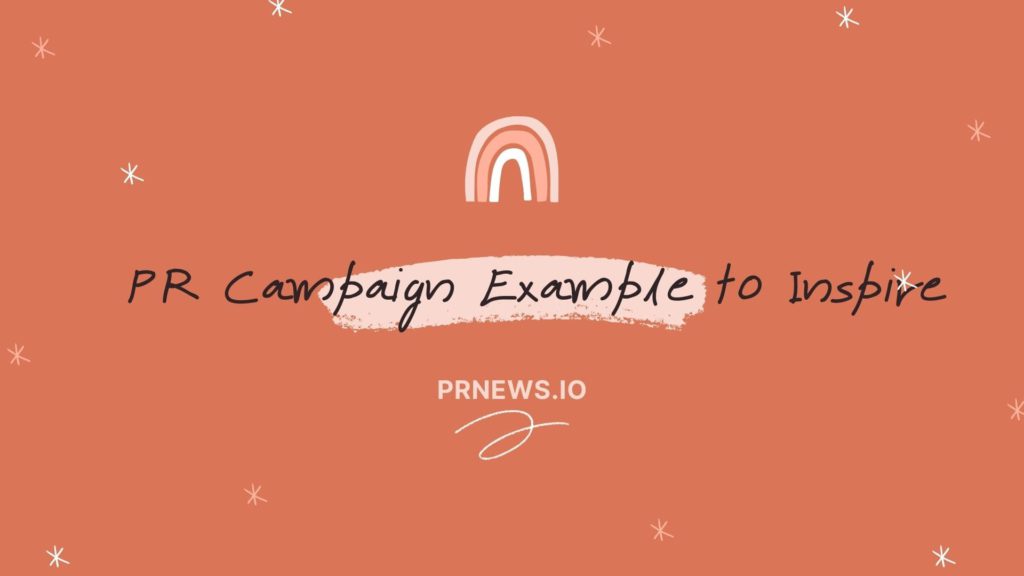 The Walking Dead Scary Shelter – Sky
Humor is one of the most tried and tested PR strategies used by brands. With an appropriate humor spin, your message can stand out and be meaningful. And this terrifyingly impressive advert for the new season of The Walking Dead is proof of that.
The augmented reality has gone one step further because the ad has been superimposed over the actual street. People at the bus shelter saw dead people walking towards them through the AR experience on the screen. That made the fusion of the real world with the virtual world. The result? This video achieved around 15.5 million video views and 320,00 shares on social networks. That constituted a new dimension of the effect of out-of-home productions.
FAQ: PR Campaign
📍How to create a PR campaign?
To start, focus on setting up a sharp, clearly defined goal, including strict deadlines and dates. Consider what you want to achieve and then commit to it. Creating a message that targets the right audience is quite a challenge. Yet, a fresh approach and a unique angle can help your pitch to stand out. 
📍 How to measure the success of a PR campaign?
PR campaign is a numbers game. For 72% of PR pros, measuring business impact is currently the top challenge facing the industry. Without metrics, you can't receive the full picture of your campaign's performance. To be effective, measure progress as you move toward your process goals.  
📍 How YouTube could be used for a PR campaign?
YouTube has a massive user base, just waiting to be tapped into. It is an efficient advertising platform, used by 62 percent of businesses. Whether you want to collaborate with influencers or interview journalists, the choice is yours. You can even create your own YouTube series. Take care of your company's YouTube presence. The sooner, the better.