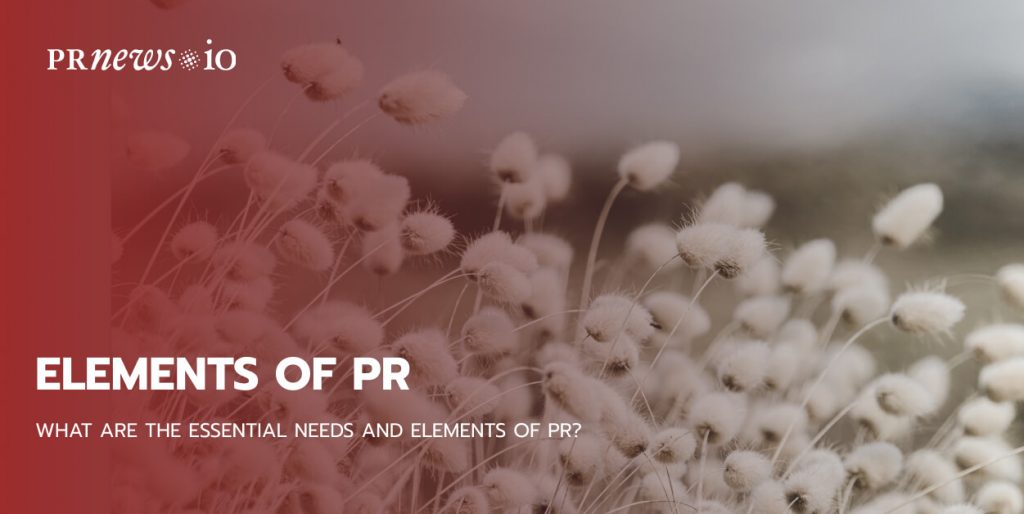 Before we jump into the elements of PR, it is essential to have a clear understanding of the term "public relations." PR is a well-thought-out social science, that focuses on analyzing trends. An experienced PR manager can easily predict the main consequences and implement planned promotional programs in order to establish goodwill and perfect understanding between the company, brand, or organization and the target audience. 
The heart of PR is not only to sell products/services. You must understand the most effective methods for creating a positive image of your brand and maintaining a positive reputation in a highly competitive market.
Essential Components of Public Relations:
If you have a correct understanding of public relations, you see it as a stable bridge between the brand and the public, which is interested in testing products and services. Here are the essential components of public relations:
Human Relations
One of the first and most important elements of public relations is human relations. Any PR campaign gets along with a certain category of interested people. Every person who works in your company has to get along well with other members of the team. In order to achieve the desired results of a public relations campaign, a person has to develop team-building skills and demonstrate sincere interest in the entire campaign's progress and process of implementation.
Read more: Time to Fire Your PR Manager (without screwing up your business)
Empathy
One of the key elements of PR is empathy. It reflects the power of understanding your business, the global market, and the needs of your target audience. When you feel sorry for other people, it is called sympathy. Empathy is the prerequisite, which focuses on satisfying your clients. You must put yourself on the side of your clients in order to have a better understanding.
Read more: Defining Ethics in Public Relations
Change people's minds
When you work in public relations, you should know how to change the minds of other people. You can do it by force or by persuasion. It is recommended to do it only by persuasion because it is a positive way to influence people, and awakens their curiosity, interest, and desire to try something new. It is a good way to achieve a positive outcome and attract a lot of new clients.
Content Marketing Platform
100,000+ media publications;
get backlinks to your product;
scale work with content distribution.
Healthy and constructive dialogue
When you start a dialogue with your target audience, you have to carry it forward in a constructive way. It should look like an exchange of creative and fresh ideas that are able to bring new knowledge and skills. If you know how to use the power of dialogue in your public relations campaign, you are able to influence the behavior of your existing and potential clients, sell new goods and services, and inspire people with your creative ideas. When you begin speaking with someone who has every chance of becoming your client and bringing profit to your company, keep in mind that a dialogue always involves some kind of compromise.
Helpful Tips for Producing an Efficient Public Relations Strategy
It is wrong to think that only rich celebrities and politicians refer to public relations when they want to become even more popular and attract as many people as possible for their business needs. PR is far from being a luxury service. Every modern business and competitive organization should think about launching a PR campaign. You can hire a PR manager, or you can learn the following recommendations and get the skills needed to produce your own efficient public relations strategy. Check out the examples of successful public relations campaigns to inspire yourself.
Connecting with the right media representatives
Public relations is all about your brand's reputation in a highly competitive market. PR campaigns focus on what your target audience thinks and says about your brand, products, and services. That is why it is essential to get in contact with the right media representatives, journalists, and social media influencers and convince them to write a press release, article, or blog post about your brand. Such information spread through media resources has a totally different value than your corporate brochure or website. Remember that it is considered more credible when other people speak highly of your brand.
It is the essence of any successful public relations campaign. You must learn how to manage the information about your brand in the media and social media spheres. As a PR expert, you must look for efficient ways to improve your brand's reputation and the way your target audience perceives your business. Keep an eye on what the general public has to say about your company and its products or services.
A positive reputation doesn't happen by default. When you just start a new business, you have to work hard to lay the groundwork and get positive coverage in the local and international media. You can achieve excellent results via the local press, by gaining attention across popular social media platforms, or by publishing interesting stories about your business. Being known on social media is more efficient than self-promotion.
Targeting your public relations campaign
It goes without saying that you must work hard to build and protect your brand image so that customers are inclined to use your services and purchase your goods. A professional PR campaign is able to draw attention to your brand and what you do.
Your efforts should be well-targeted. You must have a clear understanding of who you'd like to reach, how your audience consumes media and social media platforms, and what they read and like. You should collect as many details as possible to be able to answer these questions and focus your public relations campaign on the right targets.
Making a relevant public relations campaign
We live in a fast-changing world, where information turns very quickly and on a permanent basis. Modern people follow trends through viral videos and hashtags. Your brand has to face a hard challenge and remain relevant. You have to adapt to a fast-changing agenda all the time.
You can keep the nature of your business, but you will need to repackage and tweak it pretty frequently in order to fit the trends and the needs of your target audience. You risk falling behind the competition if you ignore the market and trends.
Conclusion
A successful public relations campaign focuses on promoting interest in and opinions about your brand. Make people curious to test your services. Do not be afraid to try something new and reshape your PR campaign any time it needs to, especially if you do it yourself!