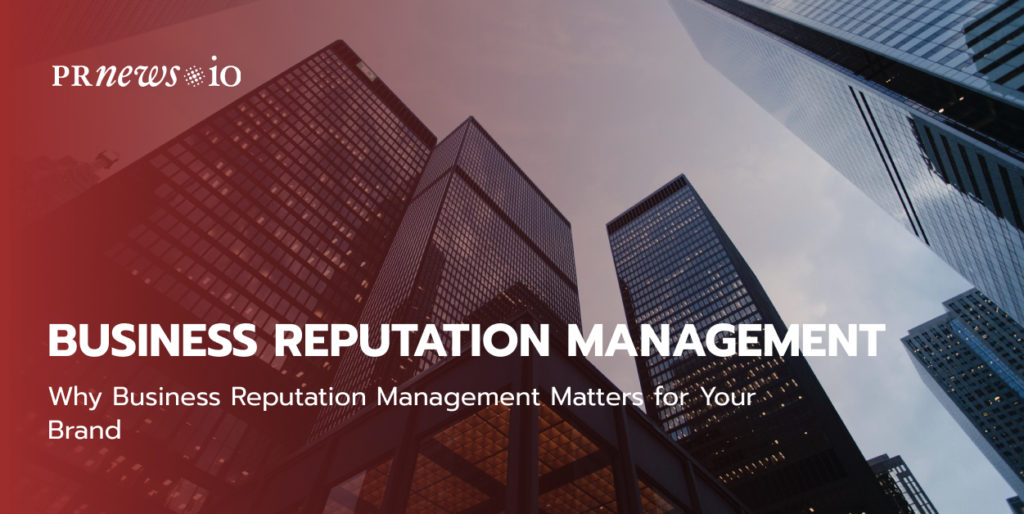 With the goal to reach more potential clients and promote their deals more effectively, online businesses look for new approaches, strategies, and techniques. Even a decade ago, online business promotion worked differently from our methods today. The concept of digital marketing continues to evolve as the internet is getting more widespread and acceptable worldwide.
Today, making your company's profile available on as many platforms as possible is one of the most effective approaches to setting up a successful marketing campaign. Social media platforms, online advertising, and an official website are the most vital elements of building a powerful business promotion strategy. Yet, word of mouth is one more essential component of effective business reputation management strategy.
We live in a connected world, where the line between your online reputation and the reputation on the ground is is blurred to the point where it's almost invisible. The internet provides impressive opportunities for startups and well-established businesses looking forward to manage their online reputation to work for and not against them.
With that said, let's consider the most effective online business reputation management strategies.
PRNEWS.IO is a user-friendly PR platform to share your news in just few steps.
What is Business Reputation Management?
Business reputation management refers to the way stakeholders perceive a company. When speaking about stakeholders, we mean government, other companies, customers, suppliers, and third parties that are somehow related to your brand and influence its sales and business operation.
Small business reputation management is indispensable in the modern world. By providing customers with an enjoyable online experience, companies should also learn to create positive content and engage with the online community through review websites and social media platforms. Using the right business reputation management services and tools, your brand can grow a stellar business reputation that will attract more potential customers and leave competitors behind.
Importance of Using Business Reputation Management Services
Local business reputation management is vital foyour brand'sth online and offline long-term succend. Let's consider the major reasons businesses of all sizes and types should apply extra effort to create a positive online reputation.
A bad review can negatively affect your business reputation and sales. Stats show that whopping 96% of customers won't patronize a company with negative reviews.
Business reputation management lets you improve your business transparency and appeal to more potential customers. People want to trust companies, which products or services they use. Being honest with your audience is one of the most effective business management strategies you should opt for. Companies often cooperate with reputation management companies like PRNEWS.IO that help them build that rapport and drive customer loyalty.
Your company's reputation heavily influences your customers' buying decision. About 50% of customers read reviews left by fellow buyers before making a purchase decision. The descriptions of products and services you post on your site are important. However, the feedback shared by your existing customers is way more valuable. On seeing negative feedback about your content or services, people can be turned off and look for better alternatives.
Small business reputation management is a vital online marketing tool that appeals to the demanding online community of the modern age. Suppose your company has a well-thought-out online business reputation management plan that covers all facets of your brand's online existence (including social media, official website management, forums, etc.) and goes hand-in-hand with your marketing plan. In that case, you can significantly influence your sales and boost client engagement.
Business Reputation Management Tools
Business reputation management tools are one of the best approaches to improving your company's online reputation and monitoring the key platforms your customers are. To get started, you need to make up a list of the major platforms and sites where you can collect your customer feedback, read users reviews, and partner with other local businesses that will help you spread positive word of mouth.
Customer opinion plays a significant role in building an effective business reputation management strategy. Today, users do not miss an opportunity to share their opinion about the product or service they've tried, especially if they had a negative experience. It's the art of communication and diplomacy to persuade clients to try your company's offers once again and change their opinions. Using the platforms listed below, you can learn better learn your client's opinions about your business and respond to their reviews, whether those are positive or negative emotions they have experienced.
Content Marketing Platform
100,000+ media publications;
get backlinks to your product;
scale work with content distribution.
FAQ: Business Reputation Management
How to start an online reputation management business?
There are many factors to consider when starting an online reputation management business. These include:
Getting a clear understanding of the reputation management value.
Setting your goal.
Finding prospective clients who can speak out about the positive features of your companies and the aspects that should be improved.
Setting a lower price at your company's launch and raising the price when you get busier.
Building up your business reputation and using your clients' case studies in marketing materials.
What is business reputation management?
Online business reputation management is the process of managing and monitoring your company's presence on the web to learn what customers think about your brand.
Why reputation management matters to your business?
Business reputation management provides your company with valuable insights about the client's perception of your brand. It lets you improve your business transparency and appeal to more potential customers. You can appeal to more customers, influence your sales, and boost client engagement.