Band Press Release Template
A good band press release starts with being personal. Without one, standing out against other media announcements is next to nothing. If you want your music band name to make a sound, a well-crafted press release is a must. It's your one-page objective that gives answers to the most popular questions - who you are and what you do, where and when your event takes place, why? Whether or not music bloggers or journalists listen to your music, all they want is a press release. All in all, it's a great way to receive some free coverage in local and national media.
Band Press Release Tips
To help you write a band press release that bloggers won't be able to resist, start with a band press release template. The reason is obvious. Just think of thousands of emails and press releases music bloggers/journalists/influencers receive in a single day. So, to get the attention, make it newsworthy. Otherwise, it is going to be deleted and you'll be out of luck. That's where a press release template comes in handy. As a result, you save time and increase your business exposure to the target market.
Writing a press release for a band on your own is hard. That's where experienced PR agency execs could come to the rescue. They can help make your band a good story. Yet, if you are about to do it yourself, a good band press release example can help get started. But first, look into media outlets you're considering. It's smart to see what sort of material they publish and how often they do this for musicians. Now it's your turn to model your own band press release.
Don't want your press release to be ignored? Better yet, you want to increase a chance to get media coverage. Then write it in journalist-expected format. A band press release format is the accepted way to write a PR. Title, date, content body, contact details for the media and the company, branding logo, are the key things. For best results, check out a good brand press release template.
To ensure your formatting is right, take care of the following. First, make the hook with your subject line. Thus, if you want your email getting opened, take care of a catchy headline. Just telling obvious things like "XXX is heading out on tour' is boring. Your press release is more likely to gain favorable media attention with a memorable subject line. Have you supported a well-known brand or collaborated with somebody well-known enough to grab the reader's attention? Take the time to think. There should definitely be worth the compelling subject line.
A good band press release doesn't include attachments. Forget about MP3 files. In the digital age, it's a good rule of thumb to include links to your tracks on well-known streaming platforms. For extra impact, add links to your social media pages, website, and a folder of press shots.
Now, actually, the pitch. The first paragraph should contain the key info. In other words, you have several seconds of time to get down to who/what/where/when/how much, and why. Important thing is to write it in the third person. Done? Now check. Is there a reason to read it?
The second paragraph is the meat of your story. Include details that confirm the facts from the first paragraph. Here's your chance to show off, so include your impressive accolades. Everything from festivals you've played to quotes from celebs about your band matters here. One thing to note, don't fly high with superlatives. The last thing you want your band press release to seem too braggy.
Finally, closing. A call-to-action would be the best solution for your last paragraph. Yet, if it sounds like 'Now what?' for your audience, that's also great. You can place here additional information about your band. For example, distribution availability or your fan page URL. If you promote a tour, specify not only the date but also all stops you'll make, for instance. Keep it short and do not include personal info.
Anyway, whether you'll write it on your own or hire a PR agency to do that job, a press release for a band helps with marketing, advertising, and branding. It's a great way to generate free publicity. The latter will be many times more valuable than any advertisements you could buy. Thus, having one will open many doors for you.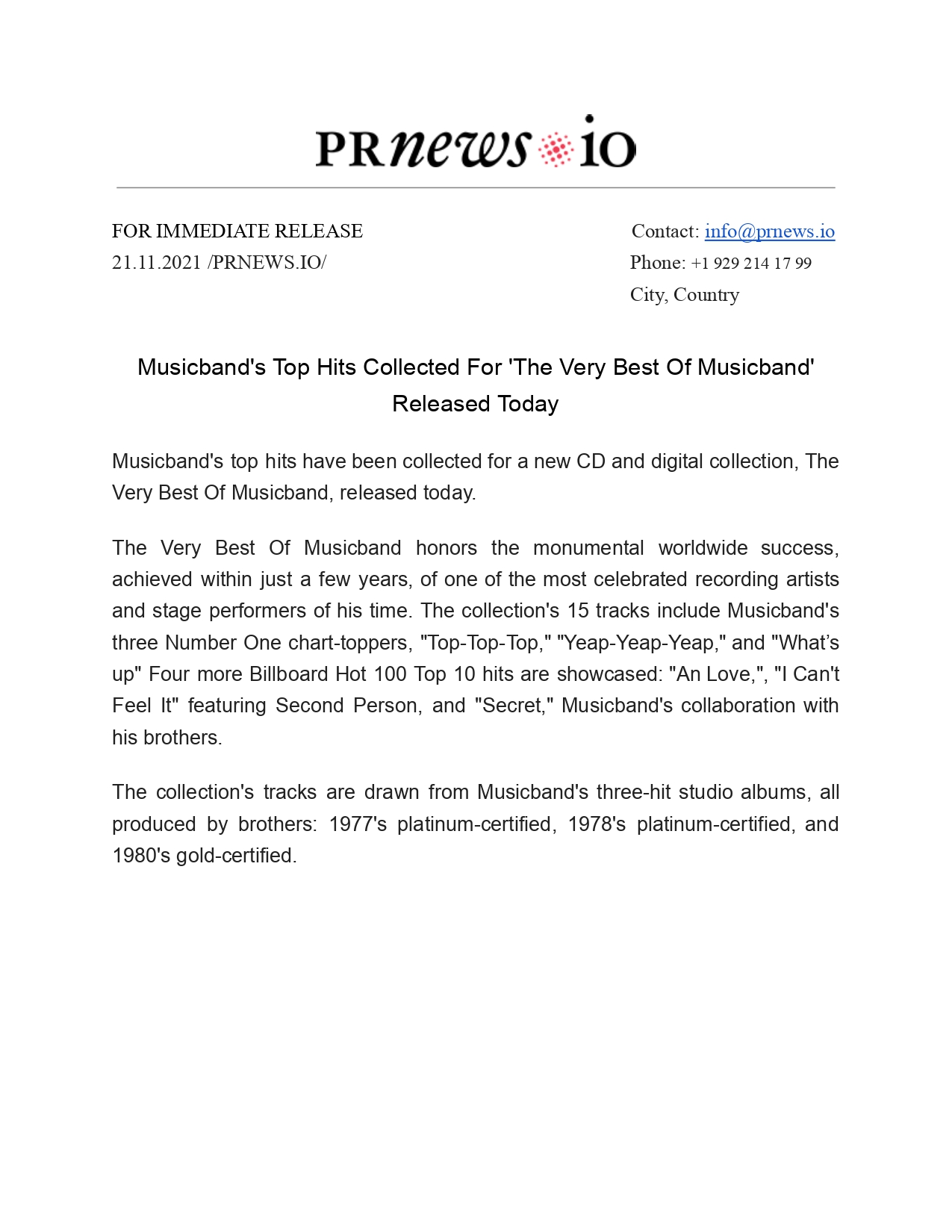 Press Release for Band FAQ
How to write a press release for a band?
A good press release for a band follows the one format that is easy to learn. Who, what, when, where, and whys are the core of a good press release. Start things off with a description of who you are and what you're all about. Better from a newsworthy angle. It's in your own interest to learn how to write an effective press release. It's a valuable skill to have.
How to write a music press release for an Indie band?
Writing a press release for an Indie band follows the same rules as for the hippest, coolest, or edgiest band. There are the proper press release format expectations to be followed. Make sure you follow the guidelines to help journalists decide if it is worth publishing or not.