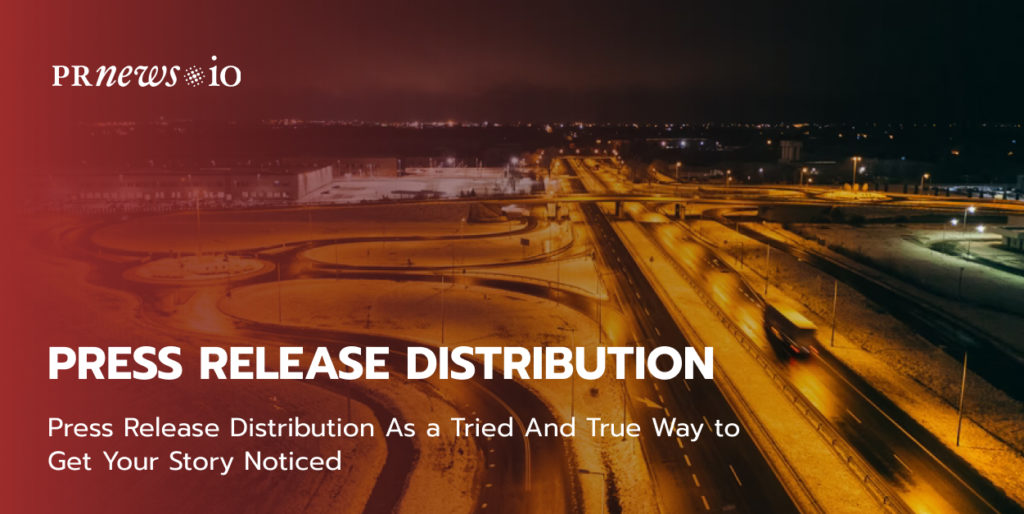 PR distribution. If you think that issuing a press release is as easy as pressing the Send button, you're wrong. Whatever you send would be published the next day, doesn't cut out, either. Yes, journalists still view press releases as the most useful information source to create a brand story. No, they don't read every piece they get. Even using a press release distribution service doesn't guarantee your story will get media coverage. Then what does?
As long as you know who your media relations targets are, you're bound to succeed. It helps when you are sure that the content you want to distribute will reach the right people and get noticed.
PR Distribution: Meaning and Purpose
The idea behind a press release, as timeless concepts go, is simple. You or your PR team create a piece of newsworthy content about your company and send it to journalists and media outlets. Yet, things will not work this way in 2023. Since you are interested in having your story reach the right journalist at the right time, it's smart to know how to distribute a press release and get noticed.
Managing a positive company image might be the yearly goal of any business today. And developing a strong PR strategy is key, whether you have a PR team behind it or only yourself. It helps to get your business or brand name into the public eye. And no one will be aware of your story or services if you don't bother pitching it to journalists and publishers.
Read more: The Main Goals of Press Release Distribution
Public Relations Distribution: Prepare to Fail
When you know how important a story is, you need to make the writing process worth it. That means that even with a newsworthy story at your fingertips, you can fail. The reason? Your audience.
Who is the readership of your piece?
How relevant is your piece to them?
That's the key step you can take to prepare for your press release distribution. This step will affect not only your piece but the whole of your marketing campaign. And that's where press release distribution services can be helpful. They'll offer to share your story with a wider or narrower net of the target audience.
Assume you primarily serve clients in your region. Thus, for your piece to get noticed, national publications are a bad idea. But regional and industry ones will do the trick, and vice versa. If you serve a particular niche, then a national strategy can be helpful. As a result, you can begin sharing your piece with a regional audience before moving on to highly targeted journals, print media, TV, radio, and so on.
When you think that your news is ready to go, check whether it matches the following boxes:
Your story is newsworthy/compelling.
You identified your target audiences.
The two points above are tied to your PR strategy and campaign goals.
Content Marketing Platform
100,000+ media publications;
get backlinks to your product;
scale work with content distribution.
How to Get a Press Release Published: Methods to Use
In general, you have two options for press release distribution. First, you can use a service provider, such as PRNEWS.IO, for example. And the second one is to do it yourself.
When you do it yourself, the last thing you want is to get no results. And if you want to skip all those tricky issues from finding contacts to building media relations, use newswire services to do the trick.
Since its inception in late 2017, PRNEWS.IO has assisted over 1000 customers from 65 countries in gaining coverage in online news media. How likely are these customers to succeed with DIY? How long would it take them to get the same kind of results? Well, the question is open.
But today's question is not about whether to use or not press release distribution services. Instead, find methods that will best suit you and your needs.
Thus, services such as PRNEWS.IO can help deliver the news to a broad network of news portals. Therefore, your story reaches different media outlets. And how many journalists use this method? Well, it turns out that 2/3 of journalists use a newswire service.
On the other hand, when you pitch PR yourself, you reach out to relevant journalists/bloggers/influencers; you name it and help them put their faces into your story. The trick here is to find the appropriate contact for your news. Sure, you can use dedicated tools for that, but it still takes longer than using services such as PRNEWS.IO.
So, what's the best way to distribute press releases?
Like many questions in our lives, there is no correct answer for every situation. First, you need to understand that both methods work for a reason. You must try both to determine which is the best fit for you. Well, who can find a more obvious answer?
Here are the added benefits you can enjoy by also using a press release distribution service:
Reach thousands of outlets: A distribution service allows you to choose the types of outlets and audiences you want to target, then send your release for viewing to thousands of journalists based on your targeting specifications. While you could do this manually via email, the process may take months as opposed to only a few minutes.
Target your press release across regions: You can set your press release distribution targeting preferences to reach journalists across entire regions of the country, including print, daily media, television, radio, and digital journalists and influencers.
Target across industries: Many press release distribution services allow you to choose more than one industry to target (often depending on the plan you use), so you can instantly reach all industries that may benefit from your story on a mass scale.
Reach influencers: Distribution services often have contact databases and subscribing accounts where influencers (like bloggers or YouTubers) can request to be notified when a relevant press release is distributed.
Target key audience demographics or interests: Some press release distribution services allow you to choose the types of audiences you would like to view your press release, including their ages, income brackets, job roles, industries, locations, and interests.
PR Distribution Companies
PR distribution companies work in a few ways. While each of them is different, they fall into a few categories.
1 – SEO Press Release
These are press releases specifically focused on getting into Google News and attracting backlinks to your website. These press releases will be published on the PR agency's website and might get pushed out to a portion of their PR list.
Read more: How to Write an Effective SEO Press Release
2 – Wire Press Release
It is when the PR distribution company publishes to their direct "Reporters" list. Today it might be reporters and bloggers. The effectiveness of each company is based on the number of reporters, journalists, and bloggers on their in-house PR list and, more importantly, the relationships they have with that list of people.
3 – Direct Media Relations (Old School PR)
It is likely rare, and you'd have to either do it yourself or hire an agency to do the work. It would be where you connect with reporters and journalists in your industry and pitch them your story.
Success and failure, in this case, are based on:
the influence of the reporters, journalists, and bloggers that are targeted;
the relationship that the PR agency, or you have with them;
how attractive the pitch is to them, and how well your pitch fits their audience.
There might be some bells and whistles attached to any particular PR distribution company's offerings, but these 4 basic categories are how they generally work.
4 – Free Press Releases
Generally, your press release will be published on their website for some time, and nothing else will be done for you. Such companies may or may not provide a backlink, and they'll probably keep the press release on their website for a limited time.
Free Press Release Distribution Services:
Final Dos and Don't
Of course, whatever path you go, it all depends on the newsworthiness of your piece. A lot will be down to your personal and business needs. To ease your choice, consider the following three suggestions for distributing a press release:
Budgeting
All modesty aside, pricing is the most important factor when it comes to PR distribution. It might come as high as a thousand dollars or as low as $29 if using PRNews.io services. For extra services, such as writing services, guarantees, or views, you'll have to pay more. So, if you don't want to come with surprises in the end, double-check it. Some might add as many extras as you can think of. So, guess what you want to get and find the provider who can offer the most affordable price for that.
The Choice of Outlets
How many outlets do you want your story to share? Or maybe you're looking for some special news portal? As you see, this question also depends on you. Although the wider choice can help multiply your chances of getting noticed, it's not always a win-win.
How Far Can You Go
Whatever you do, measure success. Otherwise, it makes no sense. And PR distribution is no other. So, having reporting as a part of your package is huge. If personal outreach is a part of your PR strategy right now, take care of tools to help you with that.
Bottom Line
Pitching a story yourself can take a lot of time & effort. Yet, like with everything in our life, it has advantages. And never skimp on editing. Even small errors can be costly. Anyway, whatever method you'll end up with, the success of your PR distribution journey starts with a compelling story.
FAQ: Press Release Distribution
What is press release distribution?
Press release distribution is the process of sending press releases to journalists or other interested parties. Distribution can take many different forms, from sending them electronically to mailing lists to hand-delivering them. Generally, press release distribution is a way for businesses to publicize their new products, services, or newsworthy events.
What are the benefits of a press release?
Press release distribution is beneficial for a company because it can help to increase the visibility of the company by generating media coverage. Press releases also can help to build relationships with journalists, which can result in increased exposure for the company's products or services.
Distribution through online media outlets, such as blogs and websites, is particularly important because these outlets often have large readerships. In addition, press releases can be sent to targeted media outlets, such as trade publications and industry newsletters.
Read more: