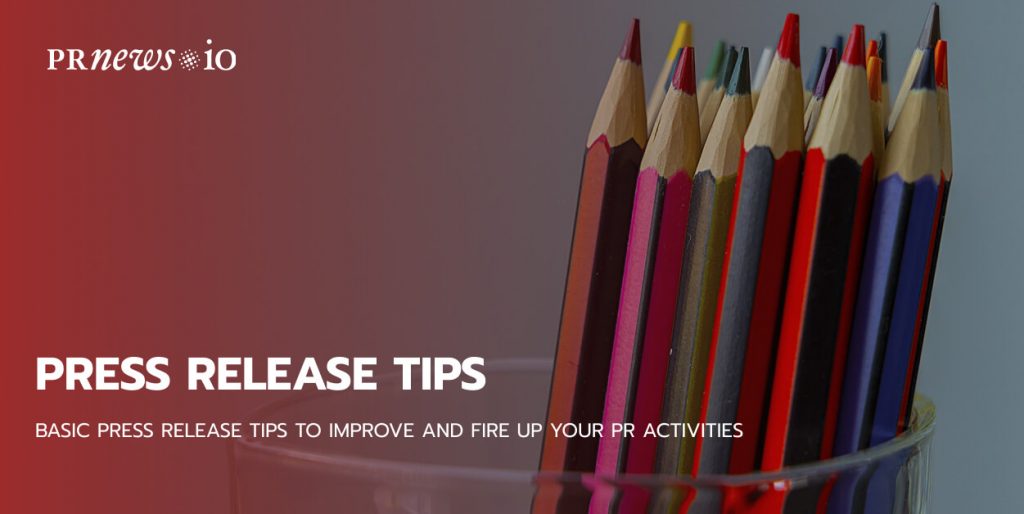 When it comes to writing press releases, your main goal is getting more people to read them. That's why a news hook is a key point in its building. It can be any report about future events or accomplished facts.
A news hook should provide information, for example, about your business achievement or new product's launch. In other words, any news that can be potentially interesting both for editors and your targeted audience.
A well-composed news release is a great PR, marketing, and SEO tool which will not only spread your news but also bring great results for your business, such as enhancing your web visibility and boosting online traffic. If you're not already using this great media instrument, we have prepared some useful tips to easily get started and write a news release:
Find a story that's really newsworthy
The 1st rule is: not all news is newsworthy. Always ask yourself: if I were a journalist, would I want to write a story about all this? If the answer is "no", or "I don't know", then you probably shouldn't write a press release. Use your blog or your social media accounts instead.
If you do have a piece of news that's worth sharing, don't forget to give your readers a few elements of context. Show them you have a clear idea of what your market is, where it is going, and how you fit in or differentiate. Let them understand what you are and what you do. If you want to include quotes, don't quote your own employees. Instead, quote external, trusted sources (e.g. third-party surveys, studies).
All this will turn your press release into a well-documented piece of information that people might want to write about or share on social media.
Online Publicity Workbook
100+ content ideas for your B2B startup;
ideal for do-it-yourself publicity plans;
schedule your PR campaign in advance.
Be honest and realistic – you're not writing an ad
Try to stick to the facts, and be honest about yourself. Not every company or product can be "the first", "the best", "the leader", "revolutionary", "innovative", "next-generation", etc. Superlatives are widely spread in press releases, but they're not fooling anyone – they might even hurt your credibility.
Remember: you're not selling anything; you're publishing an interesting piece of information, in a (nearly) objective manner. Your press release shouldn't read like an advertisement. If it does, start over.
Keep your press release short and concise
Let's assume you have a story that's newsworthy. How can you make sure people will read it? The first thing to remember is: your readers do have very little time on their hands. Lengthy press releases will scare them away. To avoid this, keep your press release short and concise – try to stick to a single, strong idea that your reader will identify from the very first lines.
The ideal length for a press release is 400 to 500 words. If your press release is shorter than that, you're probably not giving enough details – a good press release always answers the "5 Ws": who, what, when, where, and why. On the contrary, if it's longer than that, you're probably repeating yourself, or giving too many details (e.g. too much background information, unnecessary, lengthy quotes, etc.).
Make sure your press release is easy to read: stick to the essentials.
Focus on your title and 1st paragraph
Your readers can't read everything. If they aren't hooked from the very first words, they just won't read the rest of your press release. This is why you should put most of your efforts into your title and 1st paragraph.
Your title must present your press release's strongest idea, right away. But keep it short and concise – there's nothing more annoying than a lengthy, complex title.
Your 1st paragraph will include more details and relevant keywords, but it must be written in the same spirit. Be straight to the point! A good idea would be to write your 1st paragraph as if you were using Twitter and try to make the whole idea fit into 140 characters. This will help you remain concise. You'll have plenty of space in the rest of your press release to develop the idea, give more details, examples, etc.
Headline — well begun is half done. No doubt, an eye-catching headline is really important for any press release. Even if you get unusual and unexpected news about your company, the title is written in a meager and boring style — don't even expect to get a desirable effect. The pitch has to be so good, to make journalists unable to say "no". That's why composing the right title is a pretty time-consuming process that requires maximum creativity and concentration, but it's worth it. The important thing to remember: it's more appropriate to compose the text first and once you have a draft in front of you may add a newsworthy headline.
Read more: 20 Killer Press Release Headline Writing Tips
Lead. It's quite an essential element of any press release which usually explains the entire story in one brief paragraph. It should answer the following questions for identifying the main facts: who, what, why, when, and where? A lead has the most important lines from the whole press release which can attract journalists to use and share your material. Or not. It depends on you. So get right to the point in the first paragraph and the result is guaranteed.
Keep your eye out for the structure
Try to keep the logical structure of your news release to guard against mistakes that can destroy the whole presentation. We have pointed out the foundational parts of a press release:
Headline;
Lead;
Body text (which may include theses, quotes);
Company's background;
Contact information.
Body text — keep it short. To be honest, a very small amount of people read the body of the text. Still, reporters who are interested in your news, need to get basic information in an engaging manner. That's why keep the main text brief and concise, visually dividing it into a few paragraphs. Follow the inverted pyramid rule: most newsworthy info should come first, then important details can be listed and the last place should be given to other general info (in case an editor will cut your text). Some statistics, numbers, and expert quotes are always welcome. Additional photos that are relative to the subject, can be also very helpful. But remember, less is more when we deal with a press release. To get to know more detailed information about the rules, we suggest you look through the press release requirements which help you to create a purposeful publication.
Contact Info. Also don't leave behind your contact information to make spokespeople reachable for journalists. We hope that all the above-mentioned suggestions will be helpful for you. Put these tips into practice and you will notice how they can advance and speed up your workflow.
Include a clear call to action
Your press release must contain a clear call to action. If it doesn't, your readers might skip to something else, and simply forget about you. If you want to keep them hooked, tell them what's next! There's always a web page they can visit, a person they can contact for more information, a document they can download, an event they can subscribe to, etc.
Your press release should be the starting point of a new relationship with your reader.
Keep your targets in mind. Focus on facts and avoid the style of an advertising appeal. It is a press release, not a promotional banner. One more piece of advice: you may think that the press release day isn't too critical, indeed this is very important. According to the statistics, press releases distributed on Mondays and Fridays are more likely to fail compared to the ones sent out on Tuesdays-Thursdays.
Read more: The Best Time & Day to Send a Press Release: International Rules and Tips
Write in a conventional, professional style
Your press release should be easy to read. Keep it conventional and professional. Write in the 3rd person and keep your sentences clear and concise. Here's a list of things you must eliminate:
Jargon or overly technical language
Funny punctuation and symbols
SENTENCES IN ALL CAPS
Whole paragraphs in bold characters
Finally, use a text editor to check for typos, misspellings and bad grammar, and proofread the final text a couple of times. Remember: no matter how interesting your story is, a poorly written text will not seem trustworthy.
Content Marketing Platform
100,000+ media publications;
get backlinks to your product;
scale work with content distribution.
Provide relevant additional content
Press releases are not limited to plain, black, and white text. Additional content will always enhance the overall reading experience. When relevant, do not forget to include:
Your logo – so that journalists use a clean, official version
Pictures – especially, high-quality photos of your products or services, or screenshots from your software or website
Videos – which can be hosted on YouTube or any other platform
Hyperlinks – which can point to pages from your own website.
Also, such content will save journalists a whole lot of time when they decide to write something about you – and that's something they'll be grateful for. Help them help you!
Read more: Top 5 Tips for Using Images, Videos, Logos in Your Press Release
In general, you have two options for press release distribution. First, you can use a service provider, such as PRNEWS.IO, for example. And the second one is to do it yourself.
Don't wait for journalists or bloggers to do all the work for you. Start by spreading the news to your existing friends and followers! Chances are you already have a few people reading your corporate blog, or following your Facebook Fan Page or Twitter account.
PRNEWS.IO can help deliver the news to a broad network of news portals.