What does a PR agency do? Public relations as a whole is often misinterpreted and covered with various myths. Many people fall under the idea that a publicist's main role is to manage negative reviews and turn things to make their customers look good or protect their clients' reputations, even if it's deceptive. Because of this misconception, telling somebody you work in PR, many will assume you lie for a living, just because they don't know what does a PR agency do.
While handling bad press releases is definitely a duty of PR, no credible PR agency will share untrue tales. Unfortunately, there are people in the PR business that do take part in this, providing the rest of the PR agencies with a bad reputation. It's about the situation we put the "PR stereotype" to rest, so let's take a deeper look at what does a PR agency do.
But remember PR experts can help your business enormously, but you should know that sometimes you can do some part of PR work yourself. If your project is at your starting point and your budget is limited, you can do some important PR activities by yourself with the PRNEWS.IO service. It's a platform that already has a significant list of media contacts to create, publish and distribute press releases and other content, so important for all brands to introduce and draw the attention of prospects. Their service is affordable for every business and you can manage the list of publications, choosing the best for you.
What Is PR?
PR, which stands for public relations, refers to the public relations work of companies, organizations, or individuals. In this context, PR is part of internal and external communication, which should be as positive and efficient as possible.
Public relations is exactly what a good PR agency boosts: the public relations between the target audience and their clients. Public relations is divided into different types. They include, for example:
Media relations
Blogger Relations
Human Relations
Sales PR
PR differs from marketing in that it does not focus solely on companies and tradespeople, but is also open to and important for non-commercial groups such as public authorities, political parties, and many other groups. The service of professional PR agencies are actively used by government organizations to create a positive image in international relations and in support of their own economies
Interesting facts:
The United States annually allocates about $2 billion for state marketing and PR from the state budget;
In an interview in 1991, Edward Bernays said: "When I returned to America, I realized that if propaganda can be used for war, then, of course, it can be used for peace. But propaganda became a bad word because the Germans used it a lot. And I tried to find other words, and that's how we came up with the term public relations advisor."
In 2007 the Russian government donated about $2 million to the American PR company Ketchum to promote Russia's role as chairman of the G8.
What Is a PR Agency?
PR agencies are companies providing services in the field of Public Relations, engaged in management activities aimed at establishing mutually beneficial, harmonious relations between the company and the public.
A PR agency is an independent legal organization that offers professional assistance services, a strategy in solving certain management tasks on a commercial base.
A public relations agency is a professional company, generally asked to conceive, produce and manage messages to the audience through the media on behalf of their client. The intention is to change the public's actions by influencing their opinions.
A PR agency provides suitable communication strategies for many stakeholders.
These include:
Clients
Employees
Shareholders
Business partners
…and much more
Every good PR agency will create a positive identity for its customer. This is a very important step to start from. Equally crucial is the maintenance of relationships that are immensely helpful for the customer of the PR agency. In addition, the PR agency has the task of communicating the main messages of the brand, or institution to the outside world and thereby strengthening the positive reputation.
A Public Relations agency will:
Anticipate, analyze and monitor public opinion, alongside any issues, perspectives, or attitudes that may impact – good or bad – on the company itself.
Promote relationships throughout all levels of management in the company with the goal to create open lines of communication around decision making and courses of action
Work with an organization to achieve informed public understanding that is key to the success of a brand's stated goals.
What more a PR company delivers:
Messaging & Positioning
Having a clear brand established, along with a representation of the company's values and mission, has never been more important. Researches show that brand loyalty plays a huge role in how people spend their money. A subset of corporate communications work covers developing, documenting, and distributing corporate messaging. This process is very important in building a strong brand with a consistent message. It's rather common for specialized agencies to be hired on a project basis to help with specific repositioning or market research.
Earned Media & Media Relations
The main job of the PR agency is to translate what their customer wants to promote into positive, newsworthy stories. The agency can promote products and/or experts by getting coverage on TV, on the radio, in magazines, in publications, and online. This differs from paid advertising as the coverage is free of charge, and written by a journalist, as opposed to the customer themselves. The work of a PR agency in the media sphere can cover writing press releases and pitches, event planning, speech creating, and networking.
PR managers create thoughtful, data-backed pitches, communicate with journalists, maintain relevant media lists. Meanwhile, PR experts are constantly increasing the reach and impact of their earned media.
Media Training
PR managers help for spokespeople to be interviewed on topics related to their service or product to receive media coverage. To help the orator be clear, concise, convincing, and get their message across, the PR agency can provide appropriate media training. Media training can include improving the client's ability and confidence with public speaking, teaching them about body language and tone of voice, and creating and practicing responses for difficult questions.
PR companies can also help C-level managers build their reputations as thought leaders and experts in their industry. They do this with a mix of media training, media relations, and digital profile-building. PR companies often provide regular consultations to senior executives on communications matters that may affect the overall performance of the brand.
Owned Media & Content Strategy
Owned media covers publishing content on brand-owned sources such as a customer-facing blog, email campaigns, or social media profiles. PR managers will need to either create the content themselves or help to drive strategy with a team of copywriters, editors, and guest blog contributors. They may also be responsible for handling any outsourced content creators.
Digital Communications
A PR agency will build your brand's reputation – through many communications tools. This might be through influencer engagement, earned media (e.g. articles and reviews), paid media (e.g. advertorials and sponsored articles), and other platforms. Some PR agencies might also manage social media and other digital marketing services, like PPC, SEO, email marketing, and so on. PR agencies monitor their client's online presence, including optimizing websites, developing visuals, and managing advertising campaigns.
In today's data-driven world, it's crucial to analyze any content that hits or publishes. Using the media monitoring tools is vital for today's PR teams who want to be able to quickly discover insights about what's effective and fold those findings back into their workflow.
Internal communications
As companies grow, corporate communications become more important. Corporate communicators often work with stakeholders across the company to develop and distribute proper info to employees and key affiliates.
PR agencies also help their clients to communicate internally with the company's employees. This could include anything from regular company updates to transmitting about major changes in the organization. Using different channels like email, Slack, and so on. PR managers make sure that messages not only reach the right audience but are motivating to make the desired action. Corporate communications regularly involve interaction with senior managers and HR departments.
Financial relations
PR agencies assist their clients to communicate with investors and shareholders. The agency provides investors with up-to-date information on company performance and news, and can also help companies transmit properly all financial opportunities to potential investors.
Government Relations
Companies use PR agencies to help effect change in government policy and challenge decision-makers to consider something another way.
Crisis Communications
Crisis communications and reputation management are not kind of a pillow of safety that appears when something bad happens. They are seatbelts the company should always use. With today's speedy news distribution, it's essential to have a plan B in case something is going wrong in the media.
PR agencies can help businesses manage the potential communications environment that occurs when companies come across issues or negative media publications.
Social Media Management
With increasing frequency, social media and community management also have become part of the PR responsibility. That's because social media is one thing most people check to find out more about the company and has also become a front-line of customer service. Community management handles social monitoring, responding to users' inquiries, and passing items along to customer management when needed.
This also includes creating and publishing content and responding to positive or negative comments to build engagement. PR agencies can also provide training so employees know how to best represent the brand in the digital world.
Multimedia Development & Visual Storytelling
Today's PR managers are expected to have a strong understanding of how to distribute corporate messaging into multimedia. PR experts use storyboards and creative briefs to make sure that content transmits their brand positioning and messaging.
Event & Experiential Marketing
Supporting event and experiential marketing is increasingly important for brands. PR teams are the defenders of their brand, and it's their job to make sure experiential marketing properly transmits brand messaging. In addition, PR agencies will help monitor that the experiential marketing event makes positive earned media exposure.
Influencer Marketing & Blogger Relations
Influencer marketing is the future, and it rises above sponsoring a popular Instagram persona. Over the last years, there has been an essential growth in the quantity of professional and amateur influencers creating content. These creators can have a large readership among the target audience. Whether working with influencer sponsorships or engaging with an unpaid network of organic brand advocates, influencer marketing and blogger relations are increasingly important as self-publishing continues to develop and influence people.
C-suite support
A good PR agency is basically a professional advisor that gives its customer (the company, the business, or an individual – if it's personal PR) communication advice. Any company that hires a PR agency should be open to suggestions and having their ideas challenged – as that is what the best agencies do. It's important for the client and the PR company to work together to achieve the best results.
PR Reporting
Today's managers are providing PR reports with executive leaders and cross-functionally, too.
PR agency or PRNEWS.IO?
Should you hire a PR agency or just use PRNEWS.IO services? In order to answer this question compare your needs and resources: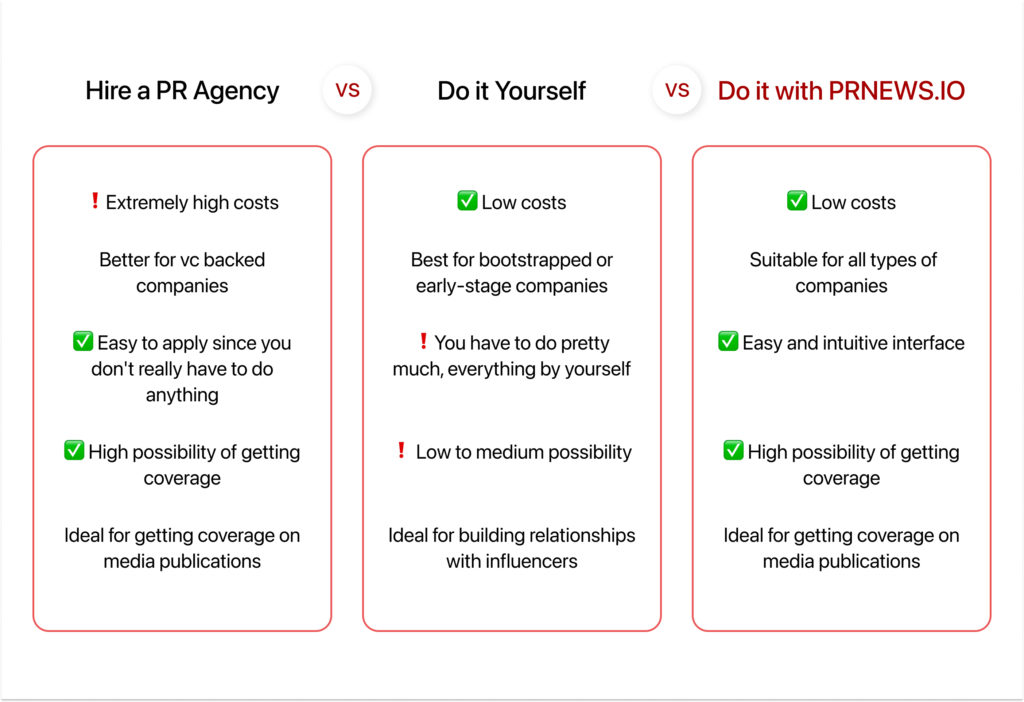 Read more: The Hidden Costs of Hiring PR Agency
Wrapping Up: What Does a PR Agency Do?
Whether building brand awareness or generating traffic and sales, PR marketing is functioning to manage communication and build mutually beneficial relationships between a company and its audience. While some may still insist that PR agencies are full of liars trying to influence public opinion, hopefully, this post gave you better insight into what PR actually entails.