Launching a successful company in London requires more than just managerial skills and quality products. It's crucial to have a strong PR strategy to get your brand noticed, and experienced PR agencies in London can help manage this task.
By partnering with a reliable PR agency, you can focus on improving your business while they create and distribute press releases, manage social media campaigns, organize events, and handle media inquiries.
However, if you're a startup or want to do some of the PR work yourself, PRNEWS.IO is an excellent option. It provides an easy-to-use platform to create and distribute brand content to relevant publications.
Check out some of the reputable PR agencies in London that can help your brand get noticed.
Best London PR Agencies
Profile is an award-winning agency that builds the profiles of entrepreneurs, founders, and other company leaders. An expert at running thought leadership campaigns, it is well known for having built the profiles of some of the most recognised business people in the world.
The highly experienced creative agency says that it looks after every element of an individual's public profile, and it has dedicated teams that look after media and PR, social media, multimedia production, and copywriting. It also has its own video and podcast production capabilities in-house.
Profile's goal is to turn company leaders into recognised, respected, and credible public figures. It is the leading agency in that niche. It has offices in the centre of London, but it operates across the country and worldwide.
Are you struggling to save or improve your brand reputation? Indeed, it is not easy due to constant competition. You can use the services of Milk & Honey PR, which is one of the best public relations agencies in London. The team consists of many talented, energetic, and multi-award experts, offering top-quality PR and marketing services. The major goal of the company is to manage and nurture reputations for ambitious companies. The company has several offices, which are in London, Munich, and New York.
The Milk & Honey PR team works with many clients from all around the world. The approach of doing business deserves respect because clients and their satisfaction are the top priority. Give it a try, order professional PR services and make your brand story more creative, competitive, eye-catching, and less complicated to digest in the eyes of your existing or potential clients.
Flycast Media is a full-service digital marketing agency based in London, UK, that provides a range of services to help businesses achieve their online goals. With a team of experienced professionals, Flycast Media specializes in delivering effective SEO, PPC, and social media marketing campaigns that help clients improve their online visibility, drive traffic, and increase their ROI. They also offer web design and development services, as well as email marketing and conversion optimization. With a focus on delivering results and an emphasis on transparency, Flycast Media is dedicated to helping their clients succeed in the digital landscape.
Flycast Media prides itself on its transparency, honesty, and commitment to its clients. They work closely with each client to understand their business, industry, and target audience, and create a bespoke digital marketing strategy that delivers the best possible results.
4. Hustle
Hustle is a reliable PR company in London. The team consists of highly experienced and talented experts, specializing in the digital sector and working with such well-known brands as Wise, Direct Line, BBC, The Co-operative Bank, Next, etc.
Clients get fast and visible results. Hustle doesn't just promise, you get a result guarantee. Not many public relations agencies can do the same. Client satisfaction is the top priority. All PR activity gets powered by creative insights, professional media relations, and a dosage of tenacity. Public relations campaigns aim to provide a real impact on your business.
The list of key services you can order at Hustle is the following: crisis management, marketing communication strategy, web development, app development, e-commerce, web design, etc.
Content Marketing Platform
100,000+ media publications;
get backlinks to your product;
scale work with content distribution.
If you believe in the power of brand story building as much as Berkeley Communications, it is the right public relation agency. The team works in a creative way bringing a certain Hollywood touch to the highly-competitive world of B2B Public Relations and Marketing communications. The team works hard in order to modify and update the ways of using storytelling. The final goal is to help brands increase the level of engagement, make web content more eye-catching, and make PR campaigns efficient.
The team helps clients with brand messaging, brand positioning, web content marketing, web design, market research, corporate identity, and internal/external communications. Use the services of this reliable PR agency to cut through the noise, drive up sales, and boost brand awareness.
6. Pearl Lemon
Pearl Lemon is one of the best public relations companies in London. It provides high-quality services in SEO, sales, content, and B2B lead generation. It is a pleasure to cooperate with Pearl Lemon, which is an award-winning agency with a main office in London, yet the clients come from all around the world.
Do not waste your budget dealing with inefficient PR agencies, Pearl Lemon will help your company grow in a highly competitive market. The way the company does PR/marketing services is transparent and highly efficient. A client gets the needed guidance through the entire process until the desired result is successfully achieved. It is your chance to get your company on the top Google ranking thanks to white-hat links.
Digital Trails is one of the best PR agencies to build and manage your company's reputation. Order its services if you urgently need to drive your brand awareness, boost business performance, and increase your local/international sales. The team can help you to increase brand searches, organic traffic to your site, and affiliate revenue, add extra commercial value, and make your brand grow in a highly competitive market.
If you have issues with brand performance, web content marketing strategy, link building, or crisis management, get in contact with friendly consultants at Digital Trails to get a step-by-step plan of action. The speed and quality of provided services will impress you, so you will come back again.
Spreckley Partners is known as a reliable, creative, and content-driven agency, where you can order PR campaigns. It is a leading company in the United Kingdom with the main focus on PR in B2B technology. The team provides public relations and media relations services, such as social media campaigns, print, broadcast, marketing communications, the creation of unique and eye-catching web content, web design, etc.
The clients of Spreckley Partners range from enormous international business giants to small startups and ambitious innovators. The team launched a lot of successful public relations campaigns in the following sectors: technology, cloud, IT security, health, retail, and finance technologies.
Don't Cry Wolf is another public relations agency in London with an excellent reputation. It is a small but very ambitious team, which is famous for its creative approach to launching public relations campaigns. By ordering PR services, you will make your target audience pay attention to what really matters.
Don't Cry Wolf's team deals with many progressive companies promoting their brands to a higher level. Elvie, Vivobarefoot, and other well-known brands are among the regular clients of the PR agency. Your business can benefit a lot too!
10. Gabrielle Shaw Communications
Global Creative Communications offers its high-quality PR services to clients from all around the world. It is a global communications agency with an excellent reputation. The team cooperates with many brands and business owners to help them unlock their initial purpose, structure their perceptions, cultivate their brand, boost brand awareness, and ensure commercial success.
The team of Global Creative Communications focuses on designing creative communication strategies in the following sectors: luxury, travel, lifestyle, wellness, beauty, food, drinks, culture, arts, etc. All team members have enough skills, knowledge, and passion to present your brand in a competitive market.
11. Frank
Frank is a creative public relation agency with offices in London, Sydney, Glasgow, and Manchester. The team consists of qualified experts who can help your brand become known on a local or international scale. You will get professional recommendations on how to lead marketing conversations, attract your target audience, and boost brand awareness.
Frank agency is well-known for its creative and innovative way of building and launching public relations and marketing campaigns, which can generate much buzz and fast reaction from the target audience. After ordering PR services at Frank, you will see a real difference. Your online/offline presence will be taken to a new level.
Absolute Digital Media is a team of qualified PR experts who work with passion and motivation. The agency has already launched a lot of successful campaigns in the sectors of gambling, pharma, healthcare, finance, crypto, eCommerce, CBD, and digital marketing.
It is not a typical PR agency, as the team operates on an independent basis. Each team member has a deep understanding of PR and marketing, SEO, and paid advertisement. By ordering a pro PR campaign at Absolute Digital Media, you will make the best investment into the growth and development of your business.
13. CCgroup
CCgroup is an international B2B technology PR, AR, and marketing consultancy with deep, specialist knowledge across mobile and telecoms, fintech, enterprise technology, deep tech, and cybersecurity. The agency offers fully integrated marketing communications services to the technology businesses it works with. From strategy definition to media relations to multi-channel demand generation, for more than 30 years CCgroup has been helping clients drive market entry campaigns, get funding, grow their customer base, and successfully execute exit programmes. The result is that their clients award them with a world-class Net Promoter Score.
The agency is a member of GlobalCom – a worldwide network of more than 70 independent technology PR agencies in more than 100 countries.
They have worked with some of the world's most prestigious technology brands including; BT, EE, Westcon-Comstor, Ookla, Wind River, Interdigital, Clearbank, Mollie, Netacea, Fintech OS, Quortus and OpenPayd.
The Ideas Network works with the likes of Amazon and Vodafone and has been around for over 23 years, building up a reputation for Consumer PR.
Alongside traditional PR, they use multiple channels to get brands noticed and sophisticated systems to ensure it stays that way. The Ideas Network has all the skills of a large agency while being small, fast, and flexible.
They steer clear of corporate schmoozing and focus all our attention on achieving great coverage for clients.
15. Clarity PR 
Clarity PR specializes in collaborating with technology companies from around the world, with clients from early-stage tech start-ups through to large multinational brands. With offices in three of the world's major tech hubs – London, New York, and Berlin – Clarity has serviced many technology companies since 2003 and has a unique comprehension of the specific PR requirements for businesses in the technology industry.
Clarity PR distinguishes itself by hiring senior PR experts alongside former journalists from major media outlets. This gives them unique insider insight into how the media runs, what journalists are paying attention and how best to successfully pitch a story.
Specialist Areas: Technology startups and B2B tech companies.
16. Hope and Glory
Having existed for over 10 years, Hope and Glory grew in one of the best PR agencies in London. With a team of over 70 people, the agency consistently wins awards, most recently being named the 2019 Creative Agency of the Year at the Sabre Awards.
The Hackney-based agency collaborates with a wide range of industries, from entertainment and sports to food and drinks. Being one of the biggest PR firms in London and in the whole of the UK, Hope and Glory collaborate with some of the biggest household brands in the country, like Adidas, Ikea, O2, and Red Bull.
Increasing year on year, the company has an annual yearly of around £7M, and they offer every format of modern PR, from social and digital solutions to traditional press engagement.
Specialist Areas: different industries, including entertainment and sports to food and drinks.
Harvard Public Relations is a prize-winning communications agency for big and small tech companies. This PR agency was the first specialist technology agency in the UK, founded in 1979. Everyone that works there does so because they have a passion for the technology industry.
They serve both B2B and B2C businesses and gladly help start-ups to enterprises. They divided their work into five groups: planning and strategy, creative, PR and AR, digital engagement, and demand generation.
In terms of PR, they realize that everyone has a story to tell, but how you tell it, and to whom can make all the difference in the world.
Specialist areas: tech companies and startups.
18. Rooster PR
Rooster offers PR and digital communications services to a long list of brands in the technology, consumer, corporate, and travel areas. It services clients in the UK and globally. The feature that makes Rooster different from other PR agencies is providing payment-by-results PR services through Results PR.
Specialist areas: digital communications and global media coverage.
19. Hanover 
Hanover presents itself to be Europe's leading independent strategic communications PR agency that advises international companies and businesses on reputation and public relations.
Its offices are located in London, Dublin, Brussels, and Dubai. Everything this PR agency does is supported by accurate research and robust measurement practices to ensure that it will make outstanding returns for its clients. Its team believes that being independent means it is both agile enough to coordinate tactical actions in a crisis, and clever enough to create strategies for long-term success.
Specialist areas: FMCG, energy, technology, financial services, healthcare, industrial, aerospace & defense, and education sectors.
Ascendant Communications is a London-based Business Communications agency centered on supporting technology and services B2B clients. It helps B2B businesses gain awareness, traction, and sales in the market through a mix of PR, AR, strategic communication, content, and online social media services.
They provide a set of integrated business communication services, all purposed at driving your credibility and recognition in key markets and territories. That covers building your social media strategy, so a client could create a good reputation in the online world of blogs, forums, and social media. They help with media relations, influencer & analysis relations, messaging, copywriting, events, and social media.
Specialist areas: technology and services B2B businesses.
21. Gosh PR 
Gosh PR is one of the famous PR agencies in London, focusing on PR boosts for travel and tourism businesses. Founded in 2005, this PR agency has steadily developed to provide its clients with traditional PR services, social media management, and marketing communications.
Based in Southwark, Gosh PR has a small crew of fewer than twenty people, allowing them to be incredibly reactive and productive. As one of the most famous agencies in London, Gosh keeps being an industry leader with innovative campaigns and PR solutions.
Specialist areas: travel industry.
22. Prescription PR
When it comes to music PR companies, Prescription PR is one of the most honored and famous in the UK. They have worked with some of the biggest names in music, including the likes of REM, Paul Weller, and The Rolling Stones, alongside some of the hottest new bands such as Fontaines DC, IDLES, and The Murder Capital.
Although its headquarters are located in London, this PR company also has offices in Cambridge and Manchester. The agency focuses on three core areas of music PR: promoting new bands, publicizing heritage artists, and promoting curated music events and festivals.
Alongside traditional PR, Prescription also provides clients with a host of additional services such as creating a website, copywriting, biography writing, and digital marketing.
Specialist areas: musicians, bands,
23. City Press
City Press is one of the fastest-rising PR firms in London. It also has additional offices in Manchester, Birmingham, Liverpool, and Edinburgh.
Established in 1961, City Press now has over 90 consultants working across its four offices, and over the years. They have won countless awards, including Best Place to Work, PR Agency of the Year, and Consultancy of the Year. They served such huge brands, as Lloyds Bank, SunLife, Halifax, and Bank of Scotland.
Specialist areas: financial companies.
24. Lily Pad PR
Lily Pad PR is a virtual PR company with senior PR experts and journalists on the team. Their strategy is to work as a seamless extension of the internal team of their clients. This reputable PR agency focuses on serving start-ups, retailers, disruptive digital businesses, and consumer brands. The team focuses primarily on results – their goal is to build a strategy to achieve wider business goals in addition to column inches. They worked with Fabletics by Kate Hudson, Stanford's travel bookshop in Covent Garden, Sativa Wellness Group, Rabble, MyBuilder, and Voucher Codes. Lily Pad works with companies from all over the world, From Bristol to Berlin and London to LA.
Specialist areas: lifestyle, property, retail, health and fitness, travel, personal finance.
Transmission Private is an award-winning firm that specializes in working with successful persons, such as entrepreneurs, senior executives, investors, business owners, and other high-net-worth individuals. It has also experienced PR services for private families, including family offices, foundations and trusts, and family businesses.
Their client list, which involves many members of The Sunday Times Rich List, is confidential. Transmission Private is a full-service agency. Their services include reputation management, crisis communications, media liaison, and advisory around succession, family disputes, and philanthropy.
Specialist areas: High-net-worth person media liaison, CEOs, entrepreneurs, family businesses, digital reputation, and strategic consultation.
26. Seven Hills
Seven Hills services with world-leading CEOs, founders, and destinations-empowering inspirational individuals, and companies. All of their campaigns are about leadership, people, and brands that want to make a difference. Seven Hills work with entrepreneurs and fast-growth companies to build their media image, reputation protection, and major events. They have built companies' identities and influenced culture change through inspirational and entrepreneurial spirit.
Specialist areas: Campaigning and business PR.
27. Ballou
Another credible tech PR agency, Ballou, was created in Paris in 2002 but now has its headquarters in Holborn. The agency works with a host of international brands, focusing mainly on high-growth companies such as Shopify, Trivago, Zendesk, and Samsung.
With just under 50 persons across its offices, the company was named among the top 250 PR Agencies in the world in the 2019 Holmes Report and recently won two SABRE awards for its campaigns.
Although pure PR and media liaison is still their primary focus, Ballou also now offers to its growing client list additional services such as social media management, SEO optimization, Graphic Design, and video creation.
Specialist areas: technology companies.
28. Calacus PR 
There are lots of sports PR companies in London, but Calacus PR is amongst the most well-known. Calacus PR is located in the center of the city and works with clients across the globe, helping to boost sports and athletes to More people.
Their team has experience collaborating with regional, national and international media. They provide clients with a range of services, including consultancy, media communication, event management, crisis management, and internal communications.
Specialist areas: sports organizations.
29. Bound to Prosper
Bound to Prosper is one of the most exciting creative consumer PR agencies in London. It specialises in working with progressive brands, disrupting categories in plant-based, wellness, lifestyle, low and no alcohol drinks, consumer tech, EV DTC and hospitality.
The team consists of experts in a press office, positioning brand clients in quality feature led coverage, with excellent messaging and digital PR backlinks to drive sales. They also create consumer campaigns including events and stunts to catapult brand awareness and fame.
The agency has an international network, uses industry leading tools and works with challenger start-ups to legacy brands needing to retain their relevance with proven success.
Online Publicity Workbook
100+ content ideas for your B2B startup;
ideal for do-it-yourself publicity plans;
schedule your PR campaign in advance.
PR Agency vs. PRNEWS.IO
PR agencies and DIY PR services like PRNEWS.IO can both be effective in managing your public relations efforts, but they differ in several key ways.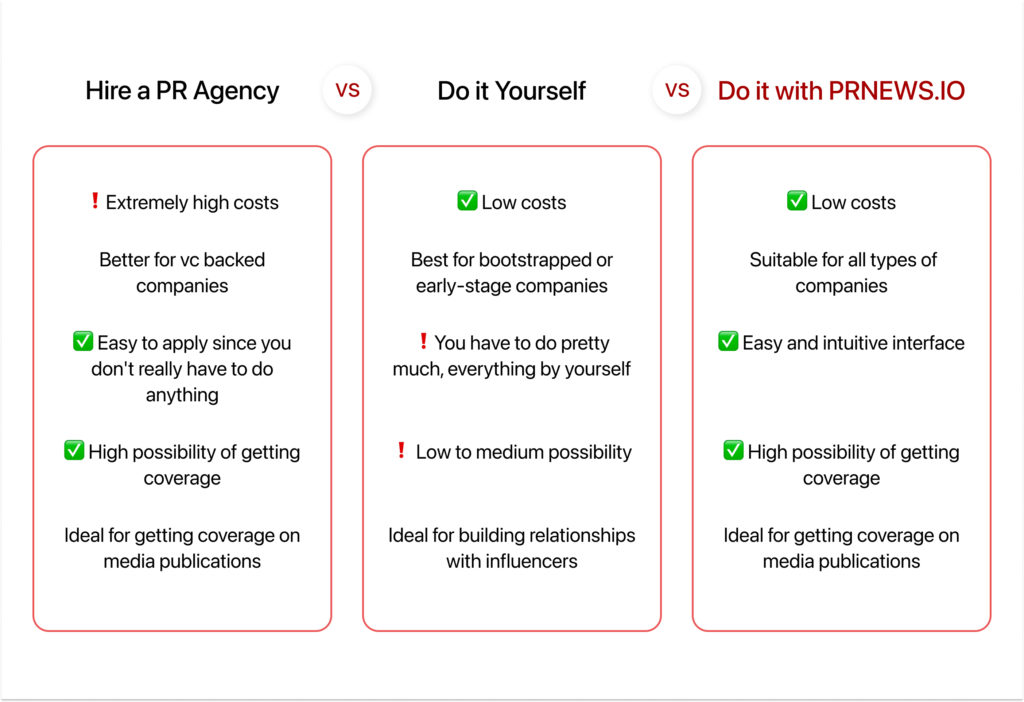 PR agencies are typically professional services firms with teams of experts in public relations, marketing, and communications. They offer a range of services, including media relations, press release writing and distribution, event management, crisis communication, and social media management.
On the other hand, DIY PR services like PRNEWS.IO provide an affordable alternative to traditional PR agencies. They offer a platform for businesses and individuals to create and distribute their own press releases and articles to a network of media outlets. This service can be beneficial for startups, small businesses, or individuals who may not have the budget to hire a PR agency but still want to manage their PR efforts.
Ultimately, the decision between hiring a PR agency or using a DIY PR service depends on your specific needs and budget. A PR agency can provide more comprehensive support and expertise, but it may be more expensive.
Final Words
If you're looking to grow your business and build your brand reputation, good PR is often necessary and of course, finding the right PR agency or relevant service is crucial. As you can see, there are lots of highly skilled PR firms in London to help with your communications needs. Should I add my list to another PR agency? Feel free to leave it in a comment.
Is your business in need of a PR makeover?
Benefit from media coverage assistance.
Witness a refined branding approach.
Watch as your recognition soars.