What makes collaboration with a PR agency work is the same as what makes any great partnership work: The mutual understanding has to be there; they have to really "get" what you're trying to do; and just because they're able to prove their successes in past relationships doesn't necessarily mean they're right for you. And of course, they have to fit your budget, too.
Hidden PR Cost #1: Inexperienced Staff
Let's say an agency has sold itself to a client (through the name of its owner, or through a tender), and the project was handed over to an accountant—a journalism student who has little experience in PR.
At a market rate of $12,000 a month, which is pretty typical, they serve you with about 20 hours per week in total, enlisting two junior employees, whom they pay anywhere from $50,000 to $100,000 a year.
This often happens because many PR agencies suffer from high staff turnover and a shortage of experts. But, unfortunately, the client pays for such troubles.
Hidden PR Cost #2: Unclear Price for Services
In this scenario, the representative for the PR agency doesn't tell you the exact price of the service and tries to find out your budget first. This way, it is much easier for them to mark up the price of publications, writing the press releases, and so on under the total cost.
Online Publicity Workbook
100+ content ideas for your B2B startup;
ideal for do-it-yourself publicity plans;
schedule your PR campaign in advance.
Hidden PR Cost #3: Distributing the Content
Another instance of overpayment for PR services involves the usage of press release distribution agencies. These agencies charge a fee for writing and sending your articles and press releases to lists of journalists. Fees can vary depending on the number of journalists you need to reach. A professionally written press release can cost between $50 and $200 or more per press release.
Also, when distributing the content, PR agencies request compensation for time spent on outreach, additional time for approval, the PR manager's salary, etc. This process can be done much faster and more economically when you partner with PRNEWS.IO. With our services, you can create and distribute brand content across various publications. Whether you're looking for a way to send press releases or articles to credible media outlets, PRNEWS.IO has you covered.
Read more:
Content Marketing Platform
100,000+ media publications;
get backlinks to your product;
scale work with content distribution.
Hidden PR Cost #4: Incorrect KPIs
In this case, your overpayment is hidden in the incorrect metrics. A PR agency might tell you they have published 30 articles, but they do not give you a list of publications, information on traffic, conversions and purchases, etc. (or you don't ask).
Most PR companies choose to charge executers, which are usually a fixed monthly or quarterly fee charged for a contractual agreement of at least 6 months. Most of the time it is paid in advance.
It assures clients of a certain level of services during the contractual time. The basis for determining the time to put into a client's PR is a simple calculation: hourly rates multiplied by the estimated time taken to execute the agreed services.
Sometimes, the working hours for a brand will be higher than promised, but this is typically balanced by the times when there is less to do for the account. And overall, this arrangement ensures some stability for the PR firm, funding its long-term goals and day-to-day activities. But it doesn't guarantee stable results for the client. So consider negotiating an agreement based on the achievement of KPIs, and you'll be able to control your expenses or stop the contract. This method is called payment-by-results.
It usually consists of a basic fee plus a success fee. The latter is charged for media coverage gained through the PR efforts, also known as pay-per-placement. This is the most appealing option for clients who are skeptical of PR and want to see proven ROIs.
Read more. PR Points: How We Measure the Success of PR Campaigns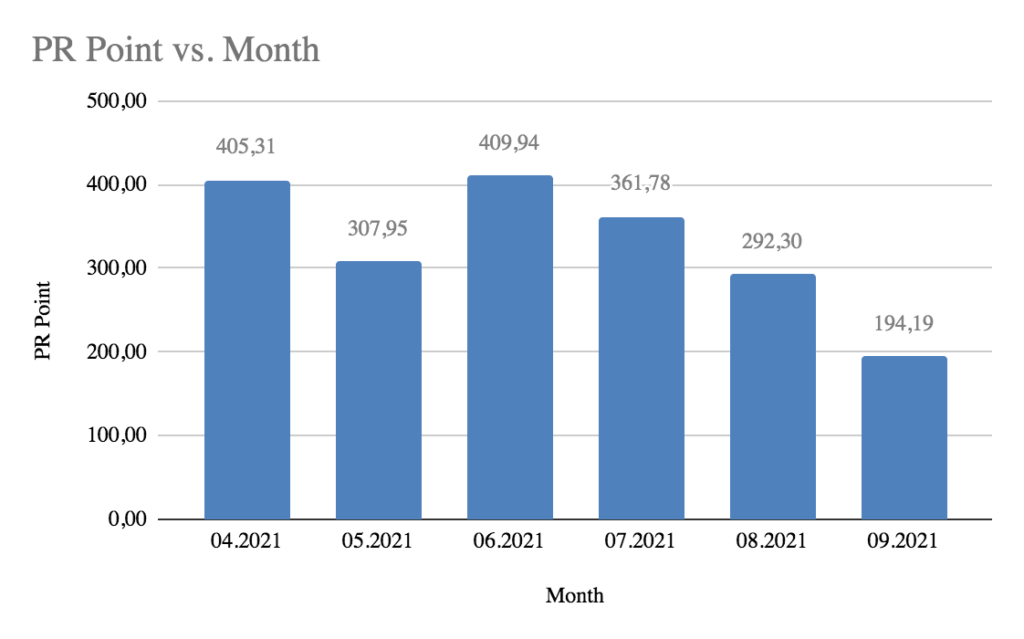 Hidden PR Cost #5: Paying for Unneeded Services
PR agencies typically offer many services, including strategic planning, project management, and execution. They employ various professionals, such as an account director, account manager, account planner, project manager, creative director, art director, copywriter, and copy editor. Each comes with a salary at a different level, and their time spent on your work or campaign will be estimated and paid. As the client, you will pay those expenses plus a multiple added to cover a roughly 20% profit margin and overheads. If your agreement is for one year, this cost is divided by 12 to provide what is called your retainer fee per month. In addition, consider that a full-time employee doesn't actually yield 160 hours a month. After you subtract vacations, sick days, and unproductive time, you end up with about 120 hours a month.
But your project might be in the starting stage when you need minimal services. While you may not require their full services, these fees must be paid irrespective of the coverage you receive (though professional companies will give clients results). This is not usually feasible for SMEs and startups.
PR agency vs. PRNEWS.IO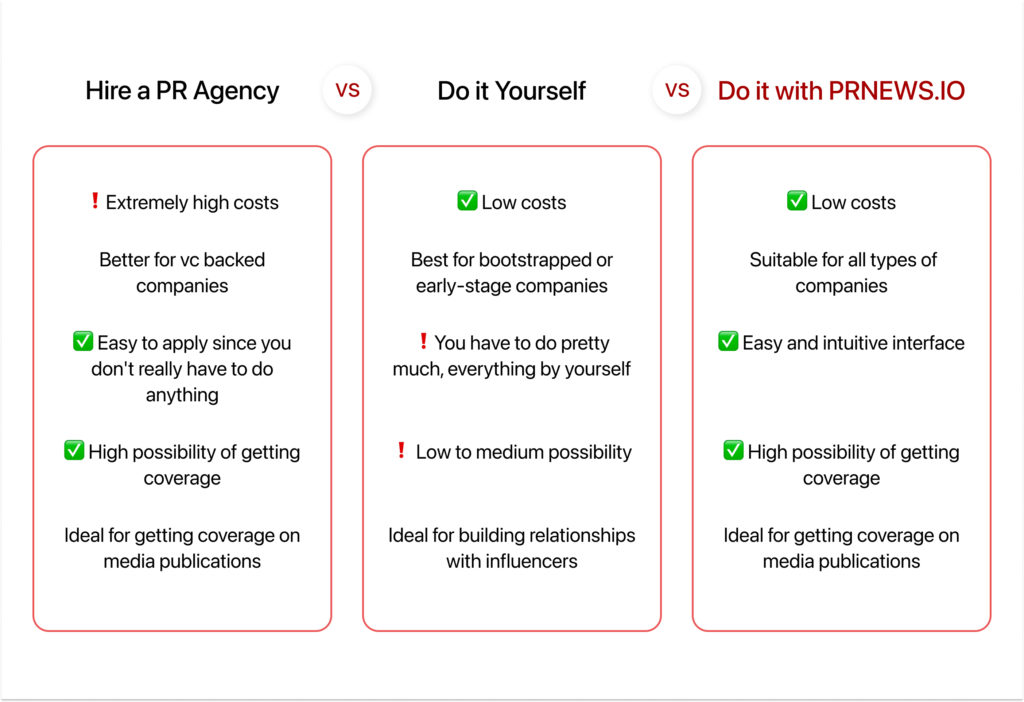 The Bottom Line
We hope these points helped to clarify things for you. No one knows your business better than you do, and with this information, you can decide whether it's best for you to hire a PR agency or create a hybrid PR strategy when you outsource your tasks to PRNEWS.IO.
Is your business in need of a PR makeover?
Benefit from media coverage assistance.
Witness a refined branding approach.
Watch as your recognition soars.