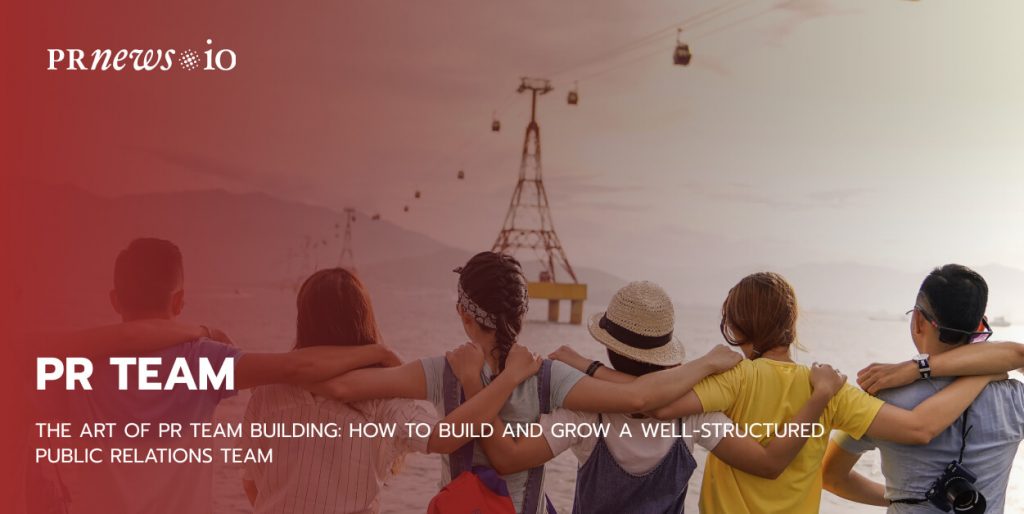 When we look at the modern business world, it moves and changes at light speed. Public relations plays a significant role in it. Your PR team must be well-prepared for any situation, predicted or unpredicted. Do not forget that we all live in a world where excellent opportunities and sudden crises constantly loom around the corner, so we need to be ready and able to react correctly.
When you start working on your public relations campaign, it is essential to have a clear understanding of what the PR team means. A professional team consists of members who are able to handle any kind of recurring responsibility and deal with unexpected public relations surprises that occur along the way. However, a team PR structure is a serious matter, and you should continue reading to learn how to manage it effectively.
A strong PR team is built through planning and various sustainable practices. Do not expect to find a secret and magical way to build a public relations team. There are certain steps to take to be well-prepared for whatever awaits you.
How To Build a Well-Thought-Out PR Team Structure?
By understanding the PR team definition and all the details of each team member's role, you ensure the success of your PR campaign. It functions as a sports team when each and every member is important in achieving the team's success.
If you start working on the PR agency hierarchy from scratch, you should start by plotting out the major focuses and key responsibilities that your team will have to face and deal with on a regular basis. Do not forget to determine the exact number of people who can handle the task in the most efficient way.
Every public relations team looks different depending on the business, the market, and the areas of major focus. For example, some PR teams have a professional copywriter whose key responsibility is to generate high-quality content. Social media platform experts should also be included on the team. So decide for yourself which specialists are most important and start recruiting the best ones.
Content Marketing Platform
100,000+ media publications;
get backlinks to your product;
scale work with content distribution.
How To Make Your PR Teamwork Glow and Flourish?
If you are interested in making your PR team grow, each team member must be aware of his or her personal responsibilities. Make sure you recruit highly-qualified and experienced team members. It is recommended to use an efficient project management system that assigns tasks to the right members and departments.
We should not underestimate the importance of building and strengthening your PR team as a well-structured mechanism. Make sure that each member understands his/her role and gets the needed support and motivation for achieving the collective success of the entire organization.
The Secret of Hiring the Best PR Team
The key is simple: it is the ability to prioritize soft skills, which hold enormous weight in the public relations field. What do we call "soft skills"? They mainly refer to the following things: the ability to communicate, a critical way of thinking, problem-solving, delegation, and teamwork. 
In order to build your dream team of public relations experts, you have to look for the right candidates with enough professional experience, career accomplishments, and important qualifications. The most important skills are communication, teamwork, and organizational capabilities. You should always measure these aptitudes when you recruit new PR candidates.
You can determine if your potential applicant has the mentioned skills and qualities by using up-to-date data-driven recruiting software systems. They are able to scan all potential applications by using keywords, skills, and experiences in the PR sphere.
A company should build personalized skill assessments, that are efficient in measuring applicants' skills via pro questionnaires. The evaluation reports aim to help you attract the right candidates for your dream team.
The Importance of Valuing Diversity
Diversity is the quality that makes every individual different and unique. Also, diversity can bring a PR team together. It is a smart idea to build a public relations team, that includes individuals with different life backgrounds and professional experiences. It is a way to create a productive working environment with new perspectives and reach international markets.
Diversity in PR is a huge issue. Your company should not lag behind. We encourage you to build a professional team, that is a perfect mix of genders, backgrounds, appearances, ages, and cultures. Such a mix will ensure that your company/business/brand is approximately 35% more successful compared to its major competitors.
When it is time to look for new employees or consider career promotions, you should keep diversity as a major concern. It will make your corporate environment more healthy and encourage others to demonstrate better performance.
Considering the Option to Hire Freelancers
Nowadays, with the popularity of self-employment, your public relations company can benefit a lot by hiring freelancers. They can make the team less busy and less overloaded with daily tasks. Many PR agencies rely on freelancers' assistance. They have enough time and professional experience to support the team.
Freelancers can manage your brand's social media presence and give your corporate account manager extra time to focus on media pitching. You can hire experienced and reliable freelancers to cover a wide range of tasks, needs, and daily assignments, such as social media pitching, corporate reports, graphic/web design, copywriting, photo shooting, digital press clippings, etc.
Professional Tips to Motivate Your Team and Build Spirit
Team building is essential for productive cooperation and communication with all team members. The business environment should be healthy and friendly to make it possible for all employees to work together. Better corporate communication is able to increase your efficiency and productivity. Here are the tips to motivate your team members to improve their skills and professional abilities.
Start by setting out a clear vision for your business. It's essential to ask your team members to contribute. They can be included in your business planning. It is the best way to motivate your PR team to work toward achieving a common goal.
Organize common corporate activities, that focus on overcoming obstacles. It is a good idea to involve various physical challenges, for example, rafting, tracking, etc. It will create a strong bond and motivate your staff to work together.
Maintain a professional atmosphere for your employees. New skills and knowledge will open a lot of professional opportunities for them. By ensuring enough resources and pro skills, you help your PR team learn how to solve problems and generate a lot of innovative ideas.
Encourage discussion within your public relations team. People should feel confident in expressing their creative ideas. By giving your members an opportunity to contribute to the common goal.
Finally, it is essential to hold corporate assessments on a regular basis. It is a way to give positive reinforcement to your PR team members. By encouraging your employees to identify certain areas where they need some improvement you help them grow in the public relations sphere.
Online Publicity Workbook
100+ content ideas for your B2B startup;
ideal for do-it-yourself publicity plans;
schedule your PR campaign in advance.
Read more:
Frequently Asked Questions PR team 
What is a PR team?
A PR team is responsible for building a positive corporate relationship and brand image with the target public. In order to achieve all the set goals, a company needs to hire a professional PR team.
What responsibilities does a PR team have?  
A professional PR team handles various PR tasks, such as writing press releases, writing interview speeches, conducting local/international market research, and working hard on maintaining a positive brand reputation.
How do you create a PR team?
An efficient PR team consists of people who are passionate about public relations. Your team must determine your corporate story and stick to it during their public relations campaigns.