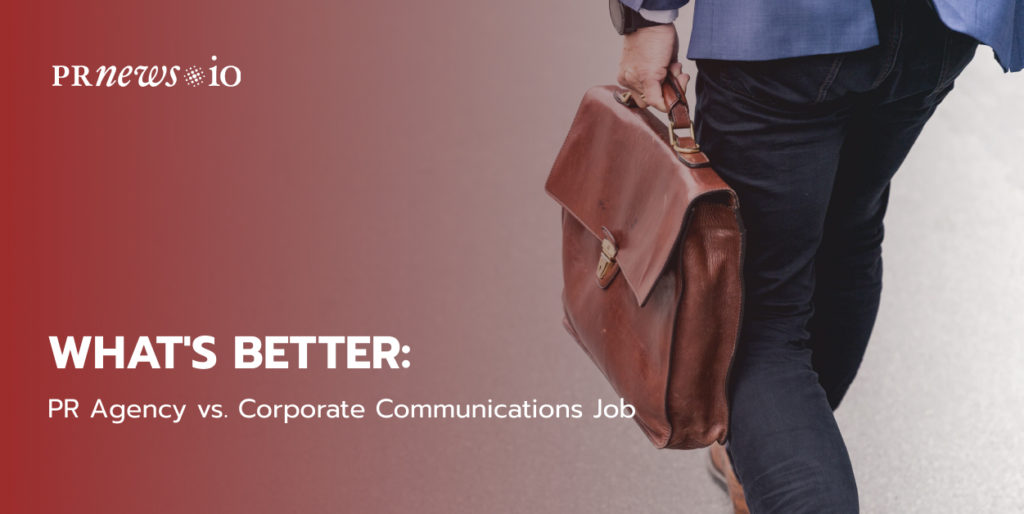 All students studying public relations are necessarily dealing with the choice of whether to pursue careers in agencies, or on larger communications teams within enterprises or organizations. Depending on your specific talents and strengths and overall career dreams, one way may make more sense than the other. As someone who has worked in both professional paths, here are some of the pros and cons of working at an agency and in-house.
What Is PR Agency and Corporate Communications Teams
I'd like to describe here the different opportunities for you. I'd like to start off by first defining what it means to be a part of a public relations agency versus a corporate communication job. It is crucial to understand the orientation of public relations and what that means to your everyday routine. Also, I'd like to provide an overview for you enough to orient you to the job market and to what choice might be right for your PR career.
PR Agencies
A PR agency is an independent, functioning company created to serve multiple businesses by helping them to fill in the blanks between the business and the public. PR agencies assist not only to promote their clients but to help the public gain a positive impression of the company. Since PR agencies are independent, usually they have several PR managers that are able to lead PR initiatives for different businesses at the same time.
A professional PR agency should be able to perform the following tasks (at the very least):
Write press releases
Create or edit speeches
Be well-versed in handling PR crisis situations
Write articles and blogs
Create pitches and proposals
In-House PR Teams
On the opposite end, many companies have in-house PR teams. An in-house PR department is a PR department that functions as a part of a company and is not independent. Simply stated, this means that the PR team is located right there in the business facility and is only in place to assist that particular company's PR needs.
Similarities Between PR Agency vs. Corporate Communications
You've probably read about the terms "corporate communications" and "public relations". Perhaps you've seen them used interchangeably.
And sure, corporate communications and PR have many similarities in many ways. Both roles must:
Have a deep understanding of the role of journalists and how the media is functioning.
The skills to communicate effectively, whether verbally or through writing.
Being adept at creating strategic communications plans and knowing how to effectively apply them is also important to both positions, although you may be targeting very different audiences.
Be professional at problem-solving and confident when confronted with a crisis, although the type, size, and scale of the issues may differ depending on the role.
The same skills of PR – developing communication plans, crafting key messages, press releases, and media relations, to name a few – are transferable from agency to in-house and vice versa.
Content Marketing Platform
100,000+ media publications;
get backlinks to your product;
scale work with content distribution.
Difference Between PR Agency and Corporate Communications
While some of the skills required and job responsibilities may coincide with these two communications-based paths of managing PR needs, they also have a few key differences. It's important to understand how each type of role functions and how they differ, especially if you're planning to boost your career and are working hard to become professional and successful.
Multiversity
In the corporate PR universe, you will become an expert in all of the topics important to the exact company, its industry, and its leadership. Many client-side PR managers say that they are extremely happy maintaining a pure focus on their particular company and industry, which enables their best work.
In agency PR, you also must become an expert in your client's business—but it's not just one business. You may collaborate with multiple industries. One day, for example, you have to sort through the news in health, spirits, higher education, and wealth management. The other day, you´ll have to dive into blockchain technologies and crypto. In terms of breadth of industry knowledge, agency wins unequivocally simply because of their various client base. The routine of the PR manager in the agency is determined by the client's brief, and by extension, the industry sector they operate in, whether it's agriculture, finance, healthcare, government, technology, etc. Compared to in-house communicators, there's a greater expectation for them to be more flexible in learning new things about the new projects.
Wearing many hats
When working in-house at a company, there is a defined structure. Your work gets limited by the appropriate executives for approval, then goes through the proofreading and compliance teams. Everything you create must be approved by the list of people, and there are specific departments for each specific task, such as shipping, layout, and design.
At an agency, mostly, you do it and decide what to do all yourself. You serve as a media representative, sign holder, traffic manager, or whatever else the customer needs you to do. Of course, you have your managers in the agency, but the route is shorter.
Need for speed
In the corporate world, the processes move more slowly. You have an idea, you start approval through the departments, and if you meet to support, you put it to work. There are timelines and a rather long process of who does what and when it will be completed. Also, in the corporate PR flow, nobody cared that you spent two hours reading newspapers because it was part of your job and for the greater good of the company. In the corporate PR life, the working life is more relaxed. You have your job, other departments have theirs, and everyone co-existed in peace.
In the agency world, you better be achieving, improving, thinking outside the box, and checking with your clients to be sure you are meeting their needs and expectations.
It's a fast-paced environment, and pivoting on your plans daily is required. The processes change, clients change their goals, news cycles change, etc. Make your task list, but be prepared to change on a daily basis and start over. One of the most difficult things to get used to when making the transition to agency life is tracking time. In the agencies, you have to learn to divide your time so it can be billed to the appropriate client. This time-tracking practice can be complicated, but also helps you stay focused and on task and on the particular client. In addition, every time you have to prove your worth and the value that you, as an agency, add to your client.
A true team mentality
Agency executives are surrounded by people who basically do the same thing. They, therefore, share a deep and various knowledge of the work and an appreciation of what goes into it.
On the corporate side, things may vary. Some PR managers who moved from agency to client work mentioned having to adjust to an environment where everyone shares a common goal, but where skills and backgrounds are very different. Depending on the company, the communications team may be relatively small, and corporate colleagues in marketing, HR, and product development may lack an understanding of PR and corporate communications.
Career mobility
Corporate jobs tend to have higher salaries but fewer positions, so competition becomes stronger. In the agencies salaries tend not to be as high as in an enterprise for the lower levels, hours can be long and backbreaking, but young people tend to gravitate toward agencies. So activities are fun and vibrant, but you are busy billing every hour possible to your customer.
But early in one's career, an agency´s terms may offer greater upward mobility, particularly if the agency is growing. Turnover at PR agencies can be high, and while that's not a good thing, it often creates a great opportunity for career advancement for those who perform.
Consistency
On the client's side, there's typically no need to be selling in order to find new clients or have the opportunity to do an interesting job. This goes in contrast to an agency universe, where new business development is the lifeblood of the place and a requirement for anyone who wants to achieve success there. Also, a corporate PR team does need to promote its own work and justify the investment in PR, especially if this contains an agency budget. The difference, however, is that the day-to-day work offers greater coherence and lacks the do-or-die pressure of a growth-oriented PR agency.
Control
No one in the dynamic and ever-changing PR world has perfect control over their programs, but on the client's side, resources and politics tend to be stacked in your favor. You'll have access to senior executives and co-operate with different parts of the enterprise. The PR manager is the brand storyteller, so he has more information and is able to dig in deeper and tell better stories. It's much easier to forge relationships with publications and other types of media when in corporate communication, it's easier to build trust.
In an agency, the media sees you as a mediator between them and a client. It takes a lot of effort to maintain those relationships with journalists.
The pursuit of freedom
In the corporate world, you often stick to some golden corporate rules, but at an agency, there is more opportunity to try different methods, techniques, and ideas. The stakes are bigger, but so are the prizes. Conclusions are made daily. The best part of working in an agency is the ability and freedom to try new tools, tactics, and strategies.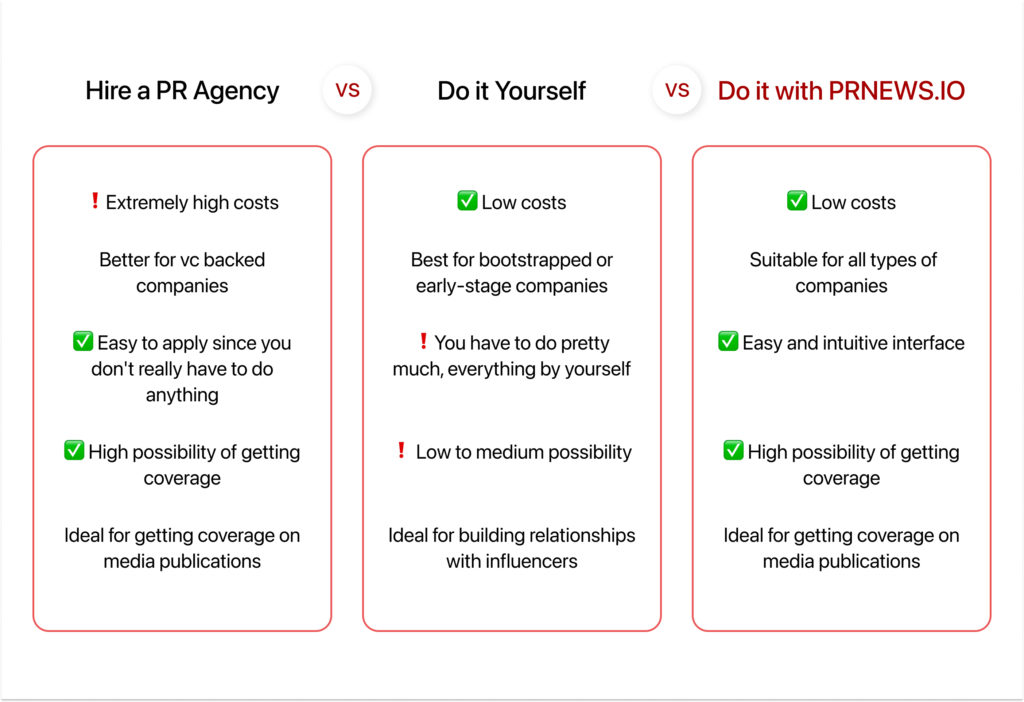 Wrapping Up
If you're thinking of starting a new job search in your career, it's important that you realize what matters to you most. Reading job descriptions you may find out what you like and don't like about different positions and helps you decide where you want to continue your career. Public relations is such a developing area, one that right now has so many opportunities available. Estimate your strengths and what you bring to the job. No doubt, there's a perfect position out there for everyone.
Read more: