Bristol is a thriving city in the South West of England, known for its creativity, innovation, and independent spirit. It's no surprise that the city is home to a number of impressive PR agencies, all dedicated to helping businesses of all sizes and industries build their brand and reputation. In this blog post, we'll be showcasing some of the top PR agencies in Bristol, each with their own unique approach and expertise in the field. Whether you're a local business or looking to expand your reach into the region, these agencies are well-equipped to help you succeed in your PR efforts.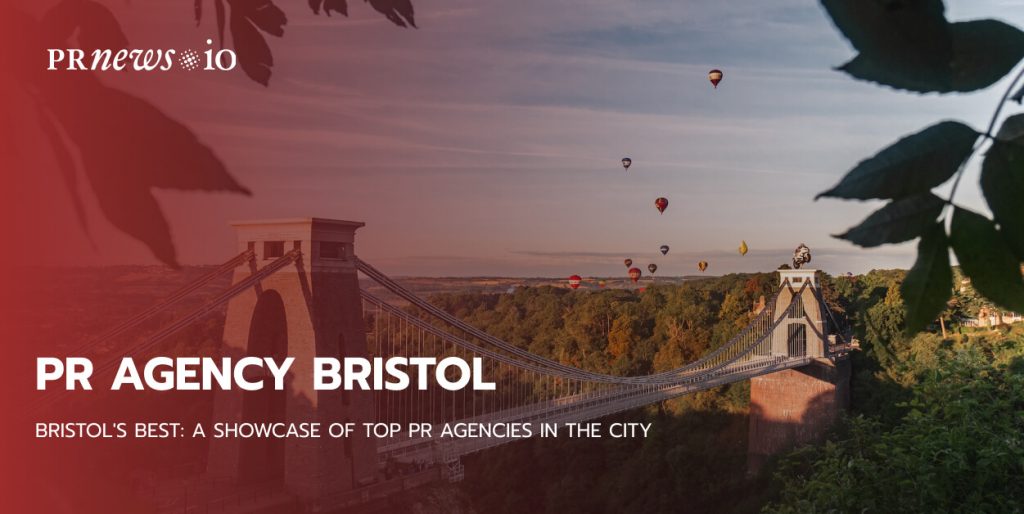 Top PR Agencies in Bristol
Nudge Digital is a digital marketing and PR agency located in the heart of Bristol. They specialize in providing a range of services including PR, SEO, social media marketing, content marketing, and website design.
The team at Nudge Digital is experienced and passionate about helping businesses improve their online presence and achieve their marketing objectives.
With a results-driven approach and a focus on delivering quality content, Nudge Digital has a proven track record of delivering successful campaigns for their clients. Whether you're a small start-up or a large corporation, Nudge Digital can help you reach your digital marketing goals.
2. Sounds Commercial Agency Based in Bristol
Sounds Commercial is an award-winning events and communications agency based in Bristol, UK. For over 25 years, they have been delivering innovative and impactful events for their clients. With a focus on creating memorable experiences, Sounds Commercial specializes in live events, virtual events, and event technology, as well as offering a full range of communications services.
Their expertise ranges from event production, creative design, and branding to PR, digital marketing, and video production. Sounds Commercial works with a range of clients across various sectors, including finance, healthcare, and technology, delivering exceptional results that engage and inspire audiences.
3. Konichiwa Bristol PR Boutique Agency
Konichiwa PR is a boutique PR agency in Bristol that specializes in helping businesses to reach their target audience through effective communication. They offer a range of services, including media relations, social media management, content creation, crisis management, and more.
Konichiwa PR works closely with clients to develop tailored strategies that are focused on achieving their specific goals, whether that's increasing brand awareness, generating leads, or improving their online presence. With a team of experienced professionals who are passionate about delivering results, Konichiwa PR has built a strong reputation for providing high-quality PR services that help businesses to thrive in today's competitive market.
4. Dirty Design Bristol-based Creative Agency
Dirty Design is a Bristol-based creative agency that provides branding, design, and communications services to help businesses stand out from the crowd. They specialize in working with clients in the hospitality, food and beverage, and music industries, creating unique and memorable designs that reflect their brand values and message. From logo design and packaging to web design and social media marketing, their team of experts works closely with clients to understand their needs and create custom solutions that drive results. With a passion for creative design and a focus on delivering measurable outcomes, Dirty Design is a great choice for businesses looking for an innovative approach to branding and marketing.
5. TechForge Digital Publishing Based in Bristol
TechForge is a leading digital publishing and marketing agency based in Bristol, with a strong focus on the technology sector. They specialize in creating engaging content and digital campaigns that help businesses grow and succeed in the digital age.
The agency's team of experts have a wealth of experience in creating effective digital strategies that help their clients to reach their target audiences, build brand awareness, and drive conversions. With a strong focus on data-driven results, TechForge has helped many businesses in Bristol and beyond to achieve their digital marketing goals, and is a top choice for companies looking to take their digital marketing to the next level.
6. DB Communication UK-based PR agency
DB Communication by Design is a UK-based PR agency that specializes in helping clients build their brand and improve their reputation through effective communication strategies. The agency provides a wide range of services, including media relations, crisis management, event planning, and social media management.
With a focus on results-driven campaigns, DB Communication by Design works closely with its clients to understand their business objectives and target audiences, and develop customized PR plans that achieve their goals. With years of experience in the industry and a team of dedicated professionals, DB Communication by Design is a trusted partner for businesses looking to enhance their public image and reach their target market.
7. Lion House UK-based PR Agency
Lion House is a UK-based PR agency that specializes in lifestyle, luxury, and hospitality brands. With a team of experienced professionals, they offer a range of services including media relations, events, influencer campaigns, content creation, and crisis management. Lion House works closely with their clients to understand their brand's unique voice and values, and they use their expertise to help them stand out in a crowded marketplace. Their approach is strategic and results-driven, with a focus on creating meaningful connections between brands and their audiences. Whether it's a product launch, a media campaign, or a digital activation, Lion House is committed to delivering impactful results for their clients.
8. MoreSoda Digital PR and Marketing Agency
MoreSoda is a digital PR and marketing agency that helps businesses to achieve their goals online. They offer a range of services, including content marketing, social media management, search engine optimization, and pay-per-click advertising.
With a focus on data-driven strategies, they work with clients to develop bespoke campaigns that deliver results. MoreSoda's team of experts is dedicated to staying ahead of the latest trends and technologies, ensuring that their clients always receive cutting-edge solutions. Whether you're looking to boost your online presence, increase your website traffic, or generate more leads, MoreSoda can help you achieve your objectives.
9. Meanbee UK-based Digital Agency
Meanbee is a UK-based digital agency specializing in e-commerce development and online business growth. With offices in Bath and London, Meanbee offers a range of services including web design, development, and support, as well as digital marketing and PR solutions.
Their experienced team of designers, developers, and project managers work with clients to create engaging and effective websites and online stores, helping businesses to build their brand and reach their target audience. With a focus on creativity, innovation, and collaboration, Meanbee has a proven track record of delivering successful digital projects and campaigns for a diverse range of clients.
10. Unlimited Group Leading Marketing Agency
Unlimited Group is a leading independent marketing agency that provides a wide range of integrated marketing services, including PR, digital marketing, creative, and more.
With a team of experts in branding, communications, and customer engagement, they work with clients to create innovative and impactful campaigns that drive business growth.
Their approach combines creativity, data, and technology to deliver measurable results that exceed client expectations. With offices in London, Bristol, and New York, Unlimited Group has worked with some of the world's most successful brands and has a proven track record of delivering outstanding results.
Content Marketing Platform
100,000+ media publications;
get backlinks to your product;
scale work with content distribution.
PR Agency vs. PRNEWS.IO
When it comes to public relations, companies have two primary options: hiring a traditional PR agency or using a platform like PRNEWS.IO. While both have their benefits, PRNEWS.IO stands out with its speed, affordability, and transparent pricing.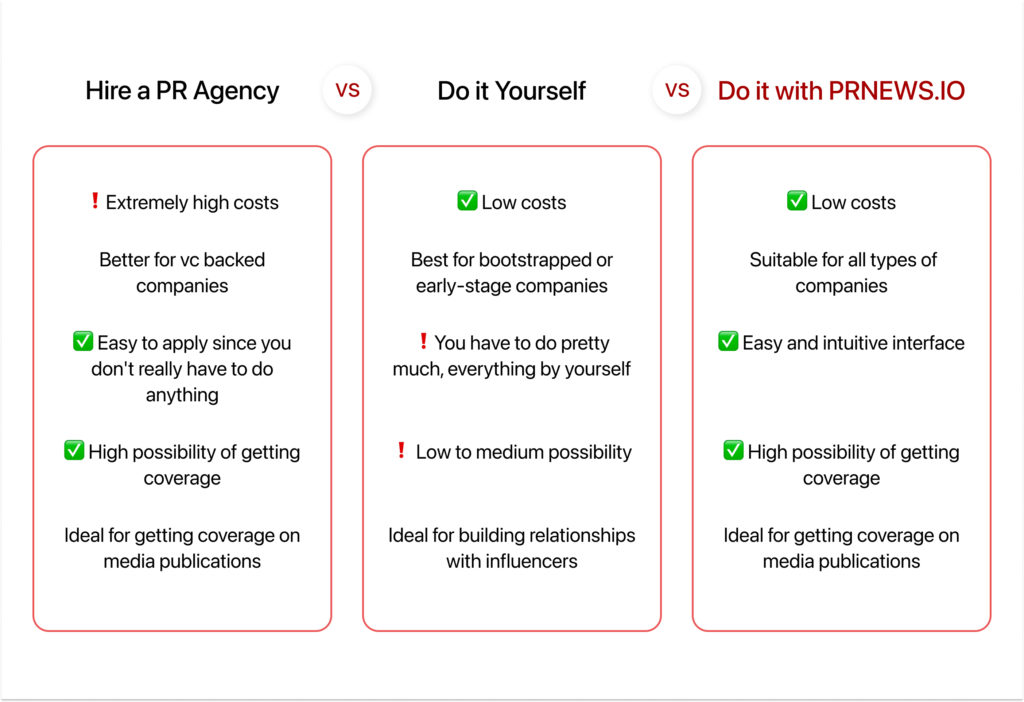 Speed is a major advantage of PRNEWS.IO. PR agencies can take a significant amount of time to pitch to journalists and secure media placements. With PRNEWS.IO, businesses can publish content on hundreds of sites with just a few clicks, ensuring that their message is distributed quickly and efficiently.
Price is another area where PRNEWS.IO has an edge over traditional PR agencies. Traditional agencies can be quite costly, with some charging tens of thousands of dollars for a single campaign. PRNEWS.IO offers plans that are affordable for businesses of all sizes, starting at just a few hundred dollars. This makes it a more accessible option for small and medium-sized businesses.
Finally, PRNEWS.IO's transparent pricing sets it apart from traditional PR agencies. With a traditional PR agency, it can be difficult to understand how much each service costs and where your money is going. PRNEWS.IO is upfront about its pricing, so businesses know exactly how much they will be spending for each publication.
Read more: The Hidden Costs of Hiring A PR Agency
In summary, while traditional PR agencies have their advantages, PRNEWS.IO's speed, affordability, and transparent pricing make it a more accessible and efficient option for businesses seeking to spread their message to a larger audience.
Read more:
Is your business in need of a PR makeover?
Benefit from media coverage assistance.
Witness a refined branding approach.
Watch as your recognition soars.