Music press release. The Internet has completely changed the music industry, and this is not unprecedented news. Technologies such as file sharing, streaming media, social media and e-commerce provide artists with more opportunities to show their music to more audiences and increase their fan base. The downside of too many choices is that choosing the best online music promotion method can be challenging.
The easiest way to promote music online is to use press releases. A press release is a great way to encourage yourself and your music online; however, to achieve success, you must write an excellent press release.
How to Write a Music Press Release?
First, you need to write this press release article following the standard press release format (find the details below). Second, you need to write special content about this music.
It would be better to write the music name and singer's name in the press release's title.
Simply introduce the moral of the song in summary.
Introduce the singer's situation, the background of creating this song, and the moral of this song.
Add related photos or video.
List social media sites for this music.
You could refer to this press release writing instruction to write one standard press release article for your music.
These are only a few of the most typical uses for music press: general band news, new song release, events, reports, crisis communications, charity, new hires (band members), awards, etc.
Why Write a Press Release for Music?
Newspapers, magazines, radio, television, blogs and other forms of media engage with people. A mention from them can help your band reach thousands, if not millions, of people who are interested in your music. This media exposure can help your band's profile grow by increasing traffic, subscribers and revenues.
A good band press release starts with being personal. Without a good press release, standing out against other media announcements is difficult. If you want your band to become more well known, a well-crafted press release is a must. It's your one-page objective that gives answers to the most popular questions–who you are and what you do, where and when your event takes place, and why. Whether or not music bloggers or journalists listen to your music, all they want is a press release. All in all, it's a great way to receive some free coverage in local and national media.
What Is a Press Release Distribution Service?
A press release distribution firm will distribute your press release in a variety of methods, increasing its visibility and allowing you to interact with journalists seeking a good story.
Free and paid distribution services are available. Many of the free ones just republish your press release on the websites and blogs with which they are affiliated.
The larger paid press release distribution firms are more of a database that busy media professionals scan for niche-related content worth passing along to their target audience by employing keywords.
Writing a music press release is important for an artist with an upcoming album, or an already released album. Do this on your own can work if you really feel you can write about yourself. Most artists don't do this well because of a few reasons: lack of writing experience and not having an outside perspective or view. Ultimately, this leaves an artist looking worse than if they never did a press release. It's best to get outside help for writing, and of course with distribution of your news release too.
There are many services that offer this, but most press release companies offer writing press releases in general but do not specialize in music press releases. This makes it even more challenging for an artist to get a good press release out there.
PRNEWS.IO is solving this for artists. The service also offers a satisfaction guarantee and great customer service for musicians and bands of all music styles.

Music Press Release Format
Regardless of what you're writing about, every press release should have:
A headline. A taster of what you can expect. Use a strong verb and at least one keyword. It should grab the reader's attention. Limit it to 15 words.
The subheadline. This field is included in many press release distribution service interfaces. It is like a summary of what the press release is about. You should also use keywords related to your niche. Keep it short.
A lead. A brief overview of the story, including answers to the questions: Who? What? When? Why? With what effect? A strong opening paragraph: these are considered the most important facts, and journalists will need to know these if they are going to give you a pickup.
The article body. An explanation of the information provided earlier in the lead, starting from the most newsworthy info to other less important, background info.
2nd Paragraph: supportive information and at least one quote
A strong call to action: tell readers what you want them to do after reading your information. Send them to a special URL to accomplish that action.
Other paragraphs: additional, relevant, non-essential information
Conclusion: a brief description of your organization
Company info. A short paragraph about your company to help journalists understand the nature of the business and make writing about it easier.
Media contact information. Author or company's/agency's contact information.
The Basics of Crafting a Press Release:
Make it newsworthy. It's not an ad; it's a news article.
Use an attention-grabbing headline.
Be time sensitive—no one wants old news.
Stick to one topic.
Write it in a professional tone, or even better, write it like you're a reporter.
Proofread it and then have someone else proofread it.
Press Release Examples for Music
Debut Single Press Release Example
The headline of The Press Release: [Record company and/or Artist] announces a new album [Title of the Album] from [Name of Artist]
Summary Section: Briefly characterize your announcement
[City] [State] – [Record company and/or Artist] is thrilled to announce the release of the [latest, debut, etc] album from [Artist], [Title of the Album] available everywhere on [Date].
Include a quote from a musician related to the new single.
Provide more details: [Debut Single title] is [Description of the single, including genre or any other relevant details.]
[More details about the author or label, including artist's relationships with the label.]
Call to action or an URL address where the viewer can find more information about the debut single.
Boilerplate: Company info
[Contact person, company, address, phone]
Album Press Release Example
The album launch press release must include the following information:
Press release headline: Pink Rock's debut album "Black Roses" will bring down the house
Artist details: name, genre
Album title
Album release date
Recording studio
Quotes from artists, producers, label, music critics, etc.
URL of your fan page/ website
Dateline
Contact information (contact person name, organization, address, phone number)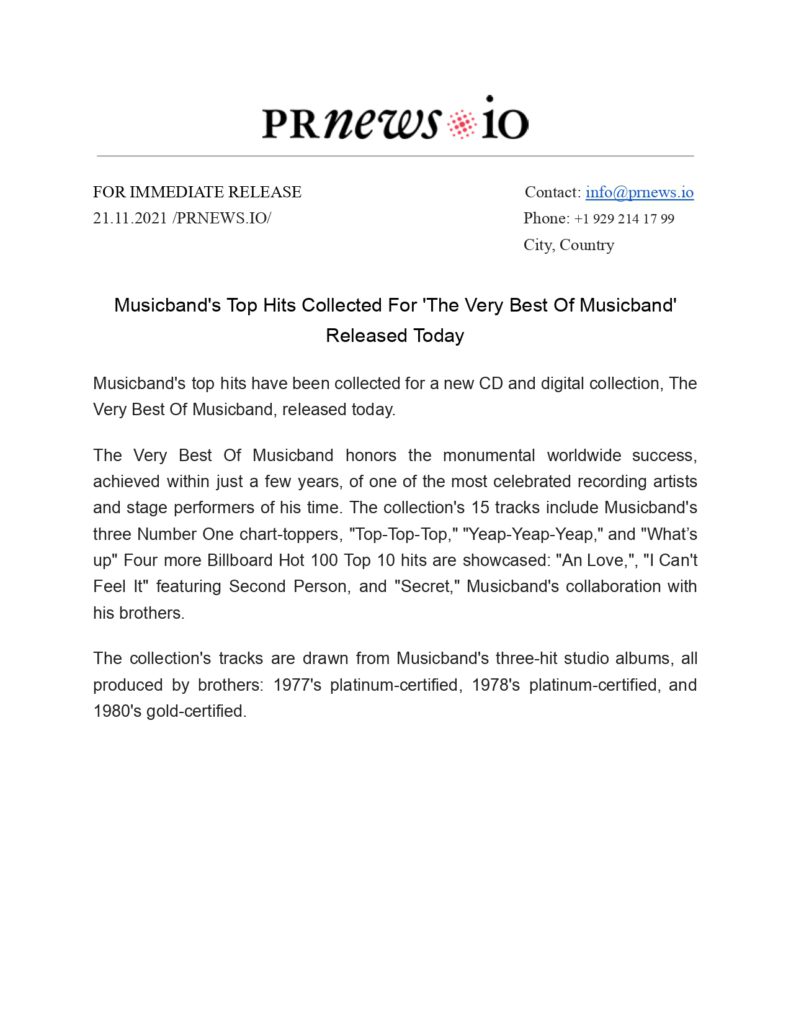 Band Press Release Tips
To help you write a band press release that bloggers won't be able to resist, start with a band press release template. The reason is obvious. Just think of thousands of emails and press releases music bloggers/journalists/influencers receive in a single day. So, to get attention, make it newsworthy. Otherwise, it is going to be deleted and you'll be out of luck. That's where a press release template comes in handy. As a result, you save time and increase your business exposure to the target market.
Writing a press release for a band on your own is hard. That's where experienced PR agency execs could come to the rescue. They can help make your band a good story. Yet, if you are about to do it yourself, a good band press release example can help get started. But first, look into the media outlets you're considering. It's smart to see what sort of material they publish and how often they do this for musicians. Don't want your press release to be ignored? Better yet, you want to increase your chance to get media coverage. Then write it in a journalist-expected format. The title, date, content body, contact details for the media and the company, and branding logo are the key things. For best results, check out a good brand press release template.
To ensure your formatting is right, take care of the following. First, make the hook with your subject line. Thus, if you want your email getting opened, use a catchy headline. Just telling obvious things like "XXX is heading out on tour" is boring. Your press release is more likely to gain favorable media attention with a memorable subject line. Have you supported a well-known brand or collaborated with somebody well-known enough to grab the reader's attention? Take the time to think. There should definitely be a compelling subject line.
A good band press release doesn't include attachments. Forget about MP3 files. In the digital age, it's a good rule of thumb to include links to your tracks on well-known streaming platforms. For extra impact, add links to your social media pages, website, and a folder of press shots.
Now, actually, the pitch. The first paragraph should contain the key info. In other words, you have several seconds of time to get down to who/what/where/when/how much, and why. Another important thing is to write it in the third person. Done? Now check. Is there a reason to read it?
The second paragraph is the meat of your story. Include details that confirm the facts from the first paragraph. Here's your chance to show off, so include your impressive accolades. Everything from festivals you've played to quotes from celebs about your band matters here. One thing to note, don't fly high with superlatives. The last thing you want your band press release to seem is too braggy.
Finally, closing. A call-to-action would be the best solution for your last paragraph. Yet, if it sounds like "Now what?" for your audience, that's also great. You can place here additional information about your band. For example, distribution availability or your fan page URL. If you promote a tour, specify not only the date but also all stops you'll make, for instance. Keep it short and do not include personal info.
Whether you'll write it on your own or hire a PR agency to do that job, a press release for a band helps with marketing, advertising and branding. It's a great way to generate free publicity. The latter will be many times more valuable than any advertisements you could buy. Thus, having one will open many doors for you.
I hope that helps!
Is your business in need of a PR makeover?
Benefit from media coverage assistance.
Witness a refined branding approach.
Watch as your recognition soars.
Press Release for Band FAQ
How to write a press release for a band?
A good press release for a band follows the one format that is easy to learn. Who, what, when, where, and whys are the core of a good press release. Start things off with a description of who you are and what you're all about. It's better to write a press release from a newsworthy angle. It's also in your own interest to learn how to write an effective press release. It's a valuable skill to have.
How to write a music press release for an indie band?
Writing a press release for an indie band follows the same rules as for the hippest, coolest or edgiest band. There are the proper press release format expectations to be followed. Make sure you follow the guidelines to help journalists decide if it is worth publishing or not.