Music press release. The Internet has completely changed the music industry, and this is not unprecedented news. Technologies such as file sharing, streaming media, social media, and e-commerce provide artists with more opportunities to show their music to more audiences and increase their fan base. The downside of too many choices is that choosing the best online music promotion method can be challenging.
The easiest way to promote music online is to use press releases! A press release is a great way to encourage yourself and your music online; however, to get success, you must write an excellent one.
How to Write a Music Press Release?
Firstly, you need to write this press release article following the standard press release format (find the details below). Secondly, you need to write special content about this music.
It would be better to write the music name and singer name in the title.
Simply introduces the moral of the song in summary;
Introduce the singer's situation, the background of creating this song, and the moral of this song.
Add related photos or video;
List social media sites for this music.
You could refer to this press release writing instruction to write one standard press release article for your music.
These are only a few of the most typical uses for music press: general band news, new song release, events, reports, crisis communications, charity, new hires ( band members), awards, etc.
Why Write a Press Release for Music?
Newspapers, magazines, radio, television, blogs, and other forms of media engage with people. A mention from them can help your company reach thousands, if not millions, of people who are interested in your area or industry. This can help your business grow by increasing traffic, subscribers, and revenues.
What is a Press Release Distribution Service?
A press release distribution firm will distribute your press release in a variety of methods, increasing its visibility and allowing you to interact with journalists seeking a good story.
Free and paid distribution services are available. Many of the free ones just republish your press release on the websites and blogs with which they are affiliated.
The larger paid press release distribution firms are more of a database that busy media professionals scan for niche-related content worth passing along to their target audience by employing keywords.
Writing a music press release is important for an Artist with an upcoming Album, or already release Album. Doing this on your own can work if you really feel you can write about yourself. Most artists don't do this well, because of a few reasons.. lack of writing experience, and not having an outside perspective or view. Ultimately, this leaves an Artist looking worse than if they never did a press release. It's best to get outside help for writing, and of course with distribution too.
There are many services that offer this, but most press release companies offer writing press releases in general but do not specialize in music press releases. This makes it even more challenging for an artist to get a good press release out there.
PRNEWS.IO is solving this for Artists. The service also offers a satisfaction guarantee and great customer service for Musicians and Bands of all music styles.
Music Press Release Format
Regardless of what you're writing about – every press release should have:
Headline. A taster of what you can expect. Use a strong verb and at least one keyword. It should grab the reader's attention. Limit it to 15 words
The subheadline. This field is included in many press release distribution service interfaces. It is like a summary of what the press release is about. You should also use keywords related to your niche. Keep it short
Lead. A brief overview of the story, including answers to the questions: Who? What? When? Why? With what effect? A strong opening paragraph: these are considered the most important facts, and journalists will need to know if they are going to give you a pickup.
Body. An explanation of the information provided earlier in the lead, starting from the most newsworthy info to other less important, background info.
2nd Paragraph: supportive information and at least one quote
A strong call to action: tell readers what you want them to do after reading your information. Send them to a special URL to accomplish that action.
Other paragraphs: additional, relevant, non-essential information
Conclusion: a brief description of your organization
Company info. A short paragraph about your company to help journalists understand the nature of the business and make writing about it easier.
Media contact information. Author or company's/agency's contact information.
The Basics of Crafting a Press Release:
Make it newsworthy; it's not an ad, it's a news article
Use an attention-grabbing headline
Be time sensitive – no one wants old news
Stick to one topic
Write it in a professional tone, or even better, write it like you're a reporter
Proofread it and then have someone else proofread it
Press Release Examples for Music
Debut Single Press Release Example
The headline of The Press Release: [Recor company and/or Artist] announces a new Album [Title of the Album] from [Name of Artist]
Summary Section: Briefly characterize your announcement
[City] [State] – [Recor company and/or Artist] is thrilled to announce the release of the [latest, debut, etc] album from [Artist], [Title of the Album] available everywhere o [Date].
Include a quote from a musician related to the new single.
Provide more details: [Debut Single title] is [Description of the single, including genre or any other relevant details.]
[More details about the author or label, including artists relationships with the label]
Call to action or an URL address where the viewer can find more information about the debut single.
Boilerplate: Company info
[Contact person, company, address, phone]
Album Press Release Example
The album launch press release must include the following information:
Press release headline: Pink Rock's debut album 'Black Roses' will bring down the house
Artist details: name, genre
Album title
Album release date
Recording studio
Quotes from artists, producers, label, music critics, etc
URL of your fan page/ website
Dateline
Contact information (contact person name, organization, address, phone number)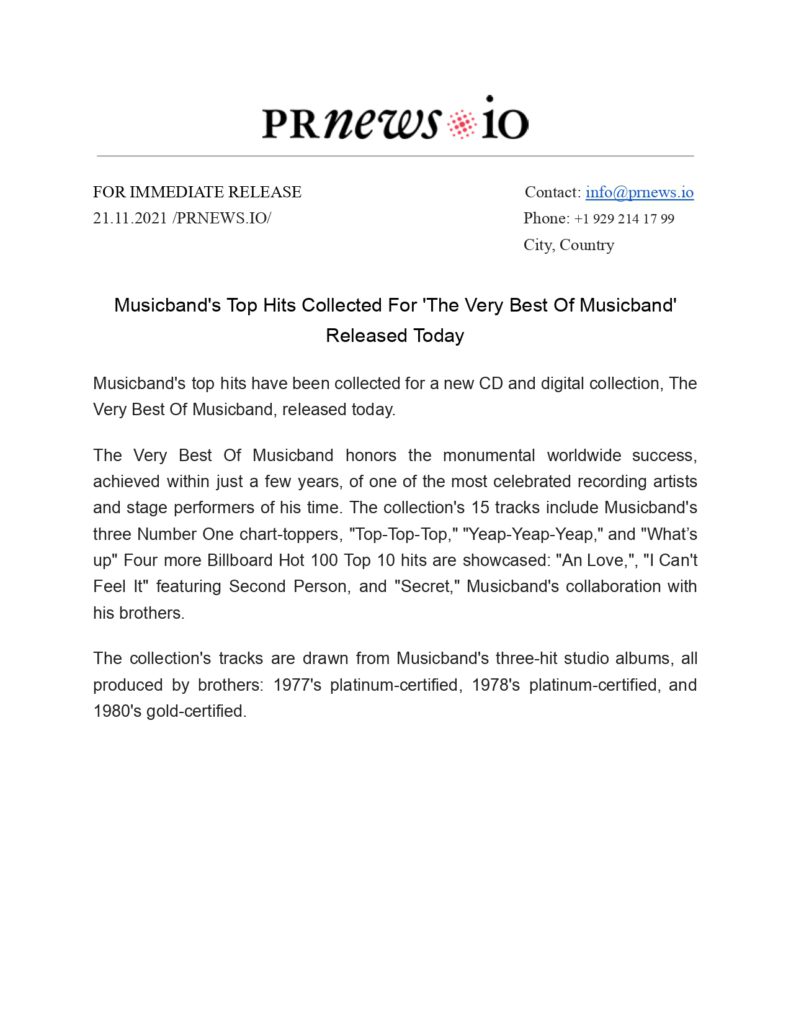 I hope that helps!