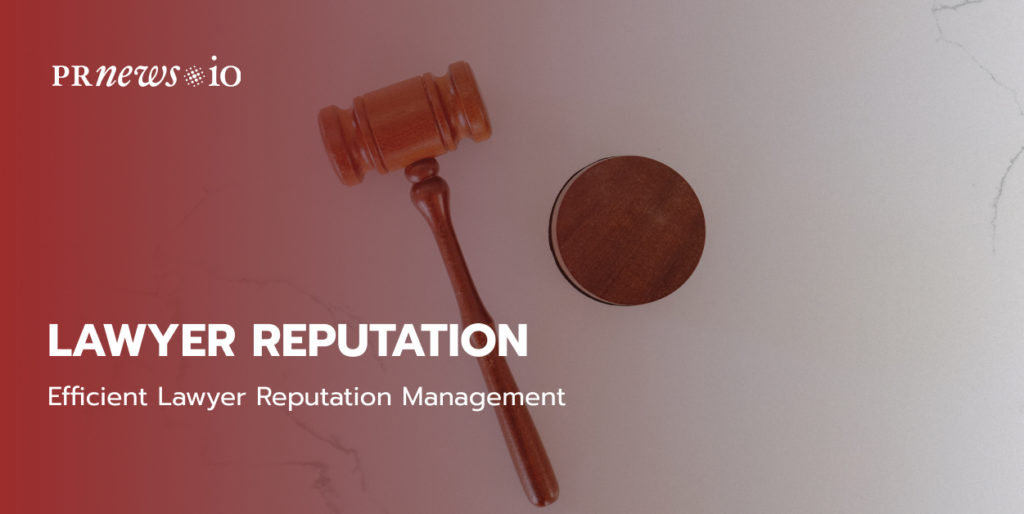 Every lawyer knows the importance of controlling the narrative. In the modern world of constant online chatter, doing it is harder and harder. But a law firm's reputation is one of the most important factors a client pays attention to when deciding on hiring a lawyer. 
So how do you control the narrative when it comes to your own reputation as a lawyer? Read on to find out how to effectively do lawyer reputation management and how PRNEWS.IO can help you.
What Is Lawyer Reputation Management?
Controlling and influencing a lawyer's credibility in the public eye is referred to as reputation management for attorneys.
Like in any other industry, a lawyer's reputation largely depends on what is said about them online. Not in the traditional media. Though it can still be good for your recognizability and credibility. 
Lawyer reputation management nowadays implies constant online monitoring, content creation, and addressing criticism.
Google Yourself First
Before you do anything else you need to know exactly what the internet has to say about you. Search for all the mentions of your name and your work. Collect all the mentions you can find in a file to analyze later. Make sure you know exactly where people write about you. What they write about you. And what reasons they had to do it.
If you find only favorable mentions – great! That means you've been doing everything right so far and can now build your reputation up. If you find a lot of negative comments don't get upset. Treat it as an opportunity to do better.
Online Reviews
A good review for a lawyer is a guarantee they'll get more trust and credibility from the next client. Consider online reviews as modern word-of-mouth advertising. Remember the file with all the mentions of your name and work? Check if you have any positive reviews on review platforms like Yelp and Avvo. If you don't – ask you're happy clients to leave one. 
Don't hesitate to reply to the positive comments. Say thank you, and be specific. Everyone loves a compliment. And engaging with your audience improves your public perception.
If most of the reviews you have are negative ones you need to address the criticism. Make sure to do it publicly, respectfully, professionally, and promptly. If you reply to a negative review and resolve the issue within hours of its publication, chances are high the client will change their negative comment to a positive one.
Social Media
If you still don't have professional accounts on Twitter, LinkedIn, and Facebook it's high time to create them. And don't just leave them inactive! Update the pages with relevant content regularly. Engage with people, participate in conversations. The more active you are, the more relevant you seem, the better your reputation gets.
Online Listings
To become a recognizable name you need to maximize your online presence. Business listings are a great way to do that. List yourself on as many directories as you can find. Of course, start with the law-related ones like Avvo, FindLaw, SuperLawyers.com, etc. But don't forget about the more general listings as well. 
Make sure to include the same contact information on every listing you publish. And update them whenever anything changes.
Owned Media
Your website, your Google My Business listing, and your blog are invaluable media assets. When used correctly these three alone can build a solid lawyer reputation. 
Read more: What Is Paid, Owned & Earned Media
Website
It goes without saying – you should have one. Modern people are more likely to trust a layer with a website that provides information on them, their credentials, reviews from previous clients. Make sure it is well optimized for SEO, has an engaging about page, and has clear contact information.
Google My Business listing
First of all, you need to claim your listing. That is if you want to appear in the local searches. This listing is the most crucial one you can get. It is the first thing that comes up in the search results when someone looks for a lawyer nearby (e.g. divorce attorney + city). When you claim your GMB listing make sure to put in the same contact information you have on your website. Your website URL, business category, relevant pictures, and video are also important to add.  
Blog
Don't ignore the power of content. The more good, relevant content you publish the better Google thinks of you, the more people it shows you to. The better your reputation gets. Use your own blog to the fullest and you are guaranteed to get great results and influence the public perception of you.
You can publish articles on popular legal matters. Answer the most searched legal questions in an easily understandable manner. Interview your colleagues. Just show the audience you are an expert in your field and they will come to trust you. 
External media
Getting a positive mention in a famous media resource is a great way to influence the audience's perception of you. This is where PRNEWS.IO can help you. We can publish content on over 75 000 media outlets worldwide and locally, and establish you as an expert. Besides, this type of exposure is guaranteed to bring in new clients.
One other thing we can help you with is getting the O-1 Visa. This type of visa requires published materials about the applicant and their accomplishments. And we can provide you with such publications in the most trusted media.
Give us a call if you are interested! 
FAQ: Lawyer Reputation Management
How to check a lawyer's reputation?
The best way is to Google them and checks reviews from previous clients.
What is lawyer reputation management?
It is a process of creating a controlling a positive public perception of a lawyer.