Types of Crowdfunding. Crowdfunding is a type of investment that is very similar to charity. In exchange for the money invested in the project, you receive some sort of gift or perk. For example, you may receive a thank you letter, ship the product you are developing before it officially goes on sale, or receive a lifetime discount on the purchase of the product. The bonus depends on the imagination and skills of the person who raises money for the product.
Crowdfunding is very common in creative circles. This is how musicians, artists, game developers raise money for projects.
The Best Way to Promote Your Crowdfunding Campaign
The best way to promote your startup or project is to spread as much information about it in the media as possible. The more people learn about it, the more interested they will be and invest money. Even if you are the owner of a crowdfunding page, help people to know about it with the help of PRNEWS.IO. Quite a large audience, from almost all news sites, learns about your platform. This increases the number of interested people many times over. Share reviews, life hacks, and crowdfunding tips.
What Crowdfunding is Needed for?
Crowdfunding definition (literal translation "crowdfunding") is a mechanism for raising funds to sell a product, hold an event, help those in need, support businesses, etc. Often, there is a lack of funds to implement cool ideas. This is why hundreds of startups, inventions, movies die. However, many people in the world are ready to support a good idea and invest money in its implementation. That's what crowdfunding sites are for.
The advantages of crowdfunding are that it allows you to obtain funding without the involvement of banks, venture funds, and exchanges. With the advent of crowdfunding platforms, this process has become much easier and more democratic. For the author of the project, it is an opportunity to raise money for the project without loans and a copyright transfer. It is also a great PR opportunity to talk about the project without incurring additional costs. A big plus is also the personal interest of the person backing the project. He likes the idea, the product; he can empathize with a person's difficulties.
The first known example of crowdfunding was a campaign for the British rock band Marillion. In 1997, their fans raised $60,000 so that the musicians could tour US cities. Later, the collection of voluntary donations via the Internet for filming and development of the film industry became more and more popular. All this led to the fact that a few years later dozens of platforms appeared on the network, which helped organize fundraising events for a small commission.
Types of Crowdfunding
Depending on the way money is raised (material attraction model), investors may expect a certain benefit (e.g. dividends) or be prepared for its absence.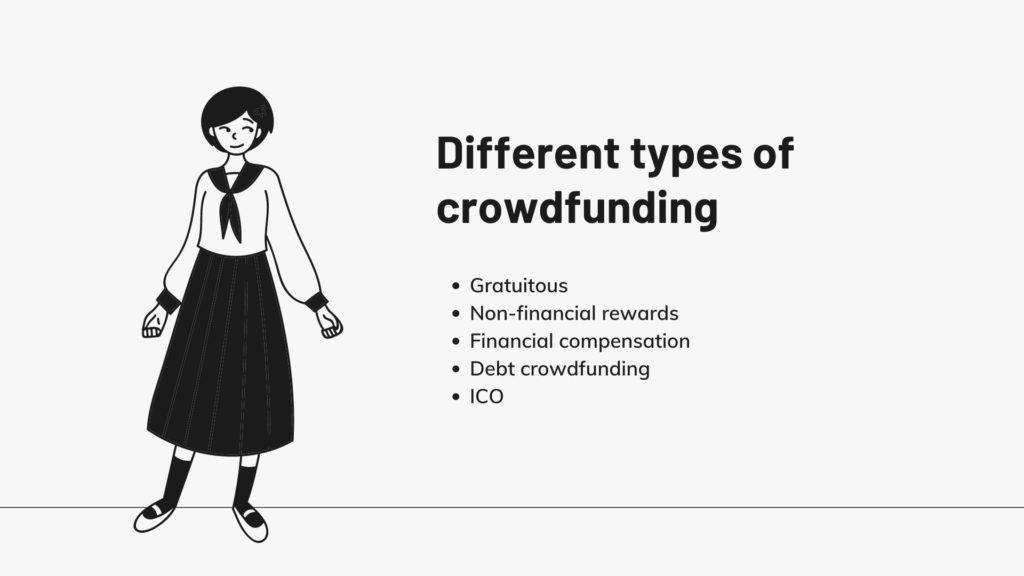 There are different types of crowdfunding depending on the reward for the sponsor:
Gratuitous (donation): people simply donate money to make the idea happen, with no obligations to the author. This type is generally used to raise money for non-business projects. People donate money to expensive medical research and surgeries, charities, and school activities to help people living below the poverty line in third world countries. Since it is a charity, people receive nothing but gratitude for their donations.
Non-financial rewards (Kickstarter model): these can be postcards, videos expressing personal gratitude, mention in the product sold (on the website or in the press release), branded t-shirts, mugs, pens, posters, etc. Most investors in this category of projects are interested in getting early access to a product or prototype, so they are usually referred to as early followers. These are people who can be confidently described as lovers of technological innovation. Sponsors rarely get financial returns from these campaigns (other than a free copy of the product itself), but if someone donates a very large amount, they are rewarded with something more significant.
Financial compensation (crowd investing): Here, large investors receive a percentage of revenue and sales. This type of crowdfunding is often used in funding movies, developing games and apps, and music albums. This is an ideal option for bringing businesses and people together. Allows people to become part of a startup and influence the kind of decisions that are made by its creators.
Debt crowdfunding is a relatively new type. You ask for money in exchange for a stake in a future business or the promise of a return. Strictly speaking, you borrow money from people. And your "creditors" get the amount back after a certain amount of time, plus the agreed-upon interest rate. It's like a debit receipt. This type is especially popular in entrepreneurial circles.
ICO. The newest type of crowdfunding. Startups issue cryptocurrencies and instead of receiving traditional cash donations, they exchange them for other cryptocurrencies, usually Bitcoin or Ethereum. This method is a campaign based on both compensation and shares. The only difference is that instead of shares, the sponsors receive a cryptocurrency called a token.
How to Succeed in Crowdfunding
Here are some good tips to make sure your project doesn't falter at the start of implementation:
Ask for a small amount of money. If the project asks for a small amount, it increases its chances of raising money in a short time while not falling under the burden of obligations to investors. Think about the pledges: It is very difficult to send out, say, 1,000 copies of floppy disks to those who have given money.
Enough $2,000 . The presence of this amount will be enough to move the idea: Money can go to create a website, buy equipment, record a single. That is, start resource capital to declare themselves.
The financial part of the project. On a crowdfunding platform, money is usually asked not for the whole project, but for part of it. The rest of the money can be invested in a public fund or in your own savings.
Talk about the process. After the project has received money, don't forget to tell investors how the process works.
Soberly present the idea. It is necessary to present a mentally ready project, where the strategy for its implementation is clearly stated. You can't come with the idea, "but we'll sit down and think about the film/book/clip", that's just a thought, but there is no idea yet. Work out the presentation.
Working out a project presentation for other users is an opportunity to get people interested with ideas. 50% of the success of the project depends on the video presentation.
Why do People Show Their Interest in Crowdfunding?
Why do people voluntarily spend money on crowdfunding companies? Why do they do so when they are not even accredited investors receiving shares? Well, for a variety of reasons.
Spreading Innovation
Depending on how early a person uses a new and innovative product or service, he or she may fall into one of three categories:
Early followers try not to miss an opportunity to participate in something new, in what can be progressive, innovative. These are people who believe in your idea from the beginning, even before it becomes popular. If they find your product interesting, they want to make sure they get early access to it and make a donation in exchange for a prototype.
A great example is people who aren't afraid to spend several days in line to be one of the first to get a new Apple product. They will do anything to touch the latest and most advanced technologies before others.
Later, most and the laggards are people who will accept the new product after some time (when it is no longer unique). They wait for the technology to be tested by other buyers and confirm the quality and claimed features, and only then they will purchase it.
Like-minded Problem Solving
Some people feel part of the community and are somehow connected to the entrepreneur or to what he is trying to solve. When empathy occurs, they tend to feel obligated to help and donate money to a good cause. This act gives people a sense of satisfaction and involvement.
Some share money because they care about the finished product or just like the idea, and they want to see it succeed.
The Most Popular Crowdfunding Platforms in the World
The most popular areas for crowdfunding are social projects, gadgets and inventions, cinema, video and music, information technology, small businesses and fashion. There are several most popular platforms where you can pitch a project and get funding for the idea: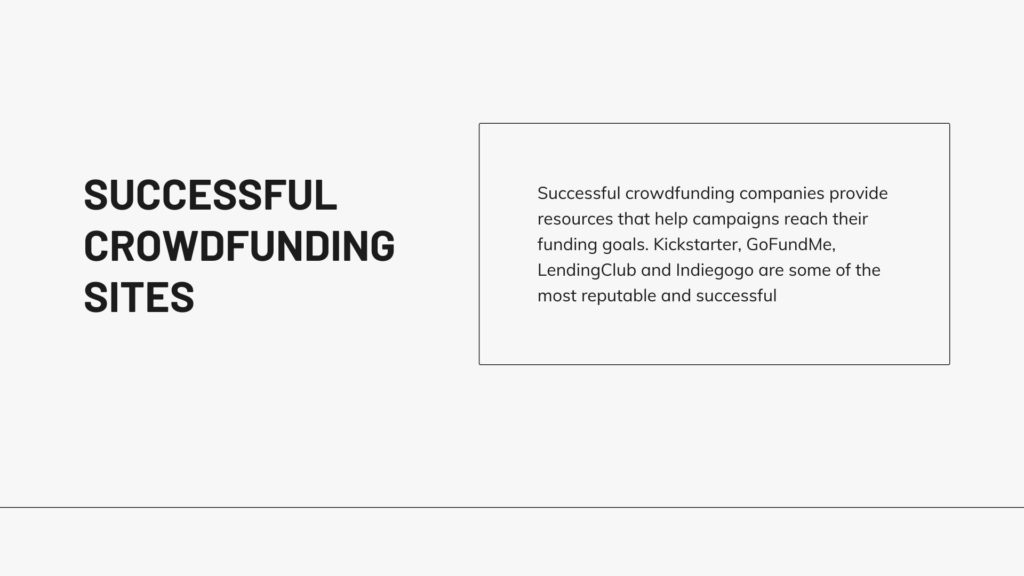 Kickstarter is the most famous and one of the first crowdfunding platforms in the world, founded in 2009. It works on this principle: the project owner must register, post a description of the idea and the minimum amount of funds to be raised. If 100% of the specified amount could not be raised in time, the money is returned to the donors. Kickstarter itself takes 5% of the funds raised. Also, the platform has geographical restrictions – residents of the US, UK, Canada, Australia, New Zealand, Netherlands, Germany, Denmark, Ireland, Sweden, and Norway can add the project to the platform. Those from other countries will have to use the services of intermediaries. The main themes of the projects include innovative products, cinema, music, art, games, and gadgets.
Another popular crowdfunding platform is Indiegogo. Again, there is a fee for adding a project to the site, but there are no set restrictions on the type of project. Music and hobbies, as well as personal finance, charity, and more, are popular. Unlike Kickstarter, Indiegogo also has no geographical restrictions on creating a campaign and getting funded, so the author of the project can receive money even if they haven't raised 100% of the requested amount by the deadline.
Crowdfunder is a platform for attracting investment and provides access to one of the most dynamically growing investor networks in the world. Often, after placing the project on Kickstarter or Indiegogo, the author registers it on Crowdfunder to attract investors to sell shares.
There are also other specialized platforms dedicated to musical and literary projects – PledgeMusic, Unbound, and Distrify. And for those who want to create a startup, the websites Fundable, Crowdcube and Seedrs can be useful. The author of the idea must describe in detail why it is worth investing and how the innovation will be useful for society, how it can change the world or how donors can get the money back.
Conclusion: types of crowdfunding
Managing a startup while trying to find funding for it can be a pretty time-consuming occupation. Meanwhile, many startups fail simply because they run out of money. If you own a startup but lack funds, the best way to find them is crowdfunding.
When you start raising money on the internet, you won't lose anything, you will only gain. There are many investors and people who just want to support interesting projects; the only important thing is to present them competently.
Read More
Content Marketing Platform
100,000+ media publications;
get backlinks to your product;
scale work with content distribution.
FAQ: Types of Crowdfunding
What are the types of causes for crowdfunding?
If you do not have enough funds to implement a startup or an idea that benefits everyone, you can easily use crowdfunding. In order for the mechanism of collective funding to work clearly and coherently, the author of the project offers a certain reward to those who support it. This can be a final product, such as a game, movie, music album or book, exclusive merchandise
What is crowdfunding?
Crowdfunding is a collaboration of people ("sponsors") who finance projects of other people or organizations with the help of a crowded platform. Funds can be raised for various socially significant purposes.
How does crowdfunding work?
For crowdfunding to work, you need to make a few steps: * the presence of an idea, a startup; * a command to start the project; * creation of the project itself, calculation data; * adding a project to the crowdfunding platform; * disseminate information as much as possible (media, social networks); * collecting the necessary amount from other people; * implementation of the project and distribution of gifts to investors.
?What are the different types of crowdfunding?
There are such types of crowdfunding: * based on donations; * for remuneration; * for the share in the project; * debt crowdfunding * ICO.