If you're looking for ways to succeed in Miami's competitive business landscape, partnering with a PR agency can help you stand out and thrive. Miami PR agencies are the bank of brilliant ideas and strategies you need to succeed, from creating exciting headlines to implementing memorable promotional schemes. To help you choose the right partner, we've compiled a list of the top Miami PR agencies that specialize in turnkey brand enhancement. Check out their success stories and take your business to the next level!
Top 20 Miami PR Agencies – Expert Solutions for Effective Public Relations
Boardroom PR agency based in Miami
This is one of the best PR agencies based in Miami. BoardroomPR is located in different cities in the United States and has established itself as a company with real professionals. The team specializes in brand development, online marketing, media relations, social media, etc. BoardroomPR history dates back to 1989. During that time, experts have had time to work with companies of all directions. They started with startups and small businesses and then were able to provide their services to world-renowned companies. BoardroomPR agency aims to enhance the reputation and profits of clients. The main goals of the team are to create unique development strategies and improve interaction with clients.
S&G Content Marketing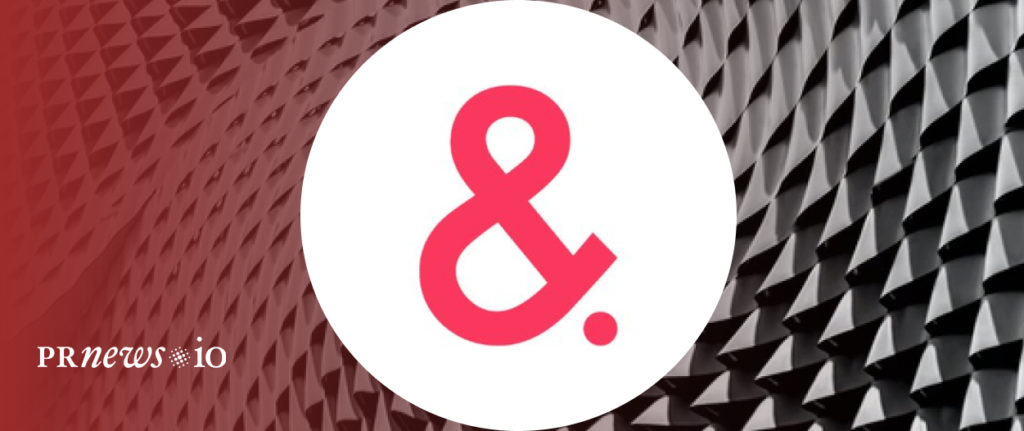 S&G Content Marketing is a world-renowned agency that helps create branded content for companies in different industries. Their main goal is to generate strategies that will take the brand to the next level. So, you can stand out from the competition and achieve better results. S&G insists that every business must have a close relationship with its customers. This is the key to the desired results. The company also develops customized content campaigns that make the business authentic and fascinating. The S&G team are true experts in the field of PR and marketing. They base their work on companies' specific stories that are perfectly used to engage the audience. S&G Content Marketing also actively supports the development of creative approaches for social networking and content creation.
Tomic Communications
Tomic Communications is an experienced public relations agency. Their history begins in 2006. The team of professionals quickly developed projects, which allowed them to work with the promotion of brands of different sizes. Tomic Communications works in a variety of fields. These include medicine, politics, sales, environment, etc. The company does full-scale business growth. It is about creating websites from scratch, brand distribution, media relations, social networking, launching different campaigns, writing posts and generating the content, and marketing. This PR agency is based in Miami and offers only unique solutions for each client. This is where they see the key to increasing visibility, and profits, and attracting more potential clients.
Plume Creative Consulting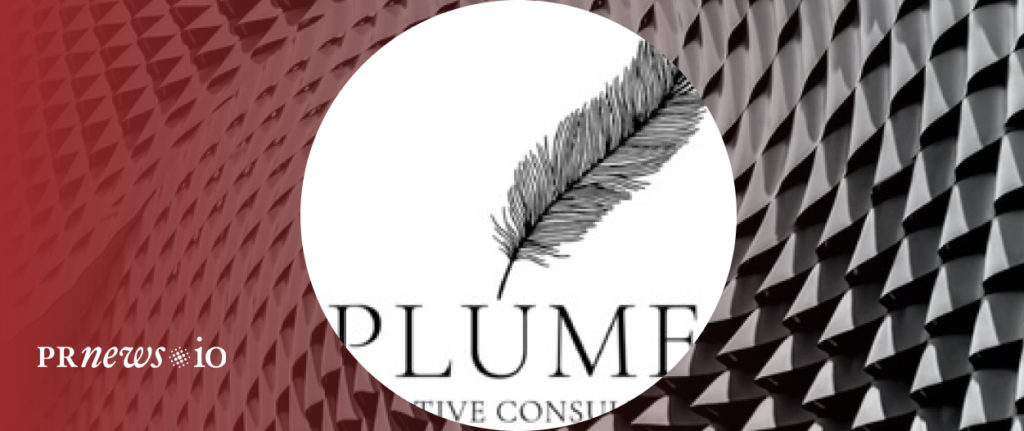 Every business development is a creative approach to work and analysis of all data. Plume Creative Consulting knows this and actively uses it. Their main focus is content marketing and public relations. Among their clients are companies of different profiles, sizes, and abilities. These include medium and small businesses, startups, corporate groups, and others. Plume Creative Consulting believes that there is no business that is dying, there are strategies that just do not work. This PR agency has been helping to develop brands for over 25 years. Their clients also include popular companies that have achieved high results in promoting themselves as individual entity. Plume Creative Consulting has provided itself as one of the best creative consulting agencies in Miami. The agency also works with international clients, because their team is multilingual professionals.
The Weinbach Group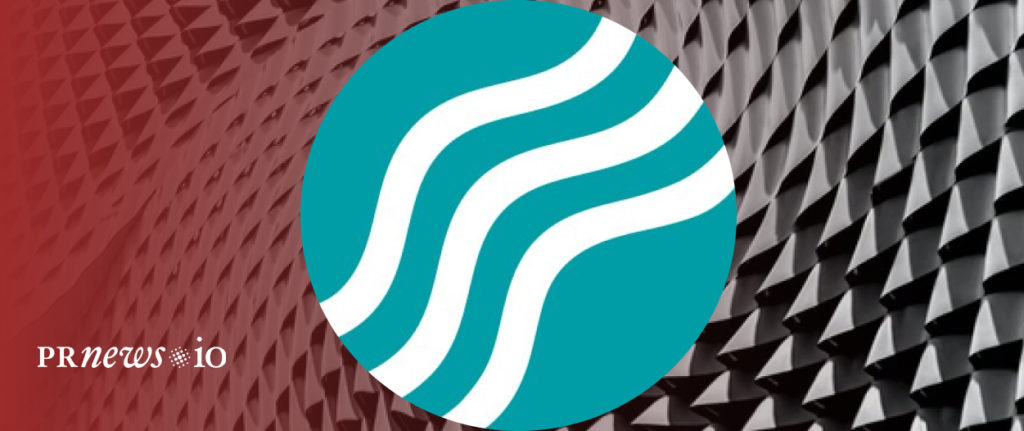 Before you, there is a PR agency that deals with the full-scale development of companies and brand promotion. The Weinbach Group is actively involved in the field of advertising. The team helps to develop the potential of clients by applying unique strategies. They work out individual schemes of development because they are sure that this is the only way to achieve success and get the desired result. The Weinbach Group is not limited to PR. The agency also works in the field of consulting services. For over 30 years the PR agency provides its services and has a variety of vectors of work. This is education, technology, medicine, science, etc. The Weinbach Group believes that it is difficult to achieve high results only with advertising, so they are actively developing in the field of marketing.
Jennings Social Media & MarTech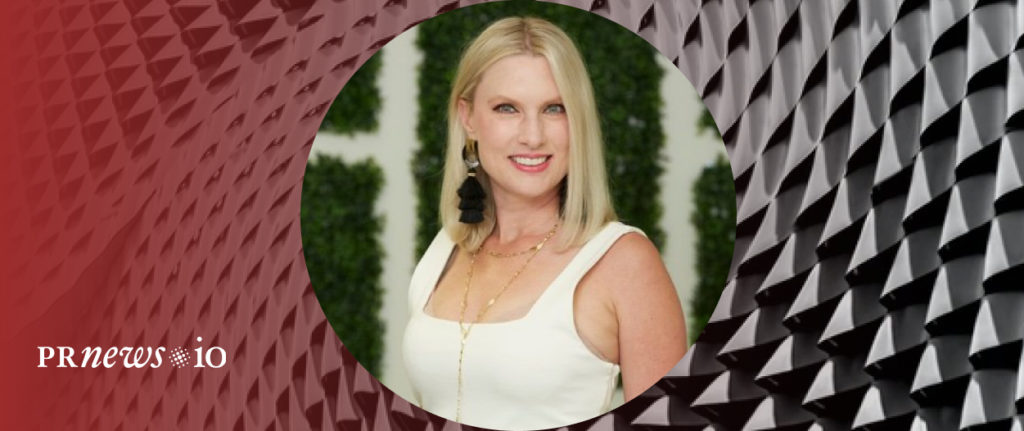 JSMM is a PR agency based in Miami. The company started in 2003 as a digital marketing and advertising agency. Later, this startup got involved in the development of major brands, which made them a world-renowned agency. JSMM combines creative approaches in business growth. Their team are true professionals with lots of powerful ideas. This PR agency has been working with non-profit organizations that are dedicated to protecting the rights of women, children and families for many years. The company thinks that success can be achieved through career development and education, as well as not forgetting about modern technology. JSMM has managed to win many awards over the years. These include awards in Top Influencers in Kansas City, Top Women in Media 2020 Honoree, National Marketer of the Year 2020 DMN, Marketing Executive of the Year.
Jeffrey Group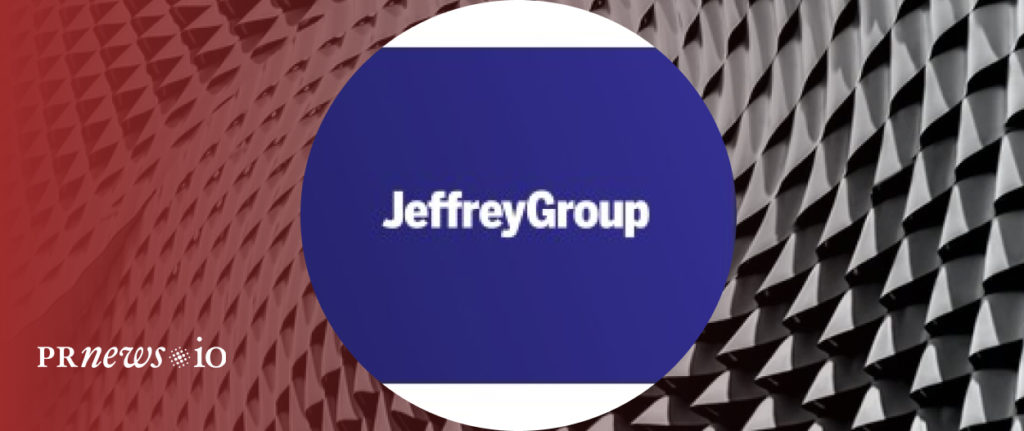 Here is the Jeffrey Group is a popular Miami PR agency that has been providing its services for more than 25 years. The founder of the company wanted to create an agency that would be exclusively client-oriented. He (Jeffrey Sharlach) believes that only by analyzing the business work and finding the most effective strategies it is possible to promote itself, its services, products, and so on. Jeffrey Group considers that the main thing in the work is efficiency, high quality, and perfect results. The company not only works in PR but also actively provides marketing services. Among their clients are not only small startups but also global brands. Jeffrey Group has more than 250 professionals who are located in different countries.
Max Borges Agency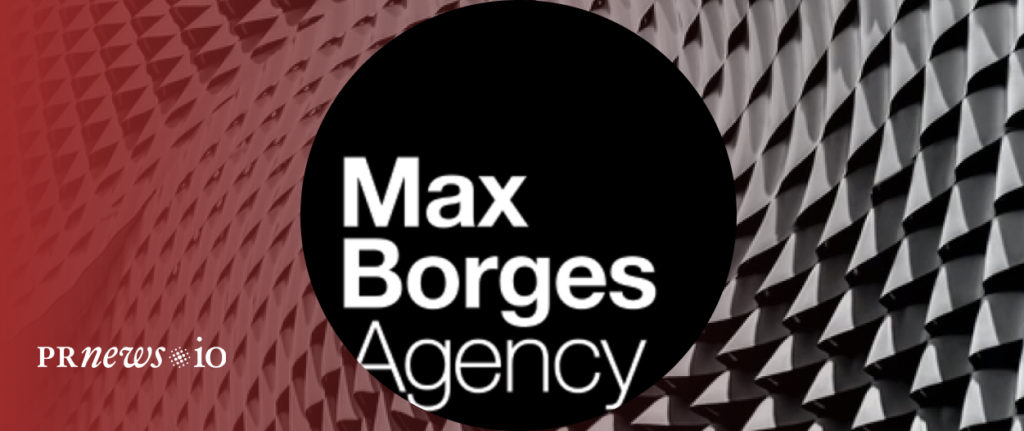 Max Borges Agency is a PR company with a targeted approach to increase clients' profits and awareness. The main goal of the company is to achieve effective results by introducing innovative development strategies. The customers point out that Max Borges is a friendly agency that focuses on the interests of its clients. During its 17 years of work, the team has managed to help more than 700 brands all over the world to achieve high results. The company also deals with marketing campaigns. Max Borges Agency acts in different spheres of activity. These include medicine, sports, technology, lifestyle, etc. They successfully help launch businesses, stand out from the competition, sell their goods and effectively promote services. The main emphasis is first of all on generating creative ideas. By analyzing the clients' businesses, Max Borges Agency extracts information that is further used for PR development.
KMR Communications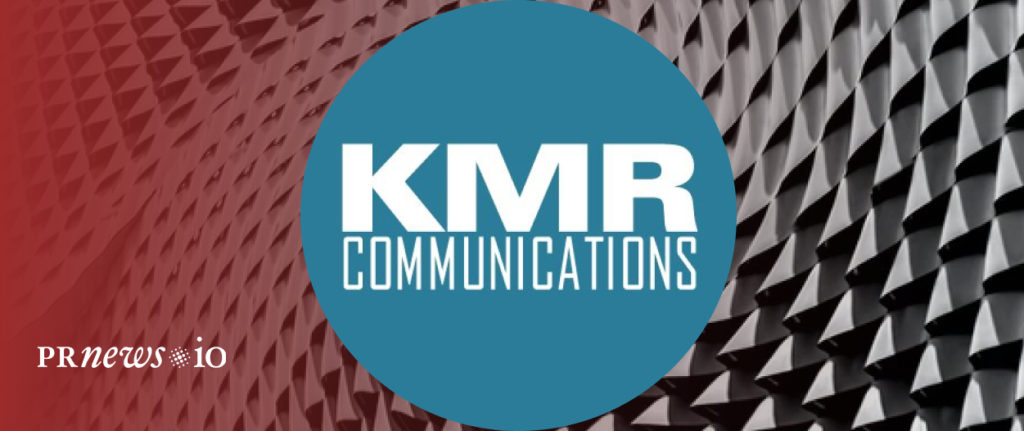 KMR Communications is a first-class PR agency that has been operating for more than 30 years. Many years of experience allows the company to keep the level of a professional team. KMR Communications provides quality PR and marketing services. Their clients are brands worldwide operating in different fields. These are medicine, education, healthcare, technology, environment, etc. The main focuses of the expert team is creativity and persistence. The company conducts a clear analysis of the business, to understand what strategies are best to apply and whether they will succeed. In this aspect, the agency strikes at the uniqueness of ideas. Another advantage of KMR Communications is the work in social networks. This PR agency actively undertakes to manage client accounts and achieve their goals also through social networks.
Carma Connected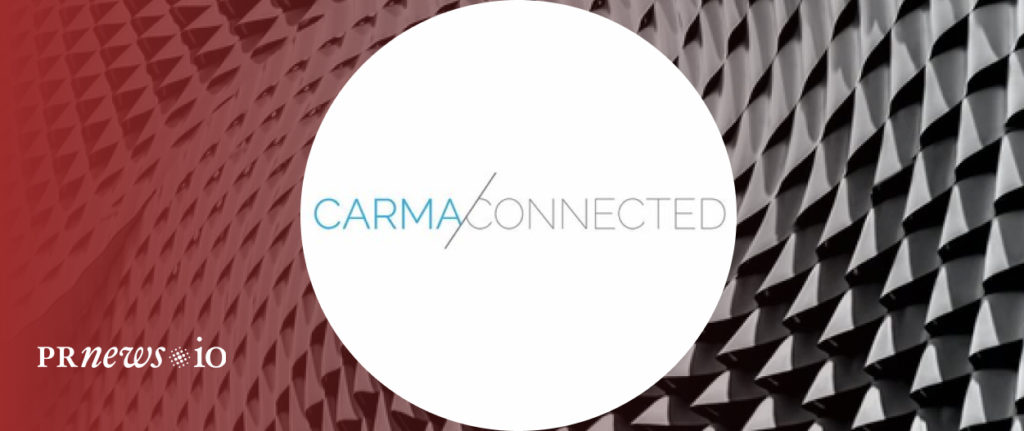 Before you, there is another professional PR agency direct from Miami. Carma Connected deals with the full cycle of brand development. They don't just stop at PR. The team also handles marketing campaigns, social media, brand development, content creation, partnership development, etc. Carma Connected works in lifestyle, entertainment, fashion, and hospitality. The company has offices in many states and operates on a full-time basis. This PR agency helps not only startups to grow but also experienced companies that have hit a dead end. Carma Connected guarantees customer growth, increased profits, and brand visibility.
Hiller Agency

Website | Instagram | LinkedIn
Hiller Agency is a well-known PR agency founded in 2020. Its team knows how to grow your business and win the competition. The main office is located in Miami. The Hiller Agency hires the most qualified multilingual PR and Marketing team members, who are fully dedicated to the success of numerous clients worldwide. The agency provides the following services: public relations, media relations, marketing communications strategy, branding, podcast/blogger relations, cooperation with the top marketing iInfluencers, SMM, ads, business growth strategy, web content management, copywriting, and email marketing. You can discuss all the details of your future PR and Marketing campaign with one of the official consultants.
Anderson Collaborative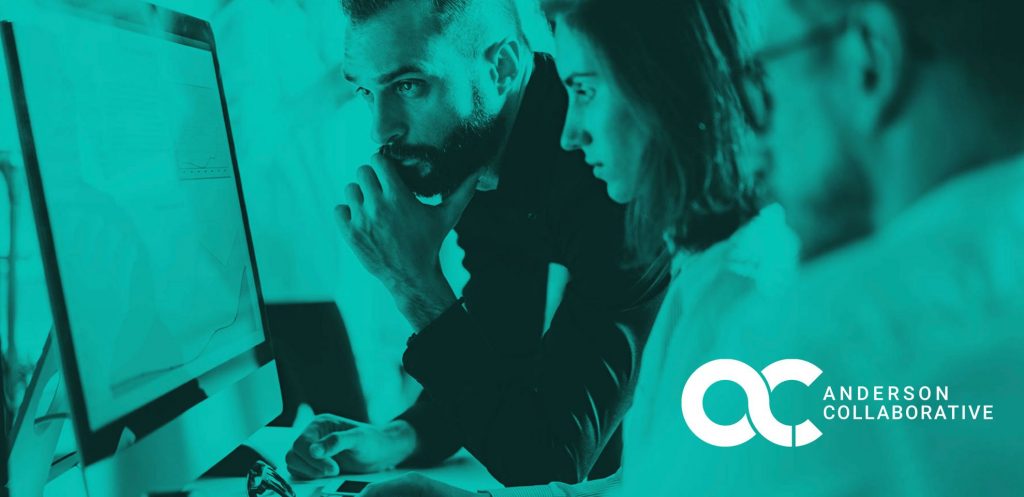 Website | Facebook | LinkedIn | Twitter
Anderson Collaborative is one of the best results-driven PR and marketing agencies founded in 2019. It has a lot of clients worldwide with countless positive reviews. The agency is based in Miami, where its team is dedicated to solving its clients' public relations and marketing issues, who want to achieve maximum success. The agency provides high-quality services in online marketing, web development, data analytics, media planning, media buying, data management, brand strategy, and public relations. Clients enjoy a friendly atmosphere and professional approach to managing campaigns and projects.
Heyday Marketing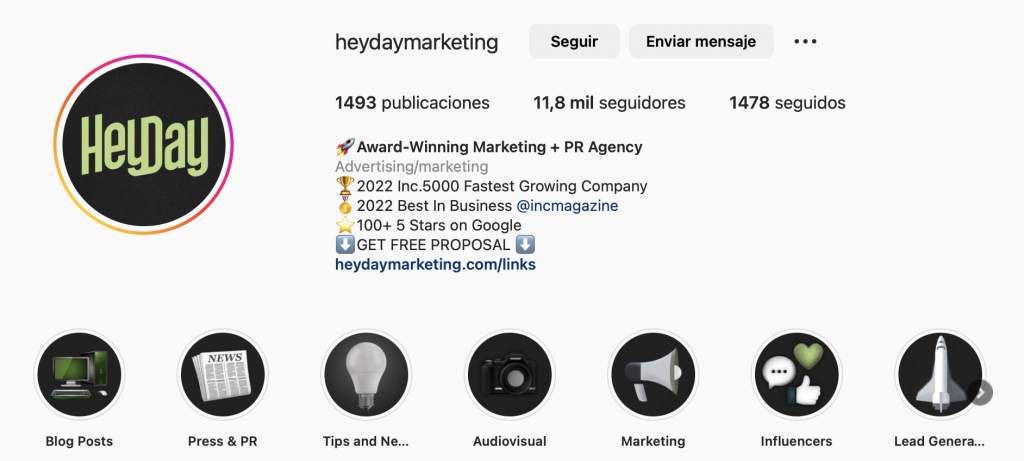 Website | LinkedIn | Instagram
Heyday Marketing is an award-winning marketing and public relations agency founded in 2015. The main office is in Miami, which attracts a lot of clients who want to make its business grow and brand to be known all around the world. The team of experts provides various services in marketing and PR to meet the highest requirements of the clients and the modern market itself. Thanks to the devoted work of digital explorers, Heyday Marketing makes a huge contribution to the fast changing marketing landscape. It is not easy to stay ahead of your business competitors, but this agency has all the needed tools, tricks, and knowledge to bring you and your business on the top.
Red Banyan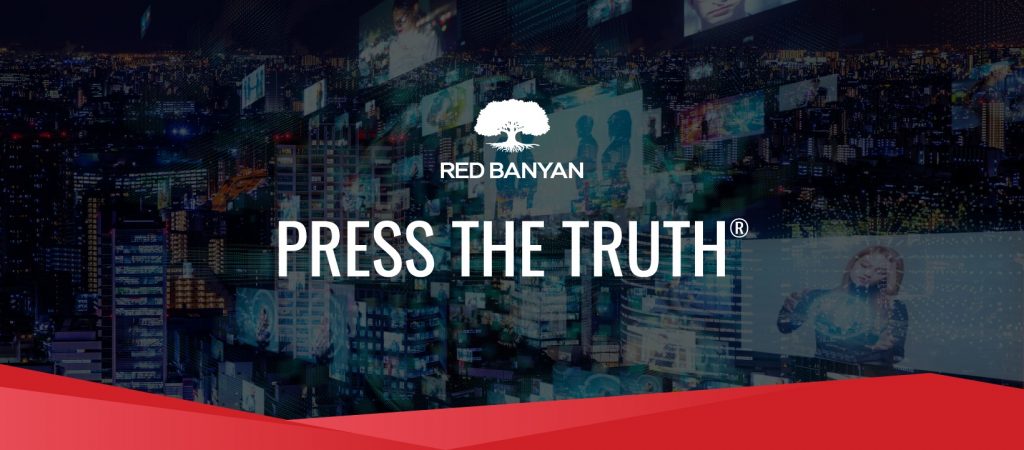 Website | Facebook | LinkedIn | Twitter
Red Banyan is a famous crisis public relations and strategic communications company, which was created in Miami in 2010. If you want to deal with a reliable team, it is the right choice. A lot of clients from all around the world trust their PR and Marketing campaigns to the team of Red Banyan. You will not find a better crisis communications company, which mainly specializes in marketing communication, public relations, crisis crisis communications, SMM, SEO, and branding. All the members of Red Banyan are experts and apply creative ways of thinking and dealing with challenges. Thanks to their experience and commitment, it is not difficult for them to achieve the brightest results and please its clients.
The Weinbach Group

Website | Facebook | LinkedIn | Twitter
The Weinbach Group is a full-service marketing and advertising agency. It was created in Miami in 1987. It is one of the most reliable teams in the fourth decade of business. It was ranked many times as the top PR and Marketing agency in South Florida. The team serves worldwide clients in various industries with the main focus being the healthcare sector. The company is proud to have national recognition for healthcare marketing and public relations expertise. The team knows how to attract clients interested in high-quality healthcare services. The team has more than 100 awards and continues to contribute to the wellbeing of the nation.
ICODA Digital Agency

ICODA is a reliable digital agency, which delivers high quality services for crypto-related businesses. It was founded in 2017, which is enough time to build a huge database of clients and excellent reputation. The agency helps a lot both new startups and huge companies in the following fields: cryptocurrencies, fintech, blockchain, etc. The team is ready to accompany your campaign at all stages: public relations, marketing, crypto platform development, listing, web content, and SEO. Thanks to such cooperation, your business gets professional advancement.
Blue Tree Miami PR agencies

The team of the Blue Tree agency focuses on providing professional services in public relations, link building, and content creation. The agency was created in 2017 in Miami and succeeded to build trust and positive reputation. If you work in Saas business, Blue Tree can help grow organic traffic. There is nothing impossible for such an experienced team specializing in content creation, marketing communication, and digital PR. Your company will acquire the needed PR mentions through high quality editorial link placements. The agency hires 15 professional writers and has more than 450 editorial relationships.
NewmanPR

Website | Facebook | LinkedIn | Twitter
NewmanPR is one of the oldest companies in public relations. It was created in 1946. Nowadays, it is a team of experts in social media promotion, digital media, marketing, and public relations. The company is ready to cooperate with clients from all around the world. The marketing services are creative, up-to-date, and 100% customized to your business needs. The team will help you set the major PR and marketing goals and then find the most suitable way to deliver your message to the target audience. Your brand will find the desired coverage in social media, broadcast, and trade media. NewmanPR helps clients build product awareness via the following services: writing, publishing, editing, photography, web design, video production, etc.
Power Collective

Website | LinkedIn | Instagram
Power Collective is a professional PR company. The main office is located in Miami. The team knows how to deal with the fast-changing media landscape in order to present your brand in the brightest light. It is an excellent PR and integrated marketing communications agency with one of the best teams specializing in writing, public relations, and media relations. Power Collective has many clients in the following business sectors: real estate, web design, corporate, architecture, leasure, travel, culture, hotel, destination, luxury brands, etc. The team can easily shape well-customized campaigns to meet the clients' and the market's objectives. Active leaders of the agency do their best to demonstrate passion, knowledge, and attentiveness to tiny details.
Media Force Global Brands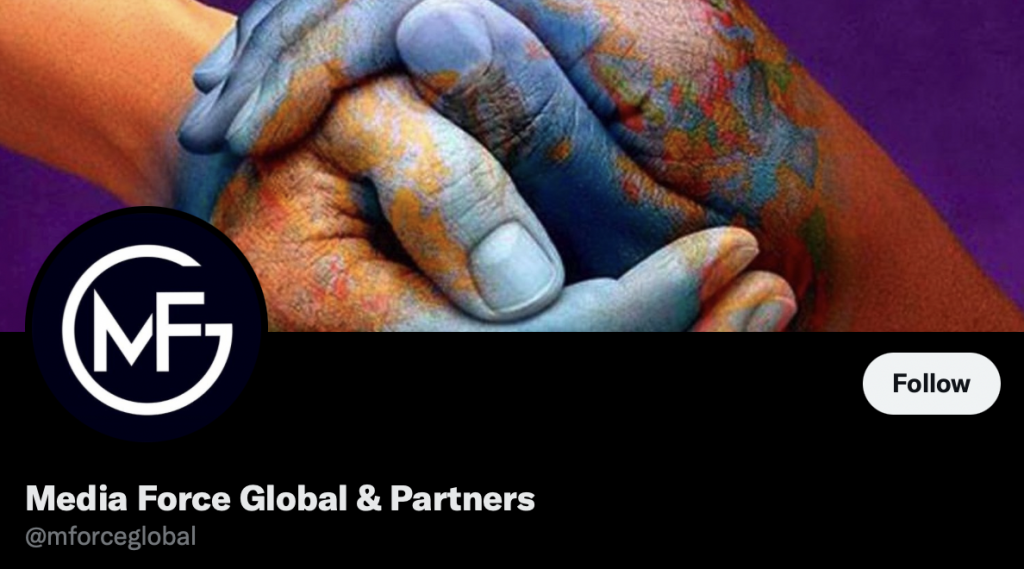 Website | Facebook | LinkedIn | Twitter
Media Force Global Brands is the agency you can delegate your next Public Relations and Marketing campaigns. It has been providing professional services since 2004. The team of Media Force Global Brands understands the modern media industry and follows all the trends. Its members have enough knowledge and experience to develop strong public relations and marketing strategies, which target the main media channels in order to deliver your brand message to the target audience.
Content Marketing Platform
100,000+ media publications;
get backlinks to your product;
scale work with content distribution.
Miami PR agencies vs. PRNEWS.IO
PRNEWS.IO is a DIY service that puts you in control of your PR, with transparent pricing for publishing articles on top media outlets and detailed statistics on the media in which your placement is planned. In contrast, traditional PR agencies may offer unclear pricing and may charge for services that you don't necessarily need, resulting in extra costs. Choose the option that suits your needs and budget best!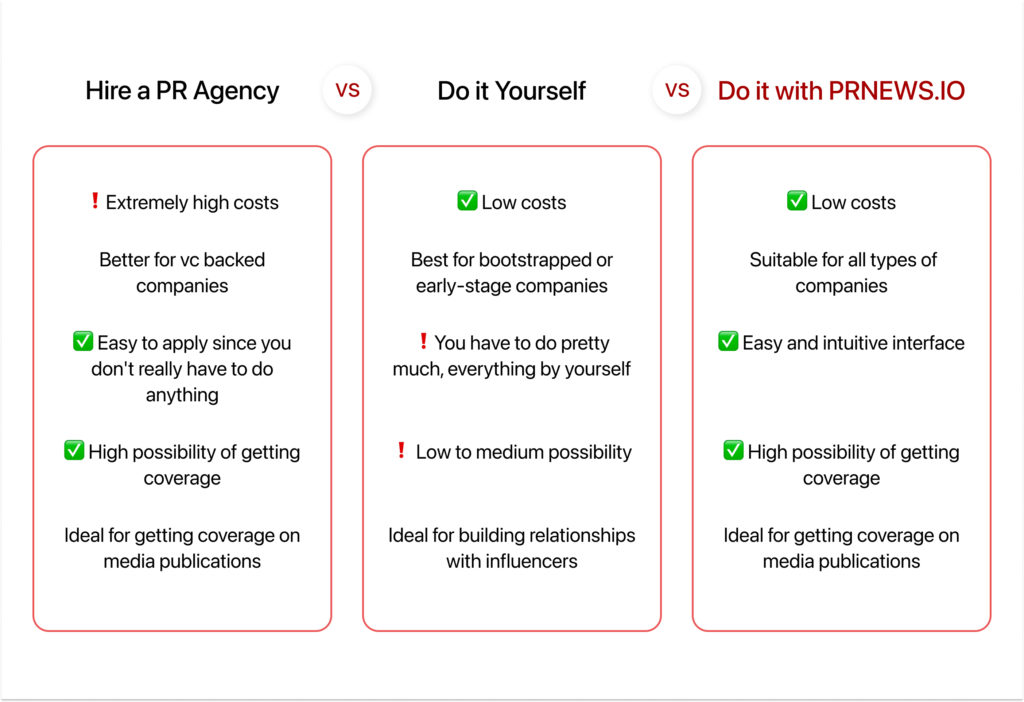 Conclusion: Best Miami PR Agencies
As you can see Miami is rich with various PR agencies that differ in their approaches, but have the main goal of making the brand well-known. We also recommend you contact an expert PRNEWS.IO team that will help you post information about the brand, company, services, etc. Let the whole world talk about you!
Is your business in need of a PR makeover?
Benefit from media coverage assistance.
Witness a refined branding approach.
Watch as your recognition soars.