As a part of my PR Strategy Series, we are talking to top experts in the field to give entrepreneurs, PR specialists, and marketers an inside look at proven strategies you might also be able to leverage to grow your business or career.
Today I had the pleasure of talking with Thomas Mustac from OtterPR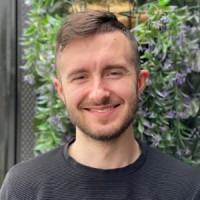 Thank you so much for doing this with us! Before we dig in, our readers would love to learn a bit more about you.
I am the go-to medical and health industry PR specialist at my firm, OtterPR. Almost all my clients are involved in the medical industry. I'm almost involved in the firm's crisis communication team.
Previously, I have held positions at the Dr. Oz Show and the New York Medical College. I have my MA degree in Public Relations from Iona University with an advanced certification in Nonprofit Public Relations. While studying at Iona, I wrote my thesis on the topic of, "Case Study & Examination of the Communications Effect of NFL Player's Off-Field Actions on the NFL Image."
Describe your experience in public relations for the medical industry.
When it comes to the healthcare industry, I have been in it for about four years now, since graduating from Iona College (now Iona University) in New Rochelle, NY. I've made stops at New York Medical College, The Dr. Oz Show, and OtterPR in my current position. My clientele has almost exclusively been individuals within the medical field. Some of my clients are consultative organizations, private organizations, doctors, entrepreneurs, and even celebrities who want to make a positive impact on the medical field by finding flaws. Unfortunately, flaws are constantly being discovered throughout our healthcare field and, sadly, affect the overall care patients receive daily.
What do you do in healthcare PR?
Every day, every client is different because of what they are looking for in healthcare and public relations. Some of the public relations methodologies I have faced are reputation management, crisis communications, investor relations, community/consumer relations, media relations, and media establishment. However, some of these different types of public relations include ghostwriting, management of social media accounts, and conveying a message on behalf of a client at all times. The most common of all public relations practices is media relations and media establishment since most individuals and organizations have a great story/message to convey but struggle to get it out to the public. Because there are so many great messages out there, healthcare public relation is a rare breed; however, it is our job to work every day and explain to publications why our client or organization is groundbreaking or newsworthy.
Do you use press releases in your work?
Absolutely. Press releases are an essential part of the PR process. When utilizing a press release, it's necessary to understand that you aren't using this for every message your client sends. Still, instead, it's primarily for something newsworthy—an example of this being a previous client of mine announcing a new advisory board. An organization would love to get this out to the public as quickly as possible since the advisory board could have doctors with great notoriety. This could not only get eyes of interest and excitement for the advisory board but for the organization as well.
Why is PR important in healthcare?
I think I may have touched upon this previously in the previous question. However, it is so significant that it needs to be reiterated. Much of the medical field and its findings have been around for hundreds of years. In healthcare public relations, it is our role to convey a client's or organization's message to the public by showing what they have is different from what is already known. Each of us can immediately name a doctor we know off the top of our heads, so in healthcare PR, we strive to find a message that will stick with publications and the public to show what makes them different from Dr. Smith, who is your general practitioner. Without healthcare PR, we are limiting ourselves to new industry experts and findings that will define the capabilities of helping patients get better healthcare, which is ultimately what we all strive to achieve.
How do you evaluate the success of a public relations campaign?
When it comes to the evaluation phase of any PR or marketing campaign, relies upon establishing goals and objectives that are created at the beginning of the campaign. With an understanding of the day-to-day goals and objectives between the practitioner and client, measurables can be evaluated. When working with clients and organizations, these measurable goals and objectives are then utilized in the evaluation phase of a campaign to give direction on what the next campaign should entail, ensuring that time and resources aren't wasted.
What outreach methods do you find work the best for securing media coverage?
There are always the traditional PR/marketing programs that every firm or organization utilizes; however, there is nothing quite like the personal relationships built with the media. Any successful PR practitioner needs to understand the life of a journalist and the significance of not oversaturating them with news that might not even pertain to them. For example, if I have a client in an ADHD care facility, I wouldn't contact my contacts in publications related to diabetes and weight loss if I pitched an ADHD story. Doing so will only upset publications and journalists who work on tight deadlines, which will probably result in some sarcastically exciting email responses or you getting on their "do not work with spam" list.
Content Marketing Platform
100,000+ media publications;
get backlinks to your product;
scale work with content distribution.
Describe the elements you might include in a campaign wrap-up report for a client.
When it comes to reports, my firm requires a weekly call and a weekly report, which is the best practice I have even experienced in my past healthcare jobs. You want everyone to be on the same page, so I put my pending work, new interests, and upcoming vs. past pitches in a report. Using this data, you can evaluate during your weekly call and strategically plan a course of action that both the client and the publicist agree on. A relationship between a client and a publicist needs to be transparent because a client who is involved and willing to help by being responsive to time-sensitive media will succeed the most.
How do you stay updated on industry trends?
Regarding industry trends, I am constantly looking for the latest trends on LinkedIn and other social media professional development groups. During my downtime, I read publications and literature about my field. It doesn't matter if the campaign is directly associated with healthcare, but this helps you as a practitioner stay on top of the latest trends and developments to help you, whether it be with new pitching topics or meeting brainstorming. As previously stated, media relationships are essential, so if you help a journalist, they will tend to help you and tell you insider information about the industry, including notifying you of what works for other industry professionals. It is necessary for the communications industry to always be willing to learn and share experiences because clients and the field will ultimately benefit.
Describe a PR campaign you worked on of which you're especially proud.
I can genuinely say that there isn't a campaign that has disappointed me, but one campaign that stands out to me still to this day is my first healthcare client. There is nothing like your first client jitters and the wonder of starting your career in the "unknown." Coming fresh out of college, you hear about the good and the bad. Here you are with all the answers, but I'm not sure what to expect. It's your time to shine as a PR practitioner with all the answers. However, what made it so meaningful and memorable was how great of a client they were and how the client was even the former head surgeon of the United States military. Not only did I get to work on their efforts to grow their medical consultation organization, but I was fortunate to hear some of the industry's most remarkable stories from one of the industry's most brilliant minds.
What are your sources for daily news?
I never stick to one news outlet, but I use a combination of news outlets on social media, daily emails from Morning Brew, Wall Street Journal, Apple News, and my firm's internal daily email briefs. There is always something exciting happening that helps me develop my pitches and brainstorm ideas for clients.
Describe your interests outside of work.
Outside of work, I love to adventure and travel throughout Europe. I am a big sports fan, especially when it comes to soccer, and I even play soccer with my daughter. My latest hobby is reading at least two books a month. I listen to at least two books per month on audible, even if they are cheesy romance novels.
Describe your experience dealing with crisis communications. How would you deal with a PR crisis?
During my time at Iona College, I wrote my Master's Degree thesis on the topic of "Case Study & Examination of the Communications Effect of NFL Player's Off-Field Actions on the NFL Image." It was ultimately a crisis communication plan for the league because of their image crisis, which seems to have never been solved even today during this interview. However, the thesis prepared me well for the industry, as I was part of the team that brought a crisis team to OtterPR. Before my arrival, OtterPR was still a growing firm, and immediately one of my first clients was in a crisis. Now, just like any PR campaign, a PR crisis is different every time and can only be prepared for as best as you can, which is why all organizations should implement a crisis plan.
However, that was not the case for this client, who was involved in a major lawsuit and needed a plan in place. When starting any PR crisis, it's necessary to own responsibility immediately or find a stance if the individual or organization sees no wrongdoing before the public becomes aware and takes their view. A media-trained speaker must be designated for the organization, and all messaging must be strategically coordinated with a communications plan with goals and objectives the organization strives to achieve in its crisis plan.
Evaluation, just like in any PR plan, is critical. Still, in a crisis, it is extra crucial because your communication plan must be open-ended in the sense that it can change at any time depending on the situation and how the public reacts. This is always tricky since it's hard to predict how people will respond because we can't control their opinions or emotions, but planning for what-if scenarios is always the best approach. When public relations professionals stay ahead of a crisis and strategically plan for what-if scenarios, they better prepare their clients and campaigns for success. Ensuring that everything is under control and not leaving doubt in the public's hands ultimately influences most crisis outcomes.
Read more: