A well-crafted article in the media can help solve important tasks such as boosting personal branding, launching a business in new markets, or recovering from losses during a crisis.
Today, in addition to electronic media, internet users are surrounded by various sources of information: work emails, messengers, social networks, newsletters, banner and contextual advertising, curated YouTube videos, and so on. It may seem like there is reason to embrace an indefinite information celibacy, but that's not the case.
According to research, people obtain news from social networks and online media, giving preference to internet services and news platforms: last year, their share surpassed the 90% mark. Meanwhile, television continues to lose ground, the audience of radio and print media is decreasing.
As we can see, online media is currently a priority for the audience. But if people are tired of bad news and information overload, what explains the effectiveness of content marketing? The answer is simple: trust.
For example, a user reads news or articles on their favorite portal every day. Firstly, the content of the platform satisfies their information needs. Secondly, they are accustomed to the style and presentation of the material specifically on that website; they resonate with the values of the team, who view the world from a particular perspective. Thirdly, they trust what they read.
How Media Articles Can Benefit Your Business
Content marketing, as a promotional tool, is suitable for any business segment and has long become an integral part of PR strategies. It allows businesses to differentiate themselves from competitors and effectively showcase the advantages of their brand, product, or specific service to the audience.
According to experts, 10-12 years ago, conducting a large-scale advertising campaign was sufficient to attract customers. Today, the path to gaining audience trust has become several times longer and more challenging. People strive to gather maximum information about their upcoming purchases, meticulously study reviews, and search for content that meets their needs and pain points.
Catchphrases like "Only 2 days left in the sale!" and "1 + 1 = 3" that were popular marketing tactics in the 2000s are now outdated.
"In times of crisis, companies focus more on promoting their products and services rather than on image campaigns. In challenging situations, businesses cannot do without content marketing.

As for the experience of our agency, it is thanks to this tool that we have repeatedly helped create a reputation for new brands that did not previously exist in the online space. For example, we have assisted Italian companies entering the Ukrainian market in telling their story."

Elena Markova, the founder of SLASH Communications agency
In summary, media articles are relevant for businesses in any industry and are especially crucial in the information age where building trust and providing valuable content are key to attracting and retaining customers.
Some experts believe that mass distribution of press releases to obtain quality media coverage is losing its relevance. However, this tool continues to be actively used to generate a general quantity of media mentions and acquire SEO backlinks.
Others argue that the more systematically the media writes about a company, the lower the reputation risks. The established "safety cushion" formed through content marketing localizes negativity and keeps the audience engaged, fueling interest in the product.
Experts unanimously agree on one aspect: the press release has been and continues to be the most effective avenue for a company to narrate its narrative.
Why Spend Money on Advertising in the Media?
Increase Brand Recognition
This phrase is often associated with endless TV commercials and rows of billboards on the streets. The consumer sees the brand a hundred and fifteen thousand times, develops trust in it as something familiar, and makes a purchase because the brand has become "like family."
This approach does work, but if you're not Coca-Cola, you need to tell your story not to the "whole country" but specifically to your potential customers. In this case, materials that write for a specific niche or audience are well-suited.
Read more:
Promote a B2B Product
The issue with numerous products designed for business clients lies in their intricacy. The advantages are unclear, resulting in overheating and customer perplexity.
By utilizing media articles, you can enhance the relatability and comprehensibility of these products for potential clients. This approach assists in "warming up" leads and sparking interest.
Promote B2C Products
While it is evident that B2B products have a straightforward approach to utilize the media for elucidating their purpose and significance to potential clients, the scenario is not as simple for services aiming at mass consumers. These services have numerous avenues to promote themselves, including outdoor advertising, contextual ads, Facebook ads, and affiliate networks. Hence, the question arises: why invest in media?
Surprisingly, a skillfully crafted article can result in even greater conversion rates for B2C products compared to traditional contextual advertising.
Improve Reputation and Enhance Brand Perception
By leveraging media articles, it becomes both possible and essential to tackle challenges arising from a lack of comprehension about a product or the myths surrounding it. Engaging narratives and expert viewpoints shared in reputable publications can effectively convince readers and dispel their uncertainties.
Read more:
No business is exempt from the risk of a public scandal. Such incidents can occur as a result of a foolish mistake or even unintentionally.
PRNEWS.io successfully executed a reputation restoration campaign for a well-established clothing brand that had encountered criticism from dissatisfied customers and disgruntled employees. Over a span of five weeks, the team diligently crafted and disseminated approximately 180 articles and news pieces across various publications. The client's company effectively expressed its stance in the conflict, and the positive coverage displaced negative content from the first three pages of search results.
Occasionally, a scandal can unexpectedly benefit a company. In the case of the renowned international clothing brand Pull&Bear "borrowing" a design from a young Ukrainian brand named FINCH, PRNEWS.io played a pivotal role in amplifying the news of this plagiarism incident. The process involved publishing an article on one website, followed by the project team sending a press release containing a link to the original publication to other media outlets. As a result, more than 15 fashion-oriented media platforms, including Cosmopolitan, The Village, and Elle, voluntarily covered the story without charge.
Developing an HR Brand
When entrepreneurs are questioned about their employee recruitment, the majority express grievances such as a scarcity of available talent and difficulty finding suitable candidates. Those who claim to have overcome this challenge either maintain a facade or have invested in cultivating their employer brand.
An excellent illustration of this is the Ukrainian internet company Genesis. In the IT community, it is widely acknowledged as the country's premier employer. However, this reputation was not built overnight.
According to one of Genesis' senior managers, by actively working on their brand, which included publishing articles in the media, they successfully reduced the cost of hiring a developer by threefold. Undoubtedly, this achievement is remarkable, wouldn't you agree?
Online Publicity Workbook
100+ content ideas for your B2B startup;
ideal for do-it-yourself publicity plans;
schedule your PR campaign in advance.
Attracting Investments: Unlocking Opportunities for Business Growth
"We want TechCrunch to write about us!" is a common sentiment expressed by technology companies. When asked why, the answer may sound amusing but it boils down to wanting to showcase TechCrunch's logo on their website. According to investors, if a reputable media outlet covers a project, it signifies its inherent interest and value.
"During the ICO (Initial Coin Offering) boom, there was a surge in the trend of seeking coverage from Forbes and TechCrunch. Every ICO project aiming to raise substantial funds had to present a White Paper crafted by a renowned copywriter, display a distinguished board of consultants on their website, and feature an array of logos from prominent media outlets in the "In the News" section",- Alex Nigmatulin from PRNEWS.IO notes that even ordinary startups should consider sharing their story in specialized media outlets as investment funds actively monitor industry-specific publications for potential opportunities.
Launching Your Business in New Markets
When venturing into a new market, it is crucial to create a significant impact and ensure that your presence is recognized by a wide audience. However, determining the right destinations and contacts can be challenging. This is where PRNEWS.IO can provide valuable assistance.
With our service, you can publish articles on popular websites in 137 countries. These media are categorized based on their audience, topic, and quality indicators. Even if you are not familiar with the language of the target market, you can still navigate through our platform. Additionally, if you lack a proficient copywriter in your team for a specific language, you can avail our content creation services. By utilizing articles in the media, you can effectively test new markets and assess their potential and demand.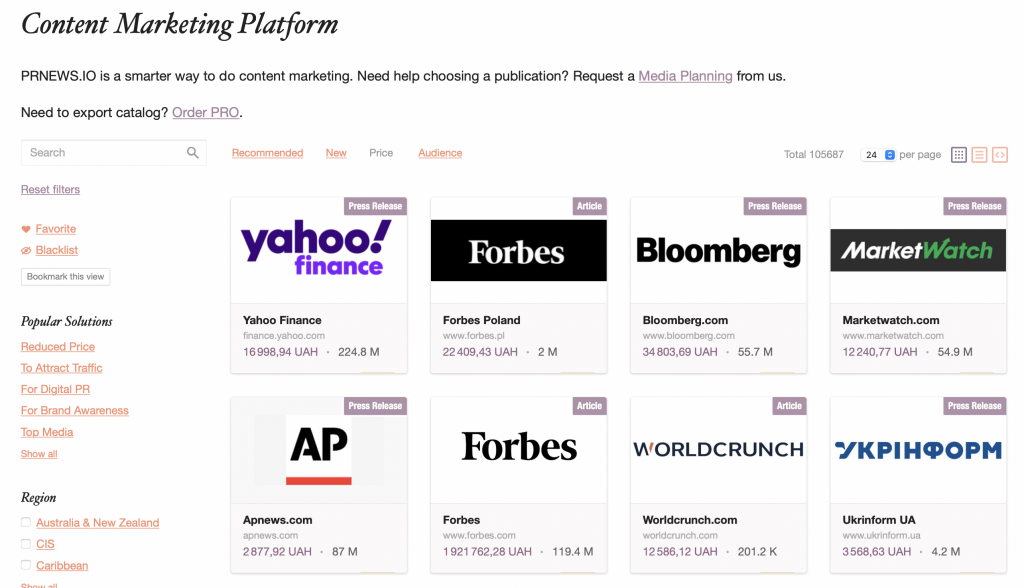 We have extensive experience in assisting clients from various industries, including perfume and fintech, with such endeavors. Our services have facilitated the placement of articles in exotic countries like South Africa and Indonesia.
Another scenario where our support proves valuable is when you start collaborating with a major foreign client and need to demonstrate the exceptional qualities of your company. For instance, one of our clients, a shipbuilding company, published articles highlighting their social initiatives, such as supporting worker dynasties and establishing daycare centers, prior to presenting their services to a foreign buyer. This strategic approach significantly contributed to their success in winning the tender, as the client placed considerable importance on the contractor's social standing.
Boost Your Personal Brand
A strong personal brand for a founder is the driving force behind business progress. The most effective way to enhance a personal brand is through interesting content presented by the individual themselves. This includes social media posts, video blogs, and, of course, articles in the media.
There is another specific situation where it's necessary to quickly obtain numerous articles in the media about an individual. This is a crucial requirement for obtaining an American visa for talented individuals. Scientists, technical experts, musicians, writers, and other recognized professionals in their fields use publications in domestic and foreign media if they plan to move to the United States. It's a necessary step. To quickly establish visibility in reputable international media outlets, the PRNEWS.IO service can be utilized.
Read more: Personal Branding for Entrepreneurs: a Comprehensive Guide to Building Your Brand
Safeguarding Your Online Reputation Before Scandals Strike
"There's a myth that Google intentionally puts negative content at the top of the search results. That's not entirely true. The search engine appreciates diverse content. When something newsworthy about a company comes out, Google initially showcases it in the search results and observes the reaction. If people don't click on the link, Google hides it deeper. But if they click and engage with the content, it remains at the top.
We had a client who received a negative review on one of the forums. Initially, the client tried various other methods to address the negativity: contacting platform administrators, launching attacks on the website, negotiating with the review author, and sharing the link with all their friends (saying, 'Look at this terrible thing written about me'). I can only imagine how much that link was discussed during that time. Naturally, Google considered it highly relevant to the client's company because it had been clicked on so many times. It was challenging to hide it. We needed a complex of articles with cross-references to each other",- Alex Nigmatulin
Hence, we strongly advise our clients to proactively consider Search Engine Reputation Management (SERM) before any negative content gains traction online. This is particularly pertinent for businesses that are susceptible to potential scandals at any given time. For instance, real estate developers should prioritize establishing their search engine presence even before commencing the construction phase. To assist with this, we have prepared a concise checklist of essential platforms where the company should establish its presence.
Search Engine Optimization
A well-crafted link profile (a balance between different types of backlinks to your website) can be maintained through articles in the media. External links, not blocked from search engine indexing, are particularly challenging for online resource owners to acquire. However, this issue can be resolved through articles: many media outlets do not prioritize optimizing their own websites and readily include indexable links in their articles.
"Companies that operate in the mass consumer segment online, such as online retailers, heavily rely on search traffic. Just search 'buy a refrigerator' on Google – I bet all the companies on the first page of search results are buying links. If you want to drive traffic from Google, you need, at the very least, to replicate the success of your competitor by having a similar link profile. Ideally, you should strive to be slightly better. That's why companies are constantly required to increase the number of links to their website," explains Alex Nigmatulin from PRNEWS.IO.
How to Calculate the Conversion Rate from Website Visits to Actual Sales?
The conversion rate from website visits to actual sales is a critical factor to consider when assessing the impact of an article. However, many individuals who inquire about the number of customers a material will bring often cannot answer this question themselves because they lack knowledge about their own sales funnel.
1. You own convertion rate and funnel
For instance, let's assume that out of 100 website visitors, only 4 convert into customers, resulting in a 4% conversion rate. Based on this data, if 4 out of 100 people who read an article on your website end up visiting your site, you would need to generate 100 article readers in order to acquire 4 customers. If only 1 out of 1,000 visitors becomes your customer, then your conversion rate is 0.1%. You can continue the calculations using the same principles. All other visitors become leads for you, so you can proceed to work with them. Consider using tracking pixels in your articles to maximize their effect.
2. From the article to your website.
The average and normal conversion rate in this case is 5%. Therefore, if 1,000 people read your article, approximately 50 of them will click the link within the article and visit your website. However, this can vary based on various factors such as the article's topic, level of interest and usefulness, placement of your link, the title, and the created sense of urgency or need. Sometimes, the number of visitors can reach 300, while other times it may be as low as 10. It's also important to check if the publication offers homepage visibility and reposts on social networks to reach the maximum audience. Additionally, ensure that the media aligns with your target audience.
3. Analyse the estimated views or assure it with additional promo
To understand, how many readers you can expect, you can check the data of Unique Views Estimator or here: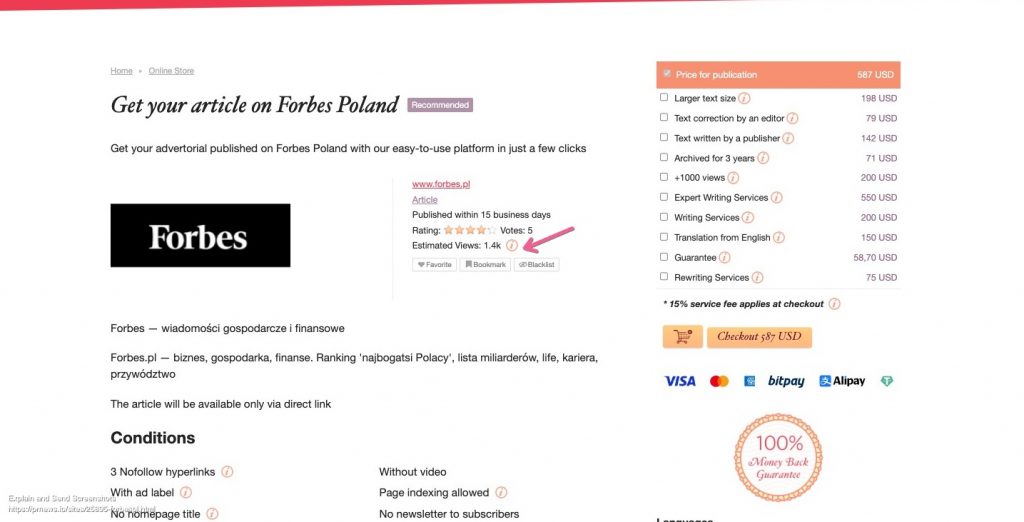 This is also an average number. To be sure, it is great to make an additional promo of the article and get +1000 guaranteed unique views: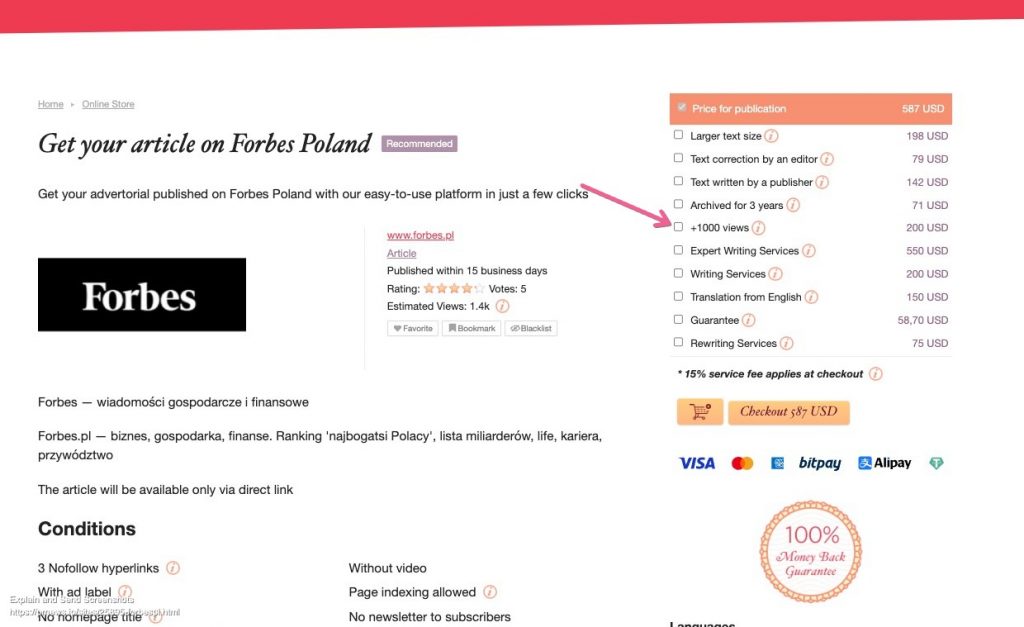 4. The final formula
Let's say that you want to be published on Financial Express. The monthly audience is 17.4 M. Estimated views are 1.9k. The average conversion article-website is 5%.
You can calculate here:
1900 х 0.05 = 95 leads
In case you add additional promo +1000 views, it will become
2900 х 0.05 = 145 leads
It's important to understand that conversion rates can vary in different situations. The number of website visits can be increased by increasing the views of an article. Additionally, the conversion rate itself can be influenced. For example, if you mention in the article that visitors will receive a $10 gift upon visiting your website today, the conversion rate is likely to increase significantly. Similarly, if you have a new product that no one else has offered before (such as a clothing lint remover, and your company is the first to launch its sale), the conversion rate will also be higher.
However, it's worth noting that the content of the article is not the only factor that affects conversion rates; the platform where it is published is equally important. Buying an article on a website with only a thousand monthly visits should not be expected to attract 10,000 readers unless you put effort into distributing and driving traffic to the article.
How to Measure the Effectiveness of Articles in Media
Measuring the effectiveness of materials in online media is crucial for businesses to evaluate the impact of their content marketing strategies and optimize their efforts. By implementing key performance indicators (KPIs) and utilizing analytical tools, businesses can gain valuable insights into the performance and reach of their materials. Here are some key steps to effectively measure the impact of your article:
Track website analytics: Use web analytics tools like Google Analytics to monitor the traffic driven by your article. Track metrics such as page views, unique visitors, time on page, and bounce rate to gauge the engagement and effectiveness of your content.
Monitor brand mentions and sentiment: Keep an eye on brand mentions and sentiment across different online channels. Use social listening tools to track mentions of your brand or content and assess the sentiment associated with those mentions. Positive sentiment and increased brand mentions indicate a successful impact of your articles.
Monitor referral traffic: Pay attention to the referral sources of your website traffic to identify the contribution of the material. Track the number of visitors coming from specific media platforms and assess their engagement metrics on your website.
One effective method to track and analyze referral traffic is by utilizing UTM parameters in your URLs.
UTM (Urchin Tracking Module) parameters are tags that you can add to your URL links to help identify the specific sources and campaigns that drive traffic to your website. By appending UTM parameters to the URLs you use in your article, you can gather detailed information about the performance of each referral source.
Determine the specific UTM parameters you want to track. Common parameters include source (utm_source), medium (utm_medium), and campaign (utm_campaign). You can also use additional parameters like content (utm_content) and term (utm_term) to further segment and analyze your traffic.
By implementing UTM-tagged URLs and tracking referral traffic, you can gain valuable insights into the performance of your articles across various sources and campaigns. This data-driven approach allows you to optimize your marketing efforts, allocate resources effectively, and achieve your desired goals.
Summary:
Content marketing has been and remains one of the most effective tools for businesses, regardless of their scale or industry.
Articles in the media minimize reputational risks, build audience trust, and, when combined with other business processes, increase sales levels.
Through content marketing, a company, rather than its competitors, can shape its own controlled information field.
Content marketing is a long-term game with a delayed but highly persistent effect.
A company that consistently generates and publishes content gains more trust from its audience, a portion of which is likely to become its customers.
Articles in media are most effective when they are part of a PR strategy, published systematically, and within the framework of a content plan.
Content Marketing Platform
100,000+ media publications;
get backlinks to your product;
scale work with content distribution.