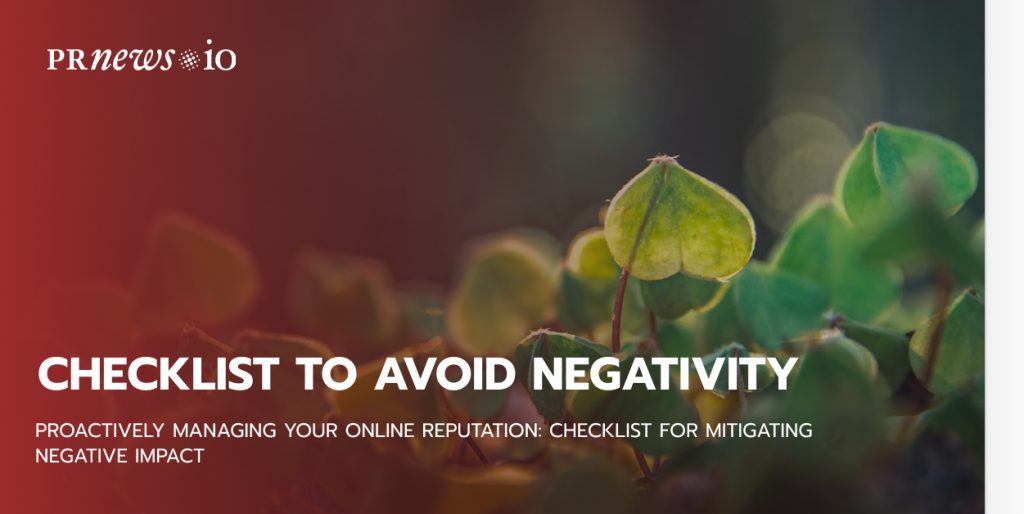 In today's digital age, reputation management becomes crucial when problems arise. Negative content can surface online due to dissatisfied customers or malicious actions from competitors. By following the checklist below, you can significantly reduce the risk of negative content damaging your business.
To secure a strong online presence for your company's name in search engine results, it is recommended to take the following actions:
Register for services that assist journalists, set up topics of interest to you, and promptly respond to inquiries from journalists. Here are some recommended platforms:
2. If your company meets the criteria for relevance, consider adding an article about it to Wikipedia. If the company isn't widely recognized but is led by a public figure, you can create an article about the leader (and reference the company within it).
3. Create an account on Google My Business. Fill in all the fields, add your company and branches to the map. Remember to include events, promotions, and popular products.
4. Create accounts on platforms for publishing presentations and brochures, and upload your price list, presentation, or commercial proposal to them. Consider the following services:
SlideShare.net
Issuu.com
Scribd.com
Calaméo (calameo.com)
Prezi (prezi.com)
SlideServe (slideserve.com)
AuthorStream (authorstream.com)
DocDroid (docdroid.net)
FlipHTML5 (fliphtml5.com)
Yumpu (yumpu.com)
Zoho Show (show.zoho.com)
DocSend (docsend.com)
Lulu (lulu.com)
By utilizing these platforms, you can effectively showcase your materials to a wider audience and enhance your marketing efforts. These platforms offer various features and reach different audiences, so you can choose the ones that best suit your needs and target audience.
5. Add your company (and its branches) to various geoservices:
Google Maps
2GIS
MAPS.ME via MAPS.ME Business
OpenStreetMap via On OpenStreetMap
Bing Maps via Bing Places for Business
Apple Maps Connect (mapsconnect.apple.com)
Yelp for Business (biz.yelp.com)
TripAdvisor for Business (www.tripadvisor.com/Owners)
Foursquare for Business (business.foursquare.com)
Here.com (here.com/en/business)
TomTom Places (places.tomtom.com)
Waze Ads (www.waze.com/business)
Yellow Pages (www.yellowpages.com)
Local.com (www.local.com)
Citysearch (www.citysearch.com)
These platforms offer additional opportunities to increase your company's visibility and reach a wider audience. Make sure to check the specific guidelines and requirements of each service to ensure accurate and up-to-date information about your business.
6. Register on video-sharing platforms, record and upload customer messages and instructions on how to use your service:
YouTube
Vimeo
By utilizing these video services, you can effectively communicate with your customers and provide them with valuable instructions and information about your service.
7. Add your store and products to price aggregators. By listing your store and products on these price aggregators, you can increase visibility, reach a broader audience, and potentially attract more customers.
Hotline (hotline.ua)
Price.ua (price.ua)
e-Katalog (e-katalog.ru)
MagaZilla (magazilla.ua)
Google Shopping (shopping.google.com)
Amazon
eBay
Walmart
Target (www.target.com)
Best Buy (www.bestbuy.com)
Rakuten (www.rakuten.com)
Newegg (www.newegg.com)
Sears (www.sears.com)
Shopzilla (www.shopzilla.com)
8. Create a page on online marketplaces:
For the USA:
Amazon
eBay
Walmart Marketplace
Etsy (www.etsy.com)
Newegg (www.newegg.com)
For the EU:
Amazon (www.amazon.co.uk for the UK, www.amazon.de for Germany, etc.)
eBay (www.ebay.co.uk for the UK, www.ebay.de for Germany, etc.)
Allegro (www.allegro.pl) – popular in Poland
Cdiscount (www.cdiscount.com) – popular in France
Bol.com (www.bol.com) – popular in the Netherlands and Belgium
These marketplaces provide a platform to showcase and sell your products to a wide range of customers. Be sure to follow their guidelines and policies for creating and managing your page.
9. Find your business on review platforms, claim your page, and respond to feedback:
For the USA:
TripAdvisor (www.tripadvisor.com)
Foursquare (foursquare.com)
Yelp (www.yelp.com)
For the EU:
TripAdvisor (www.tripadvisor.co.uk for the UK, www.tripadvisor.fr for France, etc.)
Foursquare (foursquare.com)
Trustpilot (www.trustpilot.com) – popular in various European countries
These platforms allow customers to leave reviews and feedback about businesses. By claiming your page and actively engaging with customers' comments, you can manage your online reputation effectively. Remember to respond professionally and promptly to address any concerns or questions raised by customers.
10. Register on job search websites and add a few permanent job listings:
For the USA:
Indeed (www.indeed.com)
LinkedIn Jobs (www.linkedin.com/jobs)
Glassdoor (www.glassdoor.com)
CareerBuilder (www.careerbuilder.com)
SimplyHired (www.simplyhired.com)
For the EU:
Indeed (www.indeed.co.uk for the UK, www.indeed.fr for France, etc.)
LinkedIn Jobs (www.linkedin.com/jobs)
Monster (www.monster.com)
StepStone (www.stepstone.com)
Totaljobs (www.totaljobs.com)
These websites provide a platform for both job seekers and employers to connect.
11. Create company accounts on all social media platforms
Facebook
Instagram
Twitter
LinkedIn
12. Create accounts on blogging platforms and add at least one post. These blogging platforms offer a space to share your thoughts, insights, and updates with your audience. By creating accounts and publishing posts, you can establish your expertise, engage with readers, and drive traffic to your website or business.
Tumblr (www.tumblr.com)
Blogger (www.blogger.com)
Ghost (www.ghost.org)
Medium
13. Create websites for risky queries:
Company Name + Reviews
Company Name + Scandal/Controversy
14. Register on podcast hosting services. These podcast hosting services provide platforms for hosting, distributing, and managing your podcast episodes.
For the USA:
Libsyn (www.libsyn.com)
Podbean (www.podbean.com)
Anchor (www.anchor.fm)
For the EU:
SoundCloud (www.soundcloud.com)
Podomatic (www.podomatic.com)
Acast (www.acast.com)
15. By creating dedicated websites for these types of queries, you can have more control over the information available online and potentially address any negative or controversial content associated with your company. It allows you to provide accurate and updated information to users who may come across these queries during their online searches.
Prepare and publish articles using the following approaches:
Newsjacking: Write articles and comments on popular topics. Identify current issues that may concern your customers, respond to them quickly, and react promptly to recent events that are widely discussed. Being responsive to trends and capturing public interest will attract audience engagement.
Anti-cases: Many large companies share how their services are used by customers. Obtaining a backlink from a blog of a giant like Google can be valuable. Use your own experience with product implementation and influence your reputation through industry leaders' blogs.
Events: Organize a conference or become a sponsor of one. Hosting or sponsoring events allows you to showcase your company and engage with a targeted audience.
Data-Driven PR: Every company accumulates valuable data. Analyze it, prepare articles or infographics. Simply presenting numbers without analysis is unlikely to capture attention. It's better to explain the findings and provide interesting insights.
Field research: Most products or services are designed to address specific challenges. Find and share solutions to shortcomings in your own products, your competitors' products, and help customers overcome their difficulties. Sharing effective solutions can quickly gain viral attention.
Expert Roundups: Gather experts under your brand. Ask them thought-provoking questions, prepare an article, and publish it in a well-known media outlet or on your own blog. Remember that all participants in the roundtable should share the material.
New product: Invent a companion product and promote it. A museum, clothing line, or magazine can serve as a consistent source of news and information.
These approaches can help you generate valuable content, engage your audience, and establish your company as a thought leader in the industry.
Content Marketing Platform
100,000+ media publications;
get backlinks to your product;
scale work with content distribution.