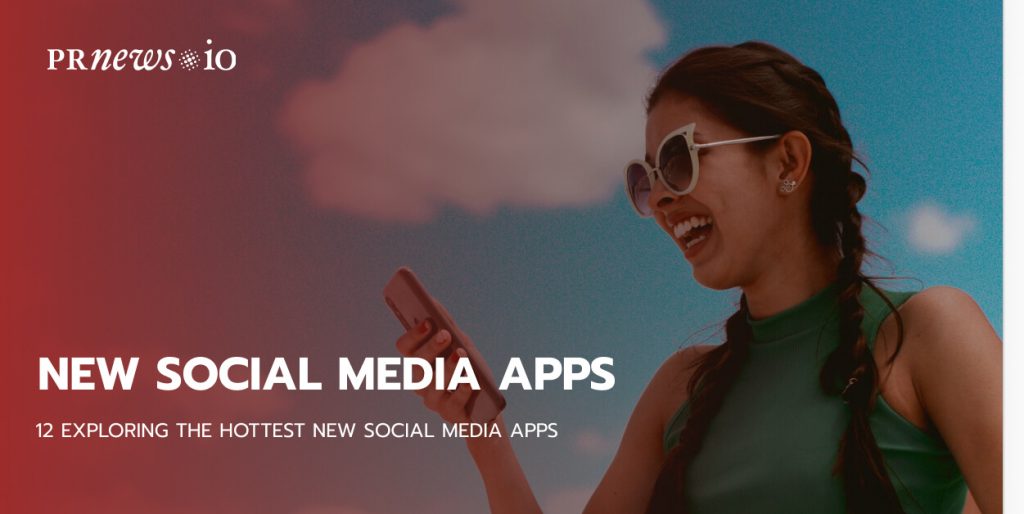 In November 2022, Washington Post ran a poll with more than 1,000 U.S. internet users. It showed that 72 percent lost their trust in Facebook because of their massive data breach in 2022. About 60 percent also don't trust TikTok's and Instagram's ability to protect information. More than 82 percent admitted the targeted online ads that appeared on all social media platforms are annoying, invasive, and unhelpful.
Now more than ever, people are looking for new social media apps that prioritize security, privacy, and their initial intention – to communicate with their friends or just consume the content.
Therefore, we've decided to make a list of the new social media apps that may substitute Facebook and Instagram or offer you new specialized communities. Let's start.
New Social Media Apps
The new generation is no longer interested in ultra-curated images. BeReal is a photo app that encourages users to post an unedited, unfiltered image once per day. It is primarily used by adults between the ages of 18 and 24. The app has been installed at least 20 million times.
This new social media network was founded by former GoPro employees Alexis Barreyat and Kévin Perreau in December 2019. BeReal only permits users to see photos posted by their friends.
Because it's impossible to use accounts for ads BeReal is forcing brands to find more innovative and less invasive approaches to marketing.
With the free Artifact app, you receive a custom news feed powered by artificial intelligence. All you have to do after downloading is to select topics that you like, and Artifact does the rest. The app gives you an opportunity to choose ten or more topics.
Once this social media platform analyzes your interests, it will show you the most relevant content. It's like your personal filter—you only see the articles you are interested in. You can also share posts with your friends there and by re-sharing you may discover more topics of interest.
Along with data protection, there is another social media trend focusing on a sub-niche. Elpha can be considered as LinkedIn for women, including and with a heavy emphasis on serving trans-women and non-binary people who identify as women.
Elpha is a private community where its members may find personal and professional connections, develop, start companies, find support, and make friends.
Quest is a special social media platform that unites gaming principles with traditional social media features to motivate content creators. The founders created a unique and engaging platform that enables creators to make the content they love and earn money with it.
The network sends to its users daily and weekly quests and challenges, payouts, and other rewards to top-growing creators. Also, they support small creators with 48-hour content boosts.
This app found in the USA describes itself as "social media with purpose". WeAre8 social media network was created as a transformative social media platform. In this platform, users are presented with 8 minutes of preselected content every day. In addition, users are paid with small payments whenever advertising is viewed via the app.
According to Crunchbase, it has received a total of $16.9 million in funding. Possibly, we'll see more features in the future.
As anyone in the industry knows, the dating-app market is severely competitive. While first-to-market representatives like Tinder have managed to pass the test of time, the app store is littered with hundreds of failed dating apps.
Announced as the place where "you can be yourself" Tagged combines the common swiping feature with the ability to make video calls with their "candidate for a date".
Although the site claims to have 300 million+ users, iTunes App Store reviews reveal many of those accounts may be fake.
Since Elon Musk bought Twitter for $44 billion, many Twitter users have moved to Mastodon. This ad-free microblogging platform was launched by German software developer Eugen Rochko in October 2016. Eugen announced the platform has more than one million active users as of November 2022.
Mastodon's open-source software runs on numerous servers, and the platform contains thousands of social networks.
Mastodon also has an environment engaging for conversation, so highly promotional content isn't welcome there. Therefore, companies and businesses that are trying to be promoted on the platform tend to take a community-first approach rather than a traditional marketing approach, working to genuinely connect with their target audience.
Noam Bardin, the former CEO of Google subsidiary Waze, launched the beta version of another Twitter substitute called Post in November 2022. In a month, Post's team announced that more than 610,000 people had joined the platform's waitlist.
Post aims to encourage meaningful, respectful discussions among friends, strangers, or subject matter experts. But Bardin also is planning to initiate a news-only feed that will feature articles from premium publishers. This feed will allow users to easily browse the latest news without subscribing to different media outlets.
Also, Post intends to use micropayments to monetize those news stories and reward highly engaged users but doesn't expect to depend on ads.
Diem is a privacy-first social search engine that allows women and nonbinary folks to discuss their experiences and share appropriate news and information directly with one another. The platform was created to struggle against the click-bait headlines and performative content typically produced for this audience.
Since launching into beta, Diem has seen over 20,000 pieces of user-generated content shared on the platform, among which is content taboo topics pertaining to health, relationships, and money, according to Bates. The company has also built a user base nearing 50,000 across its weekly newsletter and social channels.
With a focus on a woman's life in different stages (fertility, pregnancy, motherhood, and menopause), Peanut was created to connect women who can provide real, legitimate support to each other. In particular, they announced "care, empathy, and collectivism" as their main values. And with $11 million raised over four rounds since 2017, Peanut seems to be successful.
While people who aren't fans might not know it, anime is one of the largest entertainment sub-niches in the world. In 2020, it was estimated to be worth $22.6 billion.
Crunchyroll offers live streaming, blogging, updates, and social networking all in one. Subscribers can watch many of the latest videos as soon as they debut in Japan. Nowadays they have around 120 million users.
PearPop, which launched last October, is a social media platform that was created for influencers looking for new revenue streams and supporting influencers looking to grow their followers.
PearPop is a social media platform where users pay TikTok influencers to collaborate on content. The influencers offer their price for a collaboration (prices range anywhere from $15 to $3,333 per post), and users have the option to pay outright or bid a higher price if there's strong demand. In turn, that access to top influencers could increase the number of followers of their accounts.
Content Marketing Platform
100,000+ media publications;
get backlinks to your product;
scale work with content distribution.
How to Promote New Social Media App with a Help of PRNEWS.IO
Promoting your new social media app with the help of PRNEWS.IO can significantly amplify your reach and generate buzz around your product. Here's how you can effectively utilize the platform to maximize your app's promotion:
Craft an impactful press release: Begin by creating a well-crafted press release that highlights the unique features, benefits, and value proposition of your social media app. Ensure that your press release is newsworthy, engaging, and tailored to resonate with your target audience. Use PRNEWS.IO's guidelines and best practices to structure your press release effectively.
Utilize PRNEWS.IO's distribution network: PRNEWS.IO boasts an extensive network of media outlets, including newspapers, magazines, blogs, and online platforms. Take advantage of this network by distributing your press release to relevant outlets that cater to your app's target audience. Research and select media outlets that align with your app's niche to maximize your chances of getting coverage.
Target industry-specific journalists and influencers: Identify journalists and influencers who cover topics related to social media, technology, or your app's specific niche. PRNEWS.IO provides a comprehensive database of media contacts that you can leverage to find relevant journalists and influencers. Build relationships with them by reaching out with personalized pitches, offering exclusive insights, or providing access to app previews or demos.
Opt for sponsored content and reviews: Consider sponsoring content or requesting product reviews from influential bloggers, vloggers, or social media influencers. PRNEWS.IO can help facilitate these collaborations by connecting you with appropriate influencers who have a strong following within your app's target audience. Sponsored content and reviews can significantly boost awareness and credibility for your app.
Monitor and analyze results: Track the performance of your press release and media coverage through PRNEWS.IO's analytics tools. Measure the reach, engagement, and impact of your PR campaigns to gauge their effectiveness. This data will help you fine-tune your future promotion strategies and optimize your app's visibility.
Conclusion
As you see social media startups across the globe are finding ways to steal market share by serving niche markets and meeting unmet needs. This trend is expected to carry on into 2023 and beyond.
Staying on top of these up-and-coming platforms and apps can help your brand connect better with your existing user base, and find new ones. They are also a great way to boost your brand and build brand awareness
Read more: