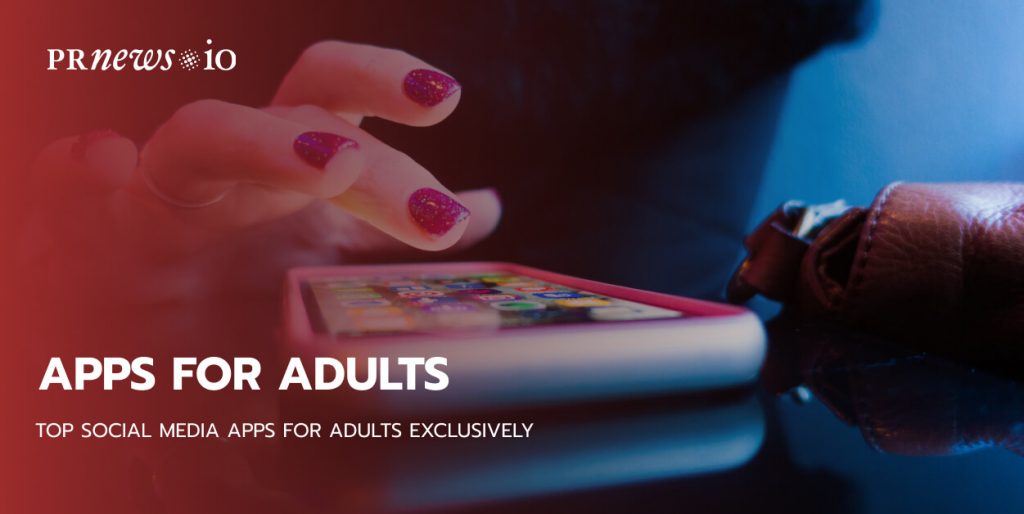 No matter who you are – whether an average user, a professional social media marketer, or a business owner looking to leverage social media – it is important to know which social media platforms are best suited for adult usage. Our top recommendations will help you boost your brand awareness, reach a wider audience, engage with potential clients, and achieve your set business goals.
When selecting a social media platform, it's crucial to consider not only the size and popularity, but also whether it aligns with your business goals and personal preferences. Take into account your target audience when making your choice.
To simplify your decision-making process, we have conducted in-depth research to provide you with the most effective social media apps for adults. Some of these platforms may already be familiar to you, while others will be new experiences worth exploring.
The Top Social Networking Apps for Adult Audience
The listing is based on the relevance to various brands and their creators. Now, let's take a look at the winners in the social media market.
Facebook is the undisputed leader in the social networking market, with over 3 billion monthly users. Roughly 37% of the global population utilizes the Facebook app. It offers numerous tools and advertising options to promote businesses and increase brand visibility worldwide. The app is user-friendly, with seamless integration of content formats like stories, photos, videos, and text. Moreover, Facebook fosters meaningful interactions among its users.
YouTube is one of the best video-sharing platforms. This social media app permits millions of people to watch videos based on their interests and preferences. It is the second most popular social media app in the world. Many people use it as a search engine, just like Google, which is its parent company. It is convenient to use for promoting businesses. It should be added to your marketing strategy and consider advertising on YouTube in order to increase your target audience reach.
Many adults adore WhatsApp and utilize the app primarily for messaging. It is widely used in over 180 countries. Originally intended for sending text messages to family, friends, and colleagues, WhatsApp has now evolved into a popular platform for business communication. It offers essential tools for conducting business, such as a dedicated business platform that allows professional customer support, sharing business updates with clients, and tracking their purchases. Whether for personal or business needs, WhatsApp is an excellent messaging social media platform to explore.
Instagram is a widely recognized visual social media platform that provides a perfect virtual environment for showcasing your brand, products, and services. With its photo and video options, gaining popularity and achieving business success becomes more attainable. The Instagram app allows users to share diverse content formats, including stories, photos, videos, reels, live streaming, and even long-form videos. Numerous renowned brands have established their presence on Instagram, making it an ideal platform for accessing in-depth analytics, scheduling posts, and maintaining communication with clients. When it comes to obtaining user-generated media content, Instagram is unrivaled.
WeChat, developed by Tencent, a Chinese tech company, was introduced in 2011. Initially, it shared many similarities with Messenger and WhatsApp, with a primary focus on messaging. However, over the years, WeChat has evolved into a multifunctional platform. In addition to messaging and calling features, it offers an extensive range of services such as online shopping, bill payments, grocery purchases, money transfers to business partners, secure reservations, taxi bookings, and more.
For businesses looking to promote their services or products in Asia, WeChat is an excellent choice. The platform allows you to run advertisements to reach a wider audience. Alternatively, you can connect with WeChat influencers to tap into the vast potential of the Chinese consumer market, reaching millions of potential customers.
TikTok is a super popular social media app for adults. Millions of people love the apps and its short videos. The app was launched in 2017, and now it overtook even Google. TikTok is the most visited site now. Once you open a personal account, you can share short videos (15-60 seconds). The app offers a huge catalog of special effects to make your video content go viral: sound effects, snippets, and numerous filters. Once you learn how to use them, it will not be a problem to enhance your video content and make it more appealing to the target audience.
Telegram is a highly user-friendly messaging app that seamlessly operates across mobile devices. One notable advantage of this social media app for adults is its lack of limitations on media sizes, allowing for convenient sharing of various types of media. The standout feature of Telegram is its robust encryption, ensuring the security and privacy of online activities, including chats, shared media, and group interactions. Due to its emphasis on security, many business owners utilize Telegram to provide excellent customer support to their clients.
Top Social Media Apps for Adults Table
| App | Description | Platform |
| --- | --- | --- |
| Facebook | A widely popular social networking platform for connecting with friends, sharing updates, and discovering content. | Web, iOS, Android |
| Instagram | A photo and video sharing app that allows users to post visually appealing content, follow others, and engage through likes and comments. | iOS, Android |
| Twitter | A microblogging platform where users can share short messages called tweets, follow others, and participate in conversations. | Web, iOS, Android |
| LinkedIn | A professional networking platform designed for building connections, showcasing skills and experience, and exploring job opportunities. | Web, iOS, Android |
| WhatsApp | A messaging app that allows users to send text messages, make voice and video calls, and share media with individuals and groups. | iOS, Android |
| YouTube | A video sharing platform where users can upload, watch, and engage with a wide variety of video content. | Web, iOS, Android |
| TikTok | A short-form video app that enables users to create and share entertaining videos with music, effects, and filters. | iOS, Android |
| Reddit | A social news aggregation and discussion platform where users can post content, participate in communities (subreddits), and engage in discussions. | Web, iOS, Android |
How to Promote App with PRNEWS.IO
To promote your app using PRNEWS.IO, you can follow these steps:
Identify your target audience: Before promoting your app, determine the demographics and interests of your target audience. This will help you tailor your messaging and choose the right publications to reach your desired users.
Craft a compelling press release: Write a well-crafted press release highlighting the unique features and benefits of your app. Make sure to include relevant information such as its functionality, key features, and any recent updates or achievements.
Choose the right publications: PRNEWS.IO offers a wide range of publications to choose from. Select publications that align with your target audience and have a strong online presence. Look for outlets that cover topics related to technology, mobile apps, or the industry your app belongs to.
Submit your press release: Create an account on PRNEWS.IO and submit your press release. Follow the platform's guidelines and instructions for submitting your content. Ensure that your press release is engaging, concise, and error-free.
Consider paid options: PRNEWS.IO also offers paid options to boost the visibility of your press release. You can explore sponsored articles or featured placements to reach a larger audience and gain more exposure for your app.
Monitor and analyze results: Track the performance of your press release by monitoring metrics such as website traffic, app downloads, or user engagement. Use this data to assess the effectiveness of your PR campaign and make any necessary adjustments for future promotions.
Remember, PRNEWS.IO is just one platform for promoting your app through press releases. It's essential to complement your PR efforts with other marketing strategies like social media, influencer partnerships, and targeted advertising to maximize your app's visibility and reach.
Read more:
Final Thoughts: Social Media Apps for Adults
We strongly recommend being selective when establishing a social media presence. Opening accounts on all popular social media apps is unnecessary. Instead, focus on understanding and targeting your specific audience, and strive to remain active on the platforms that best cater to their needs. As experience has shown, it is more advantageous to choose a few key social media apps and allocate your energy effectively, rather than spreading yourself thin across numerous platforms and producing subpar content. Remember, the quality of your business-related content carries far more weight than the sheer number of social media accounts you possess.
Content Marketing Platform
100,000+ media publications;
get backlinks to your product;
scale work with content distribution.
Read more: