Do you want to promote yourself on social networks, gain subscribers and regular readers, in the future make money on this plus doing it automatically? Instagram Creator Studio will help you. It will make your day easier, more efficient, more expedient. And in this article, we will give detailed answers to 3 important questions about the studio: what is it, how to use it and why is it needed.
What is the Instagram Creator Studio?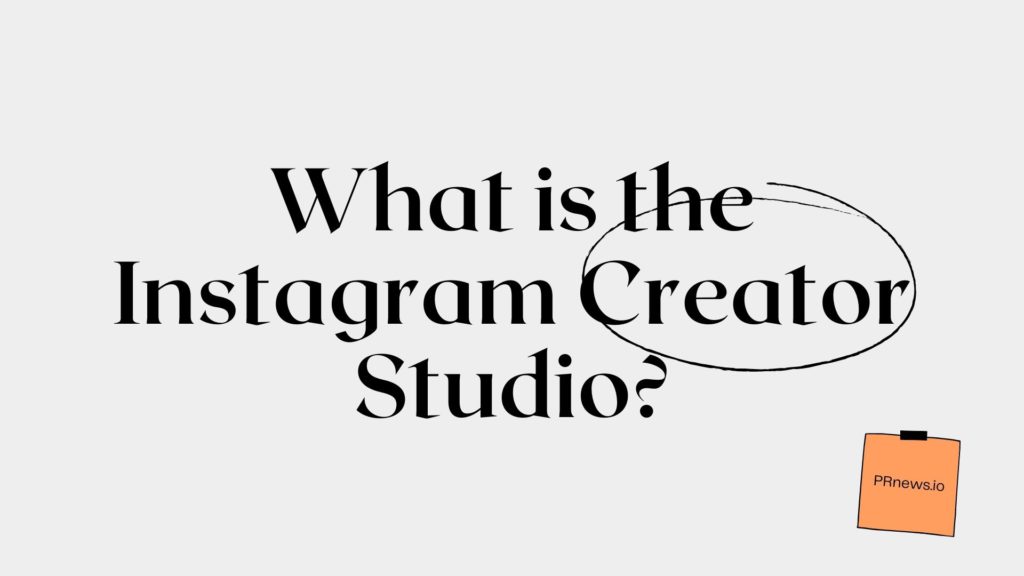 So, you may first hear about Facebook Creator Studio, but they began to develop it back in 2017! Initially, it was only a Facebook product, but since the end of 2019, Instagram has joined the project as well.
In general, Creator Studio is the official free tool with which you can automatically post to Facebook and Instagram. One of their biggest aims in creating this utility is to help creators make money from the content they pose, including advertising revenue, cooperation with brands, and follower's support.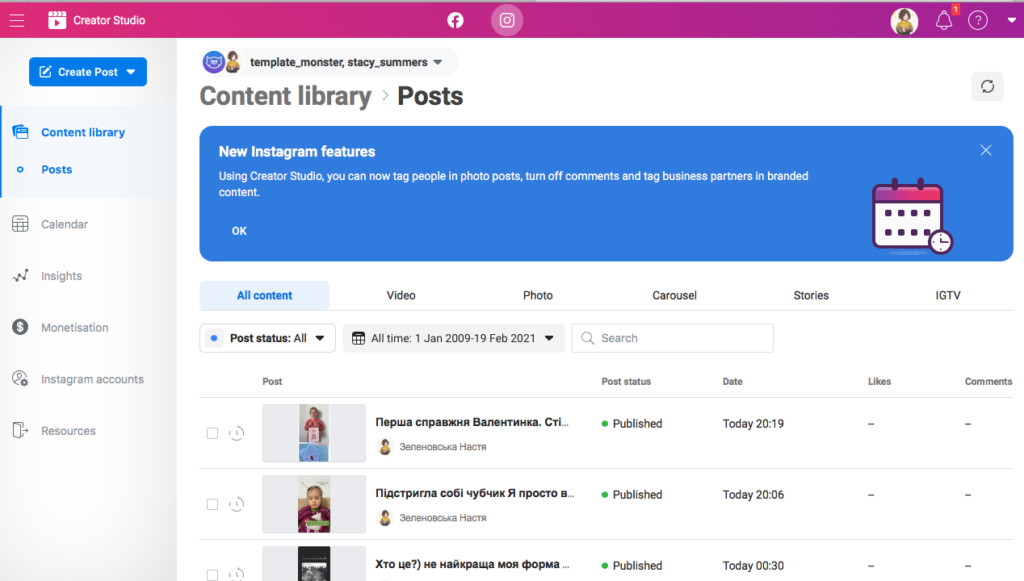 This valuable tool can act as a one-stop-shop for marketers, creators, bloggers, celebrities, and other Facebook and/or Instagram users. It is these people that are meant when the word "creator" is used in the name of the utility.
Use it to publish content, analyze how it works, and improve your online marketing strategy. Let's take a quick look at the features that make this tool quality and in demand.
Important! The choice of a utility for publishing messages must be approached very responsibly. Because the administration of social networks is extremely negative about the promotion of pages using bots for auto-posting. Usually, for the first time, you can get off with a slight fright and warning, and with further abuse of this function, you can get an eternal ban.
But do not be afraid if you plan to use Instagram Creator Studio.
Why use Instagram Creator Studio?
As soon as you connect your Instagram account to this studio, you can control all your Instagram info, plan posts, and get detailed data about your audience's involvement. Below we will show you how to sign up and schedule posts on your Instagram feed, but you can also check out Facebook's step-by-step tutorial on how to connect your Instagram to Creator Studio. So this utility will help you:
Optimize work processes
You do not need to spend time creating and publishing content daily, just once a week or less often set up publishing on a schedule. The rest of the time can be devoted to business development and other issues. This is a huge relief for marketers.
Schedule publications
Your subscribers gradually get used to the fact that you post at a certain time and with a certain rhythm. Auto-posting allows you to make the schedule of new posts even more stable. And after that, the release of your content, they will wait, like a new episode of your favorite TV series.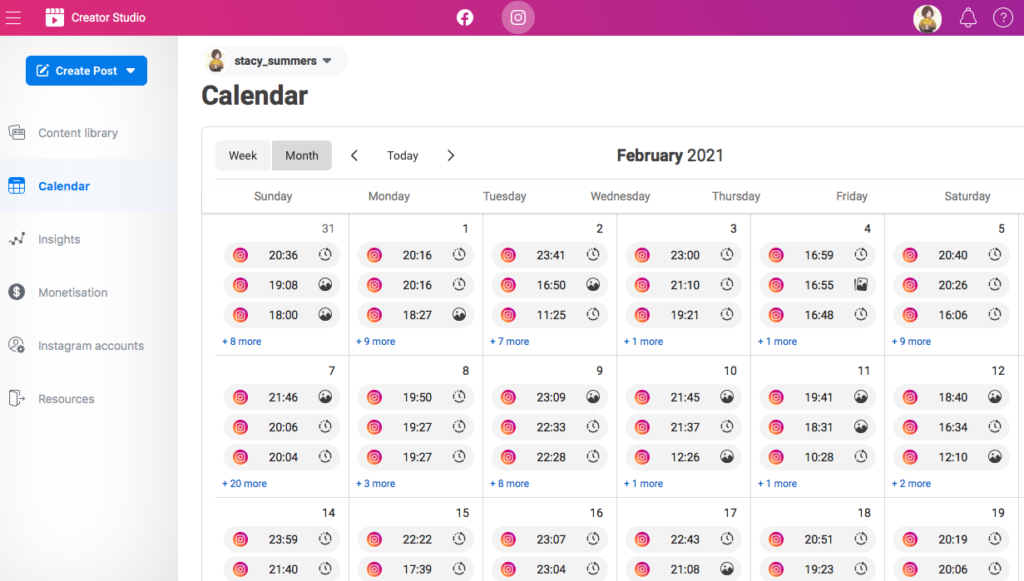 Organize management of multiple accounts
This program also offers tools for publishing for both IGTV posts and an Instagram feed. This gives authors a single location to control their presence and content on both these giant social networks.
Edit your videos with soundtracks
Instagram bloggers have to thank Facebook for adding such a fun option to the studio that made it easier for them to edit more interesting videos for their audience. Creators will find a set of cool soundtracks to use in their Instagram videos for a bigger experience.
Obtaining analytical data
Is posting good content on your social media enough? Not really. It is necessary to understand how your posts are responding to the audience. Using the Instagram content library, you can see which posts subscribers like the most, how many people saw your info, where they saw your messages, the time of the largest audience reach, gender, and age of the participants. It is the Insights tab that will help authors better understand their audience and how people interact with your materials.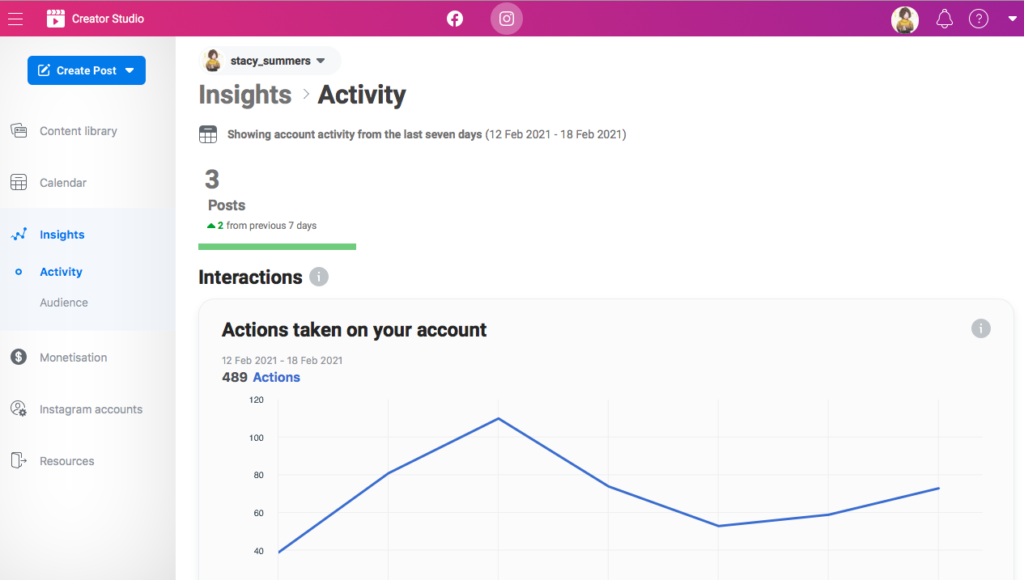 Important! Remember that Creator Studio only collects statistics for the last 7 days and only at the account level. Plus, you will only be able to see the posts you have shared since connecting to this tool, and you will not have access to information about previous posts.
Remote work. If your dream has come true and you now work remotely from Bali, and you still need to publish content according to your local time, then you can schedule publications in advance in the program.
Upload photos and videos from a computer. With a large amount of material, you do not need to suffer and download each one from your phone. This greatly simplifies the work and saves time.
Therefore, this tool is especially important for those who are engaged in advancement and promotion on Instagram. Your pages should be lively, updated, and be of practical use, only then real people will join it, comment on publications and be interested in your person or product.
By the way, more trust on the part of Instagram users can be obtained with the well-known "blue badge".
How To Get Verified On Instagram
For example, using the PRNEWS.IO service, you can get publications about yourself on news channels, thereby confirming your popularity, media coverage, and expanding your audience. This is the so-called white method to confirm the talent and uniqueness of your person or organization. Plus, the Instagram policy itself provides that with this badge you are an example to follow among users. Everyone knows this. Maybe you should think about such a moment in promoting your brand?
How to Use Instagram Creator Studio
Important! Creator Studio toolbar can only be used by someone who has an author profile or a business account on Instagram and has linked it to Facebook. Therefore, take care of this in advance. You can change the type of account in the Instagram setting ("Account" – "Other tools" – "Switch to a business account"). If your pages are not connected, click on "Connect to Instagram" and comply with the instructions there.
How to set up delayed posting:
Step 1. Click on "Create Post" and create a post by choosing where to display it. It could be IGTV and news feed.
Step 2. Indicate that you want to publish a post on Instagram. If you wish, you can make a repost to your Facebook.
Step 3. Decide on the right posting page and content. At this stage, the registration of the entry is configured: the picture is loaded and edited, the text is written, the geolocation is indicated. To do this, you need to click on the three dots under the photo, select and fill in the required section.
Step 4. Select the time and date of publication. Then click "Schedule Publishing".
If everything went well, you will see your account's content library.
Instagram pages connected to Facebook can be managed by all users with the appropriate permissions:
Administrators and editors are allowed to synchronize company contacts on Facebook and in the Instagram business profile.
Editors and administrators on Facebook can repost on Instagram and vice versa.
Moderators, administrators, and editors can read direct messages and comments. They can also reply to users using their Inbox.
Administrators, moderators, and editors can run Instagram advertisements via Facebook.
All these permissions you set when setting up your account yourself. If you still have any questions, you can go directly to the Instagram help center.
Well, something like that! Agree that it was not difficult. Thus, by using Instagram Creator Studio, you can reduce the time and effort spent on Instagram promotion. This tool is very simple and free! This suggests one simple conclusion – Instagram, how it can get rid of third-party services and create similar tools. And for you, it can be an excellent program for attracting followers, promoting your product, keeping competent statistics, and successfully developing your business. The main thing is that this is an official product and therefore you also receive technical support from Facebook and a security guarantee. Good luck!
Is your Instagram account ready for verification?
Read more:
Content Marketing Platform
100,000+ media publications;
get backlinks to your product;
scale work with content distribution.
FAQ: Instagram Creator Studio
How to let others schedule Instagram posts through creator studio?
Click on the "Create Post" button and choose where you want the post to appear: Instagram Feed or the IGTV. Next, choose the Instagram you want to place to and compose your post. Choose "Schedule" by clicking on the arrow on the right of the blue "Publish" button.
How to connect Instagram to creator studio?
Go to Creator Studio. If you are managing a Facebook page that is already connected to the Instagram account just click on it to use this page. Voila! And if not, then go to the page settings, then to the "Instagram" tab. After clicking on the "Login" button, enter your username and password.
How to use facebook creator studio for Instagram?
This is an excellent program for attracting followers, promoting your product, keeping competent statistics, and successfully developing your business.