---
Why Do You Need Instagram Verification?
By verifying identity on Instagram, followers will recognize the true authenticity of a brand or person. The network will mark the page as truly original, shutting out those who try to fake it.
You've probably seen many badges on other social services like Twitter or Facebook. Having it means that the network has recognized your presence as a notable figure and the page is proven and trustworthy.

The symbol was created mostly to protect celebrities and brands from scandalous situations and fraud. And also for fans and regular people who like to follow and subscribe to their favorite brands and bloggers. The badge gives a certain level of prestige and notoriety that makes more netizens follow the account because it is confirmed.

Possessing the blue checkmark, however, in no way makes you special to the Instagram algorithms. You would still need to create creative and engaging content to get more feedback from your audience and new subscribers.
---
Who Can Get Instagram Verification?
There are no restrictions on who can get a badge. Note, however, that you must meet some criteria to be approved. Even if you already have a blue checkmark on other social networks like Facebook or Twitter, you may not get it on Instagram.
Here you will not get any special treatment. Thus, you have to follow Instagram verification requirements to deserve a badge.
Public. It means that only open accounts can be proven.
Authentic. Your page should be representing your personality or business.
Complete. Provide full information for your profile. Leave contacts and a description of the services. Put a suitable picture.
Uniqueness. Only one business or personal account can be proven. There is an exceptional case if you need to have two for different languages.
Notability. Mostly this means that Instagram based its opinion about your profile based on how many people search for it.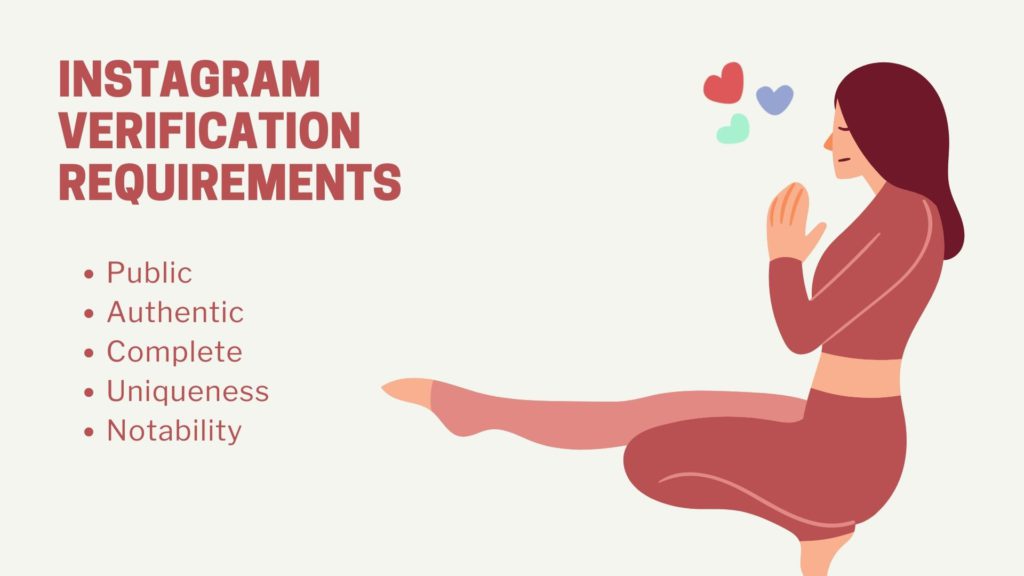 If you are sure that you are compliant with the regulations, go ahead and apply for your blue sign of prestige.
---
How to Apply?
There are some stages of how to get an Instagram verified badge. It really is not complicated:
In your account, press the hamburger icon. You can see it on the right top corner.
Proceed to settings.
Tap on the "Account"
Then on the "Request Information" button. You are almost done. Fill in the application with personal data, which includes:

full name;
name of your company or nick;
indicate a category (blogger, couch, manicure specialist, organization or a company, and so on);
make a picture of your official ID. Any document valid in your country. It might be a passport or a driving license;

When you are finished, press the "Send" button.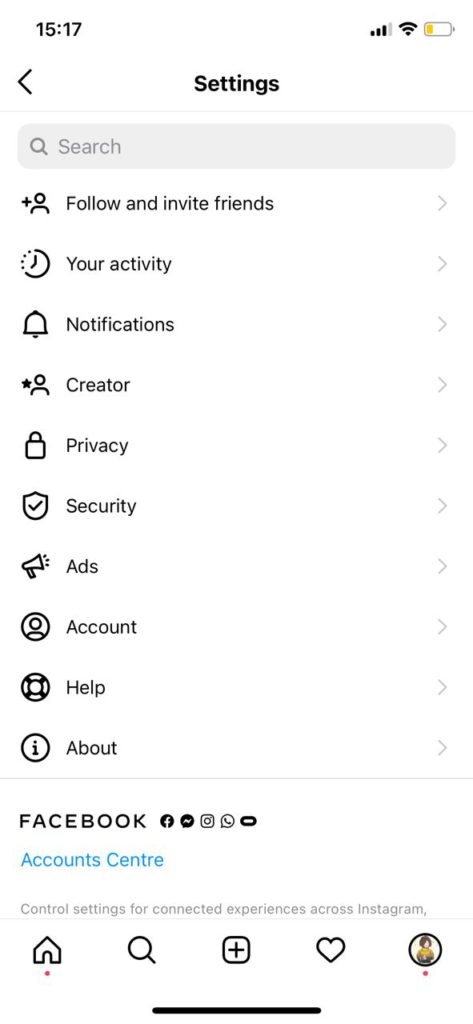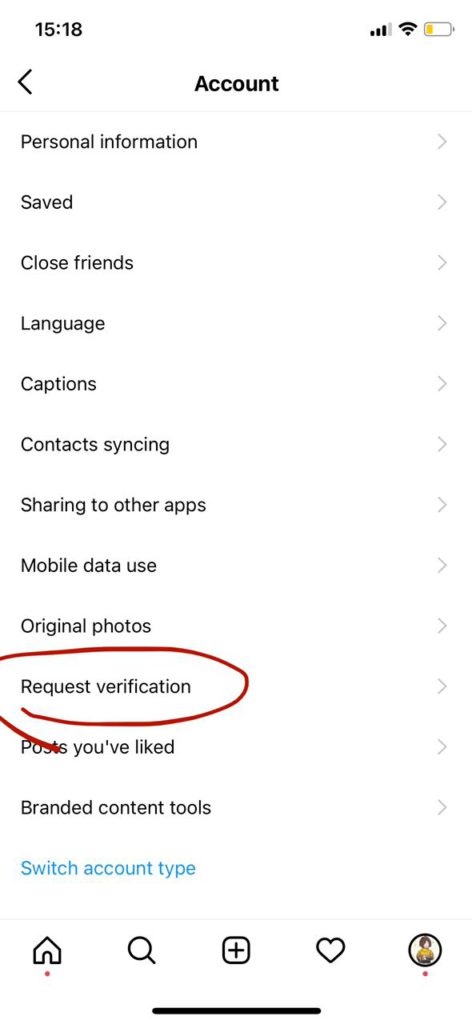 Be on your guard. Instagram will not ask you to pay for a badge or email you their response. You will receive a direct message from them telling you if your account is verified or not. Ignore people who leave you suspicious comments.
---
What does the blue badge on Instagram mean?
A blue badge or verification icon is a badge that appears next to the Instagram account name, in search and in profile. The presence of a blue badge means that Instagram has confirmed that the account belongs to a specific person. This is usually applied for famous persons, public figures, celebrities or global brands that represent this account. Otherwise, anyone could create an account for the president of their country and post anything, misleading millions of people.
---
How to request Instagram verification?
The algorithm that helps verify brands is the following: Write to Facebook technical support through the advertising account.
Attach documents for registering a trademark and letter on the company's official letterhead (with a seal and all that). The account @ profile_name belongs to the brand and is its authorized representative.
Wait for a little for a message from the Instagram team. It is not a big set of actions involved. Everybody has to spend a couple of minutes submitting an application form.
---
How long does Instagram verification take?
Usually, it takes a couple of days or a week to get a reply. A blue badge will appear in your profile within this time, and you will receive a confirmation from Instagram.
---
What are the requirements for verifying an account on Instagram?
According to Instagram rules, in order to issue a blue badge for verification, a number of factors are taken into account that determine whether the account meets the public interests and whether they meet the verification criteria.
The principles of compliance are as follows:
Authenticity: the account must match the real person or company.
Uniqueness: only one account per person or company can be verified.
Content: the account must be publicly available, have a biography, profile photo and at least one post. The profile should not contain links to other social networks.
Fame: the account should be a well-known person, brand or company, with wide citation in the media (while advertising articles are not accepted for consideration as sources).
If false or misleading information is provided during the verification process, Instagram will remove the verification icon and may delete the account.
---
How to get a verified badge on Instagram?
The only way to verify your account on Instagram is to claim it personally. It is impossible to buy it or earn it. Unless you ask for it, you cannot get identified as a popular profile. Take into consideration if your profile is compliant with all the rules mentioned on the official page. Save your time and efforts by ordering publications via PrNews.IO. Increase your media presence using the service. You get to control all the publication details from where it should be published to the country and area of publication. Get more information on our website. If you have questions, you may address them to our live chat. Professional consultants will explain the process of creating articles in detail.
---
How many articles in the media do you need to get verified on Instagram?
There is no exact answer to the question of how many articles you need to provide to Instagram to verify your account. At least because different personalities have different media profiles. A talented surgeon may be less active in social networks and the media space than a politician or a rock star.
However, in practice it's enough to provide 10-15 links to media references over the past 6 month.
---
My Instagram Profile Verification Application Was Denied
Instagram declined your verification request? You can reapply for it after 30 days. Don't lose hope! The person needs to have a Wikipedia page or articles on a popular news website proving their credibility and celebrity image to get a blue tick next to their name. That is how PRnews will help you this time.
Instagram and Facebook regularly update their criteria for notability. It has made it more stringent to avoid anyone and everyone from getting verified. In 2021 you need a solid online presence on Google with many news links talking about you, a good, active social media following, and many more factors.
---
The Number of Times You Can Apply
Official sources stated that you could submit the request for verification as many times as you want; if you were declined the first time, you have to wait 30 days to apply again. Cheer up. If it did not happen this time, you still are welcome to try later. You have time to fulfill the necessary steps to get approved. Unfortunately, Instagram will not give further comments why they gave out your account. All is left to try some of our tips.
---
How to Stay Verified on Instagram?
Don't make your account private after receiving an Instagram verification badge! The main requirement is a public and unlocked account. Stay cool!
Play safe! Don`t forget about Instagram Terms of Use and Community Guidelines. Instagram verification badge does not give you the right to break the rules. Only fully abide by all Instagram policies and guidelines is a key.
Be real! Make sure that your account still represents a real person, organization, or business.
Do not lie. Be authentic and carry utmost genuineness while creating your profile also ensure that your account is duly completed without any missing details.
---
Is your Instagram account ready for verification?