Writing Tools. Writing always was pretty hard work. However, at different times there were different issues with writing texts. When humanity understood that it is useful to leave a mark everyone can understand it became pretty hard to agree what kind of marks, letters, glyphs, or hieroglyphs should be used. And later, when humanity created alphabets it becomes obvious that it is hard to write correctly. Even more, some letters, or especially hieroglyphs required depiction skills. And do not forget about the price of education. In the middle ages, the price was so high and teachers so rare, that monks were the biggest part of the literate population. 
A Quill Pen and paper were only writing tools and those, who could get a huge salary, comparing to other medieval commoners.
Yet, fortunately, those times have passed. Nowadays it is extremely hard to find a person that can't read or write. However, for those who write a lot, there are still many issues. How to organize working space? How to check a text of ten thousand words after you spend so much time writing it and not lose your mind? If you work alone, who will check the grammar? Sometimes, when you can't handle such issues it is really hard to work.
So many issues for writers. And obviously, humanity had to handle all these issues. Many Writing Tools were developed to help us write. And this top list of Writing tools includes the most popular and useful of them.
PRnews.io as a tool to promote your content
Here, on the Internet, we write texts for others. Sometimes they are political, personal, or commercial. In any case, we write these texts for an audience and try to inform users about something. The promotion of content is also an issue for writers. Imagine how hard it is to go to social media and develop your own audience. In this case, you need a specific kind of "writing tool". Like PRnews.io and their ability to promote sponsored content. You can check PRnews.io partners on the sites page and choose the audience you want to reach. 
Sponsored Content Online Store
Another issue for writers that can be solved with help from PRnews.io is monetization. Even if your writing skills are perfect you need a writing tool to sell your text. You can sign up on Prnews.io and work with different brands. Set your own price and get rewarded for writing! We have a special page for publishers and you should visit it to find out more.
Get extra income from leading brands
List of best writing tools for you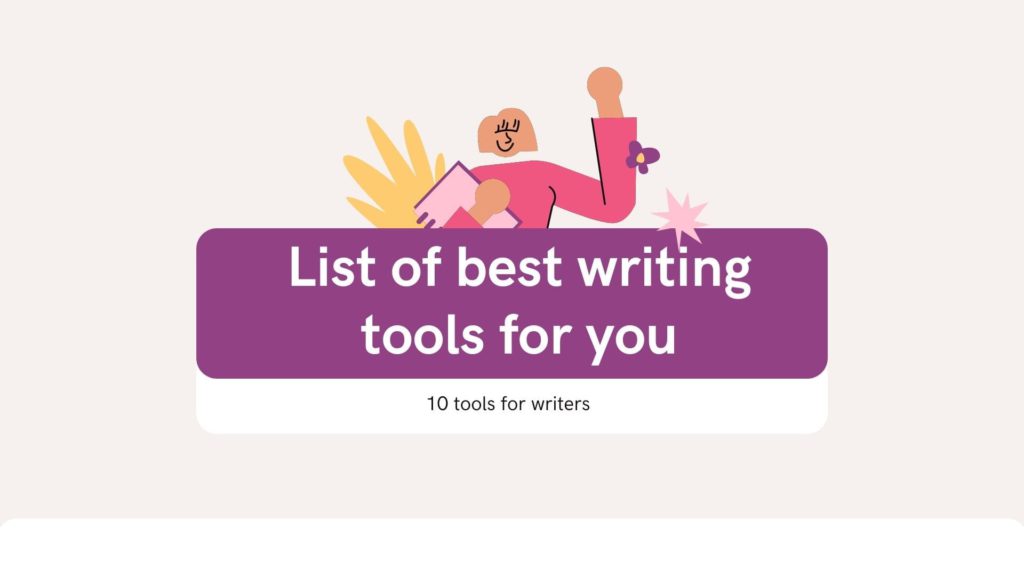 Grammarly is one of the best writing tools for checking your spelling and, obviously, grammar. It is really easy to use Grammarly. It highlights mistakes, explains why it is a mistake and you can decide whether it requires some fix. All mistakes are separated into different categories to highlight their importance. Or their role in the text.
It is impossible to create a more simple interface for users.
You can use Grammarly for free, yet you have to purchase a premium plan to get the most sophisticated tools on Grammarly.
In addition, Grammarly keeps records of your writing and shows you statistics to help you improve your skills.
Unfortunately, Ulysses is available only on iPhone, iPad, and Mac. And it is unfortunate because Ulysses was developed specially for writers. This writing tool is useful for structuring texts and navigation. No matter how big your text is you can divide it into many parts and make notes about them. It is like having your own secretary, that keep in mind your ideas and help you find previous works.
In addition, it is easy to read text on Ulysses.
Evernote can help you keep in mind and remember all important things. Meetings, ideas, notes. You can write them down and find them later. Or, if you can forget about something you can make a reminder. Just in case.
Yet, Evernote is not a reminder, it is a writing tool. It helps when you work on something and you need to structure your text. And with a reminder, you can keep in line with a deadline. Or annoy yourself with it. Due to synchronization, you can make reminders on many devices.
If you want to know how hard it will be to read your text then go to Hemingway. Hemingway will highlight hard sentences and tell you what is wrong. It also can highlight a passive voice.
It is simple, it is extremely useful and it helps to improve your text. Just copy your text and paste it into Hemingway.
It is hard to find a writer who likes when someone finds cliches in your text. Though it is not a big issue. Until your text is not one huge cliche.
And it was a reason to create Cliche Finder. As the name implies Cliche Finder its feature is simple, yet it is very useful. For example, if you use the phrase "as the name implies" a lot, then your text loses its value. And looks like a usual commercial. This is why Cliche Finder is a useful writing tool.
There are two best writing tools for proofreading: Grammarly and ProWritingAid. And their features are almost similar. Yet, there is some difference. Grammarly is a bit easier to use and it is free to use for basic features. At the same time, ProWritingAid provides users with a free browser app.
It can check your spelling and highlight mistakes. In addition, developers of ProWritingAid promise that their writing tool also has tutoring features and helps you improve both writing skills and text.
Considering all features it looks like ProWritingAid will be a better option for writers. While Grammarly is better for essays and texts. Though again the difference between them is not that big and if you need a free-to-use product then it is Grammarly.
This is one of the best writing tools you can find. As we think about it. Ommwriter is a writing tool that helps you concentrate on work! Which is hard sometimes, especially if your work is hard and become a toil. Which, unfortunately, happens sometimes.
Developers made a lot of work to provide you with inspiration. You can open a full-screen mode to make sure that your laptop does not distract you, install various backgrounds, choose audio and find the best sound for typing to fill like every letter in your text is supported.
It is a must-have writing tool for those, who work a lot. It is important to avoid burning out and save your eyes and a simple break can help you with that. Pomofocus is a timer tool developed according to the Pomodoro technique. It counts 25 minutes and informs you that it is time to take a break.
But you can play with settings and create your own time schedule.
Your health is important and it is even more important for your productivity. If you want to work for many years productively, then do not forget to take a break sometimes.
Writers also have to fight with a mess of thoughts that inevitably occurs, when you work with a big text. And the problem doubles when it is a book with huge lore. It is hard to keep in mind all ideas and detail, moreover, it is hard to connect them sometimes. This why authors need organizational writing tools.
Milanote is one of the best writing tools when it comes to working process organization. It can transfer your thoughts and texts into visual boards. Sounds easy, yet Milanote was designed for writers and helps a lot. You can share these boards with others and work on them together. it is also more suited for experiments and brainstorms than linear text. And since you can insert some visuals into your project it will be more aesthetic.
When someone distracts you from work it is hard to complete something. And if you are one of those writers who need more discipline then try the Cold Turkey writing tool. Their motto is "Meet your match, Zukerberg" and they mean it.
Cold Turkey can block anything that distracts you: websites, games, social media, and so on. They claim that they can block the whole Internet for you, and we trust them. You can make block schedules, set Pomodoro stile breaks, and so on. One more great thing is that you can set Frozen Turkey and block your PC.
So, do not hesitate to try out the listed writing tools. It may happen so that you do not need all of them, but you will like at least some of them. For example, Grammarly provides you with proofreading services and you can do it for free.
Read more: