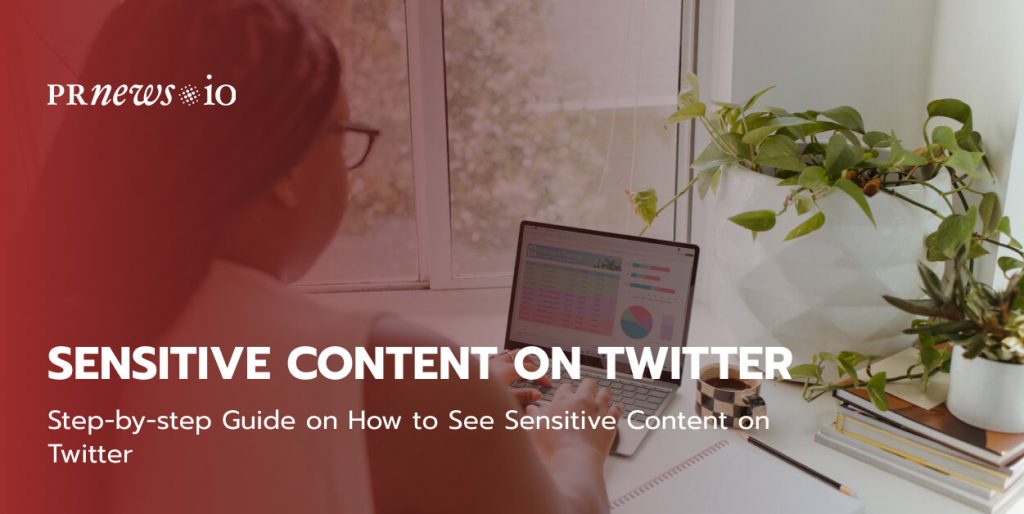 We all are familiar with the situation when you see a tweet/image, which is marked as sensitive content. It is a common safety warning, which you can easily get rid of by reading the article and learning how to see sensitive content on Twitter.
It happens pretty often to see sensitive content on Twitter. All social media platforms have safety tools and Twitter is not the exception from the rule. It is always better not to reveal such content to a certain category of viewers.
If you would like to see this content, you need to know how to play with a Twitter-sensitive content setting. Let's see the detailed guide to using one of the most popular social media platforms as a pro.
By the way, you can follow Alexander Storozhuk, CEO of PRnews.io - Follow @prnewsio
What Do We Call "Sensitive Content" on Twitter?
As a rule, Twitter sets the label called "potentially sensitive content" when the images include violence and nudity. We all know that a lot of young people use social media platforms like Twitter, so it is better to protect them from content like this. 
Content Marketing Platform
100,000+ media publications;
get backlinks to your product;
scale work with content distribution.
How To Allow Sensitive Content on Twitter?
In order to allow sensitive content on Twitter you should follow these steps:
Start with opening a Twitter site/app and logging in to your Twitter account.
Press on the tab "More''.
Refer to the "Settings and Privacy" section.
By navigating the menu, you need to press "Privacy and Safety".
Press the "Content you see" option.
Simply check the "Display media that may contain sensitive content" box.
How to Skip the "Sensitive Content" Warning on the App and Web Versions?
If you would like to skip the "Sensitive Content" warning from privacy settings, you should follow these steps. Users of the Twitter Android app will find the same options, but the same options are not available for iPhone/iPad. If you plan to modify the privacy settings on the Twitter web version, you will be able to see any kind of sensitive content without previously discussed safety warnings. In order to switch off the safety warning, you need to refer to the official Twitter site and press the "More" button (you will find it on the left side of the PC screen and it looks like a circle with three dots).
Is It Possible To Display "Sensitive Content" in Twitter's Searches?
By default, Twitter hides any kind of sensitive content from its searches. If you want to see such search results, it is very simple to enable them in the search settings section. We would like to pay your attention that the instructions below are available for Android apps, and can't be accessed on your iPad and iPhone.
So, here are the steps you will need to follow to display "Sensitive Content" on the web or Android application:
Start by going to the official Twitter web page or opening your Android app.
Press the option "More".
Now you have to choose "Settings and Privacy" and then "Privacy and Safety".
From the menu, you will need to pick up the option "Content You See" and "Search Settings".
Finally, you need to uncheck the option called "Hide Sensitive Content".
How To Get Verified On Twitter 
How Can Twitter Users Get Rid of the Warning From Their Own Tweets?
If you plan to upload potentially sensitive content on social media platforms like Twitter, you should know how not to be marked as sensitive by default. The instructions are simple, so you'll need to do the following:
Start by pressing the menu "More".
Choose the section "Settings and Privacy" and then "Privacy and Safety".
Select the option "Your Tweets".
The final thing you have to verify is the option "Mark Media You Tweet as Containing Material That May Be Sensitive", which has to be unchecked.
All the users of Twitter can follow the steps above on the web version and the Android application, yet they are not applicable to iPhone/iPad devices. It is highly recommended to be careful dealing with sensitive content, as Twitter has the right to enable the option for your account on a permanent basis. The rule is to tag your content as "sensitive media" to prevent young and emotionally unstable/sensitive people from watching your content, which can potentially harm them.
Conclusion
Twitter functions the same as other popular social media platforms, such as Instagram or Snapchat. The Twitter team does everything possible to improve its policy and protect users from sensitive or inappropriate content.
However, Twitter does its best to be democratic and does not remove sensitive content completely from the platform. Every user is free to decide what to read or to watch by adjusting the settings. If you see the label "This Tweet Might Include Sensitive Content", you have the choice to skip the tweet or watch it. Giving freedom to users is essential in the democratic world we live in. 
Sensitive content Twitter FAQs
How to watch sensitive content on the Twitter platform?
Users can press the icon "More" and then refer to the "Privacy and safety" settings. In the "Content" section, users need to check the box called "Display media that may contain sensitive content".
Can users report violations on Twitter?
Yes, every user can report a violation. Alternatively, you can adjust your search result to prevent any kind of sensitive content from appearing in your search results.
Read more:
Save to Pinterest
You can save this page to your Pinterest board for later.