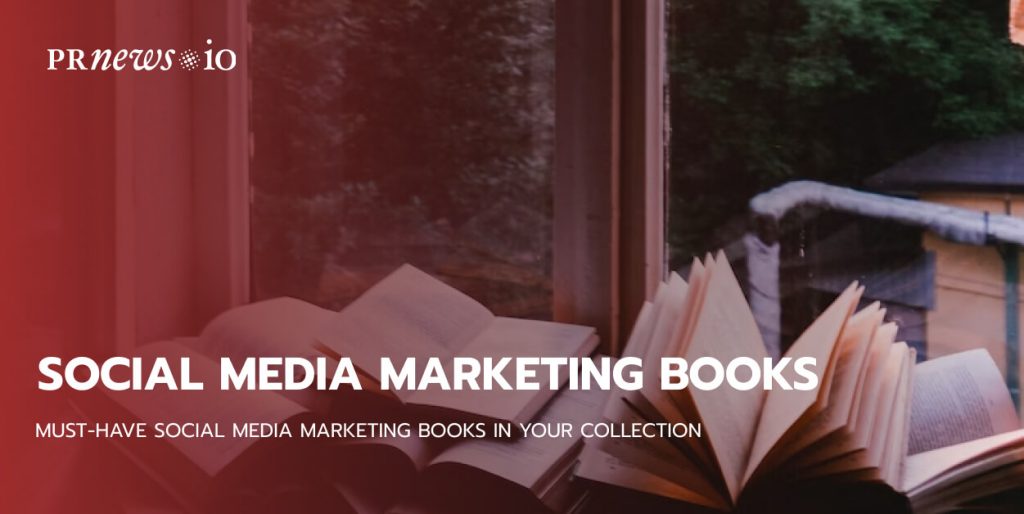 Building a successful social media marketing strategy will become much faster and more efficient after reading the following social media marketing books. This is an up-to-date listing for 2023, ensuring that you do not miss any social media trends and professional tricks to attract followers.
Consider these social media marketing books as your professional guides. The authors aim to educate young marketers on how to grow businesses and attract more clients by leveraging social media platforms. You will discover numerous insights about social media content, marketing interactions, and business growth. By reading these books, young marketers will be equipped to achieve a broader reach and higher engagement on the leading social media platforms.
Social Media Marketing Books Table
| Title | Author | Year |
| --- | --- | --- |
| Crushing It!: How Great Entrepreneurs Build Their Business and Influence—and How You Can, Too | Gary Vaynerchuk | 2018 |
| Jab, Jab, Jab, Right Hook: How to Tell Your Story in a Noisy Social World | Gary Vaynerchuk | 2013 |
| The Art of Social Media: Power Tips for Power Users | Guy Kawasaki and Peg Fitzpatrick | 2014 |
| Contagious: How to Build Word of Mouth in the Digital Age | Jonah Berger | 2013 |
| Influence: The Psychology of Persuasion | Robert Cialdini | 1984 |
| Everybody Writes: Your Go-To Guide to Creating Ridiculously Good Content | Ann Handley | 2014 |
| Social Media Marketing Workbook: How to Use Social Media for Business | Jason McDonald | 2020 |
| Youtility: Why Smart Marketing Is about Help Not Hype | Jay Baer | 2013 |
| Epic Content Marketing: How to Tell a Different Story, Break through the Clutter, and Win More Customers by Marketing Less | Joe Pulizzi | 2013 |
| Platform: Get Noticed in a Noisy World | Michael Hyatt | 2012 |
The Fresh Listing of Social Media Marketing Books
Here is a must-have collection of social media marketing books. They cover many essential topics, such as formulating marketing strategies, creating engaging content, and effectively engaging with the target audience.
"Social Media Marketing Workbook 2021" (Jason McDonald PhD)
This book is highly recommended for readers interested in social media marketing. It provides numerous actionable tips for small businesses. The book breaks down social marketing strategies into manageable steps and offers practical exercises to follow. Pay close attention to the "Homework" section, as it serves as your personal guide. By the time you finish reading this book, you will have a comprehensive understanding of how to build an effective social media marketing strategy.
"500 Social Media Marketing Tips: Essential Advice, Hints and Strategy for Business: Facebook, Twitter, Instagram, Pinterest, LinkedIn, YouTube, Snapchat, and More!" (Andrew Macarthy)
I highly recommend reading this quick guide for building the right social media strategy. The author provides valuable insights into efficient practices that work effectively on popular social media networks. Whether you're a beginner or an experienced social media marketer, you'll be amazed by the abundance of tips and tricks included in the book. It serves as a source of inspiration for gaining recognition and capturing people's attention online. The guide also emphasizes maintaining high engagement levels and sustaining the interest of potential and existing followers. Additionally, readers appreciate the detailed overview of international social media marketing. The book is available in both printed and electronic versions, providing convenient access for all.
"One Million Followers: How I Built a Massive Social Following in 30 Days" (Brendan Kane)
If you are eager to learn about social media growth, this book should definitely be in your collection. Brendan Kane provides valuable insights on how to effectively utilize various social media platforms and attract one million followers within a month's timeframe. Embarking on this exciting and potentially life-changing experiment is highly recommended. Drawing from his extensive professional experience, the author has successfully built online presences for numerous renowned brands. He generously shares professional secrets regarding social media content and marketing strategies to assist readers in achieving optimal results. Even if reaching the million-follower milestone proves elusive, you will undoubtedly gain an advantage in the competition for attention within the oversaturated social media landscape.
"Social Media Marketing: A Strategic Approach" (Melissa Barker, Donald I. Barker)
If you are a complete beginner in social media marketing, this book is a must-read. It will serve as a solid foundation for marketing amateurs. It is particularly interesting to delve into the history of social media marketing, gain an understanding of key marketing concepts, and familiarize yourself with professional terminology. The book presents information in an engaging manner, with eye-catching graphs, figures, lists, and the most up-to-date statistics. It covers a wide range of important topics, including principal marketing goals, audience engagement, content monitoring, and planning. Additionally, you will learn how to integrate your social media marketing strategy with other forms of marketing, such as video streaming and news sites. This book provides essential knowledge and insights for anyone starting their journey in social media marketing.
"Freakishly Effective Social Media for Network Marketing: How to Stop Wasting Your Time on Things That Don't Work and Start Doing What Does!" (Ray Higdon and Jessica Higdon)
The book "Freakishly Effective Social Media for Network Marketing" is a valuable resource for streamlining your social media efforts in the right direction. It provides a clear understanding of where to focus your energy effectively. The talented and renowned group of authors aims to assist you in achieving long-term business growth and building a strong social media reputation, rather than just following new trends for short-term gratification. The book reveals numerous secrets on how to create an eye-catching profile, choose engaging topics, communicate effectively with followers, and avoid common mistakes. The authors delve into important topics related to brand reputation and social media marketing, offering valuable insights for readers.
"The End of Marketing: Humanizing Your Brand in the Age of Social Media and AI" (Carlos Gil)
The book serves as a comprehensive manifesto for modern social media marketing. It provides invaluable guidance on leveraging various social media platforms to effectively promote your business and reach the intended audience. The author specifically emphasizes the importance of platforms like LinkedIn and Facebook. Prepare to receive practical recommendations for enhancing social media growth and increasing engagement. You will learn how to monitor mentions, track the performance of your social media content, strategically plan your messaging, and construct a robust social media marketing strategy. This book is an essential resource for anyone seeking to maximize their impact and success in the dynamic realm of social media marketing.
"The Art of Social Media: Power Tips for Power Users" (Guy Kawasaki and Peg Fitzpatrick)
It is one of the most popular books devoted to social media marketing. The in-depth guide includes many tips that are easy to digest. Readers appreciate seeing many illustrations. There is a set of techniques to optimize social media profiles, respond to comments, and integrate blogging, and events.
"Jab, Jab, Jab, Right Hook: How to Tell Your Story in a Noisy Social World" (Gary Vaynerchuk)
Are you looking for reliable books on social media strategy? This book is precious. The title is not modern, but the advice is still relevant. The main focus is the art of creating eye-catching content for social media platforms. The author has his own philosophy to listen to and interact with the audience.
"Social Media Success for Every Brand: The Five StoryBrand Pillars That Turn Posts Into Profits" (Claire Diaz-Ortiz)
The purpose of the book is to help business owners learn how to write and share engaging and attention-attracting social media content. The book is full of high-quality images, making it easy to read and remember the content.
"Likable Social Media: How To Delight Your Customers, Create an Irresistible Brand, & Be Generally Amazing On All Social Networks That Matter" (Dave Kerpen, Michelle Greenbaum, and Rob Berk)
Do not miss this book to grow a vast database of followers on the top social media platforms. You will learn how to think as your followers. There are many tips on how to generate high-quality content, respond to any kind of comments quickly, and have a transparent tone.
Effective Strategies for Promoting Your Book and Reaching Your Target Audience
Promoting your book effectively is crucial to gaining visibility and reaching your target audience. Here are some strategies to help you promote your book:
Create a professional author website: Build a dedicated website where readers can learn more about you and your book. Include information about the book, author bio, testimonials, and links to purchase.
Utilize social media platforms: Establish a presence on popular social media platforms such as Facebook, Twitter, Instagram, and LinkedIn. Share updates, engaging content, and interact with your audience regularly.
Engage with readers through blogging: Start a blog where you can share behind-the-scenes insights, writing tips, and other relevant content. This helps you connect with readers and build a loyal following.
Leverage book reviews and endorsements: Reach out to book bloggers, influencers, and reviewers in your genre to request reviews or endorsements. Positive reviews and endorsements can significantly boost your book's visibility and credibility.
Organize virtual events: Host online book launches, author Q&A sessions, or virtual book club meetings. Utilize platforms like Zoom or social media live streams to engage with your audience directly.
Guest posting and interviews: Write guest posts for relevant blogs or websites to reach a wider audience. Seek opportunities for author interviews on podcasts, radio shows, or YouTube channels.
Offer promotions and giveaways: Run limited-time discounts, promotional offers, or giveaways to generate excitement and encourage readers to buy and share your book.
Participate in book fairs and events: Attend local or virtual book fairs, author signings, and literary festivals to network with fellow authors and connect with potential readers.
Leverage email marketing: Build an email list of interested readers and send regular newsletters with updates, exclusive content, and special offers.
Collaborate with influencers: Partner with influencers or popular bloggers in your genre to promote your book to their audience. This can significantly expand your reach and visibility.
Remember, consistent and targeted promotion, along with genuine engagement with your audience, are key to successfully promoting your book.
Read more:
Content Marketing Platform
100,000+ media publications;
get backlinks to your product;
scale work with content distribution.
Conclusion
Nowadays, it is not a problem to find a book devoted to social media marketing, as it is a popular topic in the modern digital world. You can find lots of advice on this issue. However, you have to learn how to filter all the information. By reading all the mentioned books in this article, you will receive only credible and useful information. The authors of these wonderful books are proud to have a lot of experience and are able to share it with young social media marketers. Do not forget that our social media world does not stop changing, so it is a wise idea to regularly read new books on the subject.
Read more: