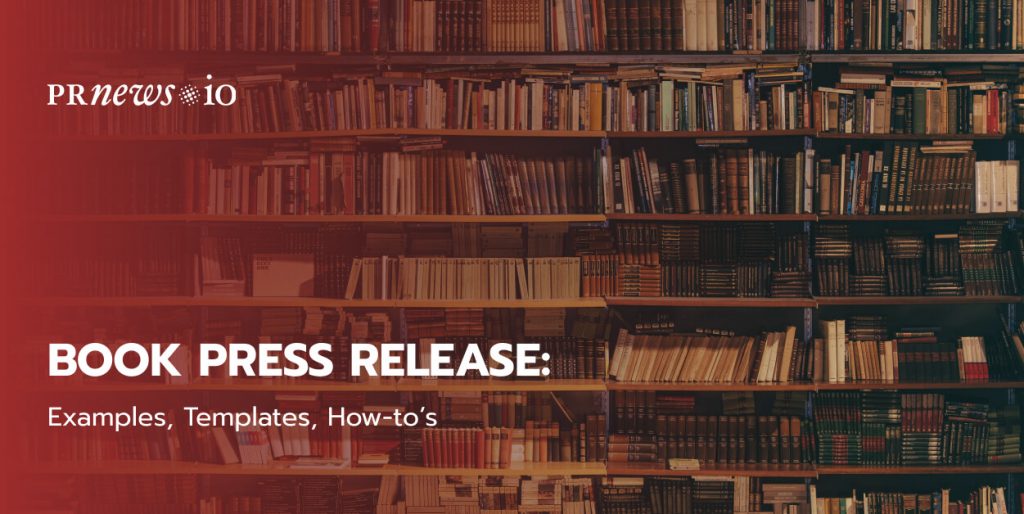 With more than 75,000 books published every year (not counting e-books or blogs), the odds are pretty good that you've either written a book, are writing a book or want to write one.
In this blog post, we'll cover how to create the best book press release and share some examples of the press release for a new book launch.
What Does a Press Release for a Book Look Like?
Can a press release for a book be a well-written combination of the book's description and the book's about the author section, or should there be more? In the media, the simple mantra that has historically driven leading stories is:
If it bleeds, it leads.
While your book release will never bleed, the concept of an interesting "can't look away" story is still crucial.
There are books published every day. Why does yours deserve attention? It's the brutal truth you need to think about when making a book press release. Why should I pay attention to this? That's what drives the media's interest.
Start local. This way, you are sharing about a local author with a local media source. Why is this news to the local media? How would you answer the question "So what?" about your information. That's what you need to share in your book press release.
A boring press release gets no interest, even if your book might be interesting.
How to Write a Press Release for a Book
Your book press release should incorporate the following information:
Attention-grabbing headline
Title of the book
Author's name
Book release date
Brief introduction to the book: genre, theme and some key points
Publisher's name
Information on where the book can be purchased
Optional (but recommended) headshot image of the author or the book cover.
Advice for Aspiring Book Authors
The bigger an author's platform, the stronger chance you have of getting a press release seen.
My advice to new authors:
If you are a new author who is still developing an audience, consider if you need a press release. The fact that you wrote a new book is not a reason for a press release.
Make sure you focus on the right people. Press release distribution costs time and money! Focus on the people who will most benefit from your press release. Don't just spam everyone who can accept press releases.
Use press releases as a tool in your arsenal when the moment is right. If your book has a seasonal theme or a local theme, send it at the time when people are most receptive to that.
Don't only depend on press releases to get the word out about your book, but don't count them out either.
Golden Rules of Press Releases
Make it short. No more than one typed page or maybe 500 words in an email. Respect the KISS Principle: Keep It Simple Stupid.
Keep in mind your target journalist's needs. How does your announcement fit her beat? How will this story provide value to the journalist, her editors and her audience? Is your release scheduled early enough, so the reporter has enough time to act before a deadline that, if it were missed, would make your story irrelevant? (If you're pitching something Christmas-oriented, don't wait until December. If you're pitching something tied to a new movie, don't wait until the day before the movie's release.)
Frame the story in a way that meets journalists' and readers' needs, not yours.
Present it like a news story, with a headline, a subheadline offering further information, and a lead paragraph that grabs attention and offers the key details (who, what, when, where, why, how).
Explain how reporting your story will provide value to readers. Show that you've done your research on the reporter, her beat and her editorial calendar. It means some personalization. No journalist wants to be on the receiving end of a mass blast that clearly doesn't take his or her own needs into consideration. No press release will get deleted faster than one that clearly doesn't fit the reporter's beat.
If you have a photo or video you can embed, that will help keep the reporter's attention and further sell them on your story.
Conclude with a brief explanation of who your client or organization is. Specify credentials that bolster the credibility of your organization's expert sources for a news story. Add contact information, so journalists can email you, call you and book an interview with your experts.

Book Press Release Template
Contact Information:
[Company/Individual]
[Contact info]
[Publisher and/or Author] Announces the Release of [Genre] Book [Title of Book]
FOR IMMEDIATE RELEASE
[City, State] – [Publisher and/or Author] are proud to offer the [latest, debut, etc.] work from [Author], [Title of Book], hitting bookstores everywhere on [Date].
[Book title] is a [compelling tale, informative how-to, etc.], focused on [basic themes of book, or subject matter covered, if it's non-fiction].
[Further synopsis of the book and/or details about the author that helps to make the case that bookstores will want to buy copies of this because their customers won't be able to resist it].[Quotes from the author, and/or any critics that received upfront copies of the book].
[Boilerplate – Company Info].
Is your business in need of a PR makeover?
Benefit from media coverage assistance.
Witness a refined branding approach.
Watch as your recognition soars.
How to Contact the Local Press to Do a Press Release for Your Book
To distribute press releases, you can use the PRNEWS.IO service. Since launching in late 2017, PRNEWS.IO has helped over 1,000 customers from 65 countries gain mentions in online news media. How high would their chances be with distributing the press releases themselves? How long would it take them to get the same kind of results? Well, the question is open.
A couple of notes here, for TV at least. You need to be available for an interview and have something more to offer than just the book to show. If you could set up a signing and invite journalists or maybe organize a meeting with a local book club, so journalists could have what is called "b-roll" to go with the story..
When you do the release, keep it simple to the WHO, WHAT, WHERE, WHEN, AND WHY.
You could put a short synopsis of this information and your contact info as your press release, telling a journalist that you would be happy to chat when they are available. Follow it up by calling the Assignments Manager to try to set something up or find out if they are willing to cover your story.
Another avenue is to talk to the producer of a midday show. In smaller markets, producers of local shows are constantly needing guests, and you could come on and speak live about your book. This is a completely different skill set than doing an interview, and there is no second take, but it might be an avenue to help you get press.
Offer to give them a copy of the book too, if they want it. They aren't likely to do a review, but it's a nice gesture.
Content Marketing Platform
100,000+ media publications;
get backlinks to your product;
scale work with content distribution.